So many people LOVE the combo of chocolate and mint together. I especially love the combination during the Christmas season and again around St. Patrick's Day, but really, this flavor combo can be enjoyed all year. These gluten-free chocolate mint cookies have a deep, dark chocolate flavor with sweetness from the melted chocolate chips and great mint flavor from the Andes mint baking chips. You're going to love these Andes mint cookies!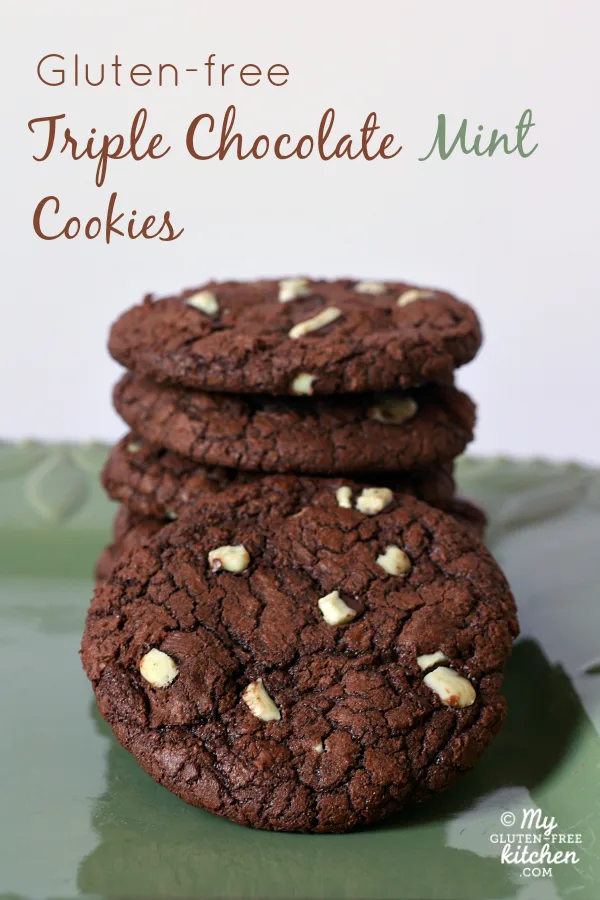 These gluten-free mint cookies are loaded with chocolate! I've made them a deeper chocolate by using Hershey's Special Dark Cocoa
for part of the cocoa in the recipe. Not all stores carry it, but with some shopping around you should be able to find it at one of your stores, or buy from Amazon at the link I included and get 6 cans of it at once! I would totally go through those in a year with the amount of baking I do!
While I was doing the Thanksgiving meal shopping with my Mother-in-law, I spotted Andes Crème de Menthe baking chips at the Wal-Mart store we were at. I stopped in my tracks and had to check out the ingredients. No gluten in the ingredients and then I was pleased to see the statement: "Processed in a facility that does not use peanuts, tree nuts, eggs or gluten"! How great is that?!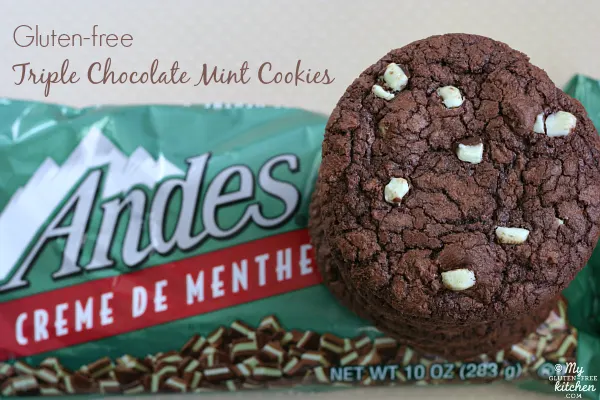 I had trouble finding these in my area at any other stores besides Wal-mart. Supposedly they are available at some Target stores as well. I also am not sure if this is just a seasonal item, or will be available year-round, so I picked up a few bags just to have on hand. You'll use only part of one bag in this recipe, so you can make a second batch or find another creative use for the rest. These would also be yummy stirred into my gluten-free chewy Brownies, or even sprinkled on top of my gluten-free mint Chocolate Brownies!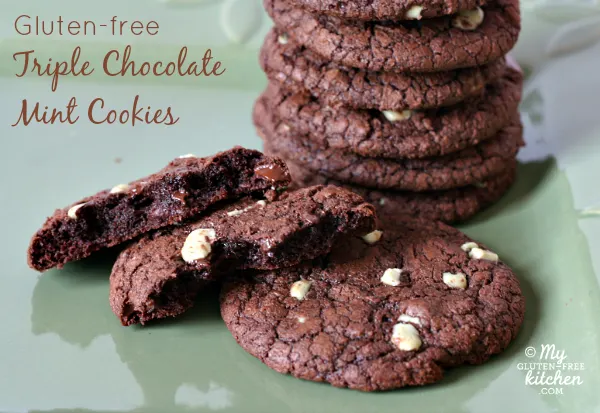 Gluten-free Andes Mint Cookies Recipe:
Yield: 24 cookies
Gluten-free Chocolate Mint Cookies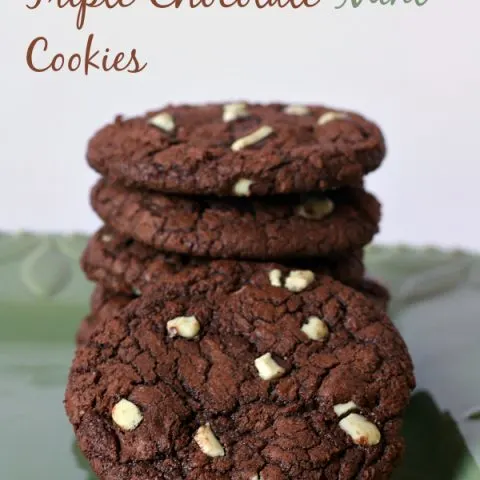 You can easily double this recipe for even more delicious glute-free Andes mint cookies to share! A single batch makes about 2 dozen. If you can't find the dark cocoa powder, just use 1/4 cup total of regular cocoa powder, your cookies will turn out wonderful, just not as dark.
Ingredients
1 cup good all-purpose gluten-free flour
1/2 tsp. xanthan gum
1/8 cup Hershey's Special Dark cocoa powder
1/8 cup regular cocoa powder
1 tsp. baking powder
1/4 tsp. salt
8 oz. semi-sweet chocolate, chopped (or use chips)
2 eggs
1 tsp. vanilla
5 Tbsp. salted butter, softened to room temp
3/4 cup packed brown sugar
1/4 cup sugar
1/3 cup additional semi-sweet chocolate chips or chunks
3/4 cup Andes Crème de Menthe baking chips, divided (1/2 cup for batter, 1/4 cup for topping)
Instructions
In a medium bowl, whisk together the flour, xanthan gum, cocoa, baking powder and salt. Set aside.
Melt the semi-sweet chocolate chunks or chips in the microwave in 30 second intervals, stirring after each. Once melted completely, set aside to cool a bit.
In the bowl of your stand mixer, beat the butter at medium speed until smooth and creamy, about 45 seconds.
Beat in the sugars until combined, about 45 seconds. The mixture will look granular.
Reduce the speed to low and gradually beat in the eggs and vanilla until incorporated, about 45 seconds.
Add the melted chocolate in a stream and beat until combined, about 1 minute.
With the mixer on low speed, add the dry ingredients mixture and mix just until combined. Do not overmix!
Stir in the additional chocolate chips and 1/2 cup of the Andes Creme de Menthe baking chips.
Cover with plastic wrap and let stand at room temperature about 20-30 minutes. The dough consistency will become more fudge-like. You can skip this step, but your cookies will spread more during baking if you bake them right away.
Whatever you do, do NOT put the dough in the refrigerator! It will harden like concrete!
Preheat oven to 350°. Line 2 sheets with parchment paper or silpat liners. Use a medium cookie/ice-cream scoop, rounded. My cookie dough balls weighed 1-1.25 oz. each, if that helps you!
Scoop 12 cookies per large cookie sheet. You should have enough dough for 2 cookie sheets. Press in the additional 1/4 cup Andes Crème de Menthe baking chips on the tops of the cookie dough balls.
Bake for 12 minutes or until the edges of the cookies have just begun to set but the centers are still very soft. If baking both pans at once, be sure to rotate the pans front to back and top shelf to bottom shelf partway through the baking time.
Cool the cookies on the sheets about 5 minutes or until set, then transfer to cooling racks. Enjoy with a glass of milk!
Notes
This recipe adapted from a recipe from America's Test Kitchen for triple chocolate chewy cookies.
Always verify that all of your ingredients are free of gluten!
Recommended Products
As an Amazon Associate and member of other affiliate programs, I earn from qualifying purchases.