If you're looking for the best gluten-free cookbook to buy for yourself or for a gift, you'll want to check out this list! Today I'm rounding up my favorite gluten-free picks from the best cookbooks of 2019.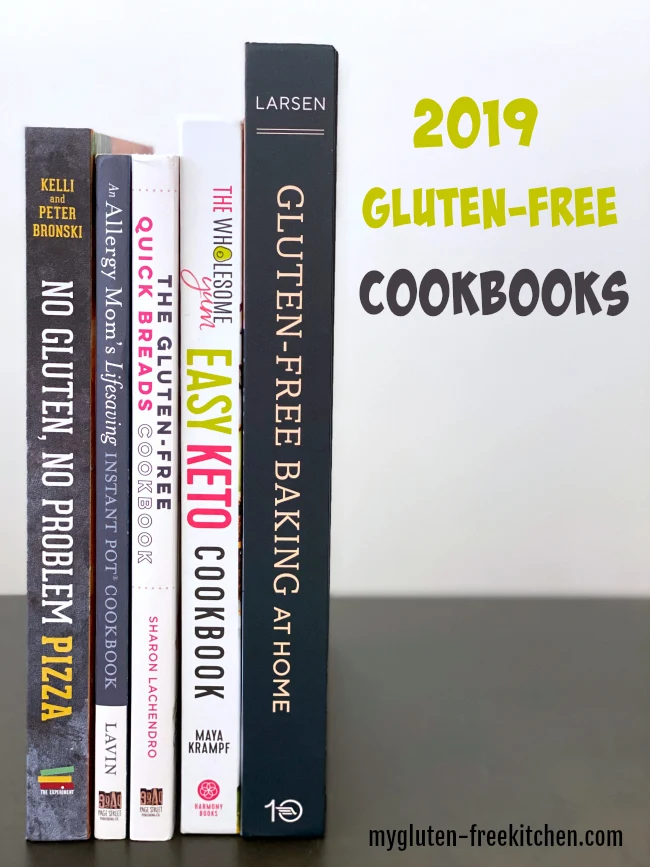 I've always been a cookbook junkie! Even in this day and age of recipes online and in magazines, I still buy cookbooks as soon as they come out. I love to sit on the couch and page through a new cookbook and use post-it flags to mark recipes I want to try!
This was a great year for new cookbooks. While I'd love to buy, and share, every single new cookbook that's published, I'm just going to focus on the gluten-free ones that I especially liked, plus one mainstream cookbook with gluten-free options.
Some of these are from friends of mine as well, which is so exciting. Others are ones I just found and felt I needed. All of these were purchased with my own money. If a friend's publisher sent me a copy, I gave that away. I prefer to buy and support all of these cookbook authors, and also be able to give my genuine feedback on these.
Again, none of the books included here were sponsored or gifted, and I took the photos of each cookbook cover myself for this round-up.
I am linking to the listings on Amazon, which is where I bought each of these, so that you can buy them there too if you'd like – I love the two-day shipping! These are affiliate links.
You could also check your local library to see if they have copies of these books. I check out dozens of cookbooks each year from my local library!
Without further ado, let's dive in to each gluten-free cookbook: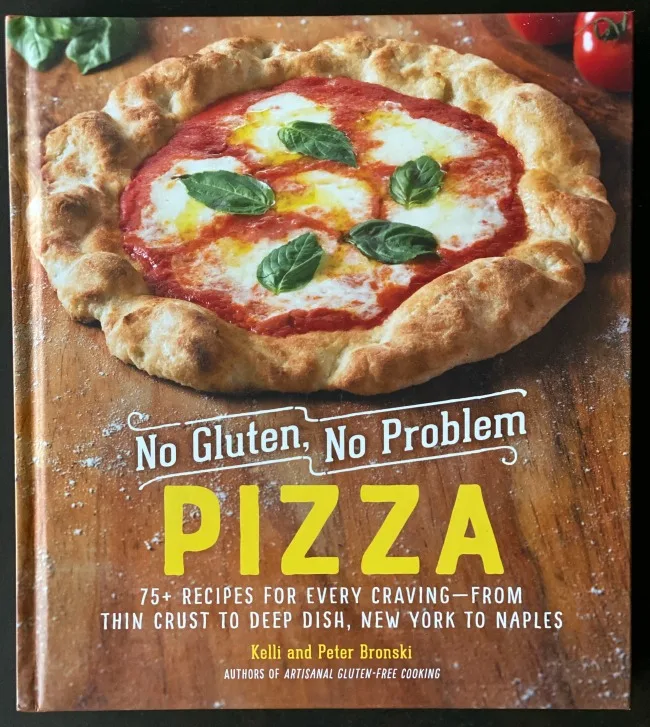 No Gluten, No Problem Pizza by Kelli & Peter Bronski. I'd been following along on the Bronski's Instagram page as they shared their pizza tests for the past year or so. I was in awe of how amazing each pizza looked – the height and texture of the crusts were nothing like the cardboard like gluten-free pizza crusts we're all used to! I'm pretty sure I was one of the first people to pre-order this book, I was just so excited for it. There are over 75 gluten-free pizza recipes! I think you'll go crazy for the gluten-free Neapolitan pizza crust with the traditional puffy crust. My kids can't wait for me to make the deep-dish sausage pizza – it's like no pizza we've ever had before! It's been years since I've made calzones, and I have the sausage and pepperoni calzone on my list to make over winter break with my boys. Breakfast and dessert pizza recipes are in here too! Buy yours here on Amazon!
I don't actually have a baking steel yet, like they recommend for some of the pizzas, so I'm ordering this one that fits their recommendations for size and thickness. I don't know the Bronski's, but I know if I'm ever in Colorado and they invite me over for dinner, I'm so there!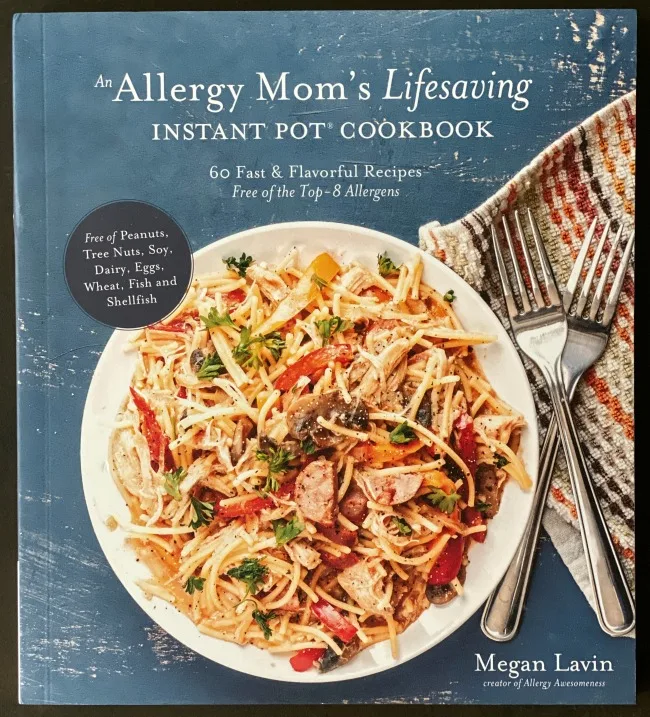 An Allergy Mom's Lifesaving Instant Pot Cookbook by Megan Lavin. This cookbook from my friend Megan has 60 fast recipes that are free of the top 8 allergens, and free of gluten too! Megan knows her way around the kitchen, and knows how to feed her growing family good food that's allergy friendly and tastes good. She also somehow manages to always look amazing every time I see her and I happen to know she's a great dancer too. I think the Honey Garlic Chicken & Broccoli will catch your eye right away and make it on your must make list. A professional chef asked Megan for her potato & sausage soup recipe after trying it at a cook-off, so you can bet I'll be making that this winter. Come summer, I'll be making the bacon & brown sugar baked beans to go with hamburgers. You can buy your copy on Amazon here. And this is the Instant Pot that I have and recommend!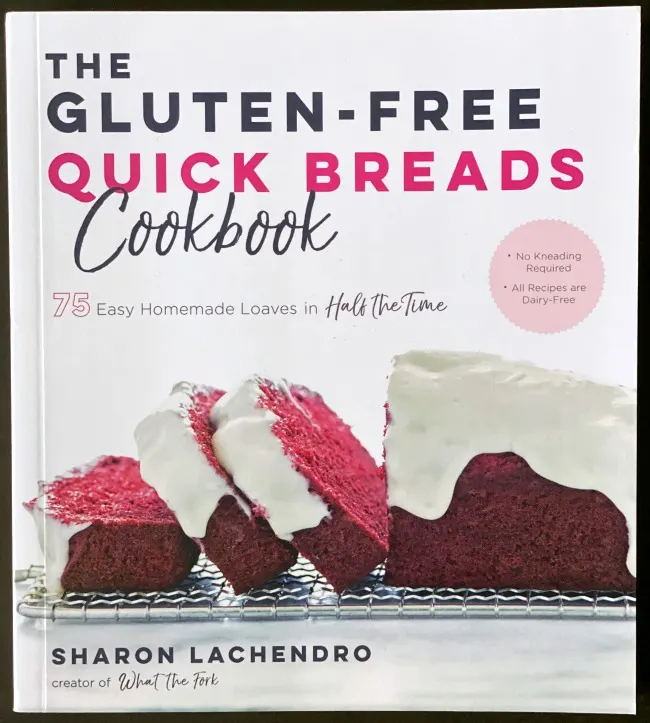 The Gluten-free Quick Breads Cookbook by Sharon Lachendro. Sharon is a friend of mine that I've actually never met in person, but have admired her recipes and photography for many years on her blog What the Fork. She's so talented in the kitchen, and is known for her gluten-free baking. In this cookbook, she shares 75 recipes for easy gluten-free bread loaves. This cookbook has plenty of variations of the basics like banana bread, but also flavors I've never thought of before like pina colada and margarita bread. My boys love almond poppyseed muffins, so I know they'll like the almond poppy seed bread recipe in here. You can buy your copy on Amazon here. This would be a fun gift for someone if you gave it along with a new loaf pan!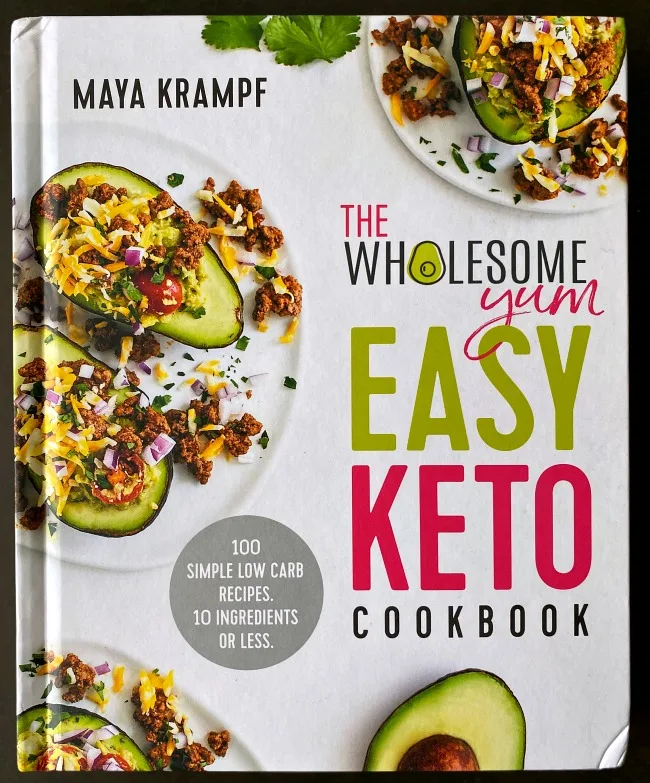 The Wholesome Yum Easy Keto Cookbook by Maya Krampf. While I don't share low carb recipes, I know some of you are trying following a low carb diet either all the time or trying it out to see if it helps you feel better. If you are, I definitely recommend this easy keto cookbook that's full of 100 simple low carb recipes that are all 10 ingredients or less! I've known Maya for several years now through Facebook groups we're in together and several conferences we've been to together. She's been sharing great low carb, gluten-free recipes for years on her blog Wholesome Yum. Her maple bacon pancakes muffins have me ready to ditch the carbs too! The 5 ingredient broccoli cheese soup will be on our table this winter since broccoli is one of the few vegetables my kids both like! You can buy your copy of the Easy Keto Cookbook here on Amazon.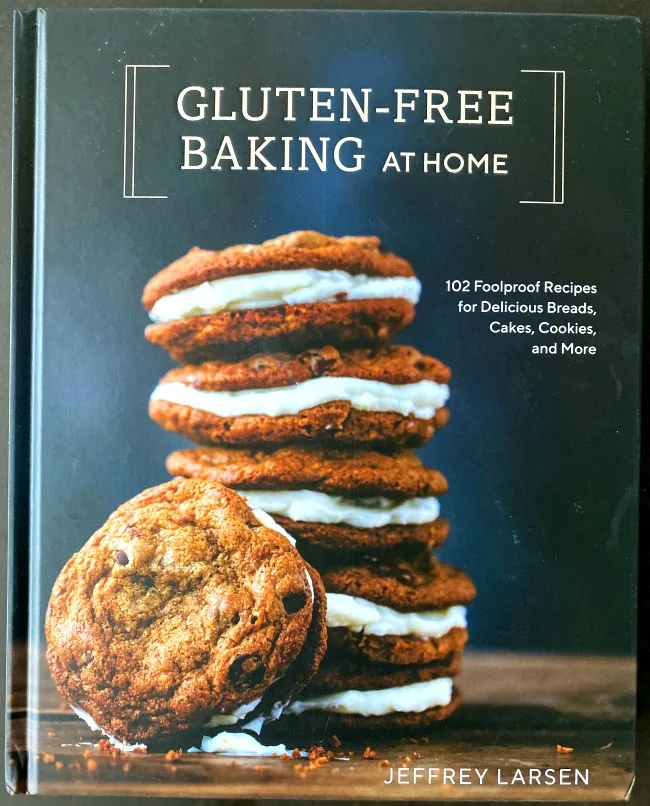 Gluten-free Baking At Home by Jeffrey Larsen. This cookbook caught my eye when I was browsing on Amazon. You know a good photo of gluten-free cookies will reel me in! When I read that it has 102 recipes for delicious breads, cakes, cookies, and more, then I had to have it, since you know I love to bake! I read the intro about Jeffrey and learned that he taught a number of gluten-free retreats at the Inn on Randolph – a gluten-free bed & breakfast that I visited earlier this year and LOVED! Do you miss pumpkernickel bread? There's a recipe for it in here! Gingersnap cutout cookies would be fun for the holidays. When my rhubarb is ripe in the spring, I'm going to make the strawberry and rhubarb pie. Buy your copy of Gluten-free Baking at home here on Amazon.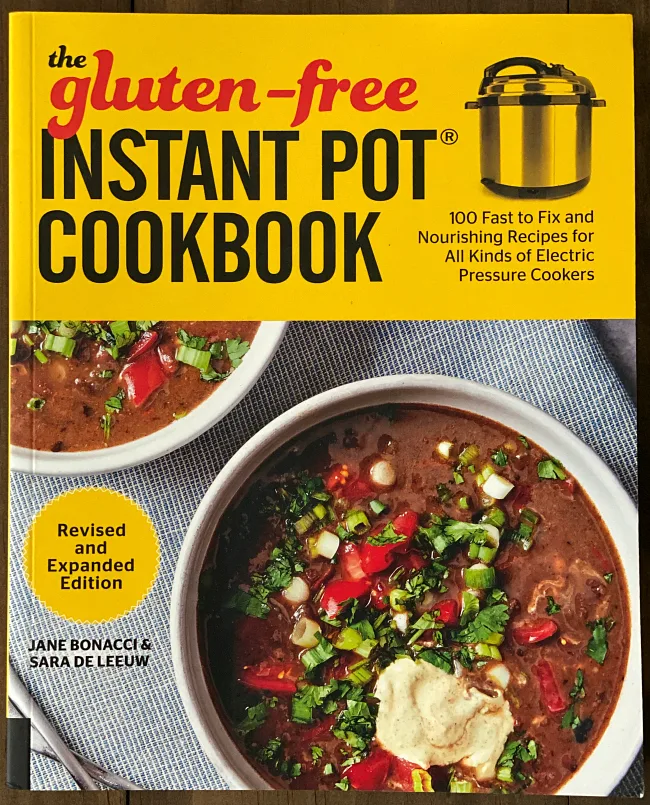 The Gluten-free Instant Pot Cookbook by Jane Bonacci and Sara De Leeuw. Jane is the gluten-free blogger behind the blog The Heritage Cook. I already have her gluten-free bread machine cookbook, so I knew I needed to get this Instant Pot cookbook too! This one has 100 fast to fix recipes for electric pressure cookers (Instant Pots). I can't wait to make the lasagna and the broccoli beef! Order your copy from Amazon here.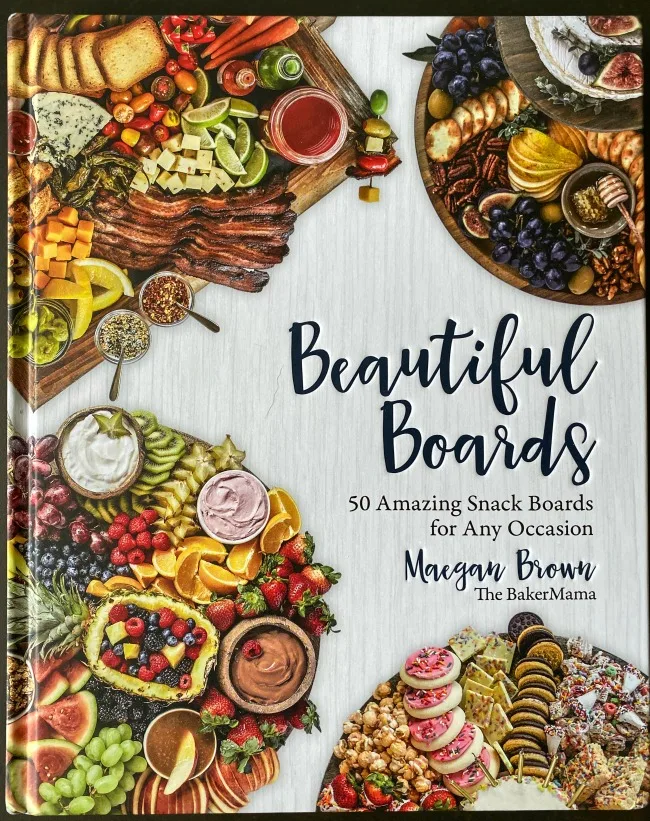 Beautiful Boards by Maegan Brown. This is the only cookbook I'm including that isn't completely gluten-free. But Maegan does have one specifically designed gluten-free board in here, and has many that are naturally gluten-free. Also many more of the boards can be made with just swapping out rice crackers or other gluten-free crackers for the crackers she uses, or swapping out gluten-free pretzels. Simple swaps like that. So I wanted to include this here because the ideas are so inspiring, so fun or pretty. I'm always in awe of the boards she shares on her Instagram, and was so excited when she published this cookbook. Maegan is a total sweetheart, known for her creativity, her baking, her love of doughnuts, and having fun with her family. Her build your own cobb salad board is such a great idea for a small dinner group, and you only need to omit the croutons for it to be gluten-free. Her build your own parfait board can easily be done by including a gluten-free granola on it. Buy your copy of Beautiful Boards on Amazon here.
If you're looking for more gluten-free cookbook suggestions, you can check out the yearly round-ups I did in 2013 and 2014. I was attempting to do this yearly round-up every year, but some years I haven't had the time and some years just not many gf cookbooks were published. So I have those two years done and this year. Hopefully 2020 will be another great year for cookbooks and I can bring you more then too!
I hope you can get some of these new gluten free cookbooks and try new recipes out too! Please let me know what your favorite recipes are that you try from any of these too!
You can pin this to come back to later too: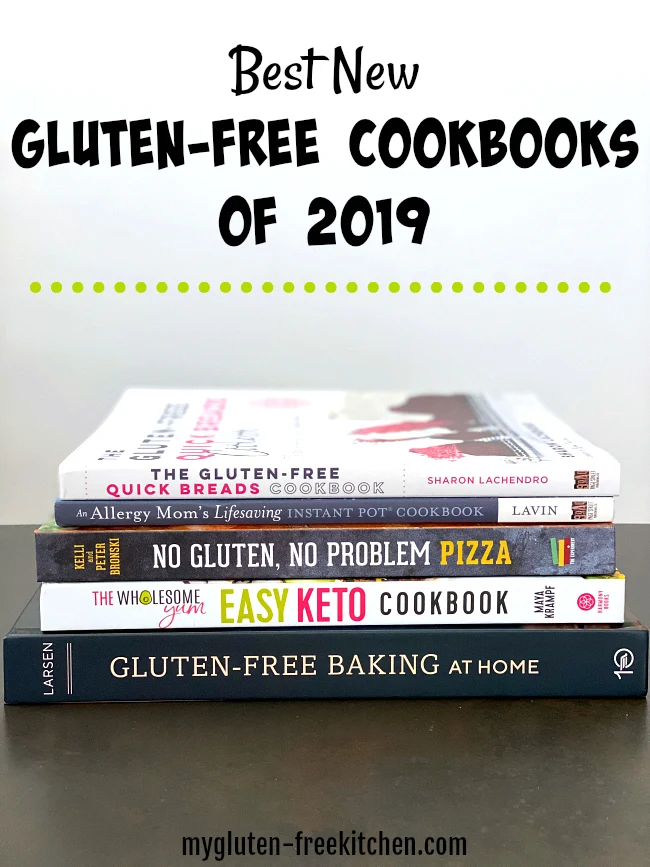 Thanks for reading and hope you enjoy your new cookbooks!