When you're wanting hot soup and you're short on time, pull out your Crock-pot and make this gluten-free chicken noodle soup recipe! Just a few minutes of prep, and 4-5 hours in the Crock-pot and you've got gluten-free chicken soup for dinner!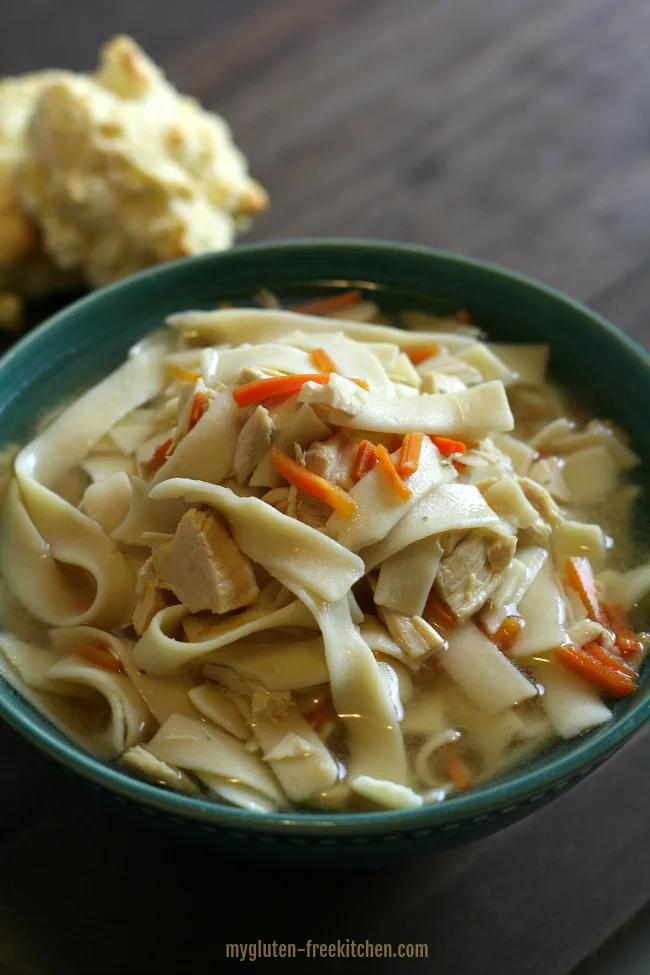 Yesterday I decided that the cold weather called for some comforting gluten-free chicken noodle soup! I have always made my chicken noodle soup in the Crock-pot, as it is so easy and delicious! I threw all of the ingredients in my Crock-pot around lunchtime, and got to enjoy the smells of it cooking all day.
Some women make their own chicken stock. They buy a whole chicken, do whatever with all the gross parts inside, let it cook all day, strain, pick the meat off the bones, and save the stock for soup. Um, sorry that is NOT me! Honestly, I hope to never reach inside the cavity of any fowl… ever. I also do not like to remove skin, bones, or any other nastiness from chicken. If you are into that, more power to you!
My recipe however, is all about easy! No homemade chicken stock and no homemade noodles here either. That's why this is called Busy Mom's gluten-free Chicken Noodle Soup!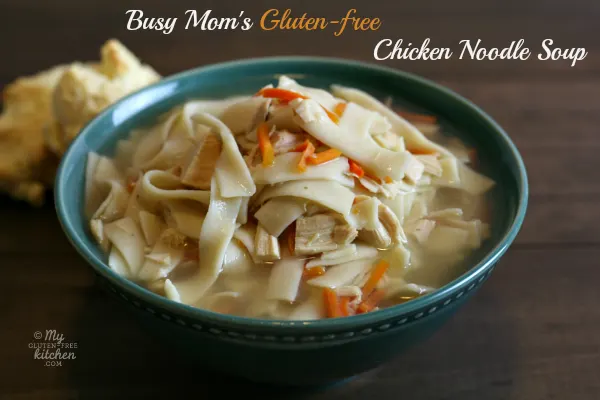 I start with a rotisserie chicken from Costco. Why Costco? Costco's rotisserie chicken is clearly labeled gluten-free, and since that is the only thing they are cooking in that part of the store, I feel it has less risk for cross-contamination than grocery store delis.
You can definitely ask at your local grocery store to see if theirs is gluten-free as well, and see what you think about cross-contamination risks. Most grocery stores make fried chicken in the same area, so I feel that is very risky. Therefore, Costco it is for me. I love that us gluten-free eaters have this one easy to pick-up meal starter!
Once a month or so, I'll pick up a rotisserie chicken at Costco and then just throw together some easy side dishes for a simple dinner. Then after dinner, my hubby, who is all about dissecting, works at removing every last bit of the meat from the chicken carcass. He puts it all in a freezer-safe container, labels it, and off to the freezer it goes.
I have a couple of recipes that I like to use the leftover rotisserie chicken in, and this is one of our favorites. If you find that you don't usually have any leftover chicken, feel free to buy one just to use for this and then freeze the rest for the future.
Ingredients for this Gluten-free Chicken Noodle Soup: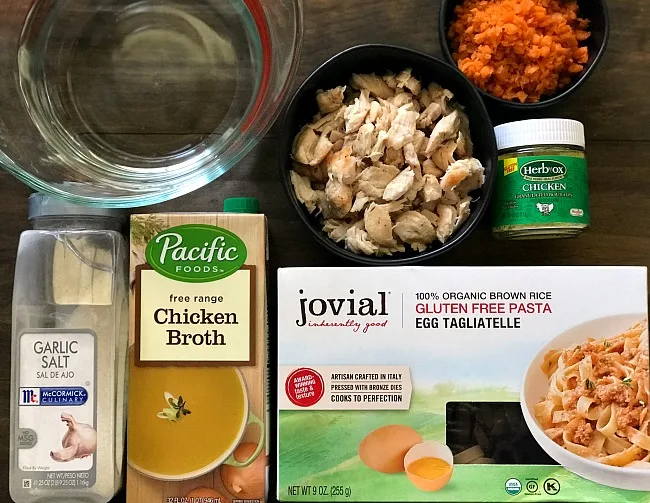 Again, I'm all about easy with this recipe, so in addition to the leftover chicken, the other convenience items I add are carrots that I buy shredded already, and boxed gluten-free chicken broth.
You should be able to buy shredded carrots near the baby carrots at your local store. My Fred Meyer store even carries bags of organic shredded carrots. They are fantastic to have on hand to add to salads and soups. I gave my shredded carrots a few chops with the knife to make them a bit smaller for the soup. You can also just chop up whole carrots.
For the chicken broth, I recommend Pacific Natural Foods Organic Free Range Chicken Broth
, which if you really like, you can buy a case of 12 boxes of it from Amazon! It is one of just a few brands of broth I know of that are gluten-free, and clearly labeled as such.
For added flavor, this recipe also calls for chicken bouillon. Make sure you closely study the ingredients of any bouillon you use for any hidden gluten. I use Herb-Ox brand bouillon, and it is clearly labeled Gluten Free.
For the noodles, I always use these gluten-free traditional egg pasta noodles from Jovial foods. I sometimes order these online, but I also find them locally at Whole Foods, Fred Meyer, and even Walmart now. They were fantastic for this homemade chicken noodle soup. Unlike other gluten-free pasta noodles that I had tried in my soup in the past, these did not get bigger and mushier as they sat in the broth throughout dinner and even a day later.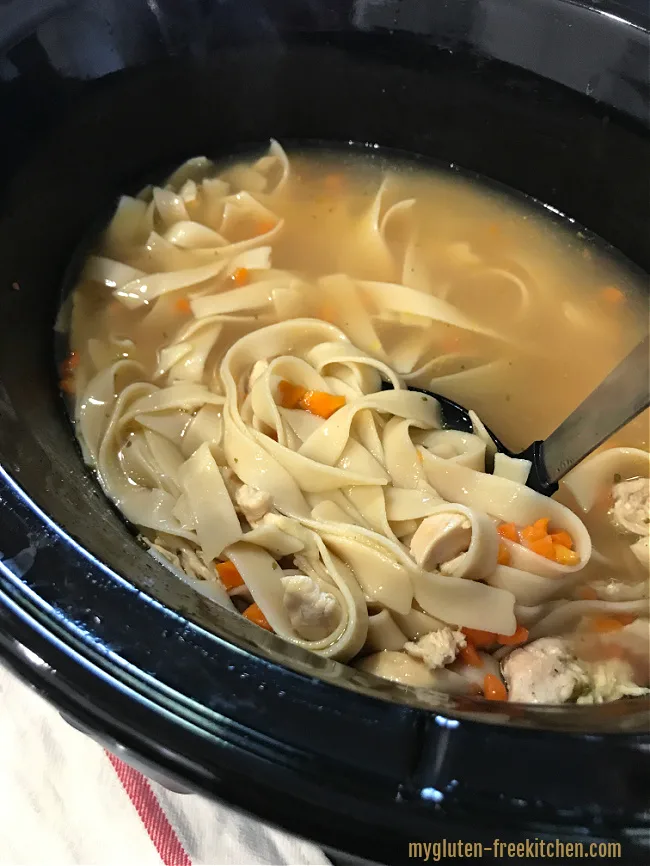 We are able to enjoy leftovers of this Crockpot gluten-free chicken noodle soup the second night and the texture is just about the same as the first night. I boiled the gluten-free noodles separately, right before serving, then added to the soup. But based on how they did, I wouldn't hesitate to add them to the soup earlier, if that is more convenient. If you can't/won't order these egg noodles, feel free to use your favorite pasta in this soup. Just be aware that it might continue to expand and get mushy as it sits in the soup.
We enjoyed a batch of my gluten-free Buttermilk Biscuits with our soup. In keeping with the easy to make theme, I didn't roll them out, instead I just did them as drop biscuits. They were quick, easy, and delicious!
When you are ready for a warm, comforting soup that is easy to prepare, I hope you'll try this slow cooker chicken noodle soup! The next soup I think you should try is this gluten-free turkey and rice soup. You can also check out the other gluten-free Crock-Pot recipes on my blog.
Crock-pot Gluten-free Chicken Noodle Soup Recipe:
Yield: 8 servings
Crock-Pot Gluten-free Chicken Noodle Soup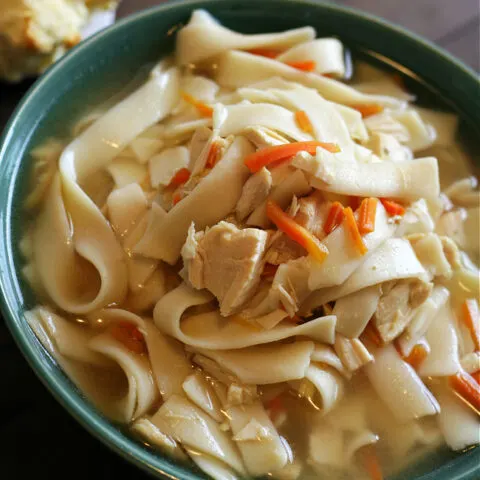 Crockpot Gluten-free Chicken Noodle Soup is perfect for busy days and especially enjoyed by sick family members! In the morning, start this gluten-free chicken noodle soup in slow cooker and enjoy it at the end of your busy day!

Prep Time 10 minutes

Cook Time 5 hours

Total Time 5 hours 10 minutes
Ingredients
5 cups hot water
2 Tbsp. chicken bouillon granules
42 oz. chicken broth
2 cups cooked chicken (cubed or shredded)
2 tsp. garlic salt or onion salt
1 cup shredded or chopped carrots
3/4 cup chopped celery, optional (we omit)
1 box (9oz) gluten-free egg noodles (recommend Jovial brand)
Instructions
Heat water in a glass measuring cup in microwave until hot (about 4 minutes), then dissolve bouillon in the water.
Pour the water, chicken broth, cooked chicken, garlic salt, carrots, and celery to the Crock-pot.
Stir together.
Cover and cook on low 4-5 hours.
Before serving, cook the gluten-free egg noodles according to package directions, then drain and add to Crock-pot. Stir together.
Add additional garlic salt, or salt and pepper to taste if you feel like it needs more flavor.
Notes
I recommend using Rotisserie Chicken from Costco for the chicken in this recipe to save time but you can also just cook up some chicken in a skillet with some oil and broth, then cube it or shred it.

Please see blog post for more details about other recommended ingredients.
As always, be sure to double-check your ingredients for gluten!
Recommended Products
As an Amazon Associate and member of other affiliate programs, I earn from qualifying purchases.

Pin this gluten-free chicken soup to your Gluten-free Soups Board on Pinterest: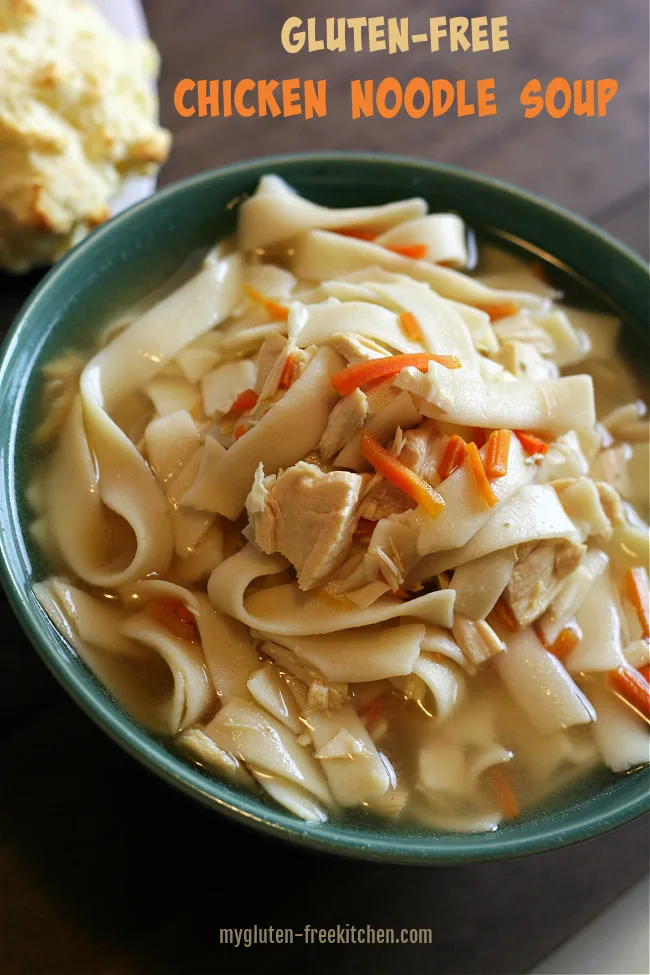 or this one: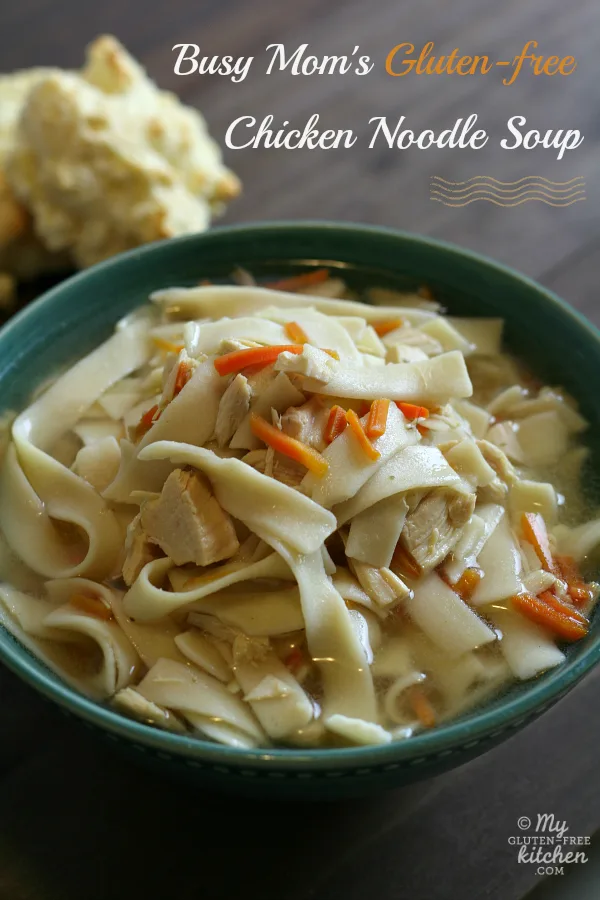 I hope you and your family enjoy this gf chicken noodle soup as much as mine!
Get what you need for this recipe online, including my favorite Crock Pot: