Gluten-free Cheeseburger soup is a cheesy soup that's full of beef and potatoes, with a few veggies hidden too! This comforting gluten-free soup is a family favorite!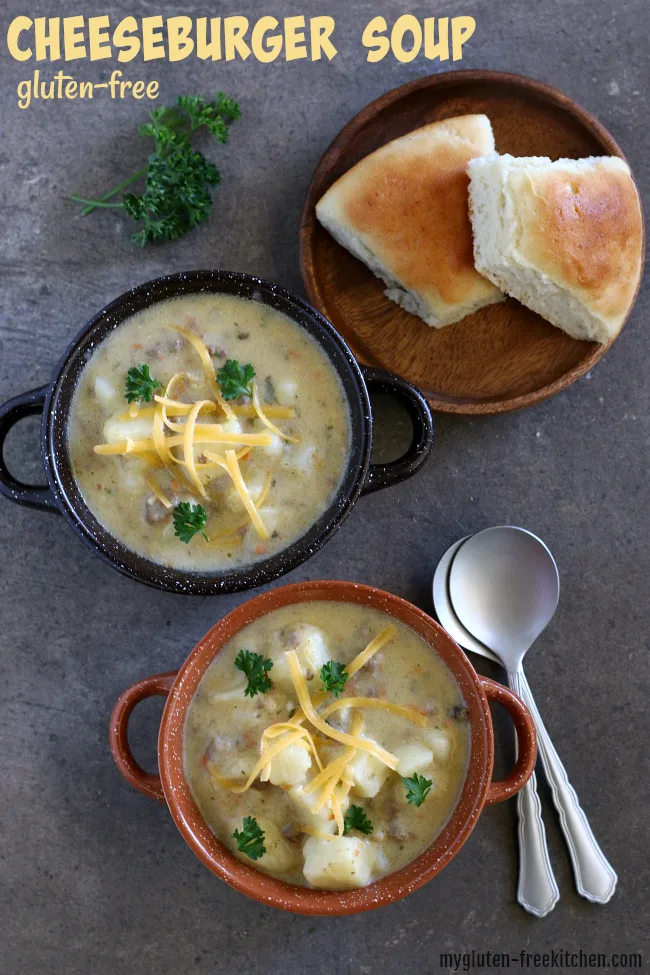 Several years ago, I was looking for some new gluten-free soup recipes, and came across one with a funny name, "Cheeseburger Soup". It was in a church cookbook and sounded intriguing. I finally got around to making this and it quickly became a family favorite. Over the years, I've tweaked it a bit, both to make it gluten-free, a little healthier, and seasoned according to our tastes.
This gluten-free Cheeseburger Soup is a creamy, hearty, soup with potatoes, cheese, ground beef, and vegetables. Some people like hamburger soup, but I prefer this cheesy version! This interesting combination really works!
Notes about ingredients for Gluten-free Cheeseburger Soup:
Just as in our favorite gluten-free Ham Cheddar Chowder, I love using Butter Gold potatoes or Yukon Gold potatoes in this soup as they are just so creamy. If you don't have those around, feel free to make it with red potatoes or Russet potatoes.
I recommend Pacific Foods Chicken Broth. It is clearly labeled gluten-free and is the only brand I use for soups and broths.
I like to buy organic pre-shredded carrots at my local store. For this recipe, I just put those shredded carrots in my food chopper so they are minced up nicely.
The spinach is totally optional. I've just found that I can easily add some finely chopped spinach to ground beef when I cook it to use in soups and pasta dishes, and no one really notices it is there. It just makes an easy way to get a little more nutrition in our meal.
Cornstarch is used to thicken this soup, instead of flour. That substitution works quite well in many sauces and gravies. If you would prefer to use something else, you can try an all-purpose gluten-free flour blend to use as your thickener in the creamy soup base. I just go for the cornstarch since it is cheaper!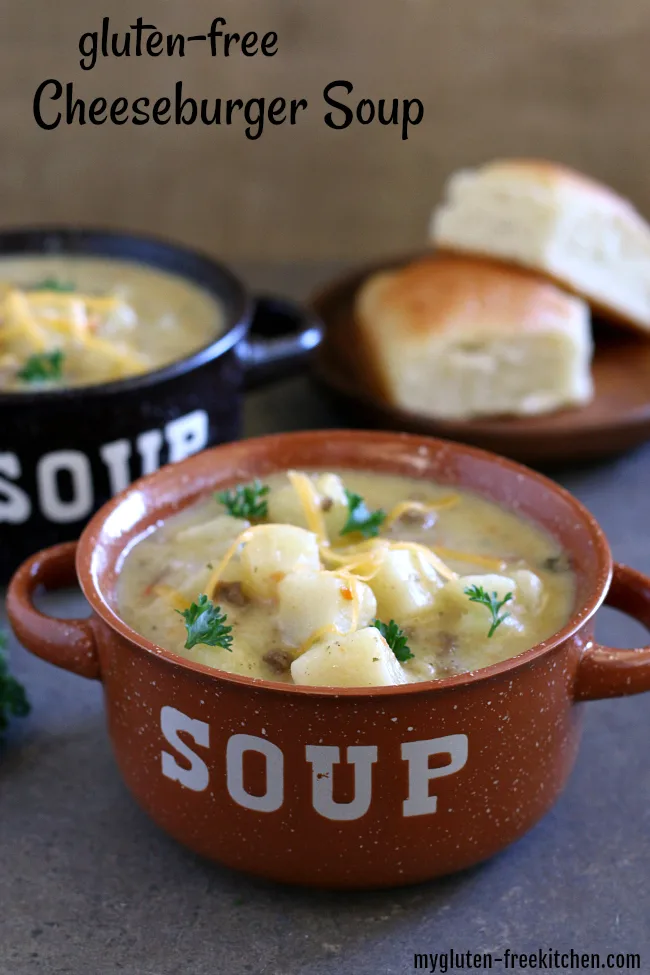 Isn't that soup bowl just too cute? A sweet friend gave me this one, and I loved it so much that I bought this whole set of Handled Stoneware Soup Mugs
from Amazon afterward!
We usually enjoy our Cheeseburger Soup with my Best Gluten-free Sweet Cornbread, or with my Gluten-free Dinner Rolls pictured above. Both are perfect with this and help round this out as a full meal.
On cold days like we've had this week, this is a gluten-free meal we all look forward to! It was -4° when I woke up and we haven't reached even 20° for a high all week. This big batch of this healthy cheeseburger soup fed our whole family of four for dinner for 3 nights and no one complained about having it again!
Other times when I've made this, I've put half of this soup into the freezer so that we can have an easy dinner a few weeks later. The soup holds up really well with freezing and reheating. I usually just have to add a little more milk to the bowl or pan of soup when reheating it as it gets quite thick.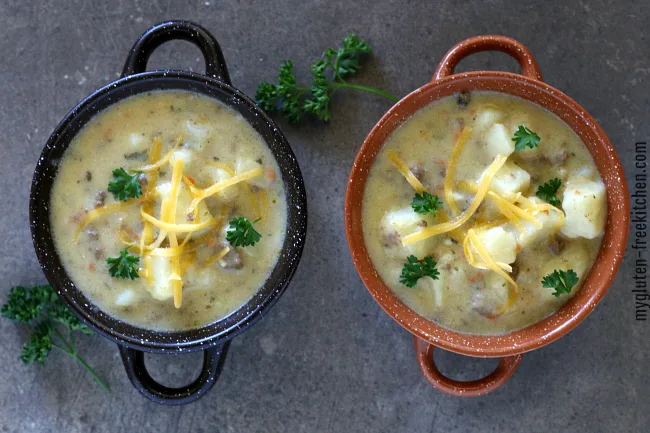 Looking for other ground beef soup recipes besides this cheeseburger soup recipe? Check out my gluten-free chili recipe that's made in the slow cooker. If you love stuffed peppers, this stuffed pepper soup looks so easy! This Cabbage Roll Soup looks really good and really healthy! Can't have dairy – make this Crock pot paleo hamburger soup instead!
If you try this cheeseburger soup, please come back and rate it and leave a comment so others will believe me that it's really good!
Gluten-free Cheeseburger Soup Recipe:
Yield: 12 servings
Gluten-free Cheeseburger Soup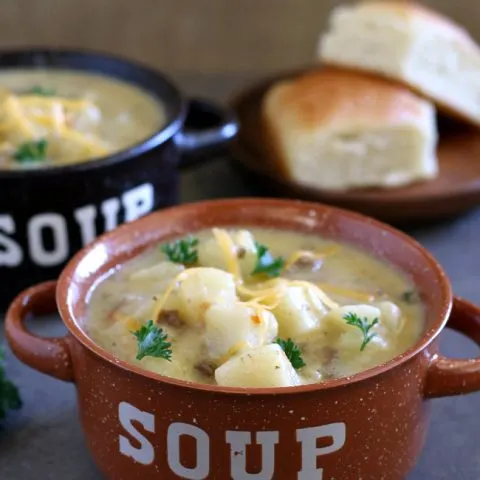 This gluten-free Cheeseburger Soup is a creamy, hearty, soup with potatoes, cheese, ground beef, and vegetables. It's an easy recipe that can be made in about 30 minutes, making it great for a weeknight too! Our family of 4 gets three meals out of this!
Ingredients
1/2 cup butter (1 stick), divided
1 lb. ground beef or ground turkey
1 cup spinach leaves
1 1/2 cups shredded carrots
2 Tbsp. minced garlic (about 3 cloves)
2 tsp. dried parsley
6 cups gluten-free chicken broth (recommend Pacific)
9 cups cubed potatoes (~3/4" cubes), preferably butter gold or Yukon gold
1/4 cup cornstarch
4 cups cubed cheddar cheese (about 1.25 pounds)
3 cups milk
1/2 cup sour cream
2 Tbsp. garlic salt
1/2 tsp. pepper
Instructions
Prepare veggies: I use a small food processor/chopper to chop the spinach and the shredded carrots to make them very small. Peel and cut the potatoes into cubes that are about 3/4" in size. Mince the garlic.
In a large stockpot, melt 2 tablespoons of butter over medium heat. Add the ground beef, spinach, carrots, and garlic and cook and stir until beef is brown.
Add the broth, potatoes, and parsley.
Bring to a boil, stir, then turn to low heat, cover pot with lid, and let simmer until the potatoes are tender, about 12 minutes.
In a smaller pot, melt the remaining butter, then whisk in the cornstarch. Add the milk, whisking until smooth. Bring to a boil until starts to thicken, about 2 minutes, then remove from heat.
Gradually add the milk mixture into the stockpot once the potatoes are tender. Stirring constantly, bring to a boil and let boil for 2 minutes to thicken the soup. Reduce heat to simmer and stir in cheese cubes.
When cheese is melted, add sour cream, garlic salt, and pepper. Stir until all is warmed through to desired temperature. Taste to see if you would prefer additional garlic salt or pepper.
Serve with gluten-free rolls or gluten-free cornbread.
Leftovers can be refrigerated or frozen. To enjoy leftovers, you'll want to add a bit of milk when reheating. You can reheat in the microwave or on stove top.
Notes
My first choice of potatoes for this is Butter Gold or Yukon Gold potatoes. Second choice is red potatoes. Big baker potatoes are just a little drier textured so they're not my favorite in this.
Taste before serving as every family has a little different preference for seasonings - feel free to add more salt, garlic salt, or pepper before serving!
Recommended Products
As an Amazon Associate and member of other affiliate programs, I earn from qualifying purchases.
Pin this to your gluten-free soups board on Pinterest: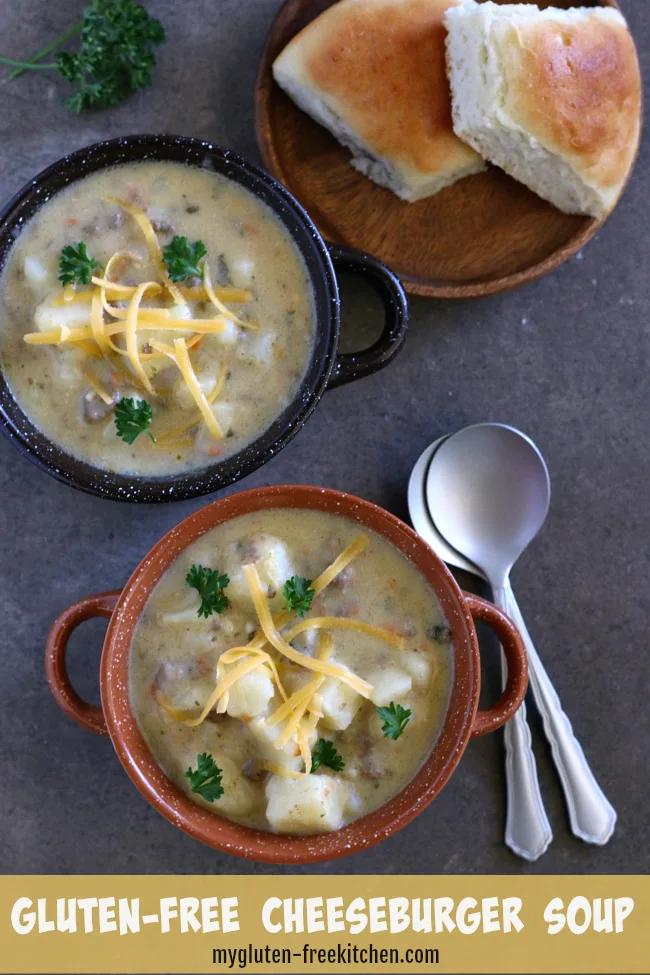 Let me know if you have a chance to try this gf soup. I hope your family enjoys it as much as mine!
Text and photos updated September 2019. Original photos from December 2013 below: