Creamy, cheesy gluten-free baked ziti has always been a family favorite around here. With the flavors of lasagna, but much easier to make, this gluten-free cheesy baked ziti is a favorite casserole for me to make. This meal is so filling and the leftovers reheat well for lunch or dinner the next day. I've included tips for making this a healthier baked ziti recipe too!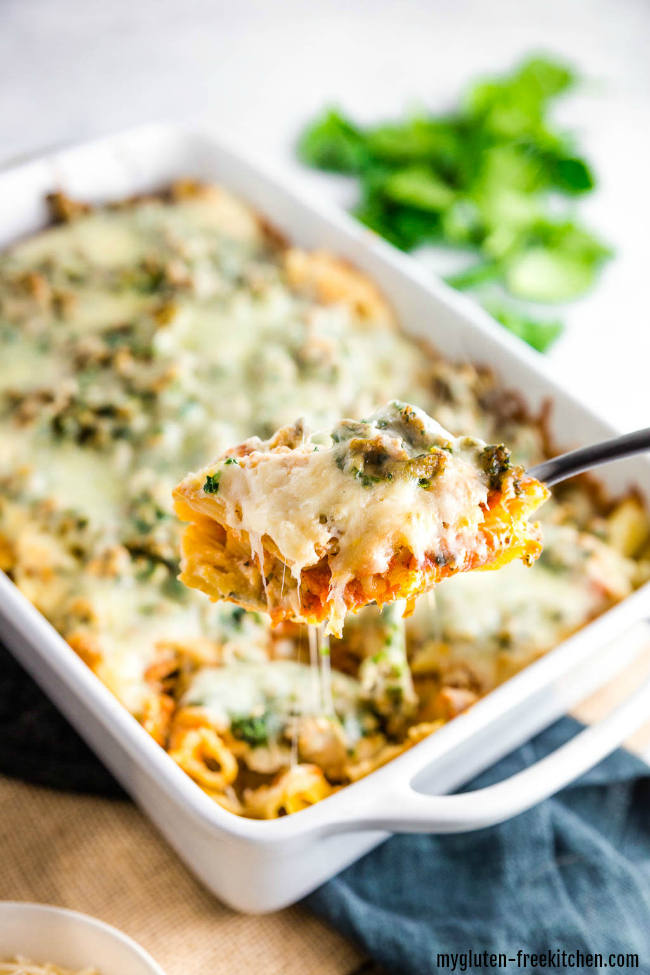 This is one of my favorite "dinner in about an hour" kind of meals. I can swing these on weeknights where carpool doesn't run too late and no one needs to get to practice. We used to have a weekly pasta night where I rotated between this gluten-free ziti recipe, my gluten-free skillet spaghetti, gluten-free lasagna, and gluten-free pasta alfredo – most of those recipes I need to add to the blog still!
I'm not sure why I hadn't made this gluten-free ziti in a while, but it's back in the rotation again because it's always such a hit with the family. It's not full of a lot of complicated ingredients, and is an easy one for kids to help cook with you!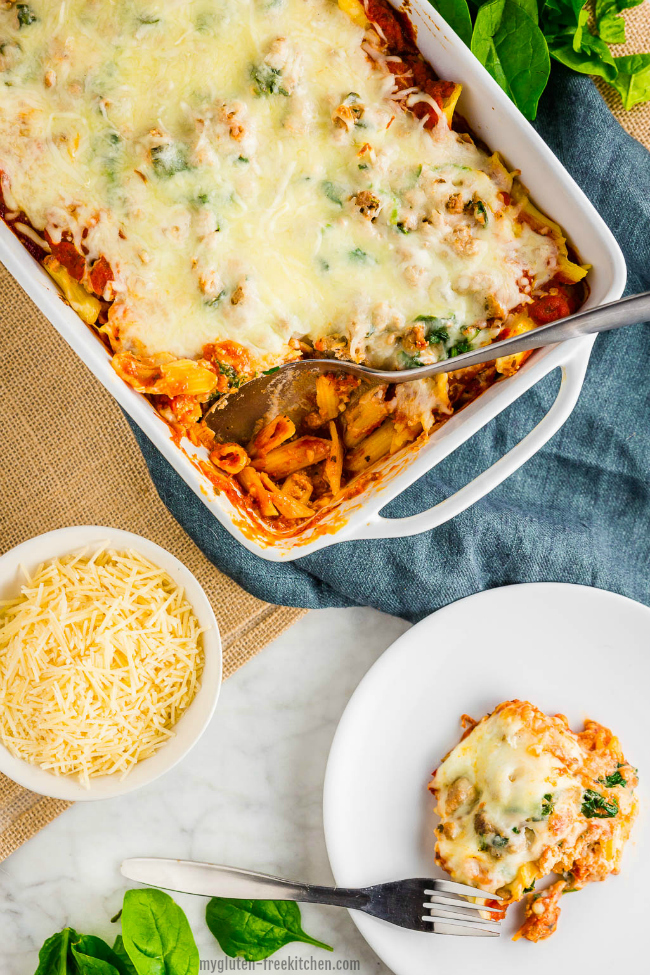 The best ziti recipes are always high in fat and calories. While keeping great flavor, I reduced the fat in this recipe by swapping the usual pork Italian sausage for a leaner meat, using part-skim ricotta cheese, and part-skim mozzarella cheese.
To bump up the nutrition, I chopped 2 handfuls of spinach and cooked it in with the turkey. The kids didn't even notice it in there! Win!! I use my little one cup food chopper to make quick work of dicing it up. The one I have is discontinued but I just bought this new similar one from Amazon here. It's got great ratings so I'm sure it'll be just as good!
Notes on ingredients and substitutions to make it a healthier baked ziti:
While you can make this with pork Italian sausage, I usually opt for turkey Italian sausage or chicken Italian sausage because they are much leaner. I use raw, uncooked sausage. If you do choose a seasoned pork, turkey, or chicken sausage, be sure to double-check the ingredients lists for gluten. You can also just use plain ground turkey.
To cut the fat a bit, you can use part-skim ricotta cheese in this without a noticeable difference, in my opinion, and that's what I usually use.
To but the fat a bit, you can substitute part-skim mozzarella cheese.
Feel free to use your favorite gluten-free spaghetti sauce. I used Prego this time, but I rotate through a variety of brands. Feel free to use one that's cheesy, or one that's garlicky, or even one that's chunky with mushrooms.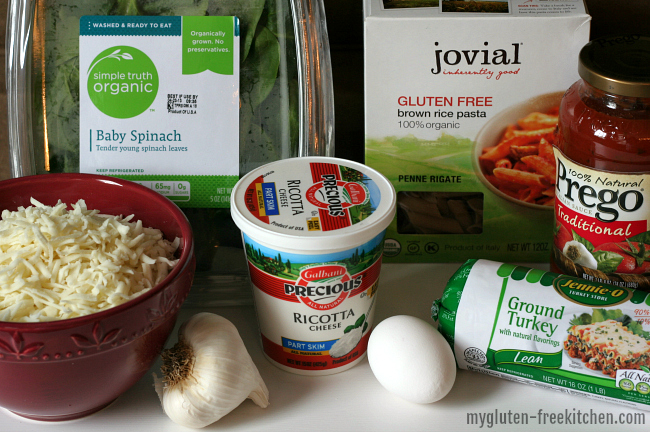 Does Sausage have gluten?
Not usually – it can sneak in the seasonings sometimes, or there can be a risk of cross-contamination from other products. The gluten-free turkey or chicken sausage I usually use are:
Jennie-O – I've used their turkey sausage and now their ground turkey. All are labeled gluten-free.
Isernio's – certified gluten-free, and now I see that they are nitrate free too!
Honeysuckle – most of their products are labeled gluten-free online so you can browse and check. These are unfortunately no longer available in my area which is a bummer as I liked them a lot!
Again, you can also just use lean ground turkey in place of sausage! That's what I did this time since that's what I had on hand!
Brands that make certified Gluten-free Penne Pasta:
I used penne noodles from one of my favorite brands of pasta, Jovial. This rice pasta still has a great texture after cooking and baking it. I buy it directly from the Amazon, Jovial website, or from my local Albertsons or Whole Foods stores. I just heard that some Walmart stores are carrying these now too!
Barilla is another hit with my family and they're making penne noodles too! I can find these at several stores in my town, including Winco and Fred Meyer, or you can buy online at Amazon here.
I used to use Le Veneziane pasta but I had to order it from Italy. Now it's affordable on Amazon!
Delallo makes this gluten-free penne pasta that I can't find in my area but it's available in bulk on Amazon.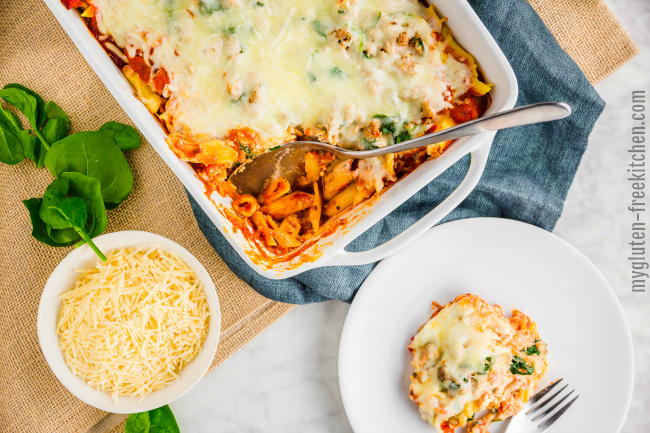 While I've only ever made gluten-free baked ziti in the oven, I have it on my list to try in my Crock-pot after seeing this recipe for Crock Pot Baked Ziti. Let me know if you try that recipe with gluten-free noodles!
Serve this yummy baked ziti with a side salad like this Farmer's Market Salad. Bake up some Brazilian cheese bread, gluten-free garlic rolls or gluten-free baguettes, and you've got a delicious family meal that everyone will enjoy! I hope your family enjoys this as much as mine does!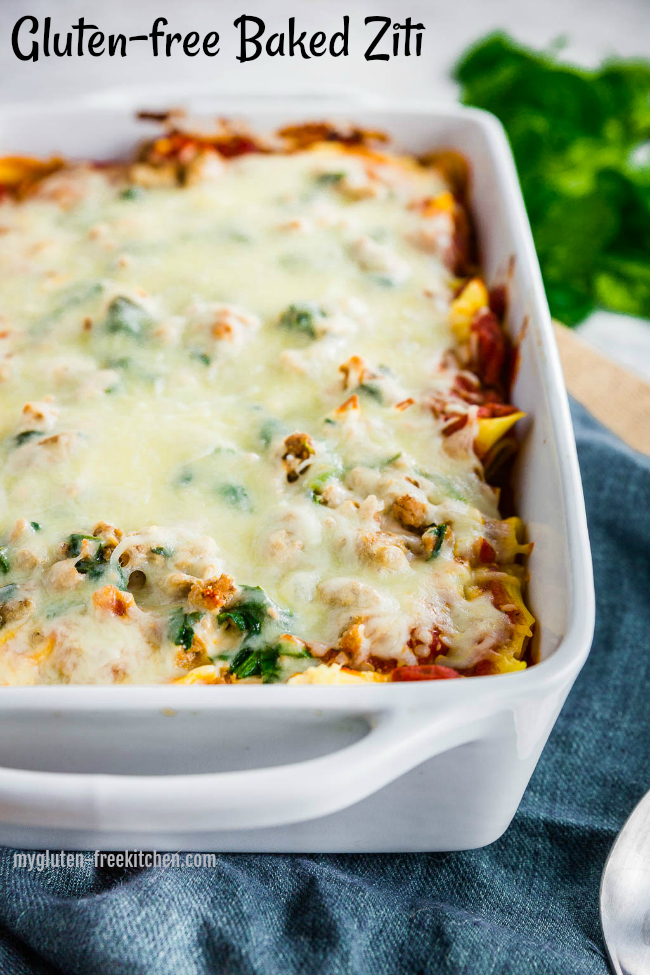 Yield: 12-15 servings
Gluten-free Baked Ziti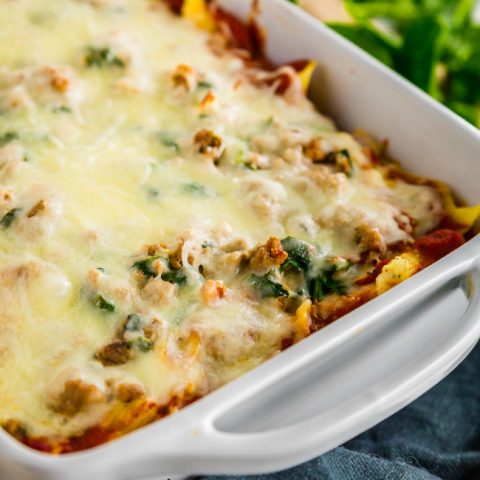 Cheesy gluten-free baked ziti is a family favorite dinner recipe! This is an easy gluten-free dinner for your kids to help with too!

Prep Time 30 minutes

Cook Time 30 minutes

Total Time 1 hour
Ingredients
12 oz. box of gluten-free penne noodles (I used Jovial)
2 handfuls baby spinach (fresh, not frozen)
1 lb. ground pork, turkey or chicken sausage, or plain ground turkey
1 clove garlic, minced
15 oz. part-skim or whole milk Ricotta cheese
1/2 cup shredded Parmesan cheese
1 large egg
1/4 tsp. salt
1/4 tsp. pepper
1/4 tsp. garlic powder
23.5 oz. jar* Prego pasta sauce (or your favorite gluten-free sauce)
2 cups shredded mozzarella cheese
Instructions
Preheat oven to 350°. Spray a 9"x13" baking dish with cooking spray and set aside.
Cook the gluten-free pasta according to instructions for al dente. Drain and set aside.
While the pasta is cooking, use a food processor, food chopper or knife to chop up two handfuls of fresh spinach.
In a skillet, brown the ground turkey or sausage, adding in the clove of minced garlic and the chopped spinach about halfway through cooking sausage. When completely cooked, set aside.
In a bowl, combine the Ricotta cheese, Parmesan cheese, and large egg. Stir in the salt, pepper, and garlic powder. Set bowl aside.
To assemble the baked ziti, place half of the drained pasta in the bottom of the 9"x13" pan. Top with half of the marinara sauce. Spoon half of the ricotta mixture over the sauce and try to spread fairly evenly. Spoon half of the meat mixture for the next layer. Sprinkle 1 cup of the mozzarella cheese over the meat.
Repeat the layers once more in the same order.
Cover with foil and bake at 350° for 25 minutes. Remove foil and bake for an additional 5-10 minutes or until the edges are lightly browned and mozzarella is melted.
Serve immediately.
Notes
Spaghetti sauce brands vary in size - just use something close to 24 oz.

If you would like your gluten-free baked ziti to be extra saucy, add another 1/2 jar of marinara sauce.

As always, be sure to double-check all of your ingredients to ensure they are gluten-free.

Please see blog post for information and recommendations on specific ingredients like sausage and penne noodles.
Recommended Products
As an Amazon Associate and member of other affiliate programs, I earn from qualifying purchases.

Pin this to your gluten-free dinners board on Pinterest: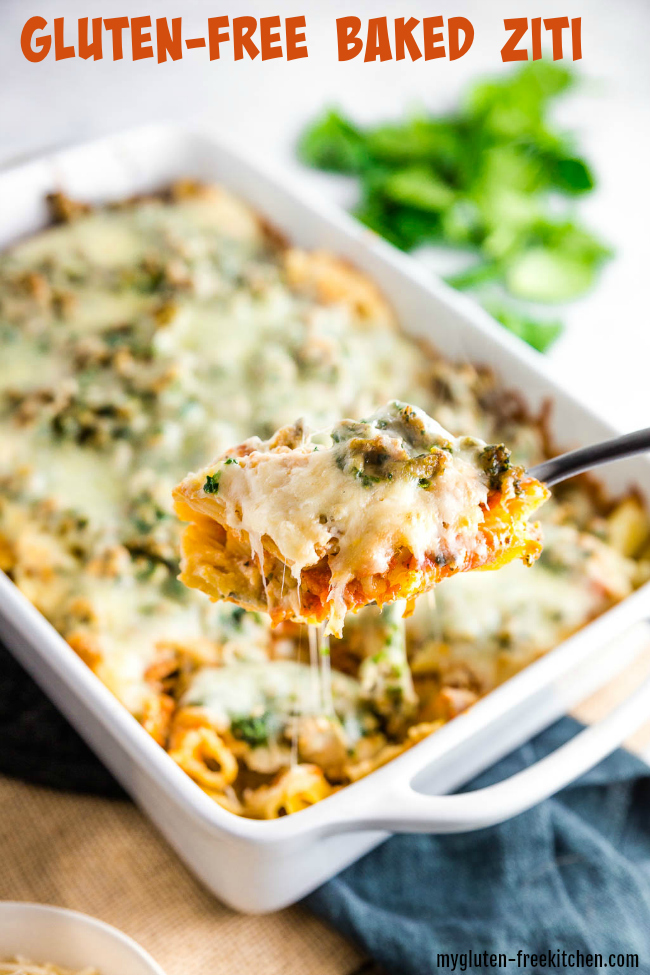 Looking for more gluten-free dinner recipes? Be sure to follow me on Facebook where I share new recipes from fellow bloggers every day!