Grab some fresh, tart apples from the orchard, farmer's market or store so you can make this delicious gluten-free apple bundt cake. This gluten-free apple cake is dairy-free too! This is such a pretty gluten-free apple dessert.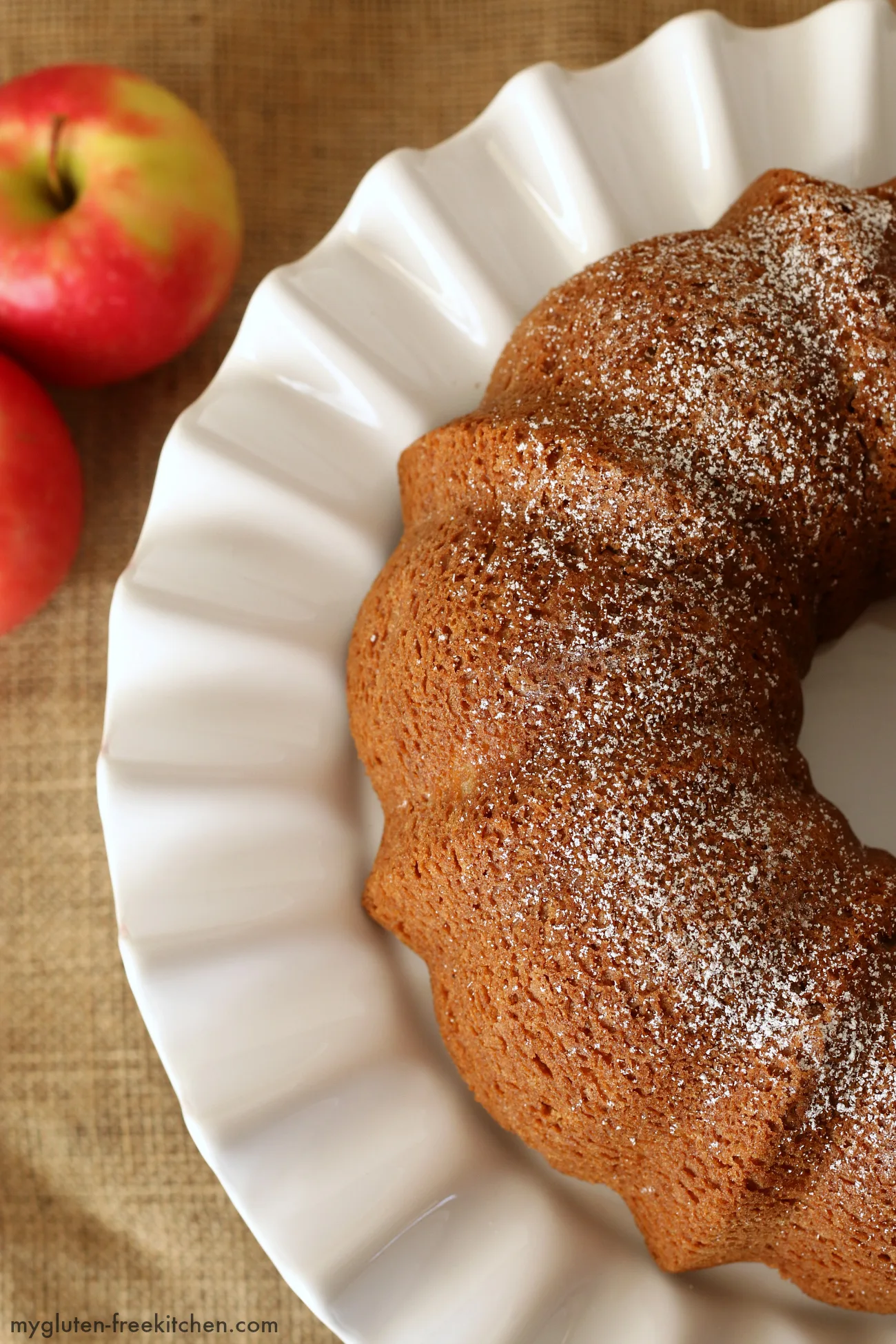 We buy at least 60 pounds of apples twice each fall. We use them in a variety of recipes, including gluten-free apple puff pancakes, gluten-free apple streusel muffins, gluten-free apple crisp, homemade applesauce, and of course this gluten-free apple cake that I'm sharing today!
While this cake is yummy year-round, I definitely make this gluten-free apple cake every fall when we get apples from the local orchard.
I slice and freeze a lot of the apples for future use too, so that all winter and spring, I can use the thawed apples in my favorite recipes.
I've also been making gluten-free apple cakes for years, but have been really trying to perfect it this past year so I can share it with you. I've been trying different glazes and icings, making a dairy-free option, and getting the seasonings just right.
Now it is finally time to share this new recipe with you! We love this gluten-free apple cake! If you don't have fresh apples on hand, use some that you froze!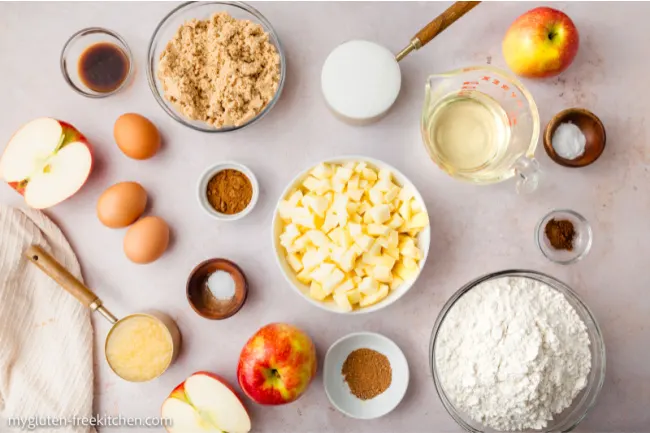 Notes on ingredients and substitutions for this gluten-free apple cake:
Gluten-free Flour: As always, I only recommend baking with a good quality all-purpose gluten-free flour blend. All flour blends are not created equal! I recommend avoiding flour blends that contain any bean flours or that are primarily rice flour, as you'll get a more gritty result. This recipe, like pretty much all of my recipes, has been tested with successful results with gfJules gluten-free flour (also on Amazon here), King Arthur Measure for Measure Flour, Authentic Foods Multi-Blend, and Gluten Free Mama's Almond Flour Blend and I recommend any of those. Two other flour blends that I've been testing some (but not this recipe yet) with good results are Cup4Cup and Pamela's.
Xanthan Gum: If the gluten-free flour blend you use already has xanthan gum or guar gum in it, then omit the xanthan gum called for in this recipe.
Butter/Oil: After making this apple cake successfully several times with melted butter or with corn oil, I recently tested it with melted coconut oil and had the same great results. The batter before baking has small lumps when using coconut oil, but those dissolve in baking. The cake was great either way!
Applesauce: When using applesauce in baking, I always use an unsweetened, plain applesauce. I personally use our homemade applesauce or store-bought unsweetened apple sauce.
Apples: I recommend using a good tart apple that's suitable for baking. I personally always prefer McIntosh, Pink Lady, or Braeburn.
Sugar: I know someone is going to comment on the amount of sugar – but keep in mind this is a LARGE cake, you're using unsweetened applesauce and tart apples. While I haven't experimented with any sugar substitutions, you're welcome to experiment and let me know what works!
I tried a variety of glazes and icings and ultimately felt like they all overpowered the cake and made the whole dessert just too sweet. I finally decided to just give the cake a dusting of powdered sugar and we all loved it! Powdered sugar is just the right thing to make it pretty and add another little layer of flavor and texture to this amazing dessert!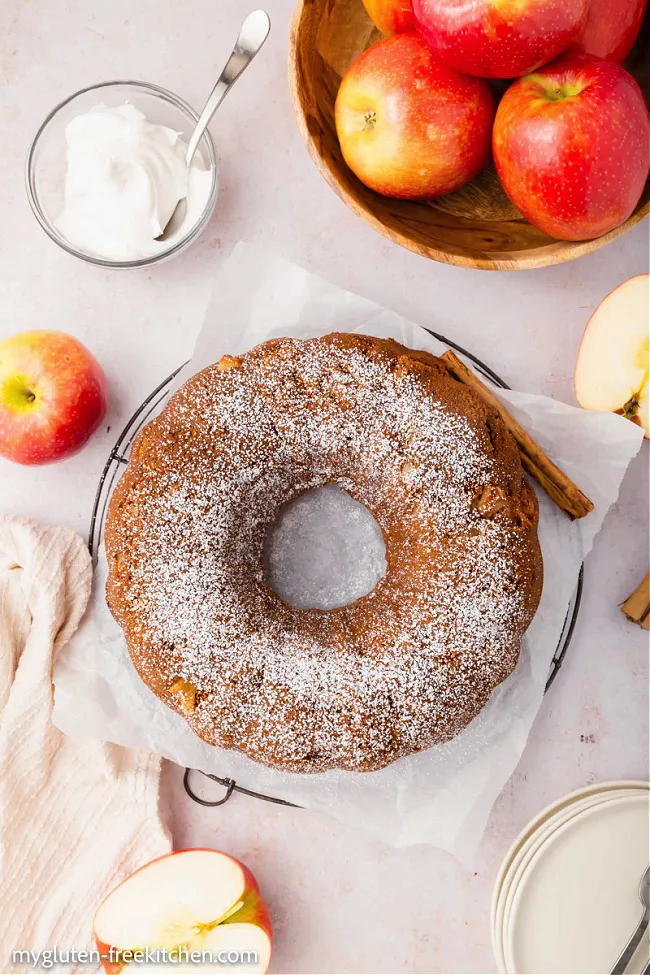 I'm sure some of you can get all crazy making powdered sugar patterns and such on it too! That's a little out of my league, but I can't wait to see if some of you do! You can email me or share to my Facebook page if you make this, or any of my recipes!
Since it doesn't have chocolate that will melt, or a runny, sticky glaze, this can handle sitting out in the heat at your next picnic or potluck.
Before I brought it to a potluck recently, I went ahead and sliced it all up at home and laid the slices on a platter. I got 16 good thick slices, but you could get more if you slice it thinner.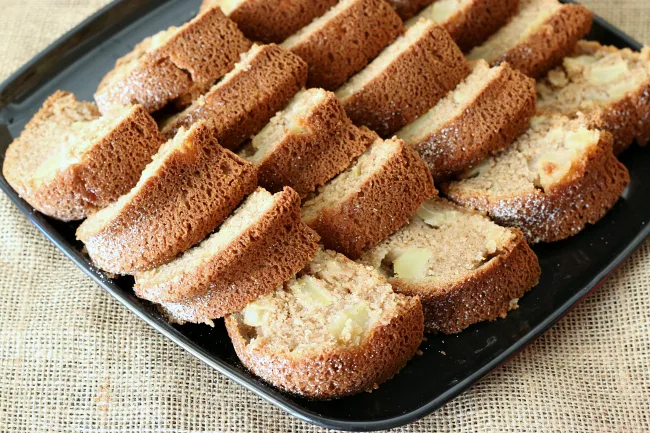 I've been making this gluten-free apple cake for many years now that I perfected it! I hope this becomes a go-to recipe in your home also!
If you like this apple cake, then I think you'll love this gluten-free peach cake that I make too! They're both delicious and can be enjoyed for breakfast like coffee cake or for dessert with some whipped cream or ice cream.
Oh, you can also serve this with homemade whipped cream – I often do! You could also serve with either store-bought or homemade gluten-free caramel sauce if you want that caramel flavor!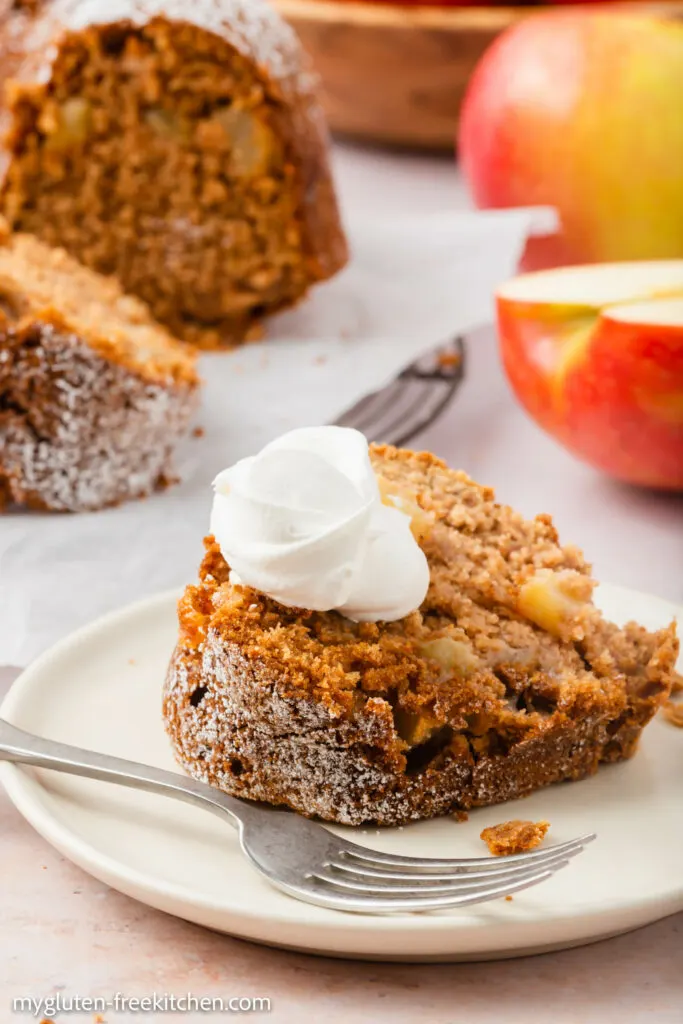 Have more applesauce on hand? Make my gluten-free pumpkin bars recipe. Or this gluten-free applesauce bread from my friend Erin.
If you make this apple cake and love it, please come back and give this recipe a 5 star rating in the recipe card! Feel free to comment with tips or to share any successful substitutions you made.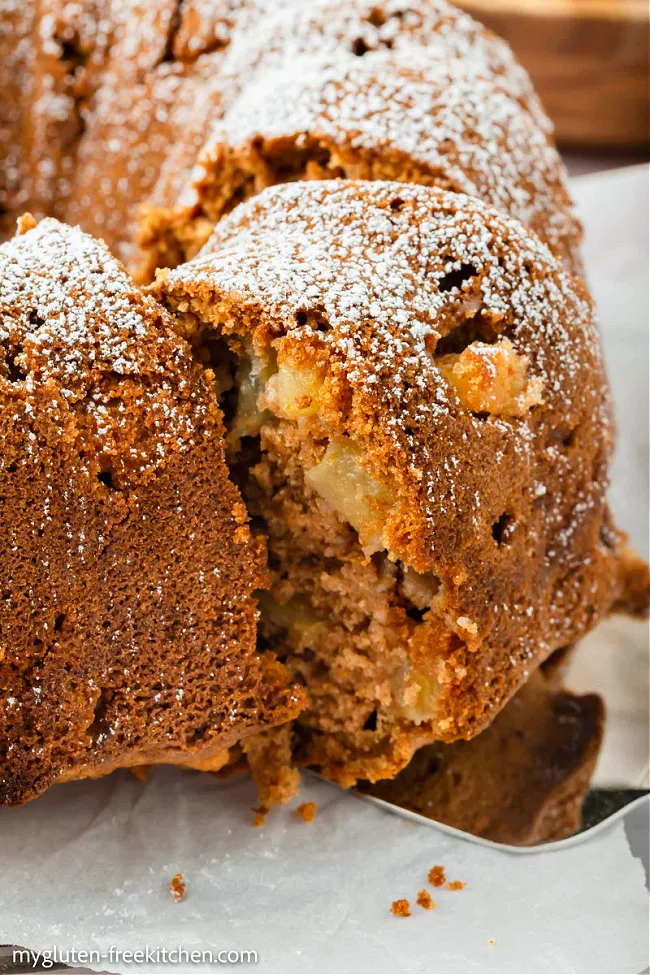 Gluten-free Apple Cake Recipe:
Yield: 16 slices
Gluten-free Apple Cake (dairy-free)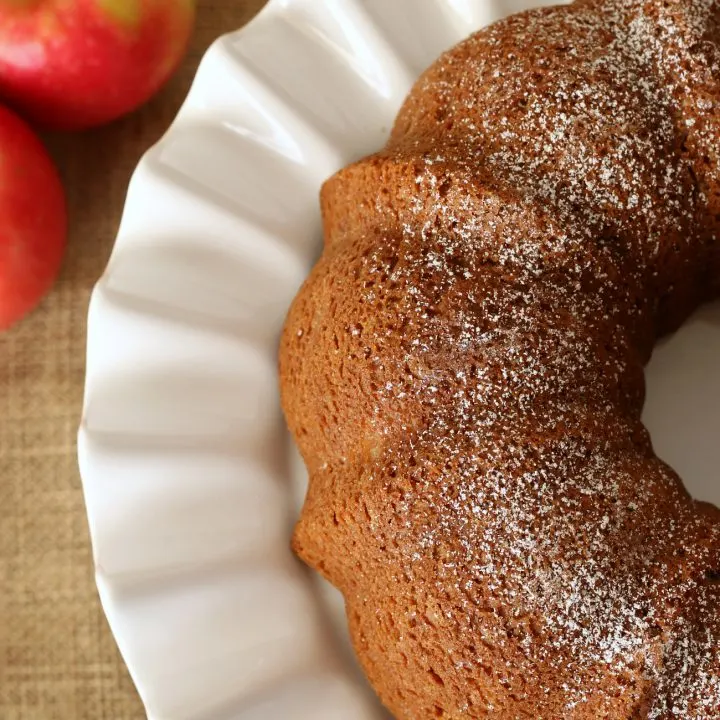 This gluten-free apple cake is delicious with a dusting of powdered sugar. You can also serve with homemade whipped cream or ice cream.
Total Time
1 hour
10 minutes
Ingredients
3 cups good-quality gluten-free all-purpose flour blend
1 1/2 tsp. xanthan gum *(see note)
1/2 tsp. salt
1 tsp. baking soda
1/4 tsp. cloves
1/2 tsp. nutmeg
2 tsp. cinnamon
1 cup sugar
1 cup brown sugar
3/4 cup melted coconut oil or melted unsalted butter
1/2 cup unsweetened applesauce
3 large eggs
1 Tbsp. pure vanilla extract
3 cups peeled apple chunks
Instructions
In a large bowl, whisk together gluten-free flour, xanthan gum (if needed- see note), salt, baking soda, cloves, nutmeg and cinnamon. Set aside.
In the bowl of your electric mixer, cream together sugar, brown sugar, coconut oil or melted butter, and applesauce. Beat on medium speed for about 2 minutes. Mixture lightens and gets creamy. If using coconut oil, small lumps remain throughout but that's fine.
Add eggs one at a time, mixing on low speed until each is mixed in. Add vanilla extract and beat on low just until mixed in.
Add dry ingredients that you set aside earlier. Stir in with a spatula, just to combine.
Using a spatula, fold in the 3 cups of apple chunks.
Pour batter into a greased bundt pan.
Bake at 350° for 50 minutes, or until a toothpick inserted in center comes out with moist crumbs not wet batter.
Let cool in pan for 5 minutes, then carefully flip over onto cooling rack and remove pan. Let cool.
Using a fine mesh strainer, sieve, or salt shaker, sprinkle powdered sugar over the surface of the cake.
Easiest to cut and serve once completely cool.
Notes
This has been tested successfully several times with gfJules flour blend, several times with Gluten Free Mama's flour blend, and also with King Arthur Measure for Measure.

*If the gluten-free flour blend you use already has xanthan gum or guar gum in it, then omit the xanthan gum called for in this recipe.
I've made this gluten-free apple cake dairy-free with coconut oil with great results. I've also made this cake using melted butter with great results. Feel free to use whichever works better with your allergens/intolerances.
Recommended Products
As an Amazon Associate and member of other affiliate programs, I earn from qualifying purchases.
Pin this to your gluten-free cakes board on Pinterest: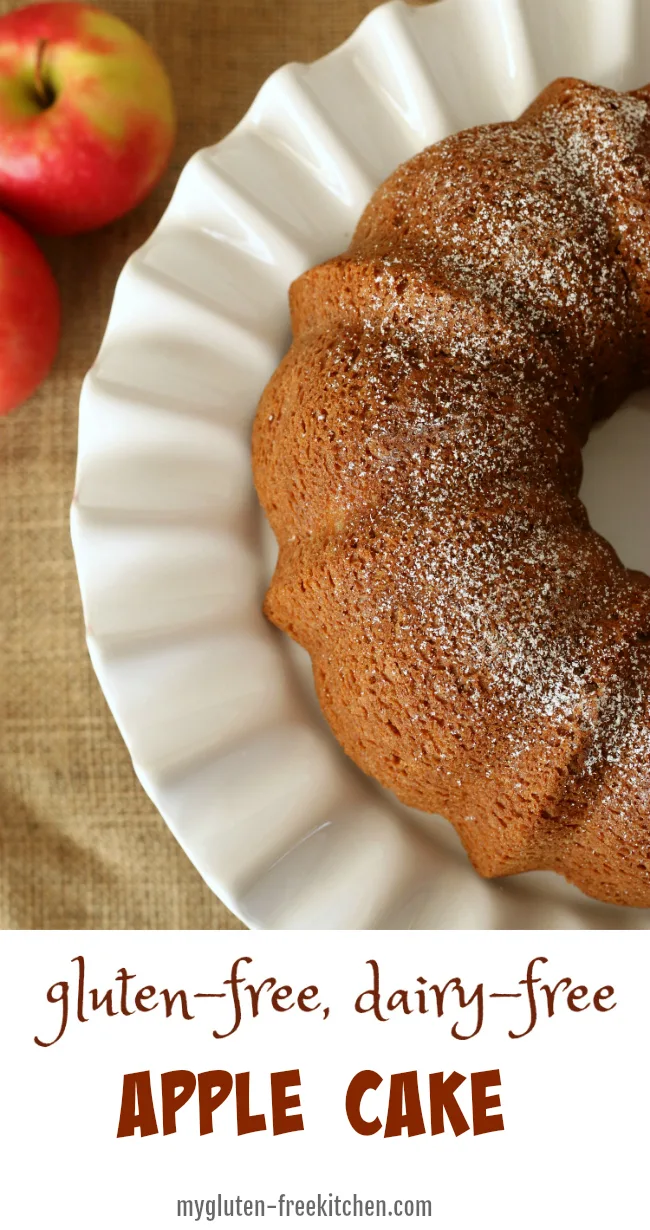 Enjoy!