All the yummy of cinnamon rolls in muffin form! These yeast-free gluten-free cinnamon roll muffins are a sweet breakfast treat that is ready much quicker than cinnamon rolls would be.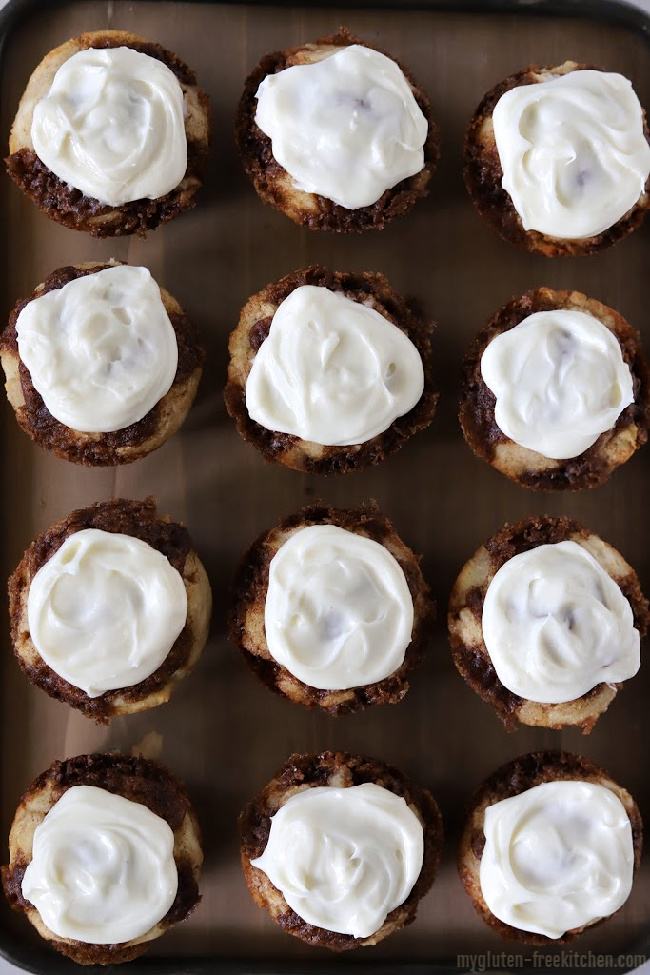 What do you get when you combine the flavors of a cinnamon roll with the cake-like texture of a muffin? These gluten-free cinnamon roll muffins! My youngest son called them gluten-free cinnamon roll cupcakes which totally works too!

The texture is tender. There is a cinnamon swirl through the muffins. They're topped with a quick and delicious 5 ingredient cream cheese frosting!

Here's a look at the texture on these muffins: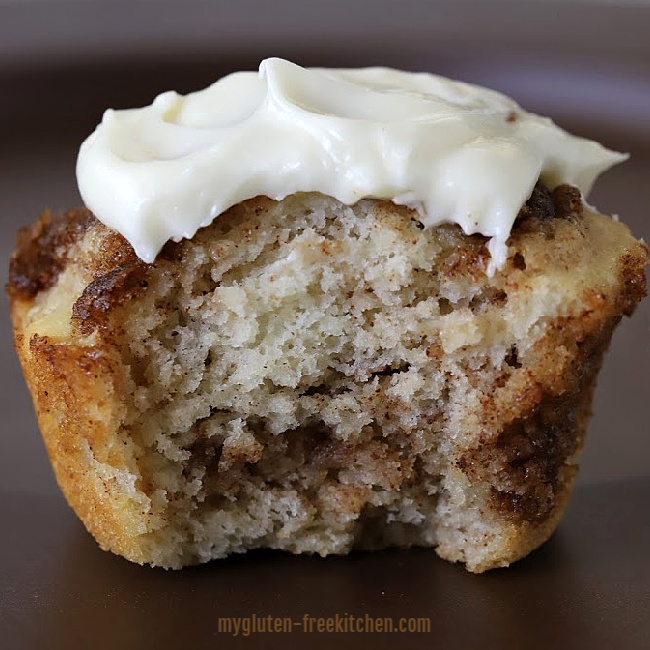 These might just be the best gluten-free muffins you'll ever make in your muffin tin! Let's talk about what you need for making this gluten-free cinnamon muffin recipe.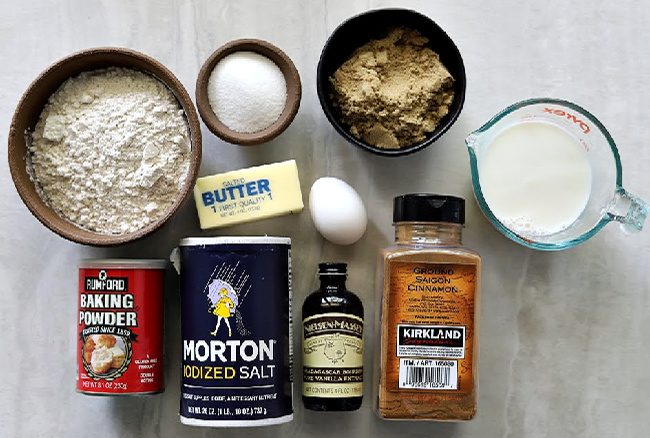 Notes on ingredients for these gluten-free cinnamon muffins:
Gluten-free flour: Use a good quality gluten-free flour blend. Flour blends I recommend include King Arthur Measure for Measure, gfJules, Cup4Cup, Authentic Foods Multi-Blend Flour and Gluten-free Mama Almond blend. I tested this with both King Arthur and the Gluten-free Mama blends but am confident the others will work well! Other people also have good success with Pamela's flour; I don't use it due to the guar gum which my body doesn't tolerate well.
If the gluten-free flour blend you use already has xanthan gum or guar gum in it, then omit the xanthan gum called for in this recipe. Many of those listed above do contain the xanthan, and other blends like Pamela's contain guar gum. It's getting rarer to find blends that don't already have a gum added, but I do list that in the recipe in case you are using one that doesn't have xanthan, or using your own homemade blend without xanthan.
Milk: I used 1 or 2 percent milk in this. You could use a non-dairy milk if you wanted. I didn't see the point since I was using so much butter and cream cheese too.
Butter: You'll be using a total of 7 tablespoons of butter in the entire recipe. 3 tablespoons in the muffin batter, 3 tablespoons in the filling/topping, and 1 tablespoon in the cream cheese frosting. So almost one entire stick of butter, just with 1 tablespoon left over.
Cinnamon: Cinnamon stars in this recipe, so use a good quality, fresh cinnamon. I noticed a huge difference when I stopped using generic store-brand cinnamon and started using this Kirkland Saigon cinnamon that I buy at Costco (or you can buy from Amazon here).
How to make cinnamon muffins:
These are made like many muffin recipes, where you will mix the dry ingredients: gluten-free flour blend, xanthan gum (if needed), sugar, baking powder, and salt in a large bowl.
Then you will whisk the wet ingredients: milk, melted butter, and egg in another bowl. You'll pour the wet ingredient mixture into the dry ingredients and stir just until combined.
Next you'll make the yummy cinnamon mixture by combining brown sugar, cinnamon, melted butter and vanilla. You'll gently stir 3 tablespoons of this mixture into your batter – just swirl it in. The remaining mixture you'll set aside.
In your well-sprayed muffin pan, you'll scoop in the muffin batter. I used my #20 cookie scoop which holds 3 tablespoons of muffin batter into each cavity of the muffin pan and it worked perfectly for yielding 12 muffins.
Then you'll add about 1 teaspoon or so of the brown sugar mixture on top. I tried this many ways, but eventually found I just liked using my fingers and dropping it on in small dollops all over each muffin batter.
You'll bake in your preheated oven at 400 degrees for about 14-15 minutes, or until you can push down just slightly and it doesn't cave in, but rather springs back. A toothpick inserted would come out without wet batter on it too.
Here's a look at these muffins just out of the oven: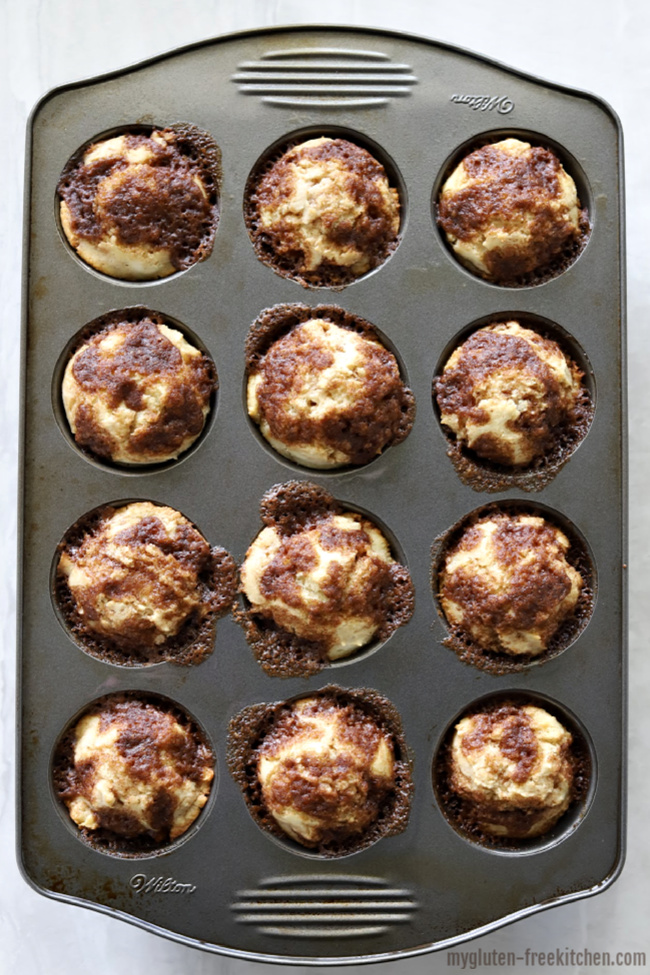 As you can see that brown sugar topping spreads and out. It will get on your pan, but most of it you can peel right off and munch on (it's yummy) and the rest you can wash off no problem.
I suggest letting them cool in the pan for about 5 minutes.
Then loosen the muffins slightly with a thin plastic spreader or a plastic knife. I've used plastic spreaders like this one for years and think they're perfect for this purpose! (I love using them to slice brownies, cakes, and quick breads too!)
After you've loosened them, remove each muffin from the baking pan and place on a cooling rack. This will prevent them from getting soggy from cooling in the pan, and will also make it easier to frost them and eat them once frosted!
Now make the cream cheese frosting: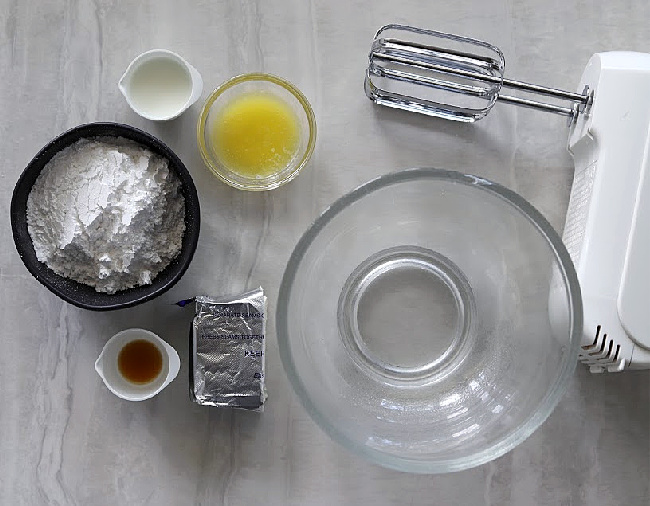 For the cream cheese frosting, you'll need:
Powdered sugar
3 ounces cream cheese
1 tablespoon of melted butter
2-4 teaspoons of milk – depending on how thick or thin you want your frosting
a little bit of pure vanilla extract for flavor
a hand mixer (mine is super old and works great – this looks like the updated version)
You'll mix all the ingredients together until smooth. You'll need to decide how you would like to frost your cinnamon roll muffins. Do you want to just drizzle the frosting all over them? Then add more milk to make it easy to drizzle. Do you want to spoon the frosting onto each and spread (like I did)? Then use less of the milk so you have a thicker frosting.
I made mine just the right consistency to scoop with a small 1 Tbsp. scoop, spread a bit with the back of a spoon, and not have any of it run down the sides.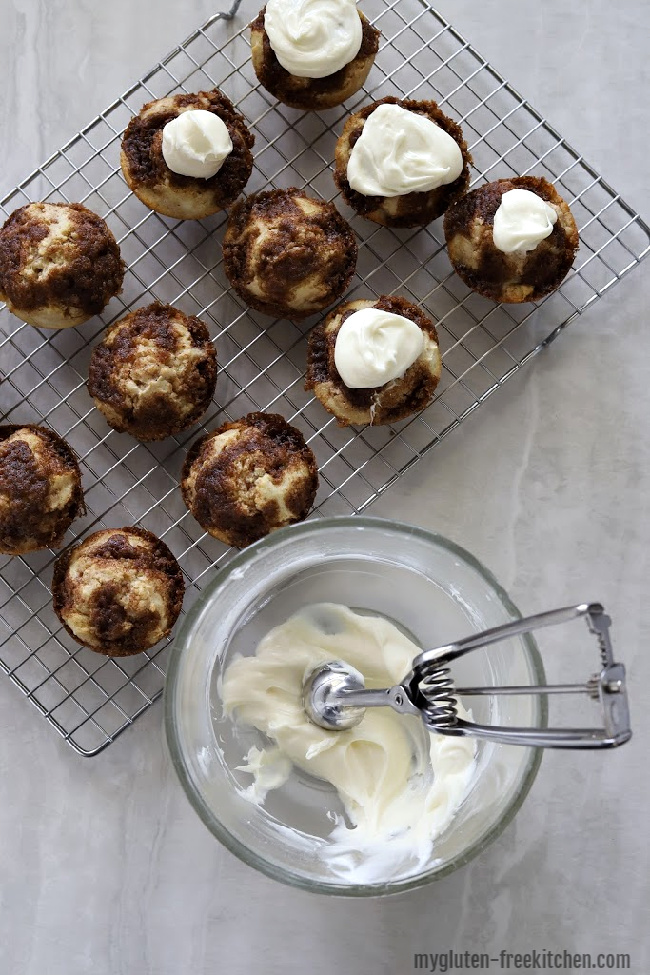 Now you're ready to serve! At my house, we'd all just grab them right off the cooling rack to enjoy!
But I figured I'd take some pretty photos for you so here they are on a nice wooden platter that conveniently fits 12 muffins perfectly! If I was bringing them to a friend's house, I would definitely plate them nicely like this.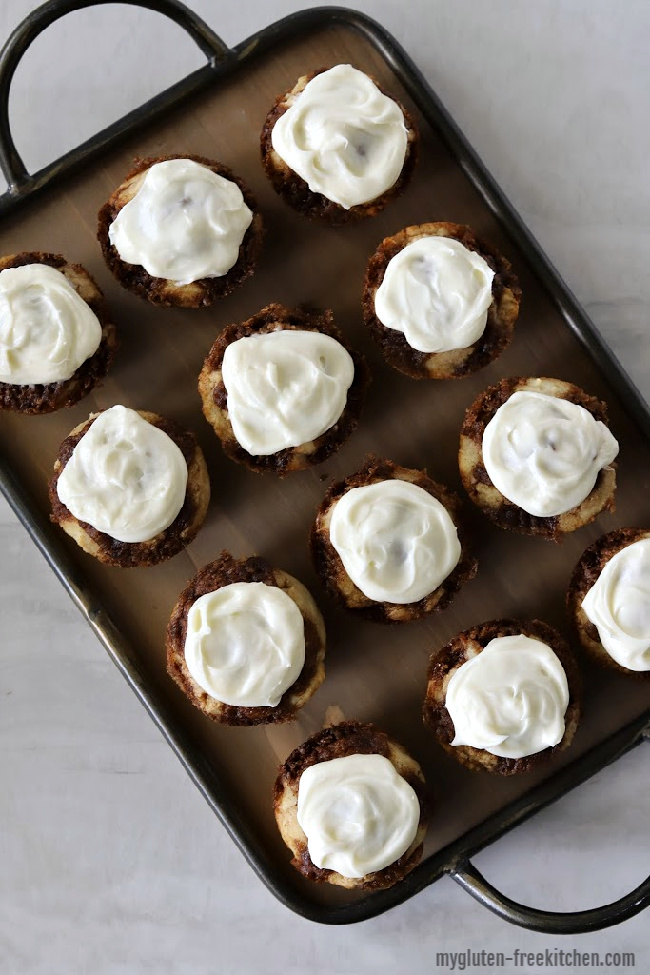 These gluten-free muffins are just as good on day two as the day you bake them.
You can even warm them up in the microwave for 10 seconds or so if you'd like – I did that today and mmmm good!
Last year, I made these the day before Easter and then we enjoyed them with our traditional overnight gluten-free breakfast casserole for brunch.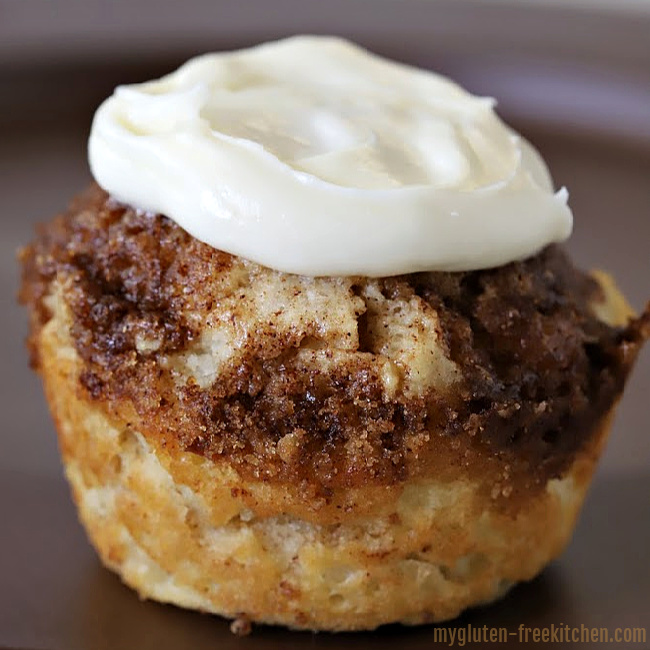 These would also be perfect as a sweet treat alongside my friend Jeanine's sheet pan eggs.
If you like this recipe, be sure to try my gluten-free apple fritter muffins! Or try my gluten-free apple bread!
If you make these and love them, please come back and give this recipe a 5 star rating in the recipe card! Feel free to comment with tips or to share any successful substitutions you made.
Cinnamon roll recipe is adapted from Some the Wiser's Cinnamon Roll Muffins and the cream cheese frosting is my own.
If you make these and enjoy them too, please come back and give them a 5 star rating!
Gluten-free Cinnamon Roll Muffin Recipe:
Yield: 12 muffins
Gluten-free Cinnamon Roll Muffins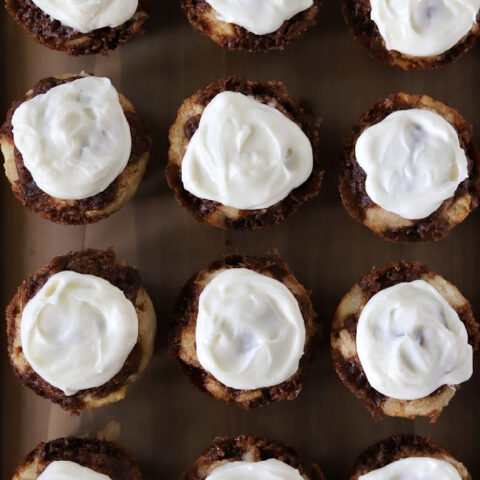 These yeast-free gluten-free cinnamon roll muffins are a sweet breakfast treat that is ready much quicker than cinnamon rolls would be.

Prep Time 25 minutes

Cook Time 15 minutes

Additional Time 5 minutes

Total Time 45 minutes
Ingredients
2 cups gluten-free flour blend
3/4 tsp. xanthan gum (if needed - see note)
3 Tbsp. sugar
3 tsp. baking powder
1/2 tsp salt
1 cup milk
3 Tbsp salted butter, melted and cooled
1 egg
Topping and Filling:
2/3 cup brown sugar
1 Tbsp. cinnamon
3 Tbsp. melted butter
1/4 tsp pure vanilla extract
Frosting:
3 ounces cream cheese (room temp preferred)
3/4 cup powdered sugar
1 Tbsp. melted butter
1/4 tsp. pure vanilla extract
2-4 tsp. milk
Instructions
Preheat oven to 400°. Spray your muffin tin with cooking spray or line with paper liners.
In a large bowl, whisk together the gluten-free flour, xanthan gum (if needed), sugar, baking powder, and salt.
In a small bowl, mix together the milk, melted butter, and egg.
Make a well in the center of the flour mixture and add the egg mixture, stirring with a spatula or wooden spoon until combined.
In another bowl, whisk together the brown sugar and cinnamon. Add the melted butter and vanilla extract and stir until combined.
Take 3 tablespoons of the brown sugar mixture and stir it in just slightly into the large bowl of muffin batter. I left some swirls in my batter. Set aside the rest of the brown sugar mixture for using as the topping.
Scoop muffin batter equally into 12 muffin cups - about 3 Tablespoons of batter into each. (I used the large cookie scoop #20 linked below which is exactly 3 Tablespoons.
Top with remaining brown sugar mixture.
Bake at 400° for 14-15 minutes or until muffins spring back when pressed lightly.
Remove from oven and let cool on a wire rack.
Beat together all of the frosting ingredients (I used a hand mixer). Add frosting onto each muffin. I used a small cookie scoop #60 which is 1 tablespoon and then used the back of a spoon to spread it out. Or if you prefer you can add ore milk to the frosting to make a thinner consistency and drizzle it over them.
Enjoy!
Notes
*If the gluten-free flour blend you use already has xanthan gum or guar gum in it, then omit the xanthan gum called for in this recipe.

See blog post for recommendations on products and tips!

Tested with King Arthur Measure for Measure Flour and Gluten-free Mama's Almond Blend. .
Recommended Products
As an Amazon Associate and member of other affiliate programs, I earn from qualifying purchases.


Pin this to your gluten-free muffins board on Pinterest: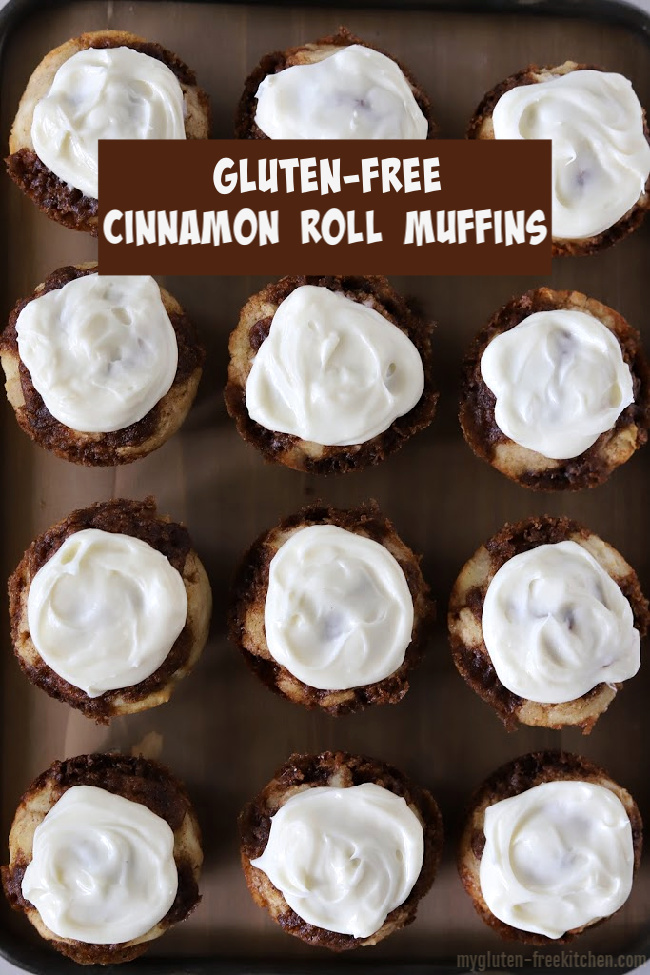 I hope you and your family enjoy these as much as mine did!
Friday 23rd of October 2020
THESE ARE AWESOME!!! I'm cooking them again since my family and I ate them all last night
Sunday 20th of September 2020
Have you tried making like a coffee cake instead of muffin form?
Wednesday 23rd of September 2020
I have not yet! Feel free to try that and please do come back and let me know how it goes and any tips you have!
I can't stress how much I love cinnamon. I've tried twice unsuccessfully to make GF cinnamon rolls. Then I came across your recipe.
Here's what I'm thinking: if I make extra filling and layer the batter (without any filling) then a layer of filling, then batter and filling again twice, it would almost be like a cinnamon roll!
As yummy as the icing sounds, I think I'll make them plain the fist time. Do you think my idea will work? Also, do you think doubling the cinnamon woul be too much? Most recipes don't have enough for my taste.
Thanks!
Thursday 11th of June 2020
Hi Tammie - sounds like you've got all kinds of ideas! I always recommend making a recipe as is the first time so you can see the results exactly as it's been developed to be successful. Then you can go from there with your experimenting! Like if you feel it isn't cinnamony enough, then go ahead and add more the next time, or layer/swirl it differently as you want to try. If you miss cinnamon rolls, then I think you'll want the icing since that's about the best part! If you'd prefer a different icing, like one without cream cheese, feel free to swap with your favorite icing.