We love this gluten-free strawberry dessert – it's like a chocolate version of gluten-free strawberry shortcake! The red and white color scheme makes this gluten-free chocolate strawberry layer cake perfect for patriotic holidays or Valentine's or Christmas too! I created this sponsored recipe with Enjoy Life Foods chocolate!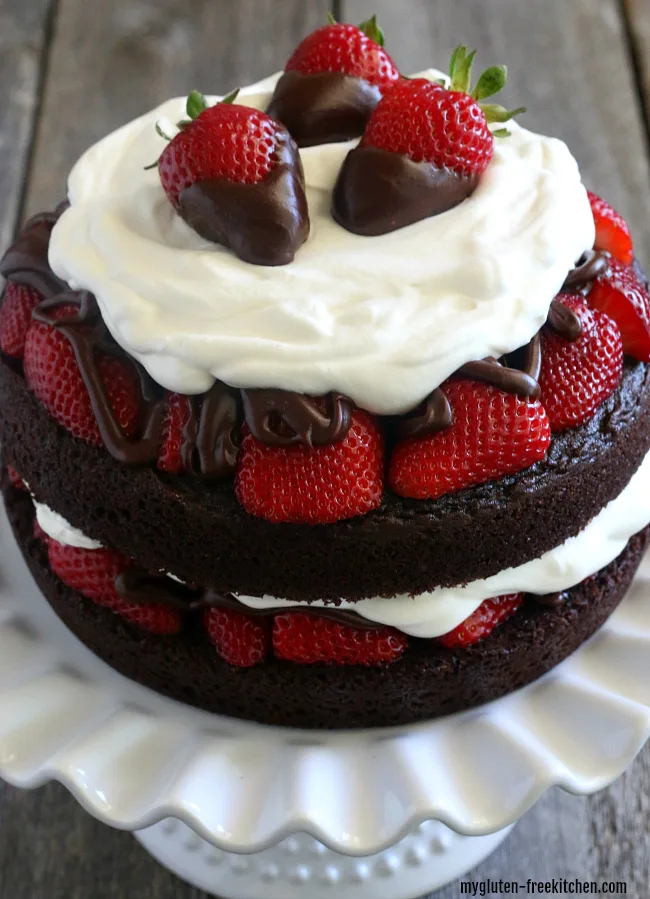 Despite my family's affection for strawberries, I don't yet have many strawberry recipes on my site yet. I have gluten-free strawberry rhubarb crisp and this berry sauce recipe. But I need to share more of mine. So today I'm sharing a long-time favorite strawberry dessert.
I found this dessert idea back in a little magazine style cookbook called Easy Chocolate Desserts back when I was in high school! I remember making it for our family's 4th of July potluck party. I made it many other years during the summer when strawberries are ripe, plentiful, and on sale. But I hadn't made it during the 9 years I've been gluten-free. I decided this week was the time to change that!
I used my go-to gluten-free chocolate cake recipe, gluten-free Texas Sheet Cake, for making the cake – just adapting the baking time accommodate two 8″ pans instead of a sheet pan.
I think this dessert would taste a bit plain without the homemade chocolate glaze. It really takes it up a notch! I use Enjoy Life semi-sweet Mega Chunks. They're melted with some water and butter, then powdered sugar and vanilla are whisked in. My hubby and I were fighting over who got to lick the whisk and bowl!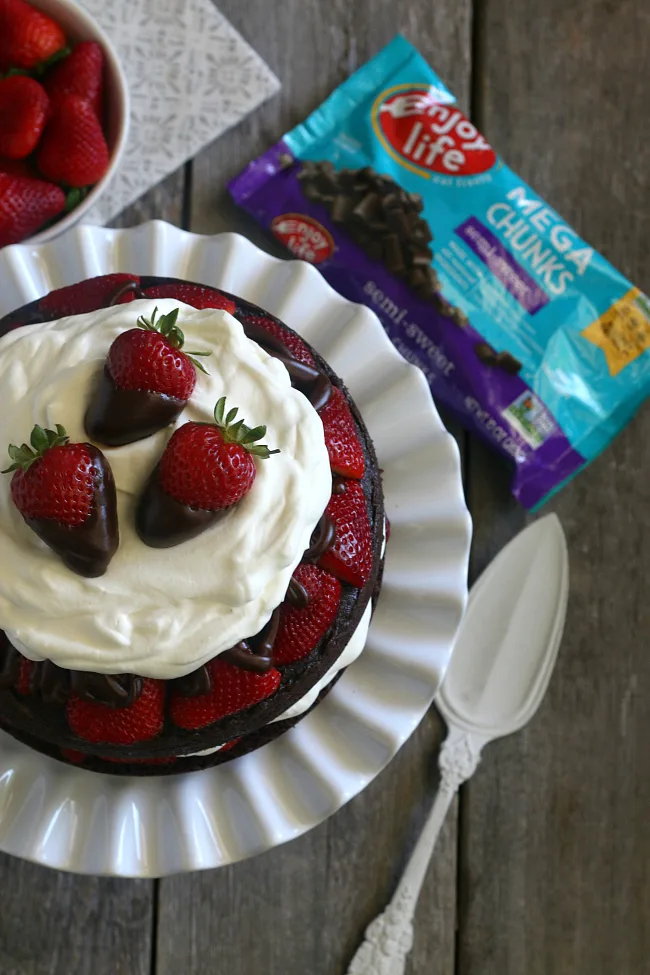 The chocolate glaze is drizzled on the layers, and then I warmed it back up to make it nice and glossy so that I could dip a few strawberries in it for the top! So good!
Notes on ingredients and substitutions for this gluten-free chocolate strawberry layer cake:
If you're pressed for time, and don't mind shortcuts, you can use a gluten-free chocolate cake mix to make the cake layers instead of making my homemade cake recipe. Of course I prefer my from-scratch recipe, but it's a totally doable shortcut if it'll help you!
If you don't have the Enjoy Life Mega Chunks, you can use the Enjoy Life semi-sweet mini chips instead – same amount! They're both certified gluten-free as well as free of the top 14 common food allergens. Use the Enjoy Life store locator to find the mega chunks in your area or buy from Amazon, or buy directly from the Enjoy Life store.
If you want to save time and not make homemade whipped cream, you can use one carton of Cool Whip instead. Or if you're cutting dairy back, then use a dairy-free whipped topping.
A note on the strawberries: I recommend buying a 2 lb. package of strawberries. You'll have plenty for both layers, and some for dipping for the top of the dessert too, with probably a few for eating along the way!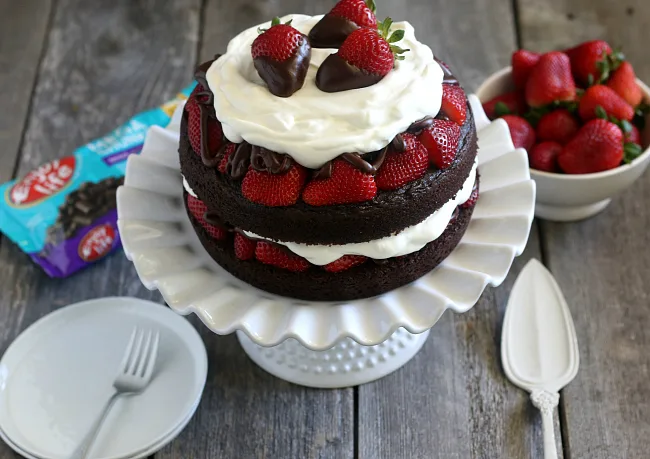 How to make this gluten-free chocolate strawberry layer cake:
First divide the gluten-free chocolate cake batter evenly into two 8″ metal cake pans. I prefer the ones with straight sides so you don't have an angled cake. Bake the cake layers until the cake tests done – a toothpick inserted in center comes out with moist crumbs only.
Once cakes have cooled completely, top with a layer of strawberry halves.
Then drizzle with the homemade chocolate glaze.
Next, gently spread half of the homemade whipping cream over the surface, taking it to the edges in places.
Now you'll repeat the layers again in the same order, with the only change being to not spread the whipped cream all the way to the edges on the top layer. It looks prettier that way! Plus you can add some chocolate dipped strawberries to finish it off!
Make sure you leave yourself plenty of time for this dessert to chill before serving. I recommend at least 2 hours.
One tip for saving time: you can make these cakes the night before! Just bake, let cool, flip out carefully on a wire rack and lightly cover with a towel overnight.
Then you can assemble this dessert in the morning or after work!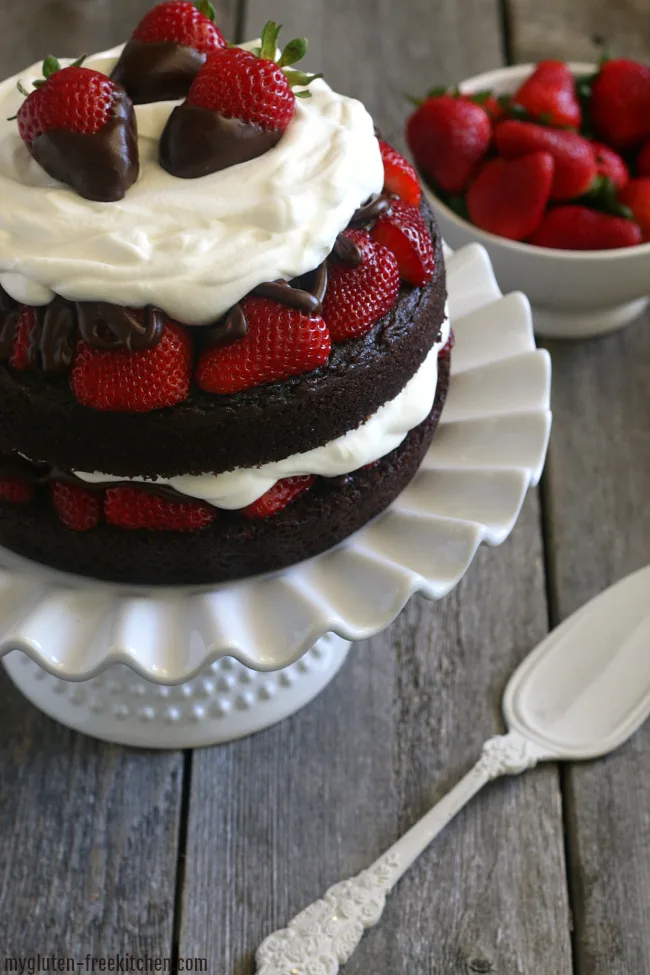 Slices of this cake aren't really slices – plan on these towering layers to flop over into a mound of deliciousness when serving! You might choose to serve in a bowl with a fork or spoon!
I was able to serve 12 with this cake, but if you don't mind messier servings, you can serve more! Slices 2-6 look the best for presentation!
This recipe uses about 1/2 cup of the Enjoy Life Mega Chunks, so here's some suggestions on what to do with the rest of the bag! You can make these gluten-free vegan cherry lime truffles from my friend Chrystal. Or you can make my gluten-free chocolate chip skillet cookie recipe.
This gluten-free chocolate strawberry cake was a bit hit with all the company we had this weekend. I was so glad that it turned out just perfectly!! I hope your family and friends enjoy it just as much as mine did!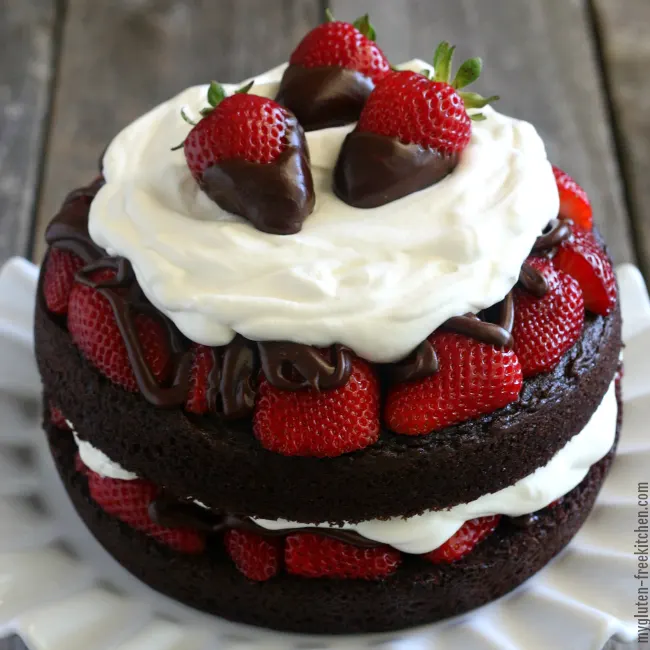 Whether you make this for a family birthday cake or just a fun weekend treat, I hope you enjoy this!
Gluten-free Chocolate Strawberry Layer Cake Recipe:
Yield: 12 servings
Gluten-free Chocolate Strawberry Layer Cake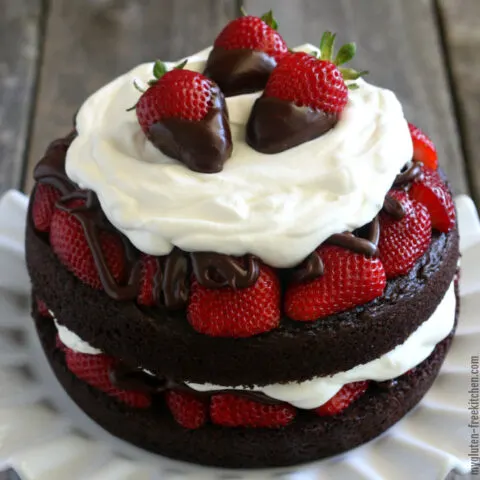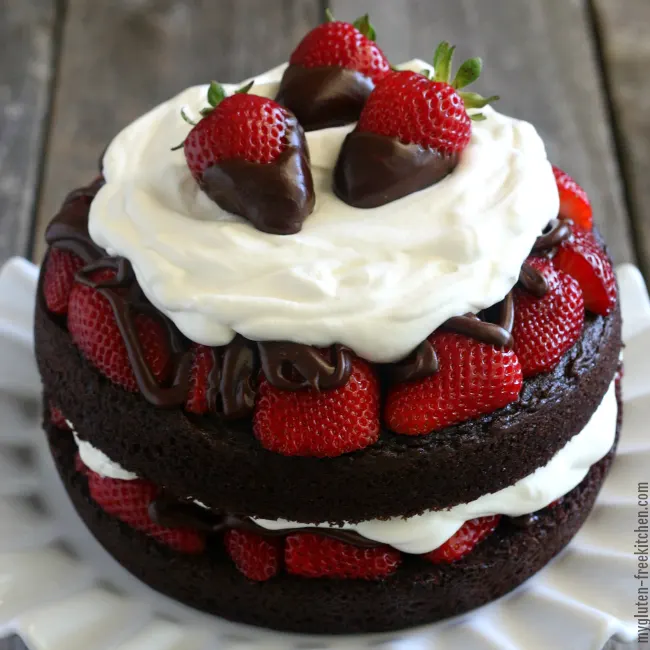 This pretty dessert is like a chocolate version of gluten-free strawberry shortcake! Plan ahead, while this gluten-free dessert is easy, you need to allow time for the cake layers to cool before assembling, and for the finished dessert to sit in the fridge for a few hours.
Total Time
4 hours
22 minutes
Ingredients
Cake:
2 cups good quality gluten-free all-purpose flour blend*
1 tsp. xanthan gum (see note)
2 cups sugar
1 tsp. baking soda
1/4 tsp. salt
1 cup salted butter
1/3 cup cocoa powder (I use part Hershey's Dark Cocoa, and part regular cocoa)
1 cup water
1/2 c. buttermilk
2 eggs
1 tsp. vanilla extract
Strawberries:
2 lbs. whole strawberries
Chocolate Glaze:
3 ounces (1/2 cup mounded) Enjoy Life Semi-Sweet Mega Chunks
3 Tbsp. water
1 Tbsp. butter
1 c. powdered sugar
1 tsp. pure vanilla extract
Whipped Cream:
1 1/4 c. heavy whipping cream
1/2 c. powdered sugar
1 tsp. pure vanilla extract
Instructions
Gluten-free Chocolate Cake Layers:
Spray two 8" or 9" cake pans with cooking oil.
In your mixing bowl, combine flour, xanthan gum (if needed), sugar, baking soda, and salt.
In a medium saucepan, combine butter, cocoa, and 1 cup water. Bring just to boiling, whisking constantly. Remove from heat and add to dry ingredients, beat until combined.
Add buttermilk, eggs, and vanilla to mixing bowl and beat for one minute on low-medium speed.
Pour batter into greased pan. Bake at 350° for about 32 minutes. A toothpick inserted into cakes near center will come out with moist crumbs attached, but not wet batter. I also rotated my cake pans partway through baking to help them bake evenly.
Place pans on a cooling rack to cool for 10 to 15 minutes. Then I like to use a plastic knife to loosen the cake around the edges of the pan and place the pan upside down on a cooling rack to allow the cake to fall free from the pan. (Do this carefully!)
Strawberries:
While the cakes are cooling, wash the strawberries. Set aside 3-6 strawberries that look nice and leave them whole for dipping later (3 large or 6 smaller).
Cut the tops of remaining strawberries, then slice each strawberry in half. Set aside.
Chocolate Glaze:
Add semi-sweet chocolate chunks, water, and butter to a microwave safe bowl. Microwave on high in 30 second increments, stirring after each 30 seconds, until chocolate is melted.
Whisk in powdered sugar and vanilla extract until smooth.
Homemade Whipped Cream:
To the mixing bowl, add the whipping cream, powdered sugar, and pure vanilla extract. Use the whisk attachment to beat on high speed until stiff peaks form. Set aside.
Assemble it all:
Dip the reserved whole strawberries in the chocolate glaze and set on wax paper.
On your cake stand or platter, place one of the cake layers.
Place half of the strawberries on the cake layer. You can just dump them, or you can hand place them flat like I did so the edges look pretty.
Drizzle with half of the chocolate glaze.
Gently spread half of the whipped cream.
Repeat layers exactly the same, except don't spread the whipped cream all the way to the edge - leave about 3/4" -1" ring so that the top looks pretty!
Place the dipped whole strawberries on top!
Chill in refrigerator for a minimum of 2 hours.
Carefully slice and serve. Refrigerate leftovers.
Notes
*If your gluten-free flour blend has xanthan gum or guar gum in it already, then omit the xanthan gum called for in this recipe.
*I've made this with gfJules, King Arthur Measure for Measure Blend, and Authentic Foods Multi-Blend and other blends.
Recommended Products
As an Amazon Associate and member of other affiliate programs, I earn from qualifying purchases.
Pin this to your gluten-free desserts board: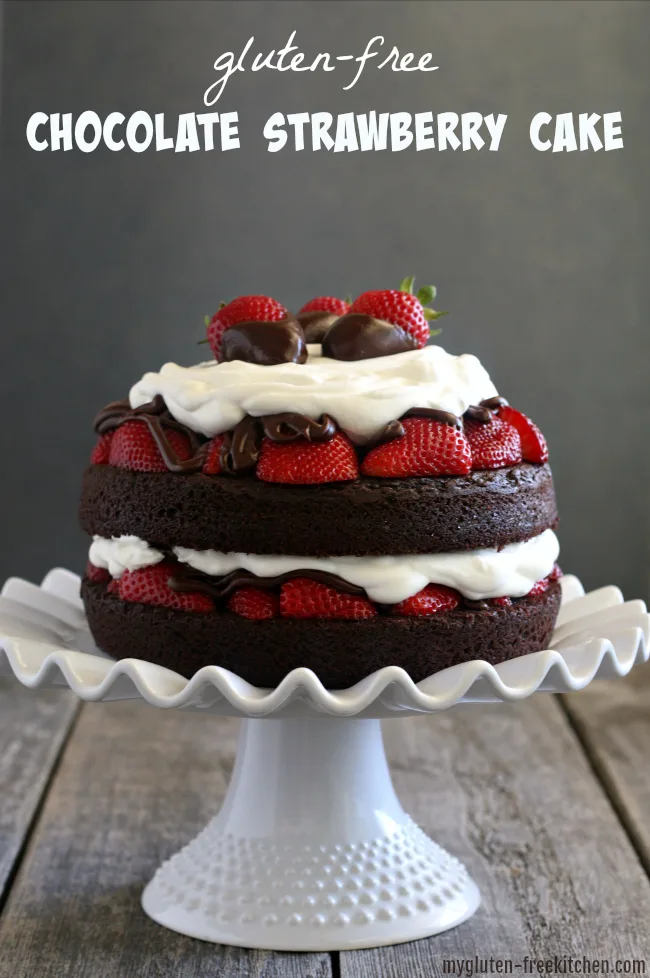 If you make this and love it, please come back and give it a 5 star rating on the recipe card!
Enjoy!
This sponsored post was created through my partnership with Enjoy Life Foods. As always, all opinions are my own. Collaborating with brands I love allows me to keep bringing you new and varied recipes! Thanks for your support!