Looking for a fun dinner with the family? Gluten-free Cheese Fondue is a super fun dinner recipe. The kids had fun dipping all their favorite gluten-free foods in this creamy, cheesy sauce. Thanks to Udi's Gluten Free for sponsoring this cheese fondue recipe as part of our year-long partnership.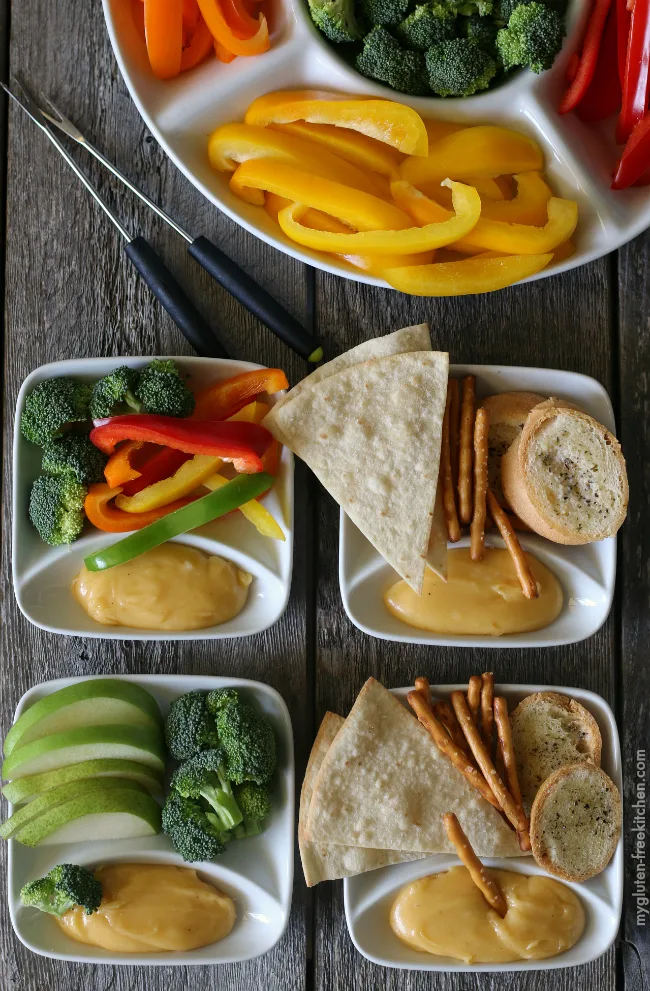 Fondue nights are making a comeback since they're so much fun for families to enjoy together for dinner. We did our first fondue night last December and my kids have been begging me to do it again since it was so fun. I'm hoping to make it a more regular dinner option in our house!
Many of the cheese fondue recipes out there include beer or wine in the recipes. I really wanted to make this a family friendly option for families that don't prefer alcohol, plus of course not everyone has easy access to gluten-free beer. I succeeded in making a very cheesy fondue dip without any alcohol.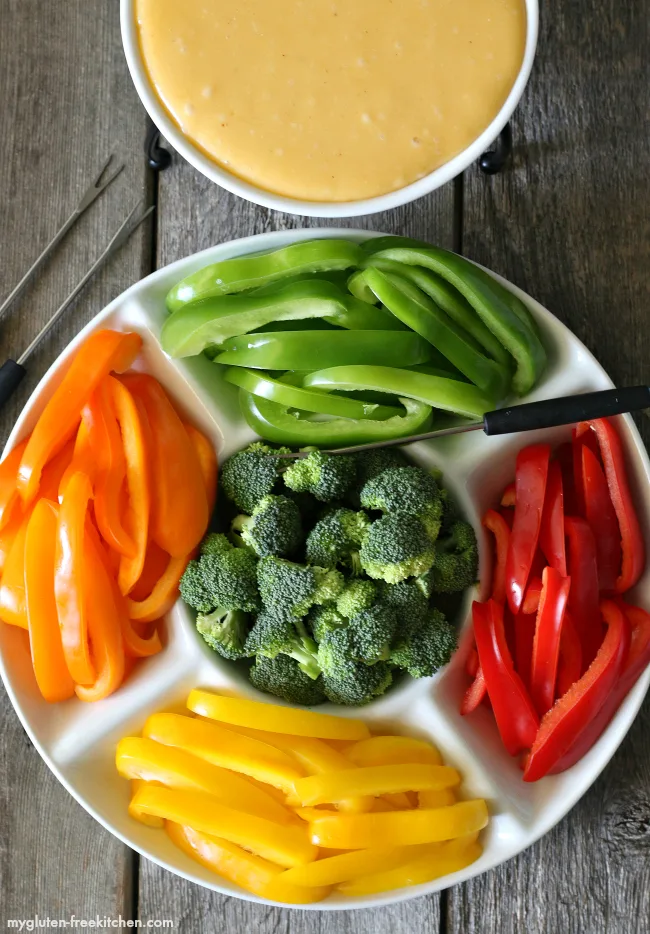 What to dip in cheese fondue?
One reason cheese fondue is such a great dinner choice is because you can really dip anything into it! Trying to get your kids to eat more veggies? When they can use a fun little fork, they'll gladly dip those veggies in cheese sauce! I sliced up four colors of bell peppers for dipping. I also included broccoli florets. No one in my family cares for cauliflower, so I didn't include that, but it would be a great choice for this recipe.
This time, I was shooting for a fun option for a meatless dinner, so I just included vegetables, fruits, and gluten-free breads and gluten-free pretzels for dipping. Next time I make this, I'm going to include some cooked meat options as well. Ideas include crispy bacon, thick chunks of ham, gluten-free meatballs, and quartered hamburger patties. Any other ideas? Let me know!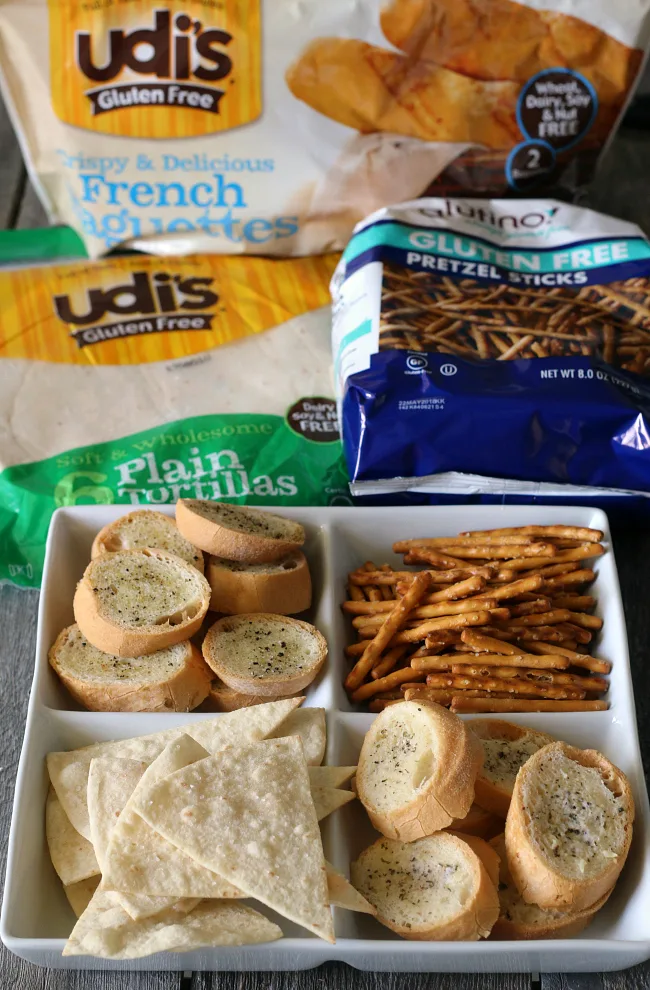 It's also fun for the kids to help get everything sliced for this. My boys like using the pizza cutter to cut the tortilla wedges. I used certified gluten-free Udi's Gluten Free Flour Tortillas. I brushed them with oil, sprinkled with coarse sea salt, and baked until crispy. When sliced these are like a soft tortilla chip. My son with braces especially loved these, as he can't eat crunchy chips right now!
The kids can also help with the baguette slices. I sliced Udis Gluten Free French Baguettes diagonally into 1/2″ thick slices. Then I had my kids brush some with garlic butter and some with olive oil that we sprinkled some salt and herbs on before baking.
I also added Glutino gluten-free pretzel sticks for dipping. I like these better than the pretzel twist shape for dipping – keeps the kids' fingers out of the fondue!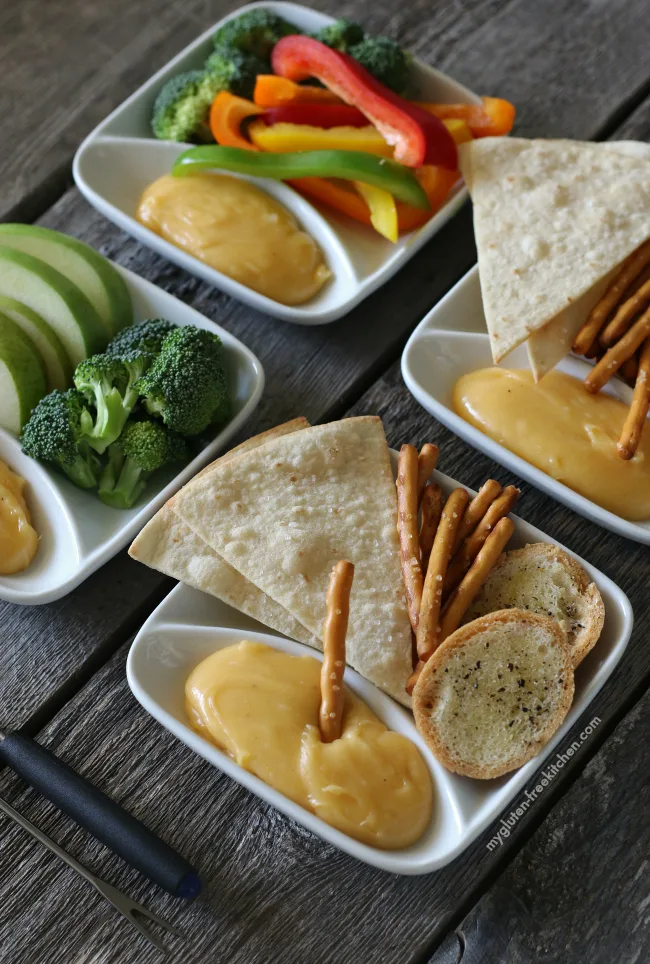 I found the cutest little chip and dip dishes at World Market that were perfect for our fondue night too. These are a great option instead of having everyone try to gather around the fondue pot and dip without their food falling off into the pot! Instead, just scoop some out on to their plates and they can do their own dipping there! They can still use fun fondue forks, or use plastic picks/skewers or small silverware.
Looking for another dip option to use these tortilla wedges and baguette slices in? Make sure you try my easy spinach artichoke dip recipe!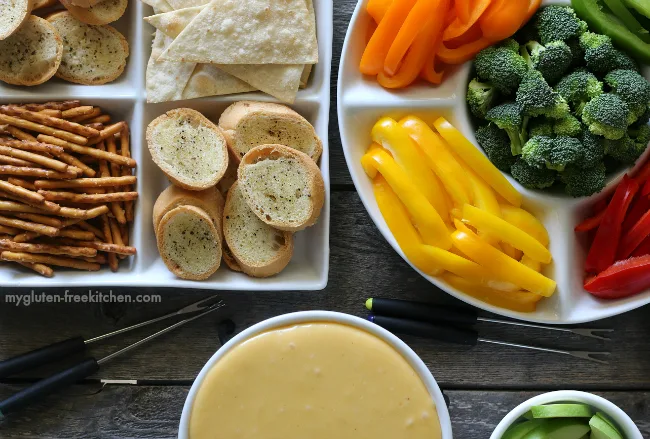 Notes on ingredients in this cheese fondue recipe:
Cheese: I used both Gruyere and sharp cheddar. You can try other cheeses that melt well too, like Swiss, and Colby Jack. It's nice to have the flavor from having two I think.
Cornstarch: Cornstarch is used to thicken this. If you really want yours to be a very thin cheese sauce, you can omit or reduce the amount called for.
Worcestershire: Some varieties of Worcestershire can have gluten, often due to soy sauce in the ingredient list. I've found several that don't – just double check the labels before you buy and use!
Can you think of anything else your kids would want to dip in this cheese fondue?
Gluten-free Cheese Fondue Recipe:
Yield: 4 cups
Cheese Fondue (non-alcoholic)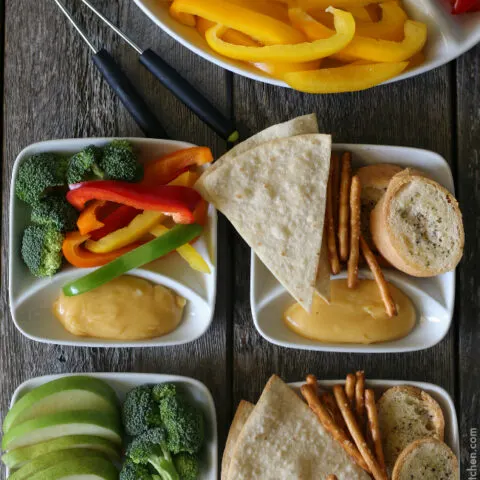 Gluten-free Cheese Fondue is a super fun dinner recipe. The kids had fun dipping all their favorite gluten-free foods in this cheesy sauce.

Prep Time 30 minutes

Cook Time 10 minutes

Total Time 40 minutes
Ingredients
1 cup milk
1 Tbsp. Worcestershire sauce
1 1/2 Tbsp. fresh lemon juice (~ juice from a lemon half)
8 oz. (2 cups) Gruyere Cheese, shredded
8 oz. (2 cups) Sharp Cheddar Cheese, shredded
1 Tbsp. cornstarch
1/2 tsp. garlic powder
1/2 tsp. dry mustard
1/4 tsp. nutmeg
Vegetable/Fruit dippers
4 bell peppers, seeds removed, sliced into strips (I used 4 different colors)
1-2 apples, sliced
1-2 pears, sliced
1 head broccoli, cut into bite-sized pieces
Tortilla Wedges
2 large Udi's Gluten Free Flour Tortillas
1 Tbsp. olive oil
coarse sea salt
Garlic Baguette Slices
2 Udi's Gluten-free French Baguettes
5-6 Tbsp. garlic butter*
2 cups Glutino gluten-free pretzel sticks
Instructions
Cheese Fondue:
In a saucepan over medium heat, whisk together milk, Worcestershire sauce, fresh lemon juice, cooking until mixture reaches a low simmer (barely boiling).
In a bowl or sealed Ziploc bag, toss the shredded cheese with the cornstarch.
Pour cheese into milk mixture a handful at at time while stirring. Cook until melted.
Add garlic powder, dry mustard, nutmeg and whisk until smooth. Taste and see if you need to add some salt.
Continue cooking over medium heat until warmed through and the consistency you'd like. Remove from heat and move to a fondue pot over a flame to keep warm.
Serve with sliced bell peppers, slices of apples and pears, broccoli and cauliflower florets, gluten-free tortilla wedges, gluten-free baguette slices, and gluten-free pretzels, .
Gluten-free Tortilla wedges:
Lay two tortillas on a piece of parchment paper on a cutting board. Use a brush to spread olive oil over the tortillas. Sprinkle coarse sea salt over tortillas. Use a pizza cutter to slice each tortilla into 8 wedges. Slide entire sheet of parchment onto a cookie sheet. Bake in 400˚ oven for 7-8 min. Remove from oven when done and set aside until ready to serve. (Should serve soon after baking!)
Gluten-free Baguette slices:
Line a baking sheet with aluminum foil. This is optional, but makes for easy clean-up!
Using a sharp bread knife and cutting board, diagonally slice the baguettes into slices about 1/2" in thickness.
Use a pastry brush to brush garlic butter onto each baguette slice.
Place each baguette slice, butter side up on an aluminum foil lined baking sheet. Bake in 400° oven for 6-7 minutes. Remove from baking sheet and add to serving plate.
Enjoy!
Notes
*You can use an already prepared garlic butter or make your own by melting salted butter with 1 tsp. garlic powder. Optional: add parsley or any herbs your family likes onto the baguette slices.
Recommended Products
As an Amazon Associate and member of other affiliate programs, I earn from qualifying purchases.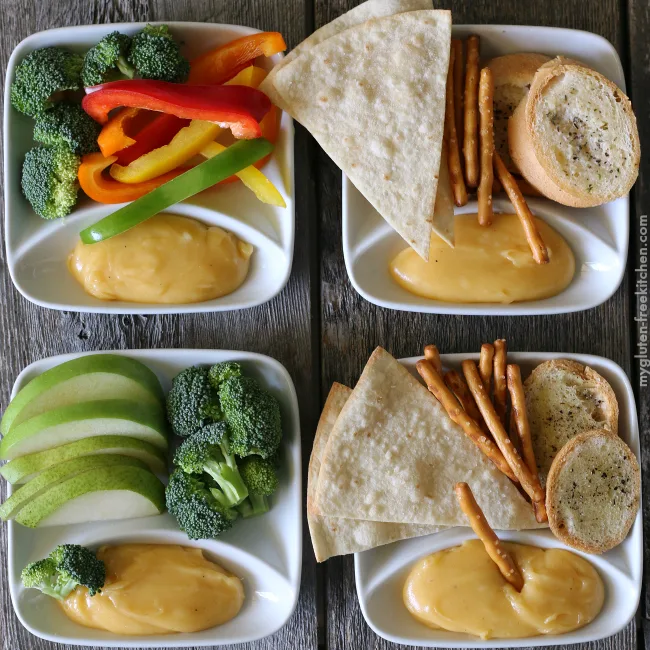 Pin this to your gluten-free appetizers board on Pinterest: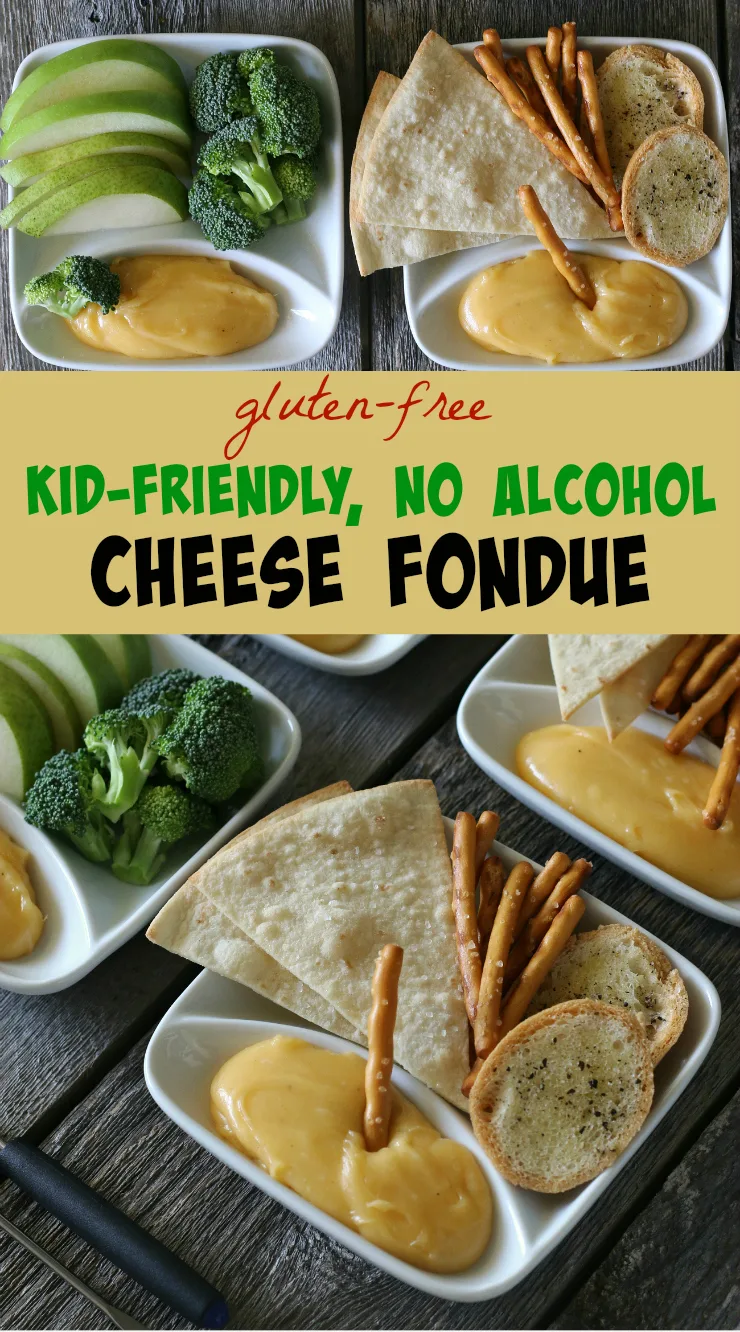 This sponsored post was created through my partnership with Udi's Gluten Free. As always, all opinions are my own. Collaborating with brands I love allows me to keep bringing you new and varied recipes and tell you about new products that are safe for us celiacs! Thanks for your support!