Crunchy and flavorful, these gluten-free baked taquitos are a perfect choice for handheld food for your football parties or just an easy weeknight dinner! Serve with a variety of dips and toppings.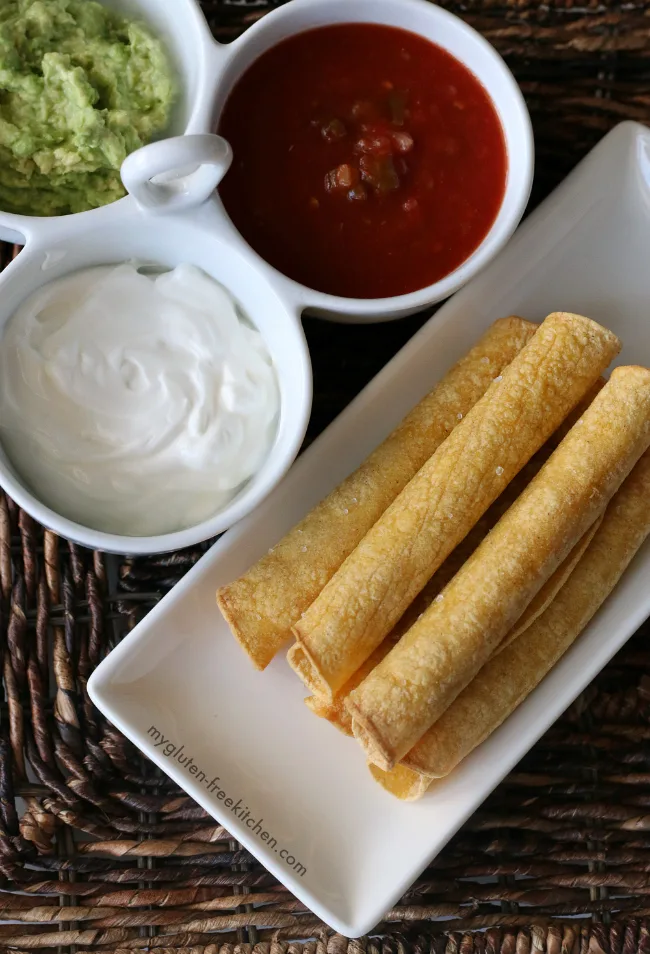 Taquitos aren't something that those of us with celiac disease get to enjoy usually. All of the pre-made ones available at the stores are off-limits since they are made with flour tortillas, or made alongside ones that are. At most restaurants, even if they use corn tortillas to make them, they are frying them in a shared fryer, making them a big NO for us celiacs too.
Add in the fact that my body can't tolerate onions and I've actually never gotten to eat real taquitos from a restaurant, just some mediocre frozen ones. So in order to enjoy good gluten-free taquitos, they need to be homemade.
Since I was making them at home, I definitely didn't want the mess of frying. I decided to go with baking them. If you've followed me for long, you know that while I like to go all out on complicated desserts sometimes, for meals I like to keep it quick, easy, and family friendly.
I'm happy to say that this recipe was quick, easy, and got thumbs up from all my boys! My kids liked them way better than the frozen store-bought ones they'd tried before and much better than the ones they get served for school lunch (um, I'd hope so)!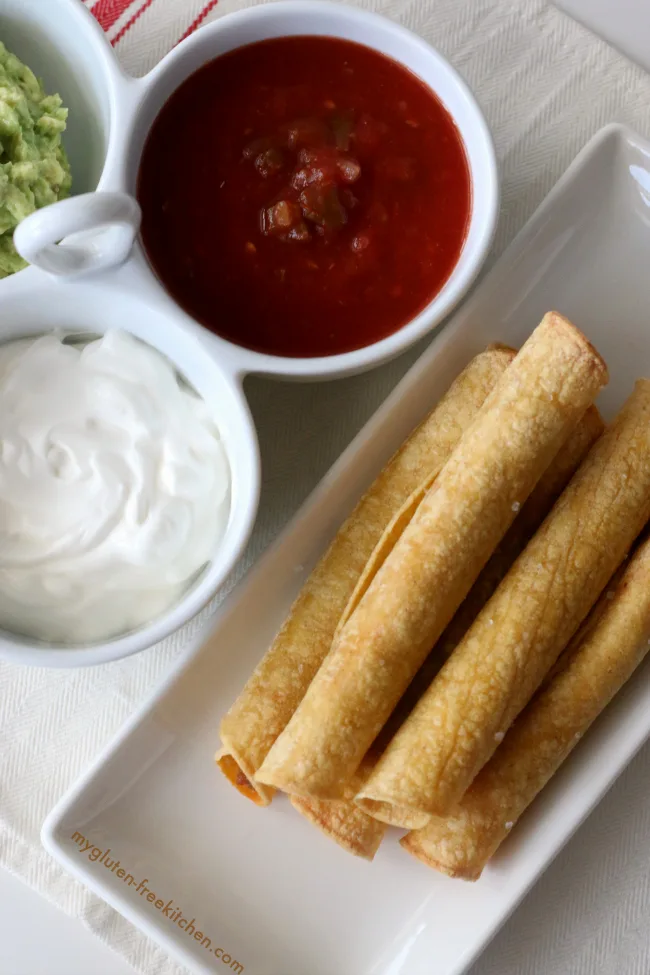 I've recently partnered with Honeysuckle to start developing gluten-free recipes using turkey so I also opted to use turkey instead of beef or chicken in these. I just knew it would work fine, and it totally did!
You might be afraid these will be dry, but they definitely aren't! I even used 93% lean turkey and they were moist and flavorful. You could use 85% lean turkey as well. I seasoned the ground turkey with fresh garlic, salt, pepper, smoked paprika, chili powder and cumin.
We loved the flavor of these. I know most other people can tolerate onions, so you can feel free to add diced onions or onion powder to these as well. Also, if you like things with a little more heat, you can add some chopped green chilis to the turkey mixture as well!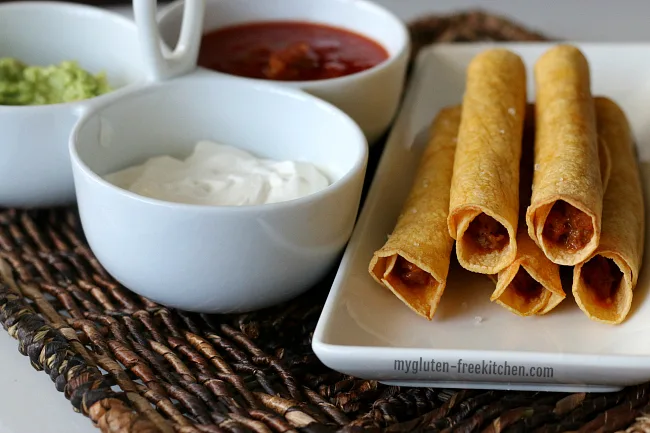 I wanted to mention a bit about why I partnered with Honeysuckle White since you'll be seeing more of them. I only have a few brands I've chosen to partner with – and I only pick ones that I already use and are good people that are committed to providing good products. I've gotten a lot of requests for bringing you more recipes for easy family meals, and since I already used this brand of turkey, I thought partnering with them would be a perfect fit and would give me that extra incentive of deadlines in order to get you all what you are asking for! Honeysuckle White is committed to offering the highest quality turkey out there, going the extra mile for quality and food safety, and working closely with independent family farmers.
I've been to several conferences where I got to meet some of the hard-working farmers that make up the Honeysuckle White family of farms. They have over 700 independent family farms! Someday I hope to make it out to see some of their farms – that would be so cool! Oh, quick note, if you live on the east cost, their sister brand is Shady Brook Farms – so look for that instead of Honeysuckle if you live out east!
What else can you make with ground turkey? You can substitute it in place of ground beef in many recipes! It's great in my crockpot gluten-free chili recipe. You can definitely use it in my gluten-free baked ziti too!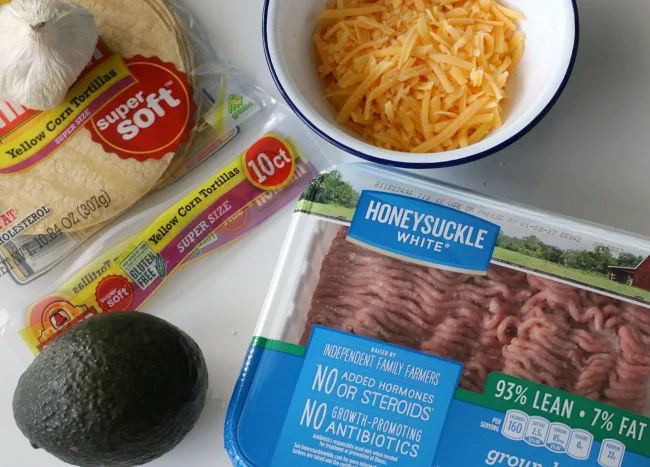 Notes on ingredients and substitutions for these gluten-free baked taquitos:
Tortillas: I made these taquitos with large six-inch corn tortillas versus the really small ones. Out west here, there are a number of brands that make these. Just double check ingredients, and call the manufacturer to check on cross-contamination risks. If you need to use the smaller corn tortillas, go ahead – just use less filling, watch your cooking time as they'll possibly be done a little sooner, and plan on needing quite a few more tortillas than my recipe calls for – maybe double the amount.
Ground turkey: If you don't have ground turkey on hand, feel free to use ground chicken or ground beef in this recipe.
Seasonings: In addition to the seasonings I've included below, you can feel free to add either dried onion or onion powder to these if you'd like.
These are super easy to make! Let me show you how!
How to make gluten-free baked taquitos: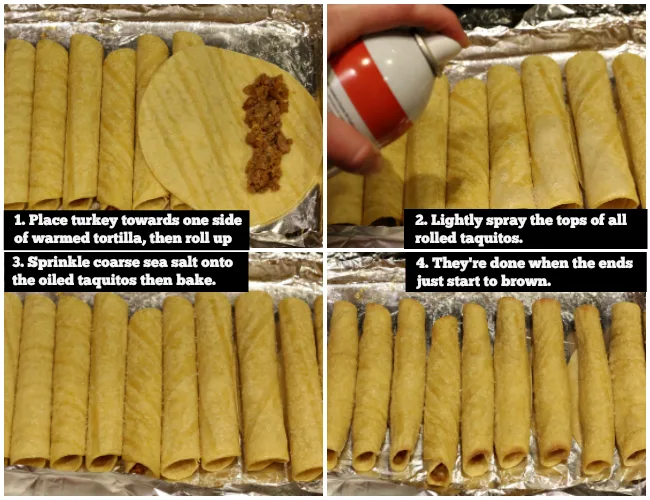 After cooking the ground turkey with seasonings, you'll warm tortillas, two at a time, in the oven.
Then you just put a line of cooked turkey towards one side of the tortilla.
Roll it up and repeat!
Once you have them all done, spray lightly with cooking spray (or brush with olive oil if you prefer), then sprinkle with sea salt.
Place in a hot oven and bake.
I found I liked to pull the pan out and flip each taquito after about 8 minutes. If I didn't, then the taquitos had one side that was softer.
By flipping for the last few minutes, they were crunchy all around!
I made mine on two smaller cookie sheets that I lined with foil for easy clean-up.
As you can see, I served these with sour cream, my homemade guacamole, and salsa.
This gluten-free dip would be amazing with these as well!
These black bean enchiladas would be a great choice for the next thing you make!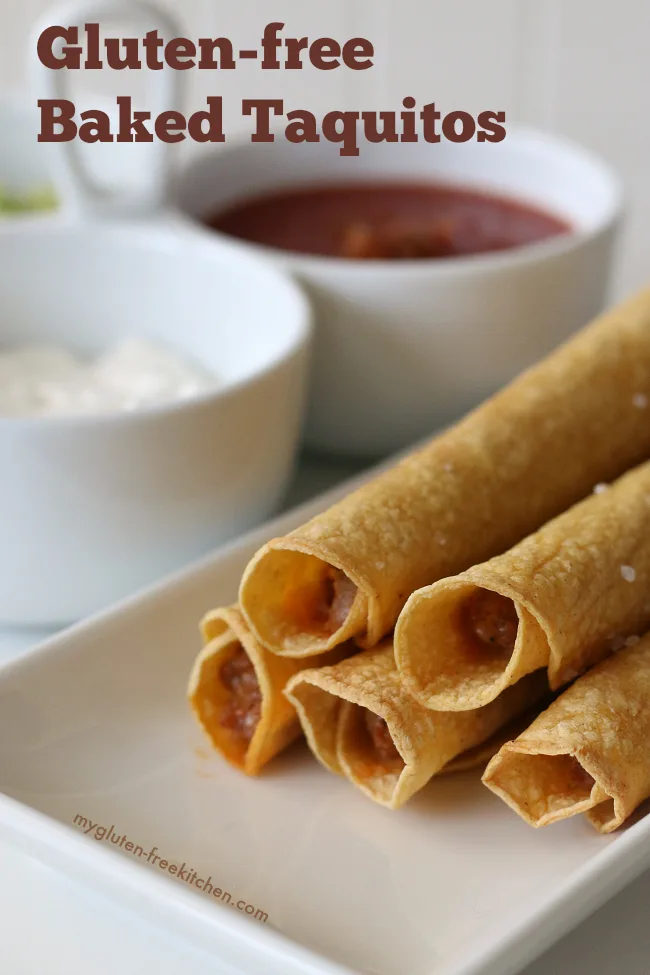 This is a lighter, healthier, and celiac-safe version of popular taquitos! Plus they are easy to make, making them perfect for football parties or even an easy weeknight dinner!
If you make these and love them, please come back and give this recipe a 5 star rating in the recipe card! Feel free to comment with tips or to share any successful substitutions you made.
Gluten-free Taquitos Recipe:
Yield: 20
Gluten-free Baked Taquitos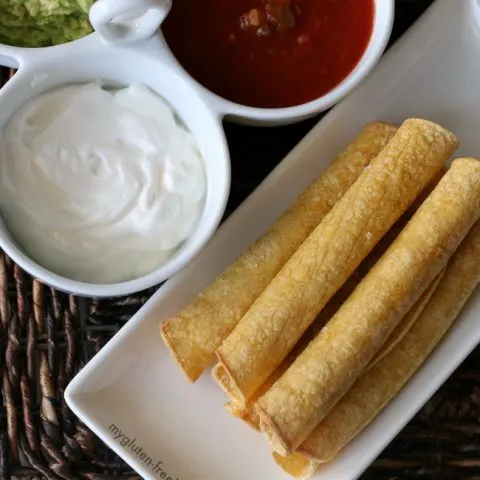 Crunchy and flavorful, these gluten-free baked taquitos are a perfect choice for handheld food for your football parties or just an easy weeknight dinner!

Prep Time 15 minutes

Cook Time 11 minutes

Total Time 26 minutes
Ingredients
12 super size 6-inch gluten-free corn tortillas
1 lb. lean ground turkey, ground chicken, or ground beef
2 cloves garlic, minced
1 tsp. chili powder
1 tsp. smoked paprika or paprika
1/2 tsp. salt
1/4 tsp pepper
1/4 tsp. cumin
1 cup shredded cheese
Instructions
Heat oven to 450˚.
Spray a large non-stick skillet with cooking spray. Add the turkey to the skillet and begin cooking on medium heat.
As the turkey begins to cook, use a spatula to break up the meat into smaller chunks. Add minced garlic and all seasonings; continue to stir and cook until turkey is no longer pink. Remove from heat. Stir in the cup of shredded cheese. Set aside.
Place two tortillas on the top rack of your oven for 30 seconds. Remove from oven and place on cookie sheet.
Scoop about 2 tablespoons of cooked turkey in a line on one side of the tortilla. I like to do it on the right side, probably since I'm right handed! Roll up tortilla and place on a cookie sheet. I preferred using a rimmed one so my taquitos didn't roll off! If you are finding they start to unroll, set something like an oven mitt on top to help stay in place while you roll the next ones.
Repeat process with remaining tortillas, heating them two at a time in the oven and then filling and rolling them.
Once all are rolled, lightly spray the taquitos with cooking spray, then sprinkle with coarse salt.
Place full cookie sheet in preheated oven and bake for 8 minutes. Flip each taquito, then bake for an additional 3 minutes or until done to your liking.
Notes
While I made these with ground turkey, you can use ground chicken or ground beef if you prefer.


Pin this to your gluten-free appetizers or meals board on Pinterest: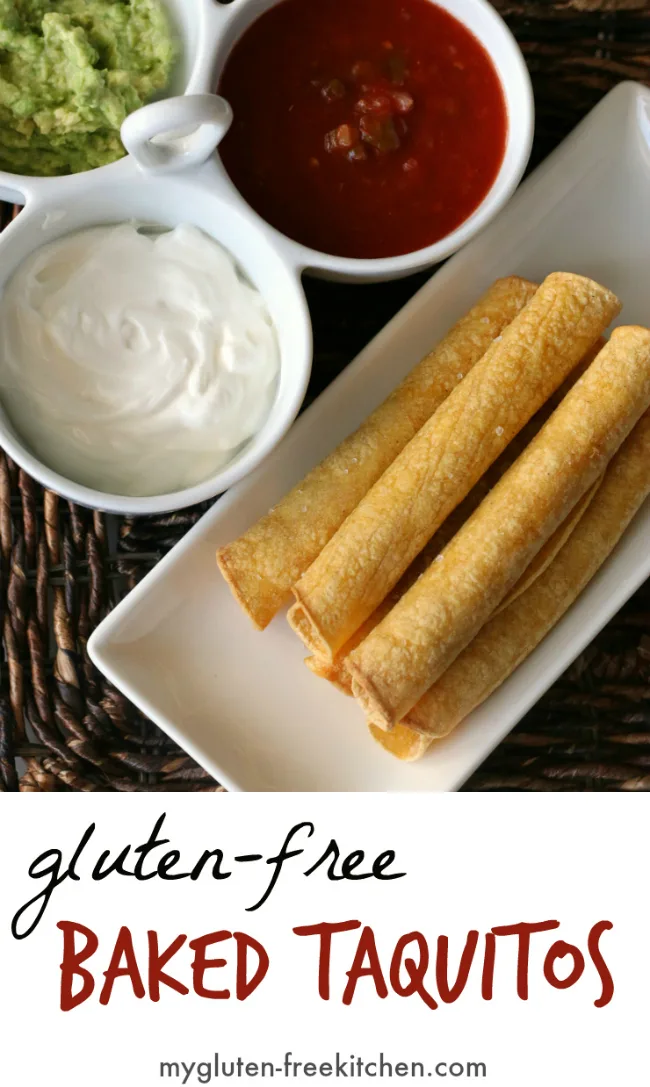 This sponsored post was created through my partnership with Honeysuckle White as an ambassador for 2017. As always, all opinions are my own. Collaborating with brands I love allows me to keep bringing you new and varied recipes! Thanks for your support!