I haven't tried a new muffin recipe in ages, but boy am I glad I tried these! Gluten-free Snickerdoodle Pumpkin Muffins are a new favorite fall muffin! I'll definitely be making these gluten-free pumpkin muffins every fall from now on! I've already made them several times this month!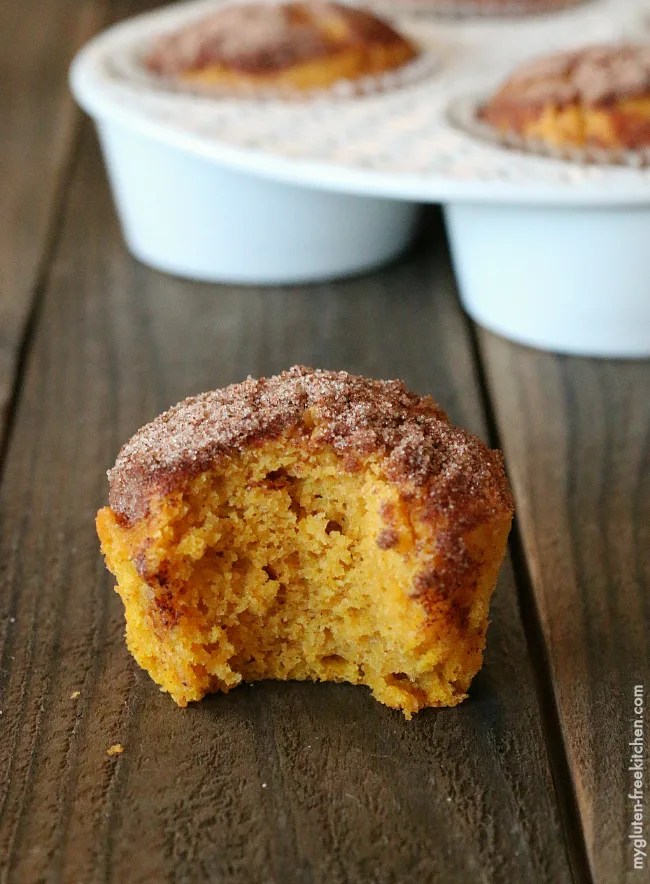 I've been posting so many apple recipes this month that it was time to bring a recipe that my pumpkin-loving readers would love! This gluten-free pumpkin muffin recipe is one I think you'll want to try soon!
I love gluten-free snickerdoodles. I love gluten-free pumpkin bars. So when I found these pumpkin snickerdoodle muffins on Pinterest, I knew I had to try them. This was such a good base recipe, that I hardly had to change a thing, but of course I adapted them to gluten-free and made some of my own changes to the recipe for my preferences.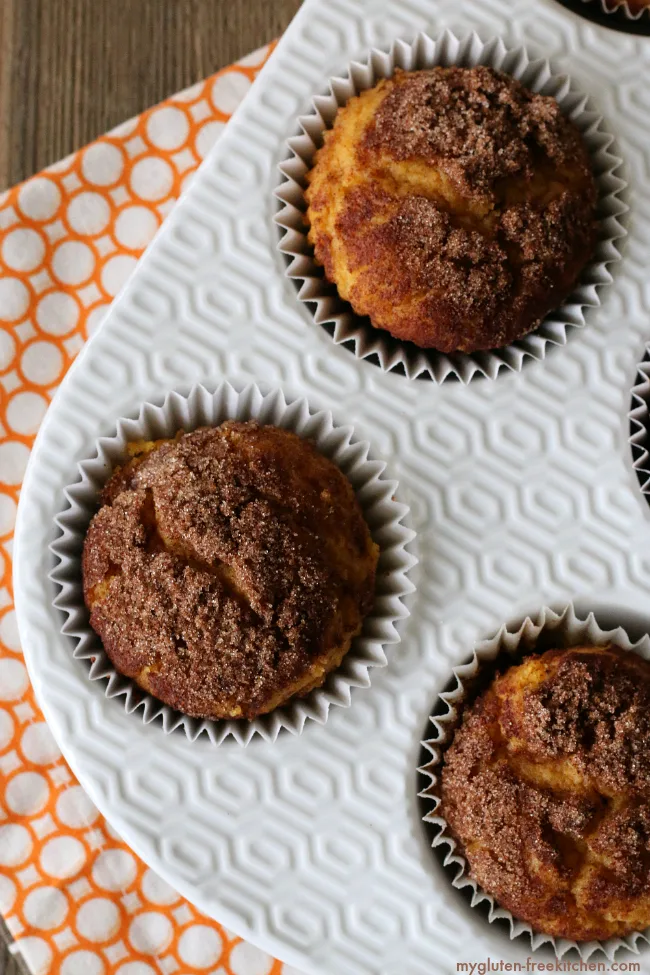 I adapted them to be gluten-free by using a good quality gluten-free flour blend. I made them once with Gluten-free Mama's Almond Blend, and once with gfJules gluten-free flour blend– both times with perfect results! I included Amazon links to both, but you can also buy gfJules gluten-free flour directly.
When gfJules flour is used, no additional binders are needed, as it has xanthan gum in it already. When using a flour blend like Gluten-free Mama's, that doesn't include any xanthan or guar gum, then you just add a bit of xanthan or guar gum like I've listed below. Just check your flour blend and see and make the change accordingly!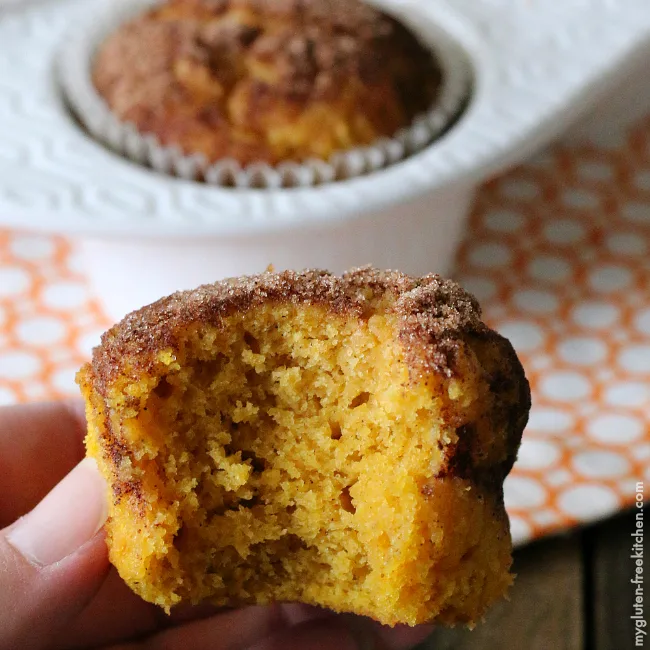 These gluten-free pumpkin muffins have the perfect texture and just the right amount of pumpkin flavor.
The cream of tartar, cinnamon, and the cinnamon sugar topping all put the snickerdoodle flavor twist to these muffins.
Ok, all this talking about them has me craving them again! I need to go see if there are still any hiding in the freezer from the last batch! Yes, they do freeze well!
As this recipe doesn't use an entire can of pumpkin, you'll have some leftover to use in another recipe. I recommend using it in my gluten-free pumpkin spice granola for a healthy choice. This gluten-free pumpkin banana bread looks so good! Or for a sweet treat, you could make these gluten-free pumpkin white chocolate cranberry oatmeal cookies! Seriously long name for seriously good cookies!
I hope you'll try these soon! Let me know if you do!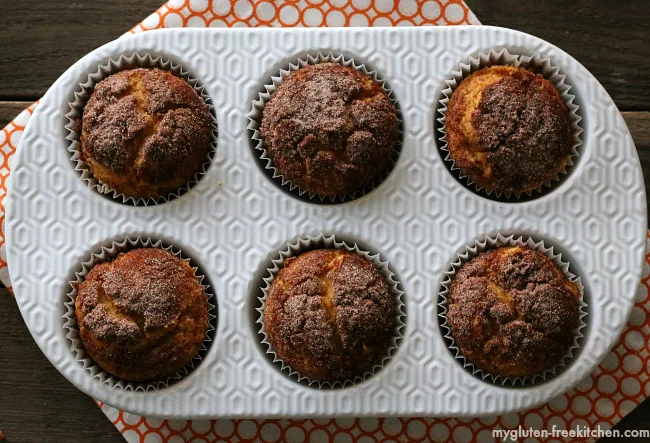 If you make these and love them, please come back and give this recipe a 5 star rating in the recipe card! Feel free to comment with tips or to share any successful substitutions you made.
Gluten-free Pumpkin Muffin Recipe:
Yield: 24 muffins
Gluten-free Pumpkin Snickerdoodle Muffins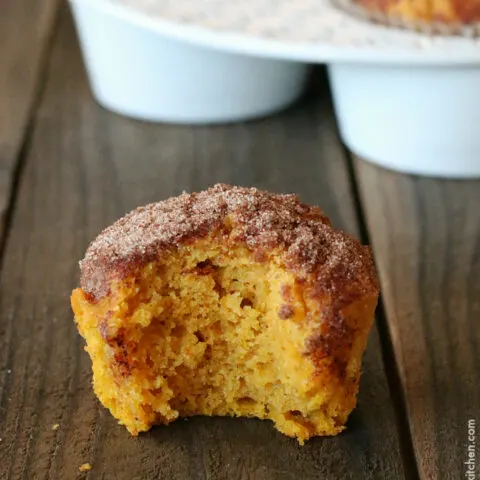 These gluten-free pumpkin muffins have the perfect texture and just the right amount of pumpkin flavor. The cream of tartar, cinnamon, and the cinnamon sugar topping all put the snickerdoodle flavor twist to these muffins.
Ingredients
1 cup (2 sticks) butter, softened
1 cup sugar
2 tsp. pure vanilla extract
2 large eggs
1 cup pumpkin puree (plain canned puree not pumpkin pie filling)
2 1/4 cups gluten-free all-purpose flour blend
1/2 tsp. xanthan gum*
1 tsp. ground cinnamon
3/4 tsp. baking powder
3/4 tsp. baking soda
3/4 tsp. cream of tartar
1/2 tsp. salt
1/4 tsp. nutmeg
1/4 cup buttermilk
1/2 cup sugar
1/2 Tbsp. ground cinnamon
Instructions
Preheat oven to 350°. Line 2 muffin tins with paper liners (24 muffins total).
In the bowl of your standing mixer, cream together softened butter and sugar until well mixed and fluffy. Add the pure vanilla extract and eggs and beat until well mixed.
Add the pumpkin puree and mix well. Note that mixture will look curdled at this stage.
In a separate, medium sized bowl, whisk together the gluten-free flour, xanthan gum, cinnamon, baking powder, baking soda, cream of tartar, salt, and nutmeg.
Add dry ingredients mixture to the pumpkin mixture and mix on low for one minute.
Add the buttermilk, then mix batter on low until smooth.
Use a spatula to stir just to make sure you don't have any unmixed batter in bottom or sides of bowl.
Scoop the batter among the 2 dozen muffin liners. I used a large cookie scoop to do this.
In a small bowl, whisk together 1/2 cup sugar and 1/2 tablespoon ground cinnamon. Sprinkle mixture generously on top of the muffin batter in liners.
Bake the muffins at 350° for 18-19 minutes or until muffins are set (should spring back if you poke slightly).
Enjoy! Store leftover muffins in an airtight container at room temperature or put into a freezer safe Ziploc bag and freeze until ready to enjoy.
If baking both pans at once, be sure to rotate pan positions partway through baking.
Notes
*omit xanthan gum if your flour blend already includes xanthan gum or guar gum.
Recommended Products
As an Amazon Associate and member of other affiliate programs, I earn from qualifying purchases.

Pin this recipe to your pumpkin or muffins board!
I hope you and your family and friends enjoy these as much as mine have!