Gluten-free pumpkin cranberry oatmeal cookies are perfect for fall! These soft gluten-free pumpkin cookies are full of the flavors of pumpkin, cinnamon and spices, with bursts of cranberry and white chocolate. If you like gluten-free pumpkin chocolate chip cookies, then I think you'll love these!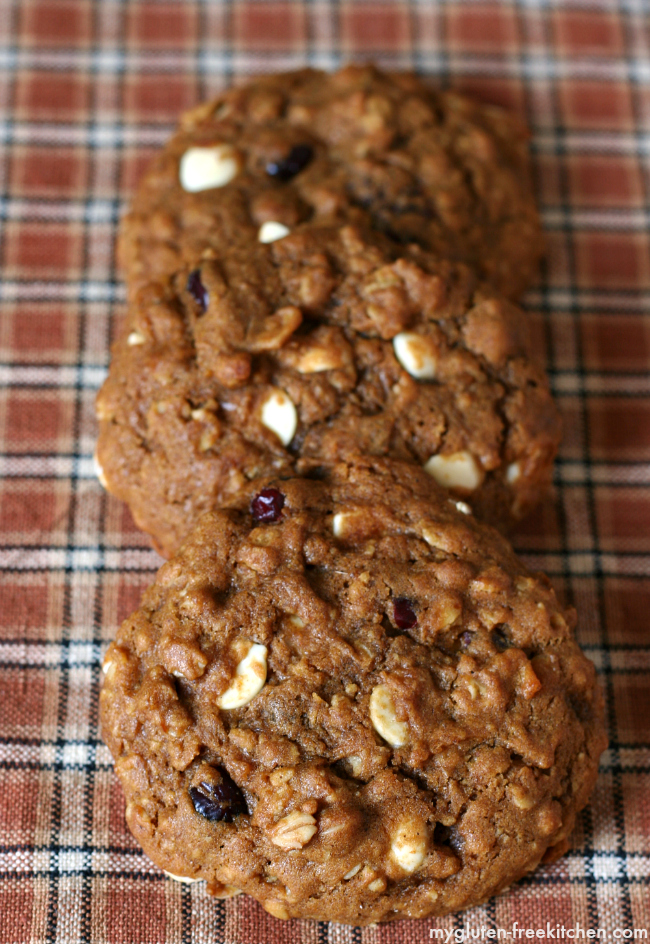 Remember how I told you that other than my gluten-free pumpkin bars with cream cheese frosting, I don't really care for pumpkin anything? Well I'm eating my words… totally. I made these gluten-free pumpkin cookies this weekend and they are amazing! I've enjoyed one or two every day and am even eating one while I work on this blog post. The combination of all of the flavors together is so good!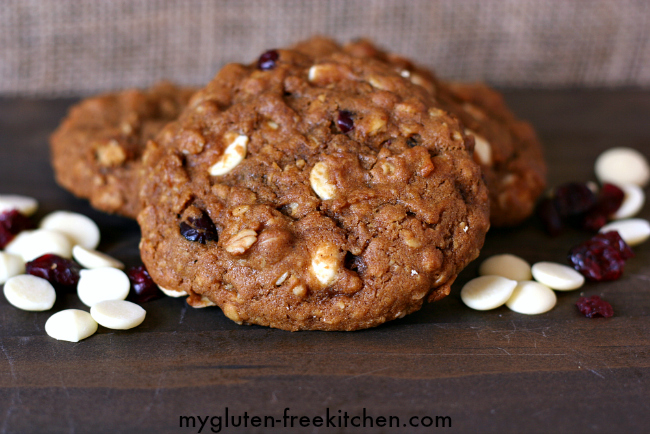 I saw a recipe for chewy pumpkin oatmeal cookies with several variations over at one of my favorite food blogs, Sally's Baking Addiction. Sally has such amazing photos of her food and comes up with incredibly good recipes. I knew when I saw these that I had to make them gluten-free, so that I could try them and share them with several gluten-free friends. I thought the combination of white chocolate and dried cranberries sounded the best to me, but you can check out Sally's other suggestions too and find one that sounds perfect to you!
While Sally's blog is mostly full of recipes with gluten, which I just adapt, she does have a good selection of gluten-free recipes too (just make sure you are using certified gluten-free oats in her recipes that call for oats). I'm super excited about Sally's cookbook release, which she promises will have some gluten-free recipes too! You can order her cookbook, Sally's Baking Addiction: Irresistible Cupcakes, Cookies, and Desserts for Your Sweet Tooth Fix
.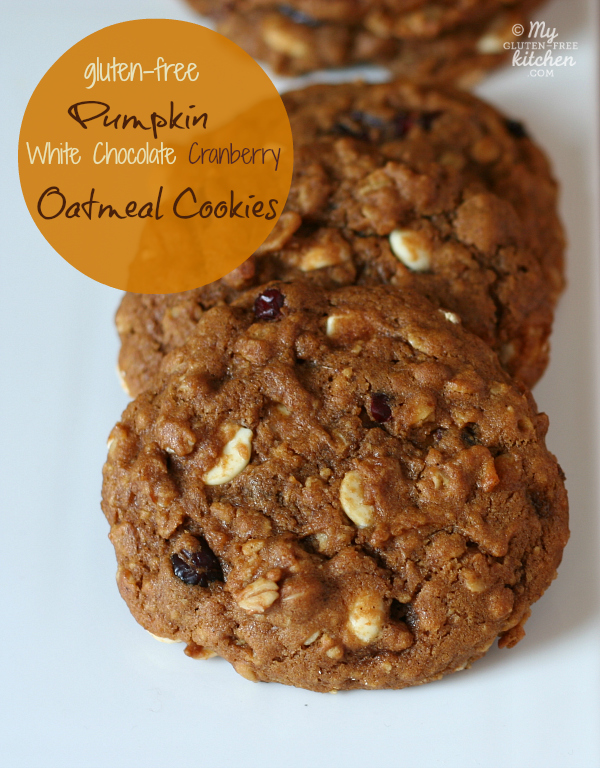 Notes on ingredients and substitutions for Gluten-free Pumpkin Oatmeal Cookies :
Oats: Always be sure to use certified gluten-free oats. I used these GF Harvest Gluten Free Organic Old Fashioned Rolled Oats from Amazon. I personally do not care for the Bob's Red Mill brand gluten-free oats at all and they are not certified gluten-free nor do they use oats grown under purity protocol like GF Harvest does.
Flour: As always, I only recommend baking with a good quality all-purpose gluten-free flour blend. All flour blends are not created equal! I recommend avoiding flour blends that contain any bean flours or that are primarily rice flour, as you'll get a more gritty result. This recipe, like pretty much all of my recipes, has been tested with successful results with both gfJules gluten-free flour and Gluten Free Mama's Almond Flour Blend and I recommend either one. Two other flour blends that I've been testing some (but not this recipe yet) with good results are Cup4Cup and Pamela's.
Xanthan: If the gluten-free flour blend you use already has xanthan gum or guar gum in it, then omit the xanthan gum called for in this recipe.
For the white chocolate chips, you might only be able to find vanilla chips at your stores. While I prefer the actual white chocolate ones as they have a richer flavor from the cocoa butter, the vanilla chips would be fine here as well. The important thing is to make sure they do not have any gluten and aren't made on shared equipment with wheat. I used Callebaut white chocolate callets, but also recommend Guittard, Trader Joe's white chocolate chips, and the new Nestle Simple Delicious white chocolate chips.
Dried Cranberries: You can use Craisins for the dried cranberries. They clearly state on their website that they are gluten-free. I also like the juice-sweetened dried cranberries from nuts.com that I buy here.
Molasses: This recipe calls for molasses. I always use this Grandma's Molasses.
Pumpkin: You want to use canned pumpkin, not pumpkin pie filling. I usually use Libby's but also recommend Trader Joe's canned pumpkin.
Craving more pumpkin recipes? I love these gluten-free pumpkin muffins and crave them every fall now! Try these cinnamon sugar pumpkin seeds – they look like such a yummy sweet and salty combo! I've been dying to make these gluten-free pumpkin donuts from my friend Chrystal too!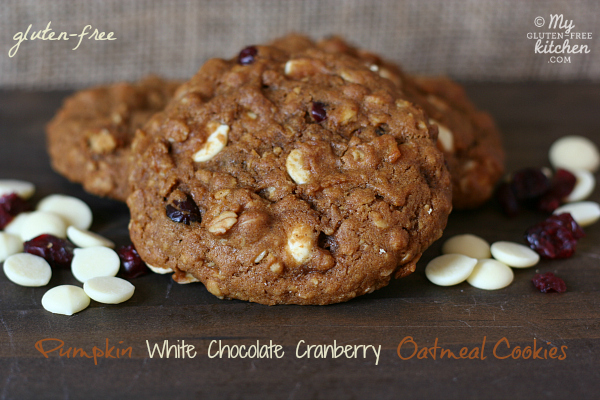 I hope you can make these soon. They were delicious on days 1, 2, and 3, and I feel like the spices intensified even as the days have gone by. Package up some of these gluten-free pumpkin cookies and deliver to someone for a gift that is a taste of fall!
Gluten-free Pumpkin Oatmeal Cookies Recipe:
Yield: 24 cookies
Gluten-free Pumpkin White Chocolate Cranberry Oatmeal Cookies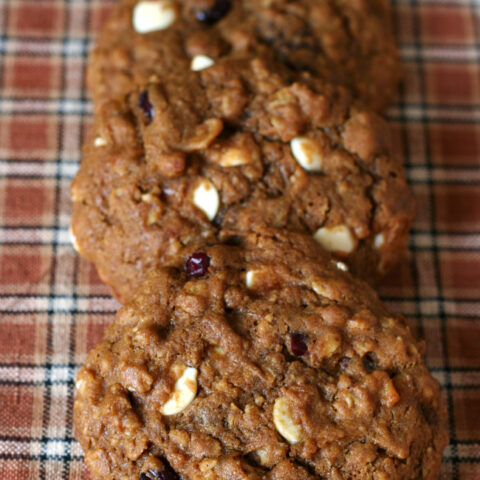 These soft gluten-free pumpkin cookies are full of the flavors of pumpkin, cinnamon and spices, with bursts of cranberry and white chocolate. Feel free to substitute different mix-ins for the cranberries and white chocolate.

Prep Time 10 minutes

Cook Time 14 minutes

Total Time 24 minutes
Ingredients
2 1/4 cups good quality gluten-free flour blend*
1/2 tsp. xanthan gum
1 tsp. baking soda
1 Tbsp. ground cinnamon
1/2 tsp. ground nutmeg
1/2 tsp. ground cloves
1/2 tsp. salt
1 1/2 cups certified gluten-free old fashioned (rolled) oats
1 cup (2 sticks) unsalted butter, melted, or non-dairy alternative
1/3 cup molasses
3/4 cup brown sugar
1/2 cup sugar
1 egg yolk
3/4 cup pumpkin puree (canned pumpkin not pumpkin pie filling)
1 tsp. vanilla extract
3/4 cup white chocolate or vanilla chips
3/4 cup dried cranberries
Instructions
Preheat oven to 350°. Line two baking sheets with parchment paper or silicone baking mats.
Note: You can make this dough all by hand or with a mixer, just don't overmix.
In a large bowl, whisk together the flour, xanthan gum, baking soda, cinnamon, nutmeg, cloves, and salt. Stir in the oats. Set aside.
In a large mixing bowl, or in the bowl of your mix, whisk or mix together melted butter (or non-dairy alternative), molasses, brown sugar, and sugar.
Once combined, whisk or mix in the egg yolk.
Add the pumpkin and vanilla extract and whisk or mix until thick and combined completely.
Add the dry ingredients and mix just until combined. The dough will be thick and sticky.
Stir in the white chocolate chips and dried cranberries, or your alternate choices of mix-ins.
Use a cookie scoop or large table spoon to scoop dough onto cookie sheets. I used the largest size Pampered Chef scoop, which scoops dough balls that are 2 inches wide. Use the back of a spoon or spatula to flatted the dough balls just slightly. I was able to get 24 cookies from this batch of dough.
Bake the cookies at 350° for about 13-15 minutes or until edges are "set", meaning they don't squish in completely when you touch them. Centers will still be soft. Mine were done right at 14 minutes in my oven.
Cool cookies completely on the baking sheets.
Notes
*I've tested this with Gluten Free Mama's Almond Flour Blend and gfJules flour and recommend either!
If using a flour blend that already includes xanthan or guar gum, then omit the xanthan called for in the recipe.
If your tummy doesn't tolerate oats well, I really think you could substitute the oats with a mixture of half shredded coconut and half chopped nuts of some sort.
As always, verify that all of your ingredients are free of gluten.

Recipe adapted from Sally's Baking Addiction.
Recommended Products
As an Amazon Associate and member of other affiliate programs, I earn from qualifying purchases.

Pin these to your gluten-free cookies board on Pinterest so you can find them later:

I hope you and your family enjoy this gluten-free pumpkin cookie recipe as much as my family does!