I've been keeping this long-time favorite cookie recipe from you for too long! I'm sorry! I've been bringing these gluten-free triple chocolate cookies to potlucks and teacher appreciation parties for years! Everyone loves these cookies, whether they eat gluten or not!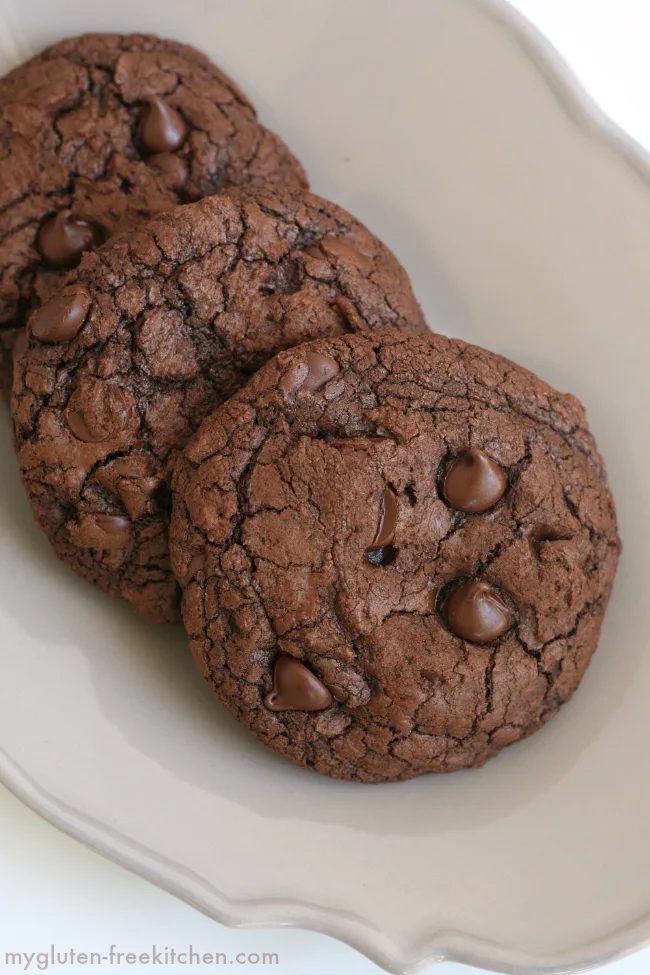 It doesn't get more chocolatey than these cookies – with chocolate in three forms! Cocoa powder, melted chocolate plus additional chocolate chips stirred in make these chocolate heaven!
They're perfectly chewy cookies, though you can definitely cook longer for crunchier ones.
I've actually photographed these cookies 3 times with the intention of getting them shared here on the blog. The most recent time was in 2014 – and while I still don't love the photos, I know you all just really care about good recipes more than good photos! So I decided to call these good enough and stop keeping this recipe from you any longer!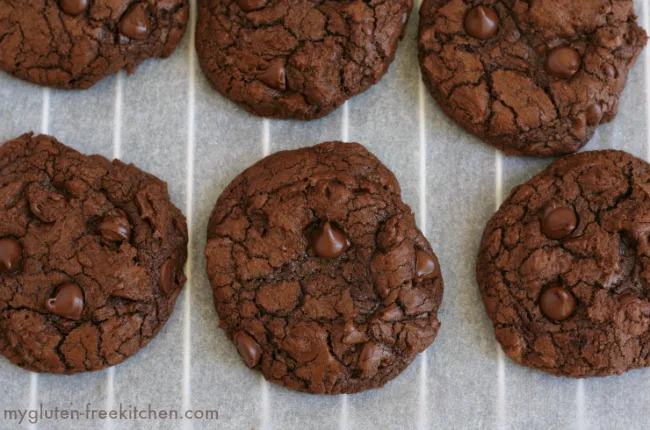 Notes on ingredients for these gluten free chocolate cookies:
Flour: I've always made these with gfJules all-purpose gluten-free flour blend because it works excellent! Since gfJules contains some xanthan gum, no additional gums are needed for binding. While I often buy it direct from gfJules website, you can also get gfJules flour on Amazon here now!
Cocoa: I've made them a deeper chocolate by using Hershey's Special Dark Cocoa for part of the cocoa in the recipe. It's my secret trick in most of my chocolate recipes! I can find it at most of my local stores but you can also pick up Hershey's Special Dark Cocoa at Amazon.
Chocolate: I recommend Guittard semi-sweet chocolate, Enjoy Life semi-sweet mega chunks and mini chips, or Trader Joe's chocolate chunks and chips. If you like dark chocolate, feel free to use that for the chips that you stir in or the ones you melt.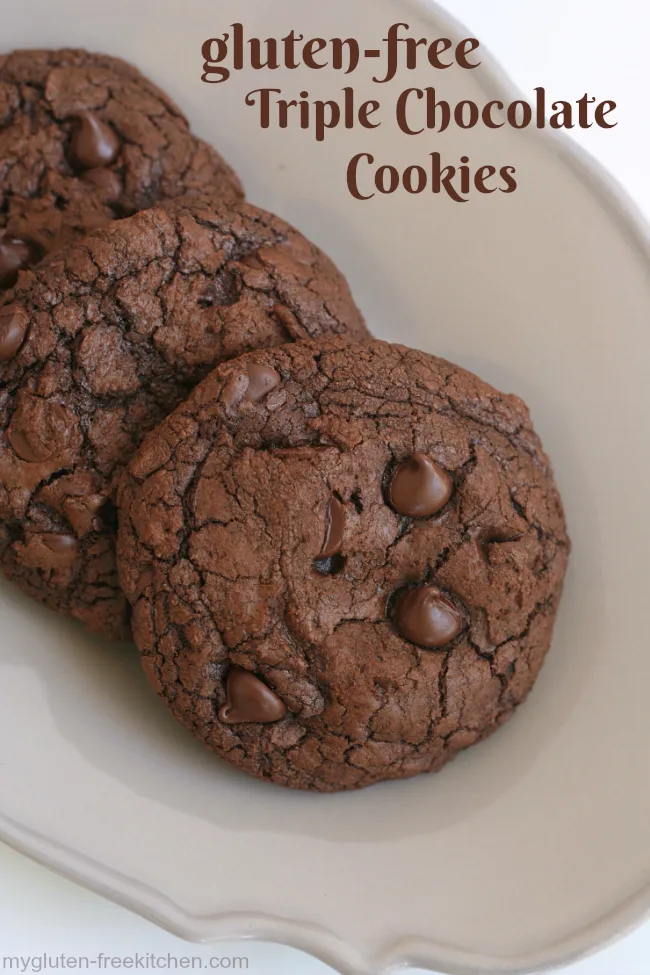 I hope you enjoy these gluten-free chocolate cookies as much as we do here!
If you are looking for more gluten-free cookie recipes, make sure you check out my gluten-free chocolate chip cookies, which are the most popular recipe on my blog! Also, these gluten-free chocolate mint cookies are a yummy variation of today's recipe if you enjoy mint! And if you happen to be looking for a paleo chocolate cookie for you or a friend, check out these perfectly paleo chocolate chip cookies from my friend Erin!
If you make these and love them, please come back and give this recipe a 5 star rating in the recipe card! Feel free to comment with tips or to share any successful substitutions you made.
Gluten-free Chocolate Cookies Recipe:
Yield: 42 cookies
Gluten-free Triple Chocolate Cookies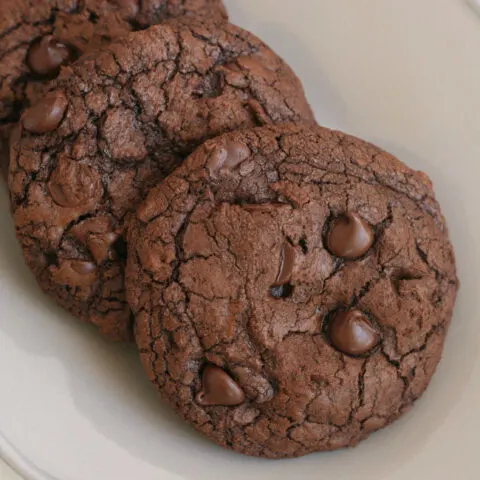 These gluten-free triple chocolate cookies are so rich and delicious! Can't stop with just one of these gluten-free chocolate cookies!
Ingredients
2 cups good quality gluten-free flour blend
1/2 tsp. xanthan gum*
1/2 cup baking cocoa**
2 tsp. baking powder
1/2 tsp. salt
16 oz. semi-sweet chocolate chunks or chips
4 large eggs
2 tsp. pure vanilla extract
10 Tbsp. salted butter, room temp.
1 1/2 cup packed brown sugar
1/2 cup sugar
1 1/2 cups semisweet chocolate chips
Instructions
In a medium bowl, whisk together the flour, xanthan gum, cocoa, baking powder and salt. Set aside.
Melt the semi-sweet chocolate chunks or chips in the microwave in 30 second intervals, stirring after each. Once melted completely, set aside to cool a bit.
In the bowl of your stand mixer, beat the butter at medium speed until smooth and creamy, about 45 seconds.
Beat in the sugars until combined, about 45 seconds. The mixture will look granular.
Reduce the speed to low and gradually beat in the eggs and vanilla until incorporated, about 45 seconds.
Add the melted chocolate in a stream and beat until combined, about 1 minute.
With the mixer on low speed, add the dry ingredients mixture and mix just until combined. Do not overmix!
Stir in the additional chocolate chips.
Cover with plastic wrap and let stand at room temperature about 20-30 minutes. The dough consistency will become more fudge-like. You can skip this step, but your cookies will spread more during baking if you bake them right away.
Whatever you do, do NOT put the dough in the refrigerator! It will harden like concrete!
Preheat oven to 350°. Line 2 sheets with parchment paper. Use a medium cookie/ice-cream scoop, rounded. My cookie dough balls weighed 1-1.25 oz. each, if that helps you!
Scoop 12 cookies per large cookie sheet. You should have enough dough for about 3 1/2 dozen cookies.
Bake each cookie sheet for 12 minutes or until the edges of the cookies have just begun to set but the centers are still very soft. If baking two pans at once, be sure to rotate the pans front to back and top shelf to bottom shelf partway through the baking time. I prefer baking one pan at a time for best results.
Cool the cookies on the sheets about 5 minutes or until set, then transfer to cooling racks. Enjoy with a glass of milk!
Notes
I've always made these with gfJules all-purpose gluten-free flour blend because it works excellent! Since gfJules contains some xanthan gum, no additional gums are needed for binding.
*If the gluten-free flour blend you use already has xanthan gum or guar gum in it, then omit the xanthan gum called for in this recipe.
**For the baking cocoa, I like to use part Hershey's special dark cocoa and part regular cocoa. This helps the cookies be even darker.
Recommended Products
As an Amazon Associate and member of other affiliate programs, I earn from qualifying purchases.
Adapted from Cook's Illustrated.