I love it when an idea comes together! I'm excited to share with you these gluten-free chocolate cupcakes with chocolate chip buttercream and the cutest little chocolate chip cookies! So easy and so yummy!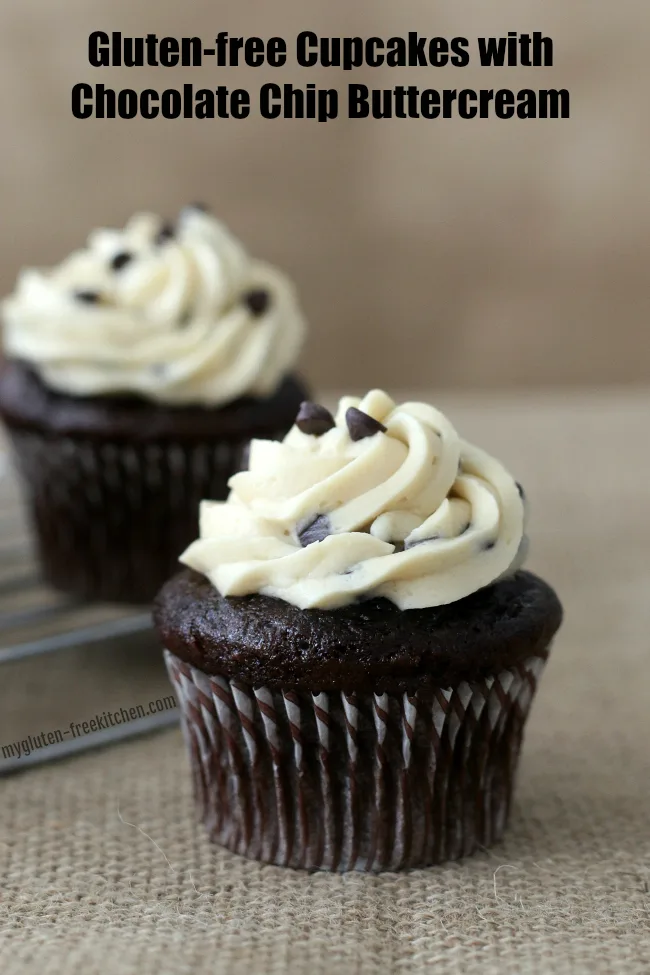 Today is my oldest son's 13th birthday so I'm sharing with you his favorite new gluten-free cupcake! He couldn't get enough of these cupcakes, and ended up bringing one in his lunch several days in a row. He said that one day, his best buddy was using his finger to swipe the frosting off of his lunch container because he loved the chocolate chip frosting so much!
A while back, Enjoy Life Foods sent me some of their new allergy-friendly, gluten-free mini cookies in a variety of flavors. When I saw these little crunchy chocolate chip cookies, the idea came to me to put them on top of a cupcake that's frosted with chocolate chip frosting! So when they asked me to do a recipe for them in February as part of my chocolate month here on the blog, I just knew this was the idea I wanted to produce!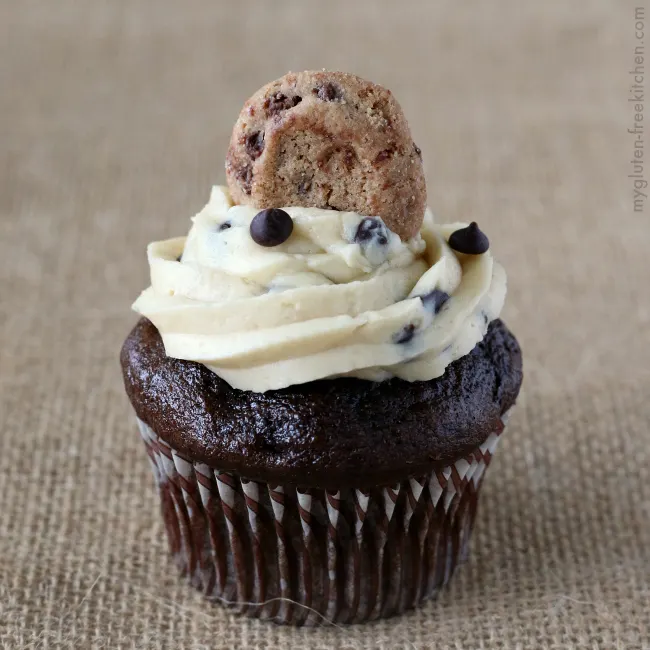 Since this is chocolate month, I've got to talk about chocolate. These are my tried and true favorite gluten-free chocolate cupcakes that I make for every birthday here.
I usually frost them with my fudge frosting, but for this I really wanted to make a chocolate chip frosting. I wanted a rich buttercream that would taste like chocolate chip cookie dough, but I didn't want any flour in it like some recipes I found. I ended up making my own chocolate chip buttercream recipe and it came out just perfect!
I used certified gluten-free Enjoy Life semisweet mini chips in the frosting and sprinkled a few extra chocolate chips on top just to finish them off! Everyone that tried it said it did remind them of chocolate chip cookie dough, so that's a success! I loved the combo of chocolate cupcake with this chocolate chip buttercream and will make these again and again!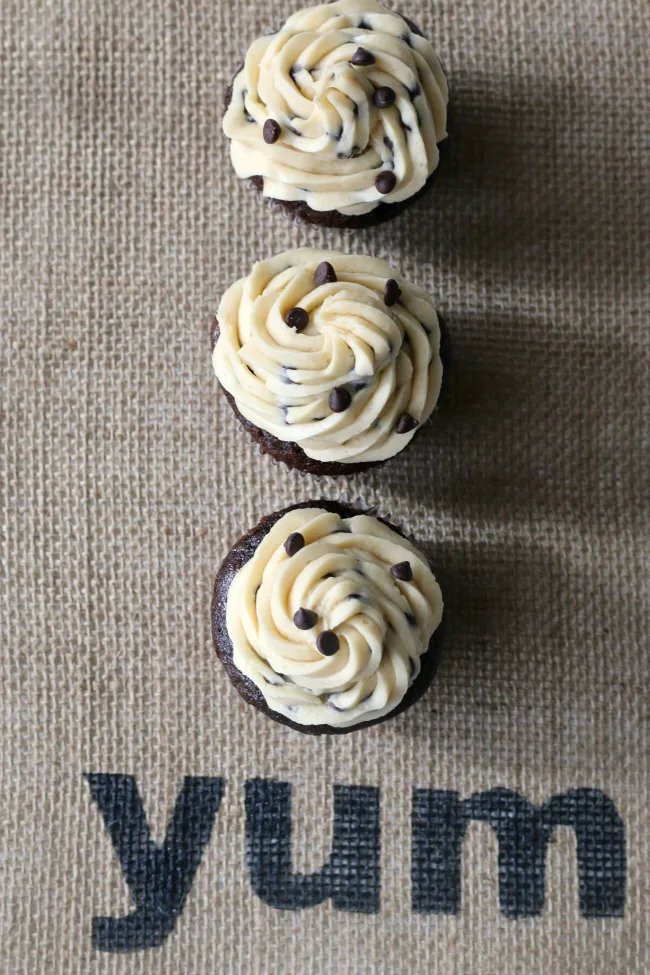 While these are super delicious with just the cupcake and buttercream, it's super fun to top them off with a little allergy-friendly and certified gluten-free crunchy mini chocolate chip cookie. You can buy these Enjoy life mini cookies online in cute little mini bags that are perfect for snacking!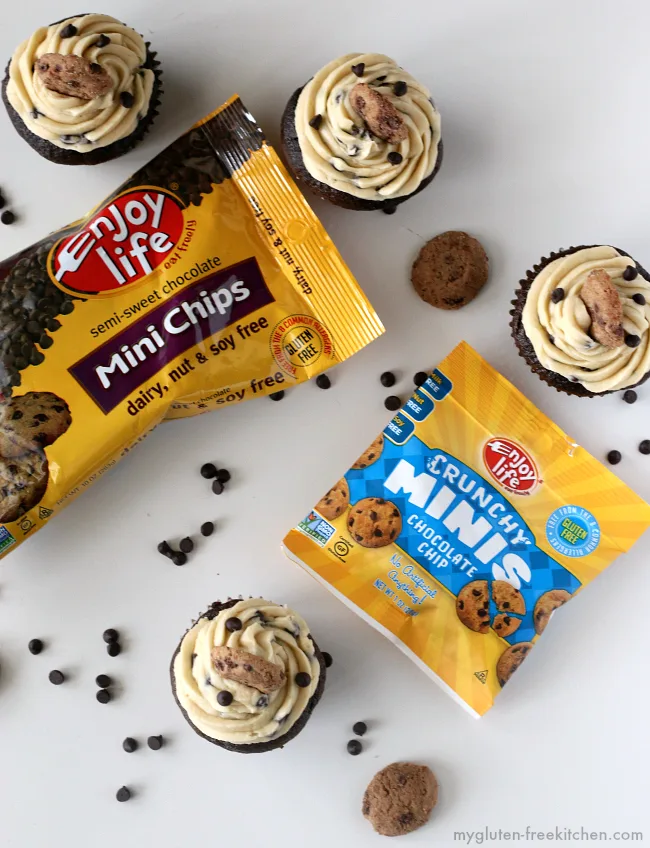 Notes on ingredients for these gluten-free chocolate cupcakes with chocolate chip buttercream:
For certified gluten-free chocolate, my go to is Enjoy Life semi-sweet mini chips! I find mine at my local stores, and online in a 6 pack of bags from Amazon or buy straight from Enjoy Life. These make this chocolate chip buttercream perfect! I wouldn't recommend using larger chips.
If you'd like to top your cupcakes with the crunchy mini chocolate chip cookies, you can buy them straight from Enjoy Life here, or find them on Amazon in a 6 box package here.
As always I recommend using a good quality gluten-free flour blend such as King Arthur Measure for Measure, Gluten Free Mama, Cup4Cup or gfJules.
The secret to this chocolate chip buttercream is of course BUTTER! No skimping!
The other secret is brown sugar so I don't recommend subbing that out at all!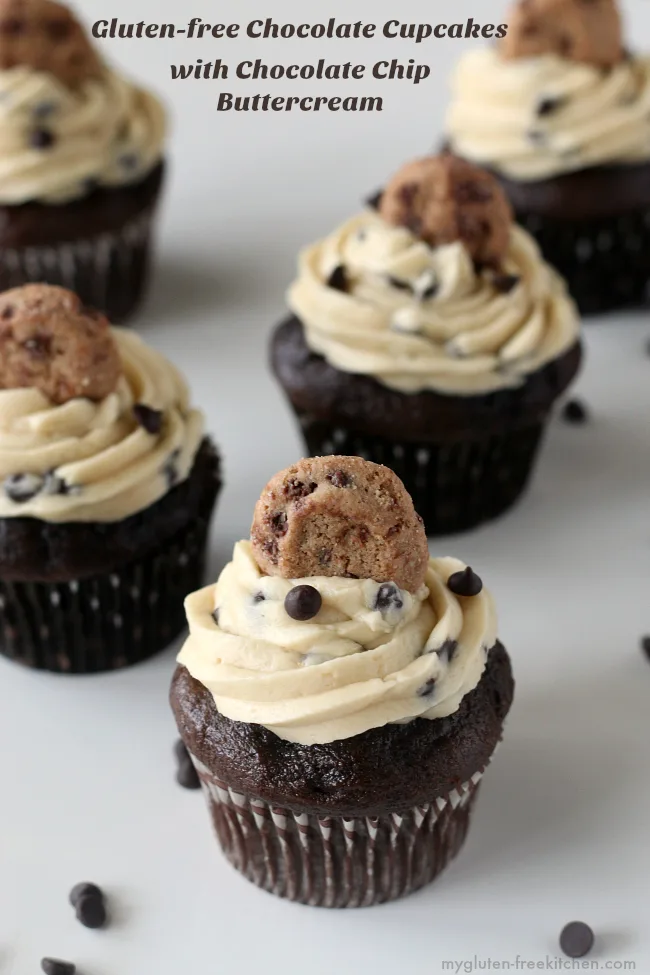 If you do buy the 6 pack of Enjoy Life semi-sweet mini chips, I thought I'd show you a few more recipes you can make to use them up! I use them all the time in these gluten-free banana chocolate chip muffins. I made these gluten-free peanut butter chocolate chip cookie cups this past fall and we all loved them! Oh and I can't forget these amazing gluten-free S'mores Sandwich Cookies that are rolled in mini chocolate chips!
My friend Cindy just used the mini chips to make this fun gluten-free, allergy-friendly Party Popcorn! And if you'd like your chocolate on donuts, make sure you check out my gluten-free chocolate frosted donuts.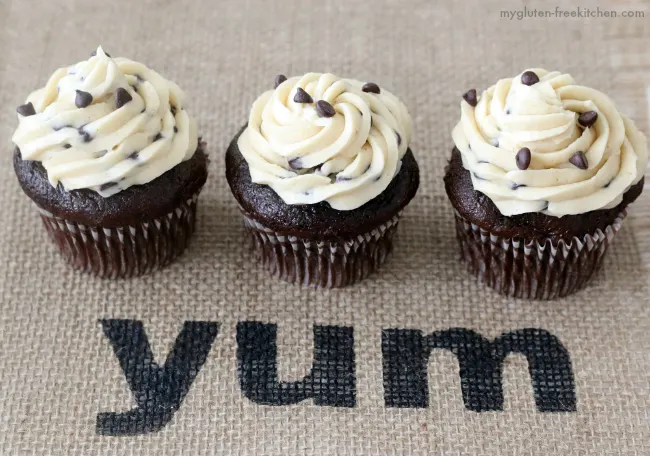 With or without the little cookies on top, these gluten-free cupcakes are definitely YUM!
Gluten-free Chocolate Cupcakes with Chocolate Chip Frosting Recipe:
Yield: 24 cupcakes
Gluten-free Chocolate Cupcakes with Chocolate Chip Buttercream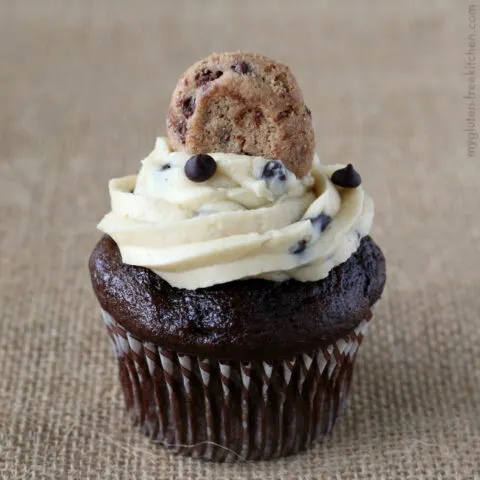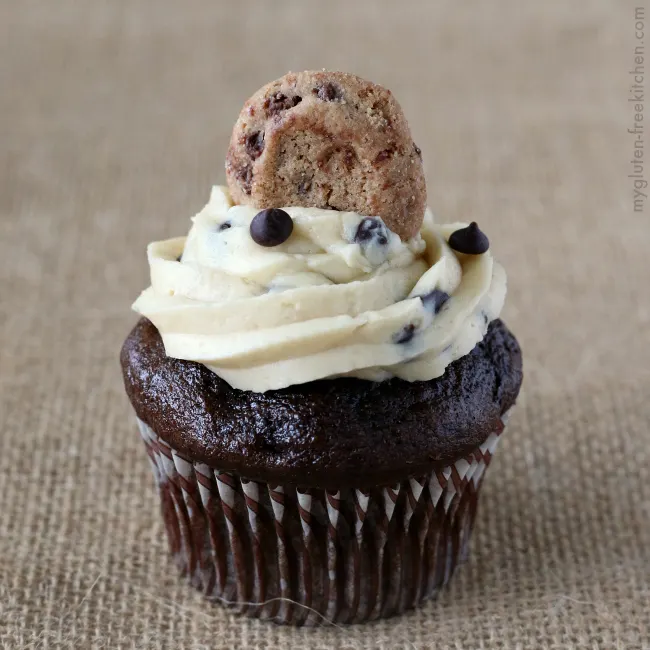 Gluten-free chocolate cupcakes with chocolate chip buttercream are a fun birthday cupcake! This frosting reminds me of chocolate chip cookie dough!

You can make the cupcakes a day ahead of when you need them to save yourself some work! I do this all the time!

Prep Time 30 minutes

Cook Time 17 minutes

Total Time 47 minutes
Ingredients
Cupcakes:
2 cups good quality gluten-free all-purpose flour blend
1 tsp. xanthan gum*
2 cups sugar
1 tsp. baking soda
¼ tsp. salt
1 cup salted butter (2 sticks)
⅓ cup cocoa powder *see note
1 cup water
½ c. buttermilk
2 eggs
1 tsp. pure vanilla extract
Chocolate Chip Buttercream Frosting:
1 1/2 cups softened salted butter (3 sticks)
1/2 cup packed brown sugar
1/4 tsp. salt
2 Tbsp. milk
2 tsp. pure vanilla extract
3 cups powdered sugar
1/2 cup semi-sweet mini chocolate chips
Topping (optional):
1 box Enjoy Life crunchy mini chocolate chip cookies
Instructions
Cupcakes
Line a muffin pan with paper liners and set aside.
In your mixing bowl, combine gluten-free flour, xanthan gum, sugar, baking soda, and salt and set aside.
In a medium saucepan, combine butter, cocoa, and 1 cup water. Bring just to boiling, whisking constantly. Remove from heat and add to dry ingredients, beat until combined.
Add buttermilk, eggs, and vanilla and beat for one minute on low-medium speed.
Pour batter into cupcake liners. I use a large scoop that measures about 1/3 cup batter into each opening and get 24 cupcakes.
Bake at 350° for 17 minutes or until a toothpick comes out clean or with a few crumbs (no wet batter).
Let cool in pan for 4 minutes, then remove cupcakes to a cooling rack. Wait to frost until completely cool.
Chocolate Chip Buttercream Frosting:
In a large mixing bowl, beat together butter and brown sugar until light and fluffy (several minutes). Add the salt, milk, and pure vanilla extract and until well blended. Add in the powdered sugar, 1 cup at a time, blending well after each addition.
Stir in semi-sweet mini chocolate chips. Spread onto cooled cupcakes or put into piping back and pipe onto cooled cupcakes.
Optional: top each decorated cupcake with a gluten-free mini chocolate chip cookie.
If you aren't consuming on the day you bake these, I'd recommend placing them in a refrigerator overnight and pulling out an hour before serving to allow to come to room temperature.
Notes
*If your flour blend already contains xanthan gum or guar gum, omit the xanthan gum called for in this recipe.

For the cocoa powder, I like to use about 1/2 of dutch-processed or regular cocoa and 1/2 special dark cocoa. That is how I achieve a nice dark brown to my cupcakes.
Recommended Products
As an Amazon Associate and member of other affiliate programs, I earn from qualifying purchases.

Pin this to your gluten-free desserts board on Pinterest: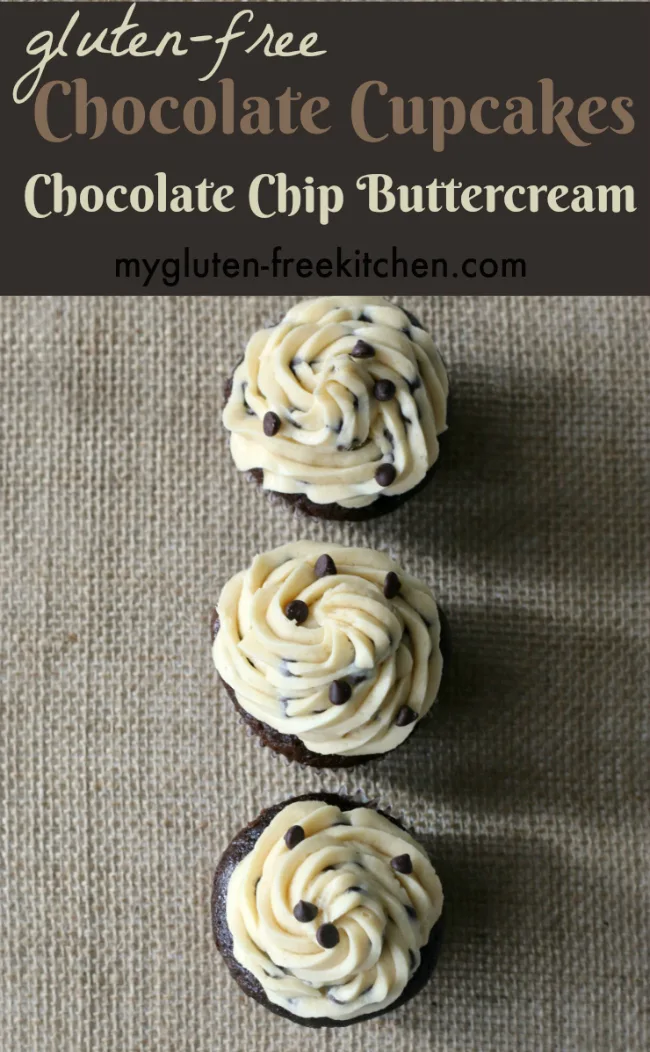 I hope you and your friends and loved ones enjoy these as much as my family and friends did!
This sponsored post was created through my partnership with Enjoy Life Foods. As always, all opinions are my own. Collaborating with brands I love allows me to keep bringing you new and varied recipes! Thanks for your support!