Raise your hand if you are happy that fruits and vegetables are naturally gluten-free? I am! Seriously, fresh fruit is my favorite part of eating gluten-free. We grow a variety of fruits and vegetables in our backyard so we can enjoy fresh fruit all summer and fall. I love looking in the backyard in August to see bright, ripe berries, huge zucchini, sweet cherry tomatoes, and juicy peaches ready to be picked. Today I've partnered with Tree Top.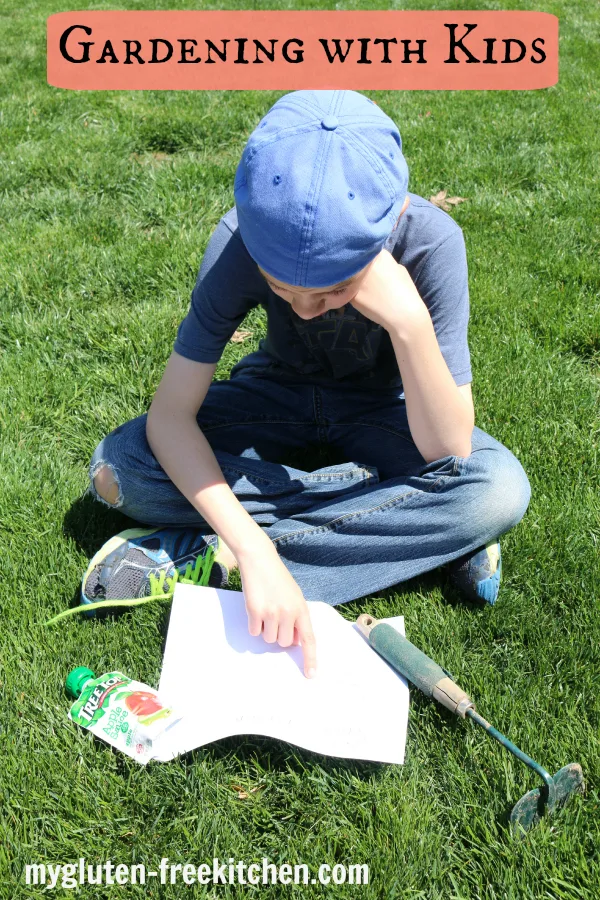 We have several raised garden beds that my husband has built in our backyard. Every year my kids choose a few things to plant in their own garden bed. In past years, they've chosen corn, pumpkins, potatoes, tomatoes and more. My boys have learned so much over the years from our gardening adventures. We discuss growing conditions like sunlight and soil, how much room each plant will need, and how to tell when something is ready to harvest. I had one of my children draw up a plan for the kids' garden this year, keeping in mind how much space the fully grown plants will take up.
Here is the plan my son Jake drew up for this year's kids' garden: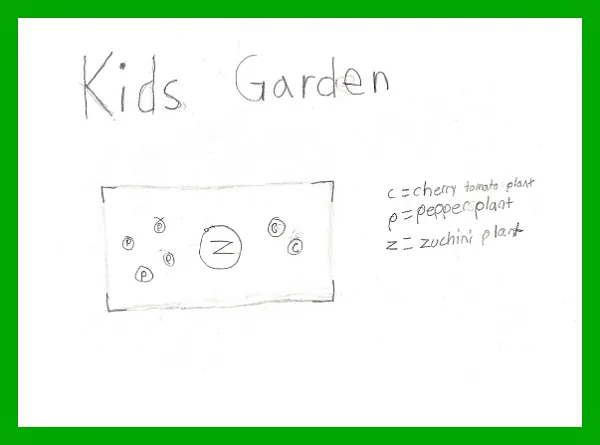 On a couple Saturdays recently we shopped for and planted everything in their garden – zucchini, cherry tomato plants, and peppers. While my boys aren't super crazy about eating zucchini in the meals I make, they do love my gluten-free zucchini cake brownies and my gluten-free applesauce banana zucchini muffins, so they are happy to grow some for me to use in my baking!
Here they are planting the zucchini seeds: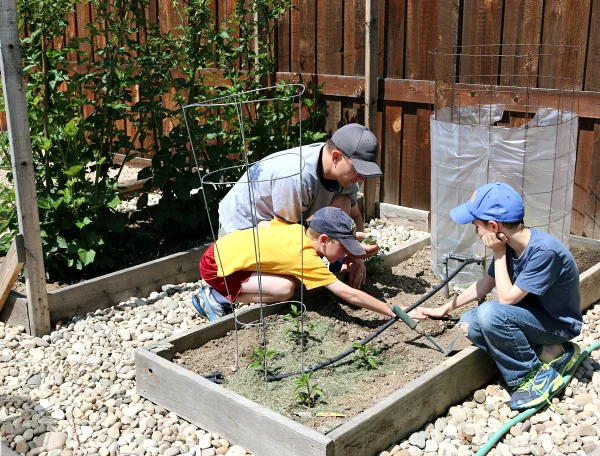 I gave the kids Tree Top applesauce squeeze pouches to enjoy while we were out gardening that day. They are mess-free, taste great, and are made with pure fruit – and of course they are naturally gluten-free, which makes them a great choice for our family. My boys tried and loved all three varieties that we tried: apple, cinnamon, and strawberry. I'm planning to buy the mixed berry variety next time I'm at the store as I think they'd like that one!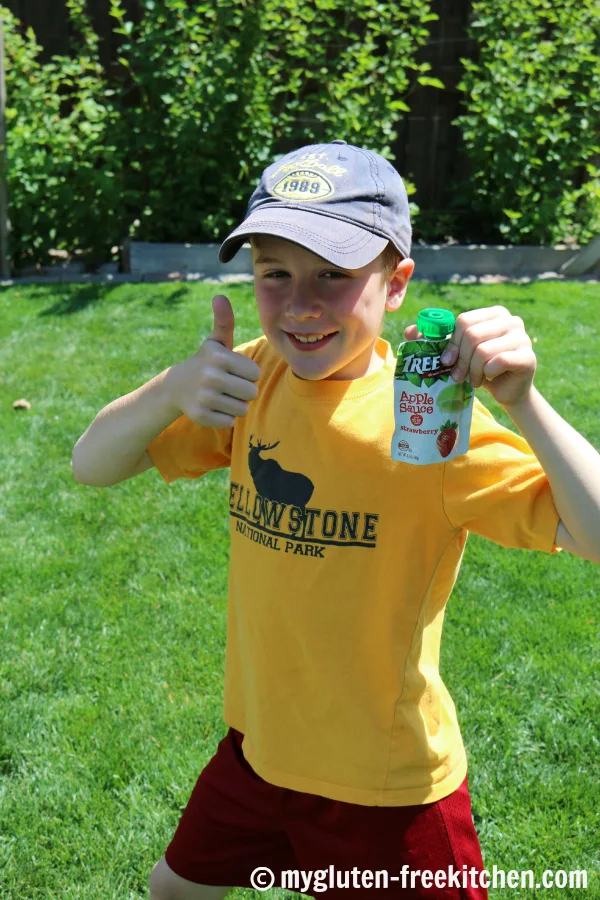 The peppers are for my husband to use in his homemade salsa. The sweet cherry tomatoes are a choice for our kids' garden every year! My oldest loves eating them. My youngest doesn't eat them at all, but he loves growing them so he can sell them! Every August and September, he is out there picking, washing, and counting out the cherry tomatoes into bags. He creates a sign and little stand and goes out front to sell them! He almost always sells out too! Here's a picture of my little entrepreneur from a past summer: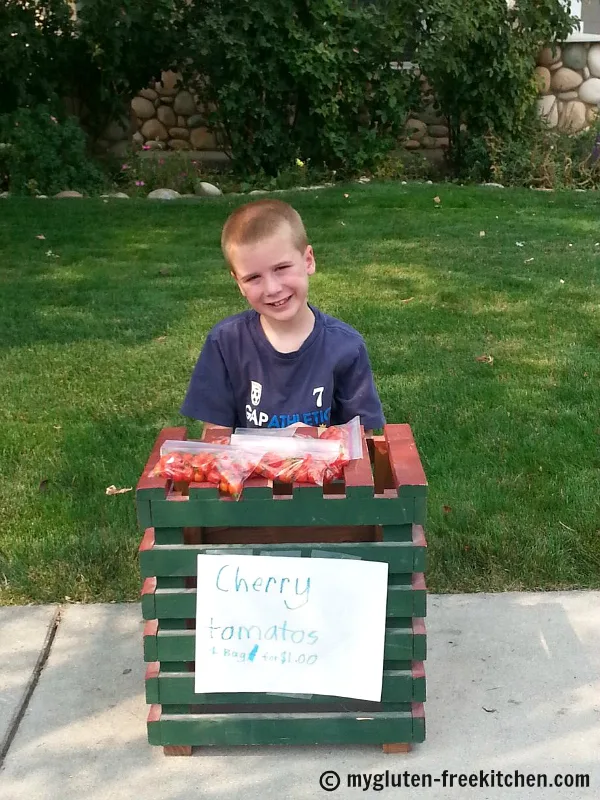 (He does know how to spell tomatoes now!)
In our backyard, we also grow blackberries, raspberries, Roma tomatoes, slicing tomatoes, blueberries, rhubarb, garlic, and have several peach trees.
We've tried growing apple trees here, but they didn't do well. That's why I'm glad that Tree Top apples are grown just over the border in Washington's apple country! While I often purchase apples from the orchards to make our own applesauce to can in the fall, I love squeezable applesauce pouches for their convenience for sending in my boys' lunches or for an easy, portable snack.
We had a great time working as a family in the garden. I encourage you to go enjoy time with your kids outside and if possible, plant your own naturally gluten-free foods! You can find all sorts of gardening tips and educational resources at kidsgardening.org. For every purchase of Tree Top apple sauce pouches, Tree Top will donate a dollar to kidsgardening.org to help fund community garden projects across the country. How fun!
Let me know what you are planting in your garden this year!
This is a sponsored post written by me on behalf of Tree Top. As always, all opinions are my own. Partnering with brands I use and love allows me to keep bringing valuable information and recipes to you, my faithful readers!