Perfect for weekend mornings or holiday brunch because you prepare this overnight gluten-free breakfast casserole the night before and bake in the morning! Perfect gluten-free brunch recipe! While we enjoy this for the holidays, you can make this gluten-free egg casserole anytime!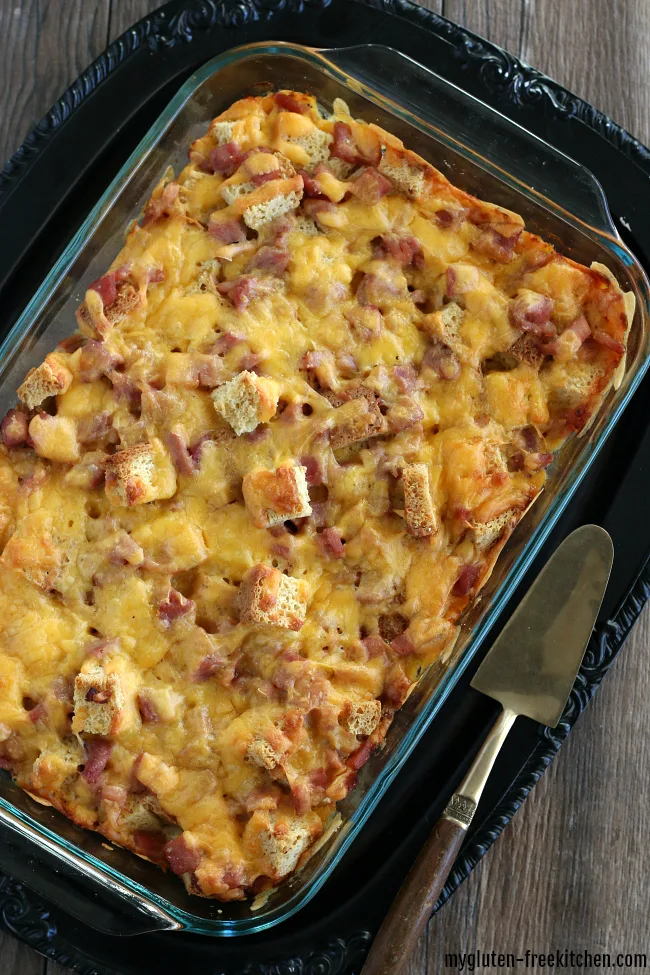 My family really enjoys when I make this gluten-free holiday breakfast casserole every year for Easter and Christmas brunch. Hearty, creamy, cheesy goodness, all in a delicious gluten-free breakfast bake that is made the night before!
My kids count on this being on the table for every holiday brunch!
Since I am NOT a morning person, my family gets cereal, oatmeal, or muffins the other 363 days a year. The night before Easter and the night before Christmas, I take a bit of time and throw together this gluten-free overnight breakfast casserole, cover, and place in the fridge to rest overnight.
Then I write out the baking instructions (time, temp, and reminder to uncover) and set that out for my early-rising hubby. He happily gets up, pulls the gluten-free egg casserole out of the fridge, and places in the hot oven at the right time so we can enjoy our brunch before church.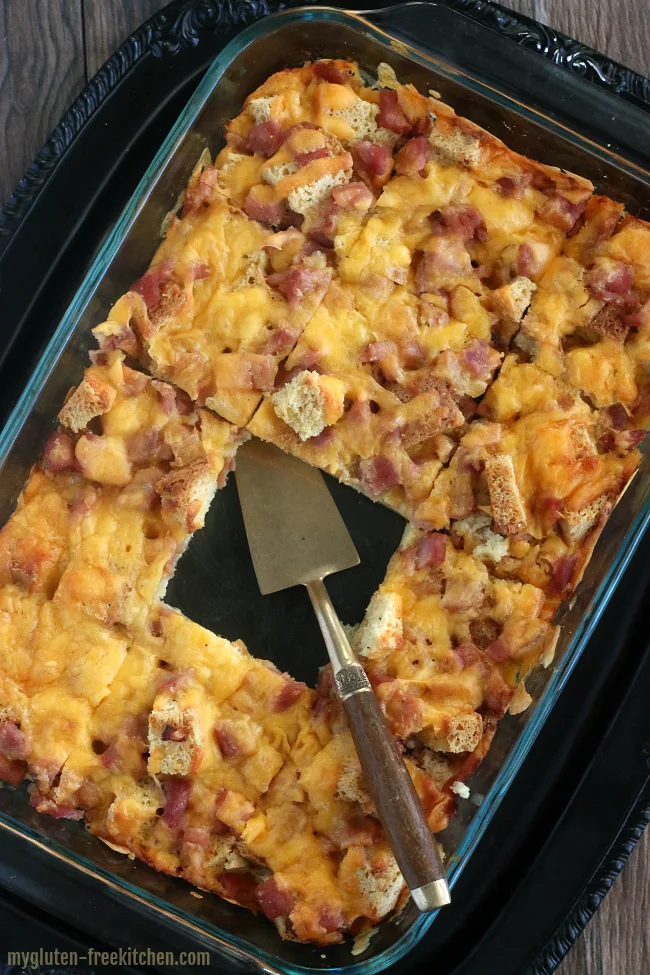 What gluten-free bread should you use?
You make this breakfast casserole with bread cubes. You can really cube up just about any gluten-free bread to use in this. Some people like to keep their bread loaf ends for a few months, then cube for this.
I personally like to bake up a loaf of gluten-free bread a day or two before making this. Once cool, I just slice in thick 1″ slices and cube up what I need for this recipe and we use the rest for sandwiches.
To make it easy, I use my bread machine and just use one of my favorite gluten-free bread mixes: gfJules gluten-free bread mix (buy direct or from Amazon) or King Arthur's gluten-free bread mix.
You'll use a little over half of the loaf for this recipe. You could also make my friend Chrystal's gluten-free bread recipe from scratch.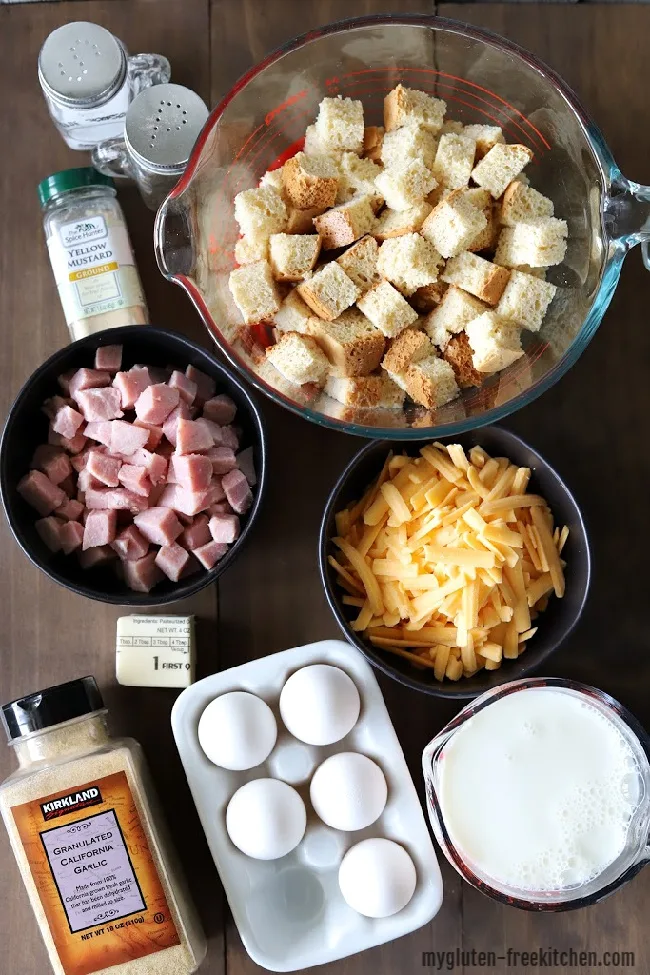 Notes on ingredients for this gluten-free breakfast casserole:
Ham: I usually use leftover ham that I've frozen from a previous dinner. I almost always buy the spiral sliced Kirkland brand ham at Costco. You can also buy ham steaks to cube up for this recipe. Sometimes I buy a small Hempler's Nitrate/Nitrite Free, gluten-free ham from my local store and it is perfect for this too.
You could substitute the ham with bacon or sausage for an equally delicious gluten-free egg bake. As always, make sure that the ham, bacon, or sausage that you use is free of any gluten in the ingredients. There are many clearly labeled gluten-free meats available.
Ground mustard. This dry mustard on the spice aisle at your store or you can buy on Amazon here. It only uses a bit, but does lend some flavor that I think is important – and this is from someone that doesn't like liquid mustard on anything!
So you can see, the ingredients aren't complicated at all! Just plan ahead so you have bread cubes and ham to make this.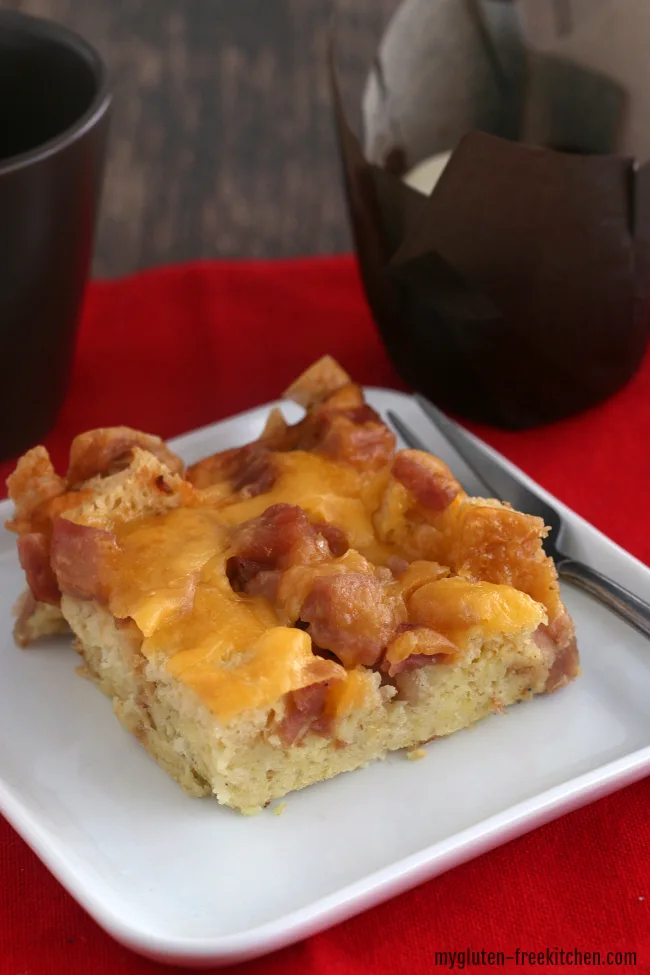 How to make this Gluten-free Breakfast Casserole the night before:
First spray your 9×13 casserole baking dish with cooking spray. I use this Pyrex, because it has the lid to cover it in the fridge. (Just remember not to bake with the plastic cover still on!)
Then you simply add the bread cubes and ham, and sprinkle with cheese.
In a large bowl, you'll whisk together eggs, milk, and some seasonings. Then you'll pour the egg mixture over the bread/ham mixture.
Pour melted butter over all!
Place plastic lid or plastic wrap over the top and place in refrigerator overnight!
Here's a look at the breakfast casserole before you bake it: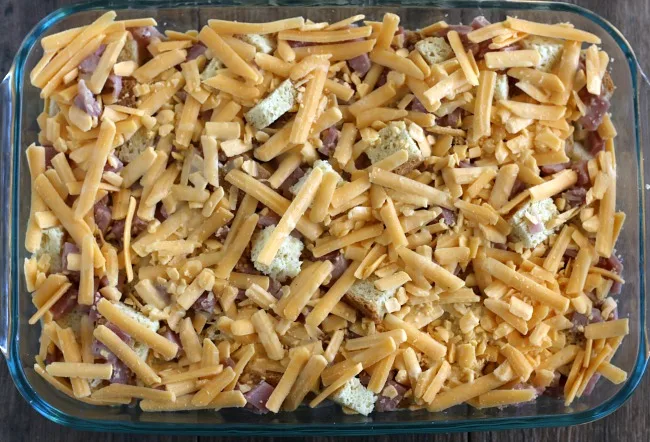 In the morning, pull the baking pan from refrigerator to rest on counter while you preheat oven.
Pop it in the oven and bake for one hour.
Here's a look at it just out of the oven. You can see how the top pieces get crunchy – almost like croutons. People often fight over those crunchy pieces!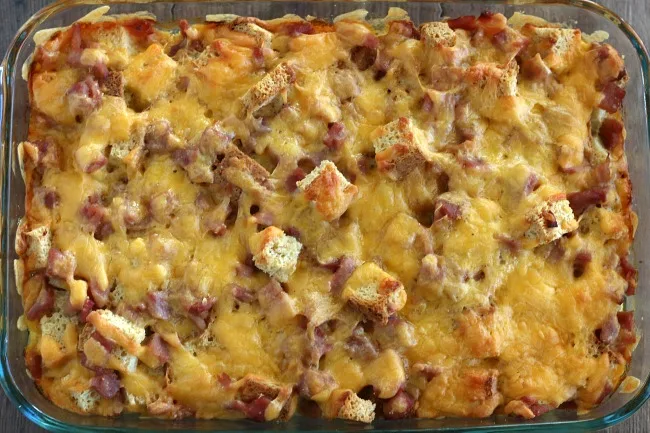 Can you make this dairy-free?
I have not made this dairy-free. But if you need it to be so, use a dairy-free milk and dairy-free shredded cheese. Pour a melted dairy-free alternative over it. I would not recommend coconut oil, as it will harden up in the refrigerator overnight and I just think it'll negatively affect the results.
Please do report back if you make this dairy-free!
What can you serve with this gluten-free breakfast casserole?
For our special holiday brunch, I always serve this with homemade Orange Julius as well as some fresh fruit.
I also always bake something sweet to serve with this.
Sometimes I make my gluten-free berry coffee cake – usually if I've found a deal on berries!
Many times, I've made my gluten-free pull-apart cinnamon rolls as everyone in my family loves them.
For our most recent gluten-free Christmas breakfast, I made gluten-free cinnamon roll muffins (pictured below!).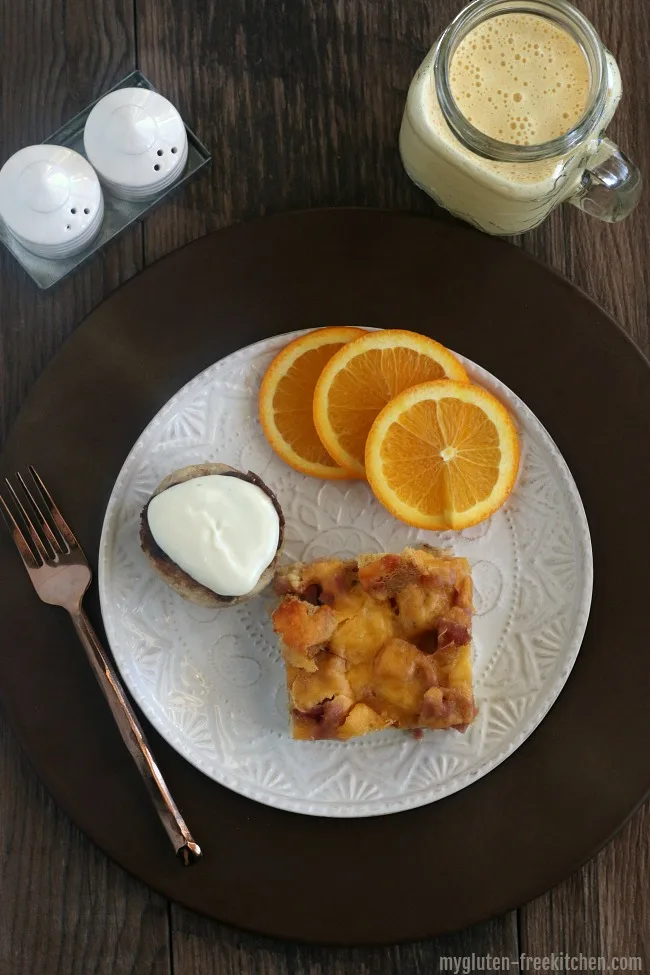 I hope you'll try this overnight gluten-free ham and egg casserole for your next holiday or special brunch!
Let me know what you pair it with too. I'll keep working at bringing you more gluten-free breakfast casserole recipes too!
If you make this and enjoy it too, please come back and give this recipe a 5 star rating in the recipe card! Feel free to comment with tips or to share any successful substitutions you made.
Gluten-free Breakfast Casserole Recipe:
Yield: 12 squares
Gluten-free Overnight Holiday Breakfast Casserole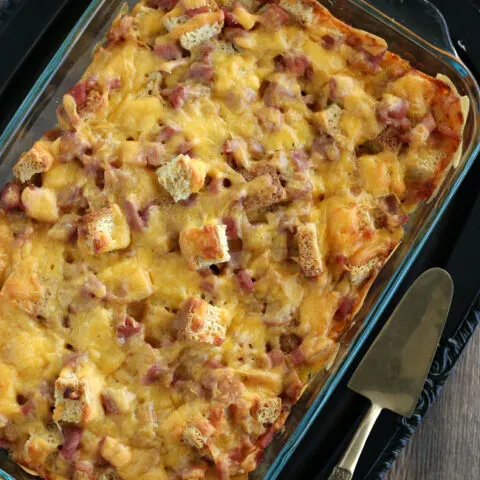 Prepare this easy gluten-free breakfast casserole the night before and place in the refrigerator. Pull out in the morning, bake, and enjoy a yummy breakfast/brunch with your family.

Cook Time 1 hour

Prep Time 20 minutes

Additional Time 8 hours

Total Time 9 hours 20 minutes
Ingredients
6 cups cubed gluten-free white bread* (1" cubes)
2 cups cubed pre-cooked ham (1/2" cubes), bacon or breakfast sausage
2 cups shredded sharp cheddar cheese
5 eggs
2 cups milk
1/2 tsp. ground mustard
1/2 tsp. salt
1/2 tsp. pepper
1/2 tsp. garlic powder
1/4 cup salted butter, melted
Instructions
Lightly grease a 9x13 glass Pyrex baking dish.
Mix cubed white bread and cubed ham in baking dish.
Sprinkle with shredded cheese.
In a bowl, beat the eggs, then mix in the milk, dry mustard, salt, pepper, and garlic powder.
Pour over ham and bread mixture.
Pour melted butter over all.
Cover and refrigerate overnight.
In the morning:
Remove casserole from refrigerator and uncover. Let sit at room temperature while oven preheats to 325°.
Once oven is preheated, place uncovered casserole in oven and bake at 325° for an hour. Remove from oven. Let cool 5 minutes before cutting and serving.
Refrigerate any leftovers.
Notes
*I like using gfJules bread mix or King Arthur's gluten-free bread mix to make a loaf a day or two before I make the casserole. They both slice and cube very nicely and make the casserole delicious.
Recommended Products
As an Amazon Associate and member of other affiliate programs, I earn from qualifying purchases.

Pin this gluten-free breakfast casserole to your Gluten-free Breakfast Pinterest Board: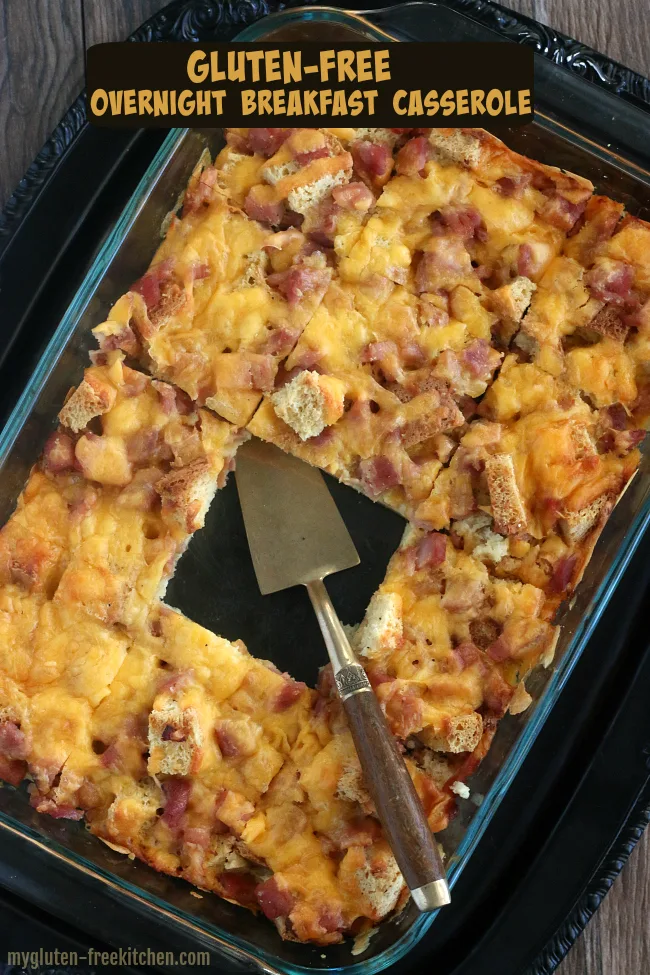 Original photo from 2014 of this overnight egg casserole.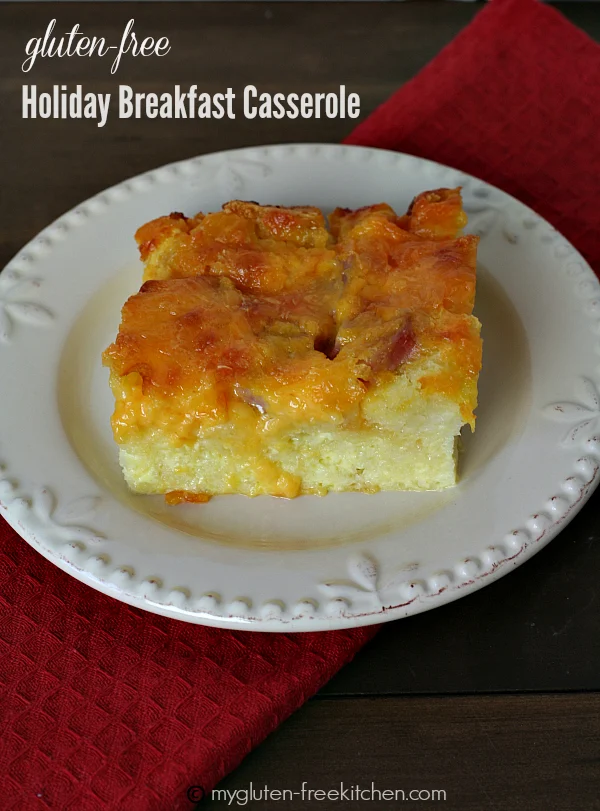 I hope you and your family enjoy this gf breakfast casserole recipe as much as my family does!
If you've tried this Christmas breakfast casserole or Easter Breakfast casserole and you love this recipe too, would you please give it a star rating above? I would so appreciate it!