If you love picking up Orange Julius at the mall, you'll love how easy it is to make this copycat Orange Julius recipe at home! This homemade Orange Julius recipe couldn't be easier! Plus, with making it at home, you can be sure you have gluten-free Orange Julius, with no chance of cross-contamination!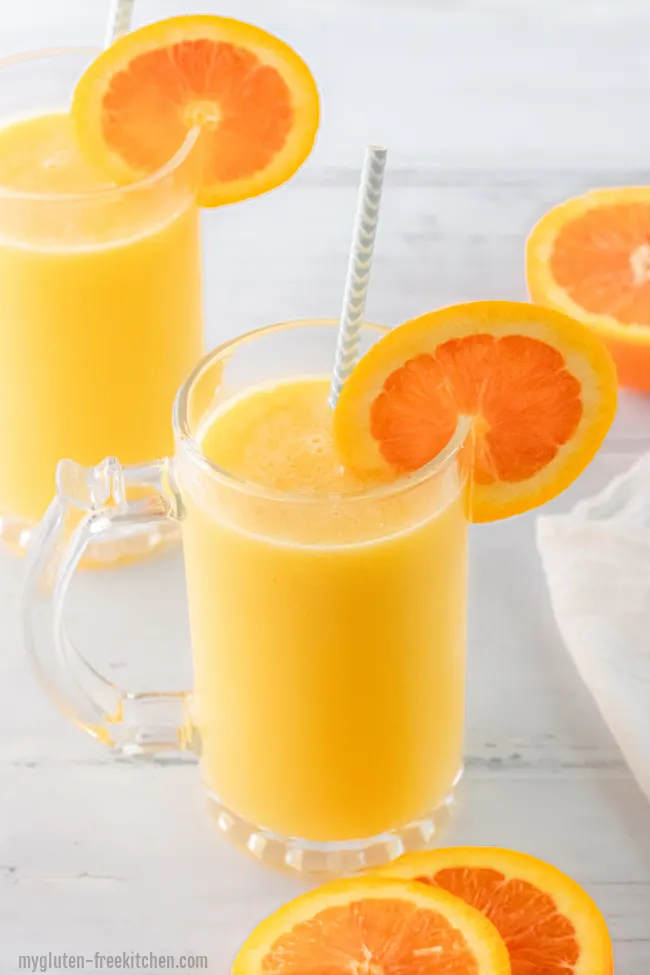 I've been making homemade Orange Julius for many years. We love having this frosty drink whenever we have "breakfast for dinner" night. Like my favorite gluten-free peanut butter brownies, this is a recipe that I've had since I was in junior high!
My childhood best friend, Alyson, gave me the recipe from her sister Lisa all those years ago and it has been a favorite since. Talk about a tried and true recipe!
Recipes that stay family favorites for over 20 years are the best recipes! The only thing I've changed over the years is that I've cut the amount of sugar just a smidge. Tastes perfect to us!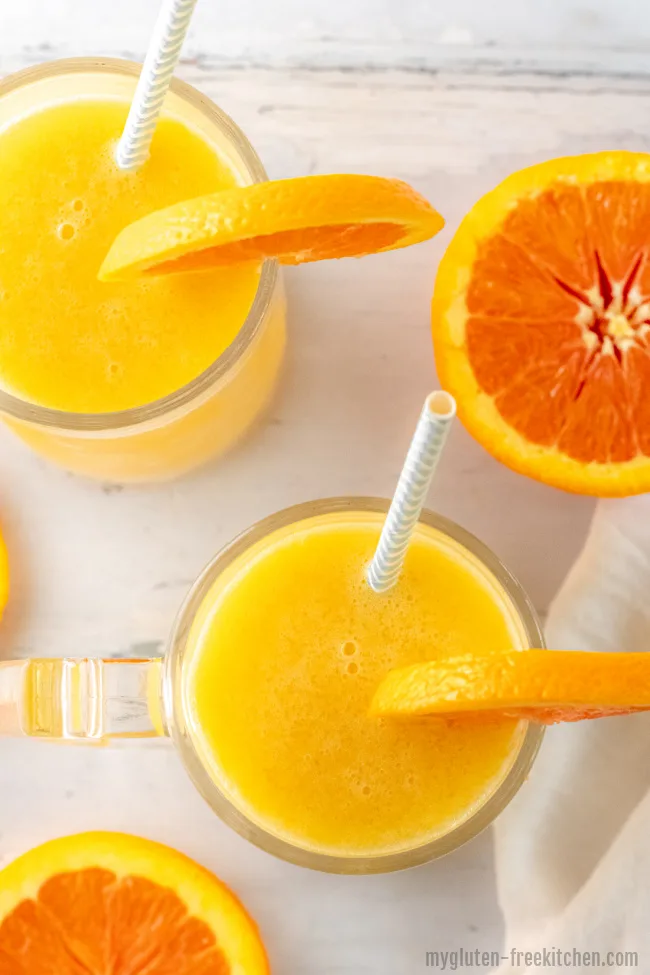 Thankfully, this is one of those recipes that I didn't have to change when I had to give up gluten. This is naturally gluten-free!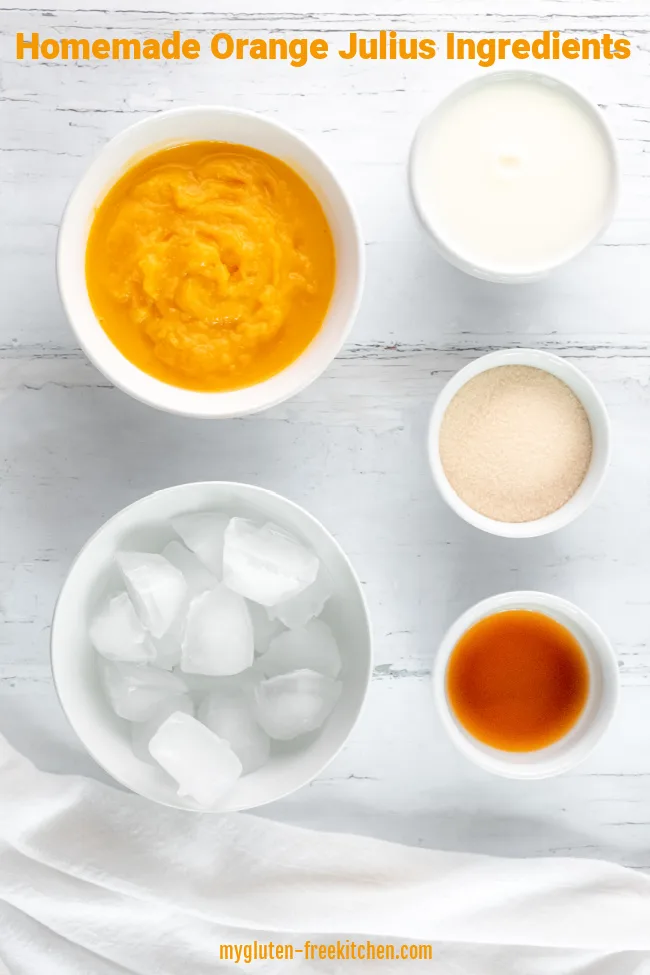 Ingredients for Homemade Orange Julius:
Orange Juice Concentrate – I honestly haven't noticed a difference in taste whether I use name brand or store brand orange juice concentrate! Pay close attention to the size of the can of concentrate you buy – in most cases, you won't be using the whole thing for this recipe. I just place the lid back on and put the concentrate back in freezer for another time.
Sugar: You can use plain white sugar or a natural sugar or even a sugar alternative.
Vanilla Extract gives this a good touch of flavor – I don't recommend you omit it.
How to make dairy-free Orange Julius:
It's so easy to make this Orange Julius be dairy-free! Just use almond milk, Cashewmilk, Flax Milk or your favorite non-dairy milk to make this!
Then just make it as directed below!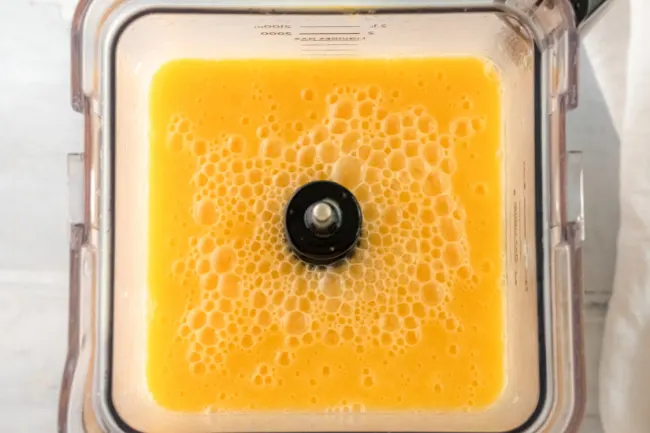 How to make homemade Orange Julius:
Add 6 ounces of orange juice concentrate to the blender. (In many cases, this is half a can of OJ concentrate – be sure to look how many ounces your can is).
Add the milk (or non-dairy milk alternative), water, sugar, and pure vanilla extract.
Add ice cubes, and blend! Blend until well mixed and frothy but with bits of ice chunks still present. Feel free to make it as chunky or smooth as you'd prefer.
Pour into glasses and serve immediately!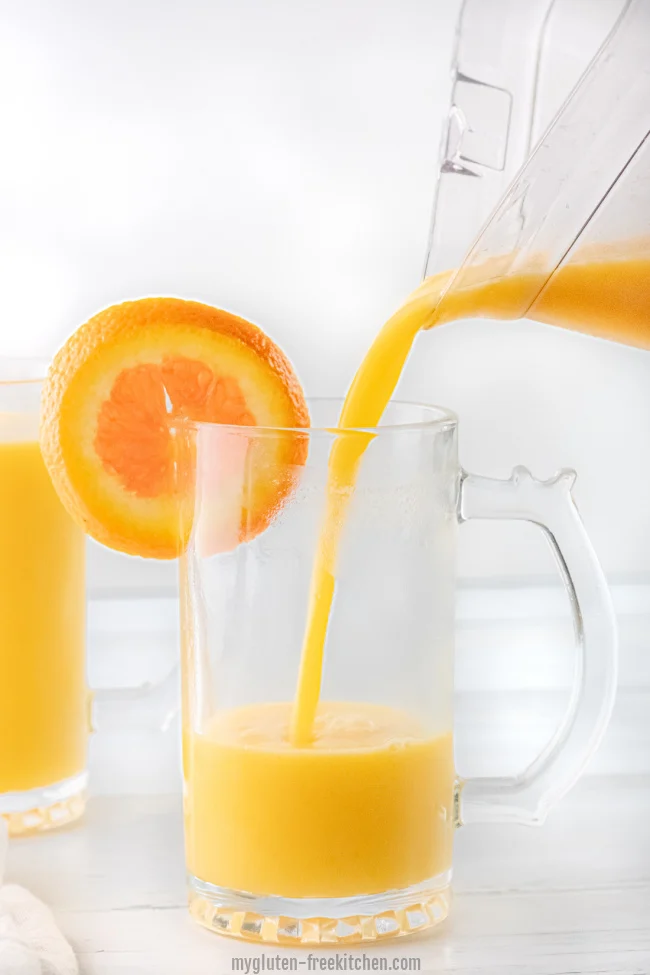 We always have this as part of our Easter and Christmas brunch, alongside Gluten-free Overnight Breakfast Casserole.
Here's a look at our recent holiday brunch with this Orange Julius: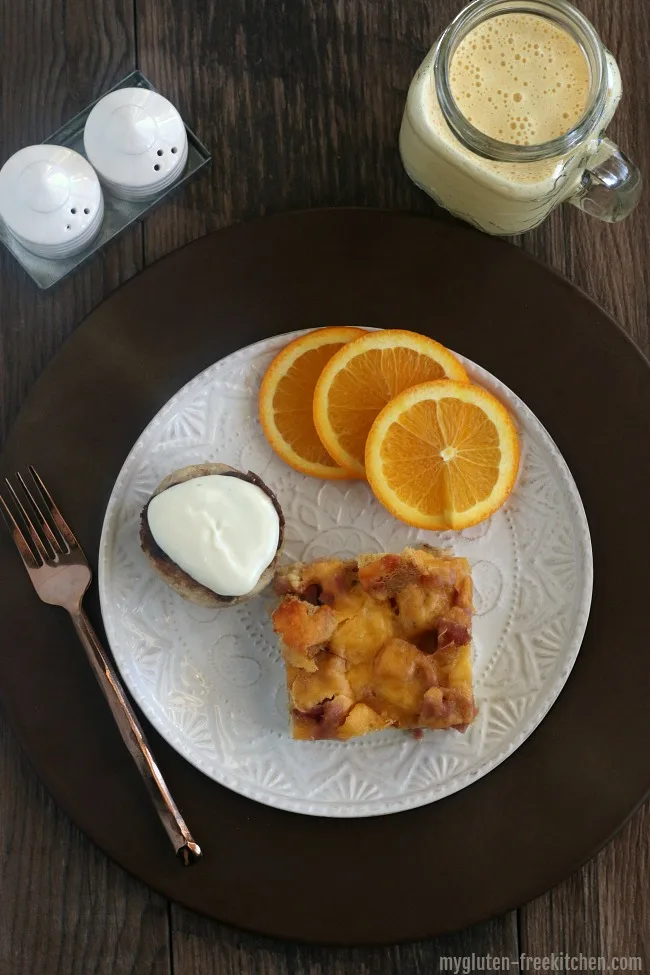 If you happen to be in the market for a blender, I have to tell you how much I LOVE my Blendtec! Buying an expensive blender felt like a big risk but we've been so glad we did! We bought this when I was on a liquid only diet (when I was so sick, just before and after my celiac diagnosis) and got so much use out of it then and in the 12 years since.
It has been well worth the money. Everything mixes so much better in this blender and even with the constant use, it works as great as the day we bought it! Here is the one I have, available on Amazon.
Next you need to try my Orange Creamsicle Smoothie! It's thicker than this – more of a meal replacement versus a drink to go with a full breakfast. And if you're looking for more orange recipes, try this gluten-free orange poppyseed bread!
If you make this homemade orange Julius and love it, please come back and give this recipe a 5 star rating in the recipe card! Feel free to comment with tips or to share any successful substitutions you made.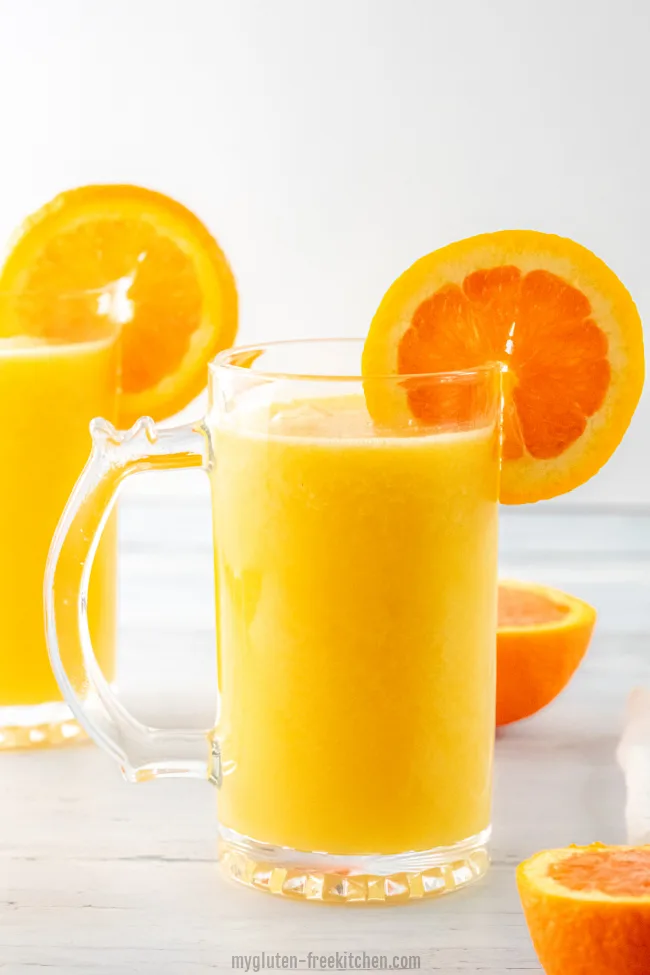 Homemade Gluten-free Orange Julius Recipe:
Yield: 4 servings
Homemade Orange Julius Gluten-free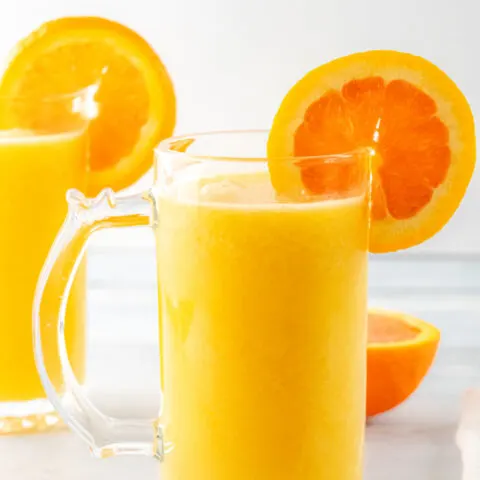 This homemade Orange Julius is a frosty drink that's a favorite part of brunch or our weekly breakfast for dinner night! This gluten-free orange julius can easily be made dairy-free too! No need to go to the mall when you can make this copycat Orange Julius at home!
Ingredients
6 ounces* frozen orange juice concentrate (do not thaw)
1 cup milk or non-dairy milk
1 cup water
1/3 cup sugar
1 tsp. vanilla
10-12 cubes of ice *adjust as you prefer
Instructions
In a blender, combine frozen orange juice concentrate, milk (or non-dairy milk), water, sugar, vanilla and ice cubes.
Blend until well mixed and frothy but with bits of ice chunks still present. Feel free to make it as chunky or smooth as you'd prefer.
Serve immediately and enjoy!
Notes
*Note that frozen orange juice concentrate usually comes in a 12 ounce package, so you'll just be using half of that. I just scoop out half, set the lid back on and put it back in the freezer for next time!
Recommended Products
As an Amazon Associate and member of other affiliate programs, I earn from qualifying purchases.
Pin this to your beverages board on Pinterest: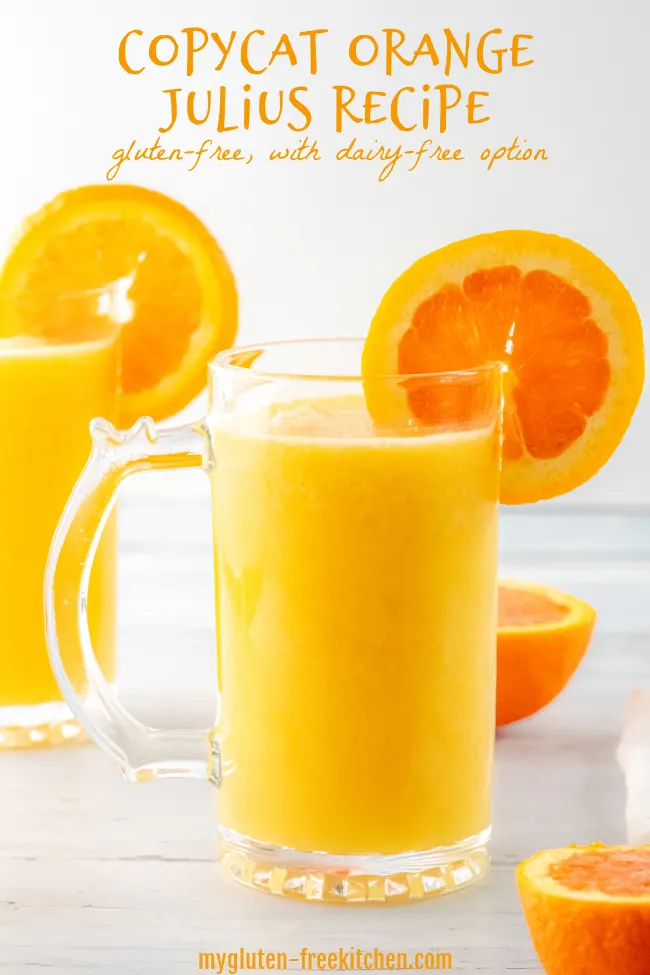 Post and photos updated April 2022. Original photo from 2015: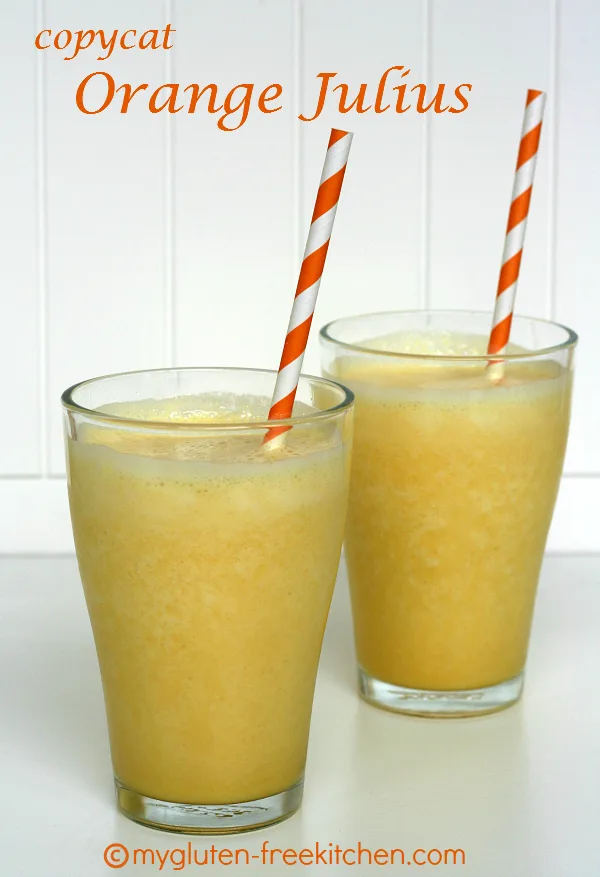 I hope you and your family enjoy this copycat orange julius recipe as much as my family does!