Gluten-free Skillet Parmesan Chicken is an easy weeknight dinner the whole family loved! Perfectly seasoned chicken breast served in a rich sauce, topped with melty cheese, and served over gluten-free pasta.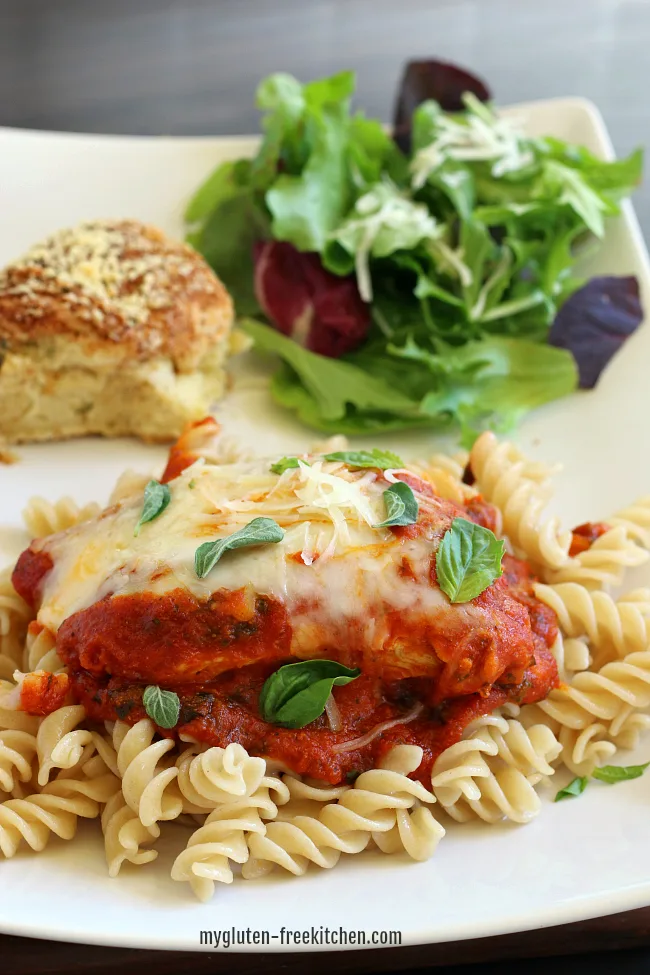 This is an easy gluten-free meal that's ready in 30 minutes! It's great served with a simple salad and these gluten-free Garlic Parmesan rolls pictured here.
I'm always looking for easy weeknight meals that are healthy, varied, and filling. If my kids love it and it can be made in under an hour, we have a winner! Winner winner chicken dinner!
Last week I decided to work at making a quicker skillet version of a typically more time-consuming meal – baked Chicken Parmesan. I wanted to have the same flavor, but in an easier weeknight version. To save a ton of time, I eliminated breading the chicken. Instead, the chicken is coated with a flavorful blend of seasonings and cooked in butter for richness of flavor.
This entire meal is made on the stove top, with just a one large skillet and one pot. While the water boils and the pasta cooks in the pot, you can cook the chicken in the skillet. From starting to prep to serving your family will take about 30-35 minutes! If your family is larger than our family of four, just double the recipe!
I've long recommended jovial pasta as a favorite gluten-free pasta of mine. Seeing my love for their products, jovial contacted me and asked if I'd develop a new recipe using their gluten-free pasta, and of course I said YES! I love the chance to work with companies that I already use and recommend. I regularly use jovial gluten-free pasta in my gluten-free Skillet Spaghetti, gluten-free Peanut Butter Pasta, and my gluten-free Chicken Noodle Soup.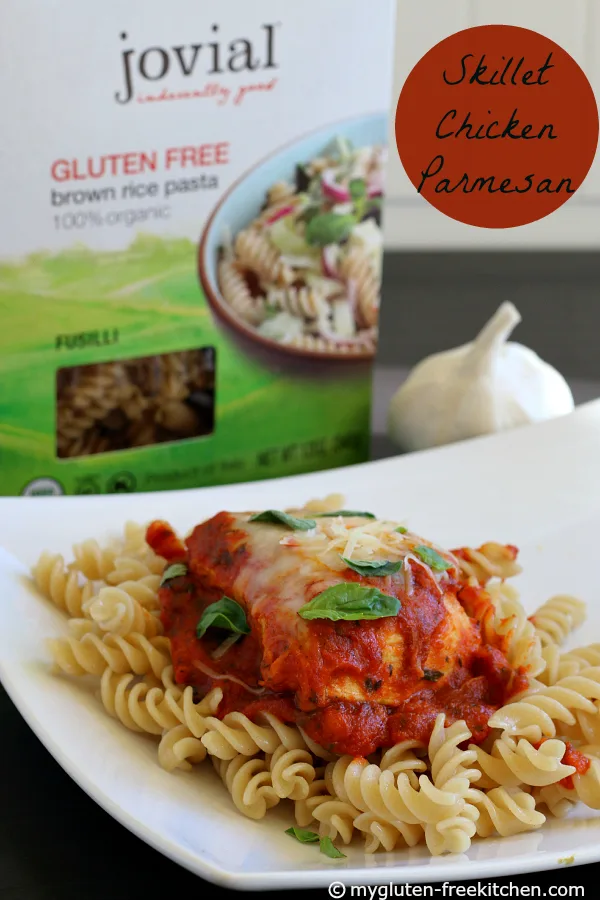 Notes on ingredients for this gluten-free skillet Chicken Parmesan:
Since I was looking for shortcuts and saving time, I used a good jarred spaghetti sauce that I jazzed up a bit with fresh garlic and herbs. This would be fantastic with a homemade sauce also, so feel free to use your own favorite homemade or store bought sauce.
Pasta: I used Jovial gluten-free pasta noodles. This time I used fusilli, but you can use any of your favorite pasta shapes. You can buy jovial gluten-free pasta directly from the jovial website, at your local Whole Foods or specialty retailer, and even online in multi-packs from Amazon.
Chicken: While I used boneless, skinless chicken breasts, you can absolutely use chicken thighs if you prefer.
Parmesan: I used both grated and shredded Parmesan in this. The powdery Parmesan is used in the sauce, and the shredded style is melted on top with the mozzarella. If you'd prefer to use just one type for both the sauce and the topping, that would be fine also.
Here's a peak at the chicken and flavorful sauce, after the cheese melts. Just grab a good spatula or large spoon to serve it up over the gluten-free pasta.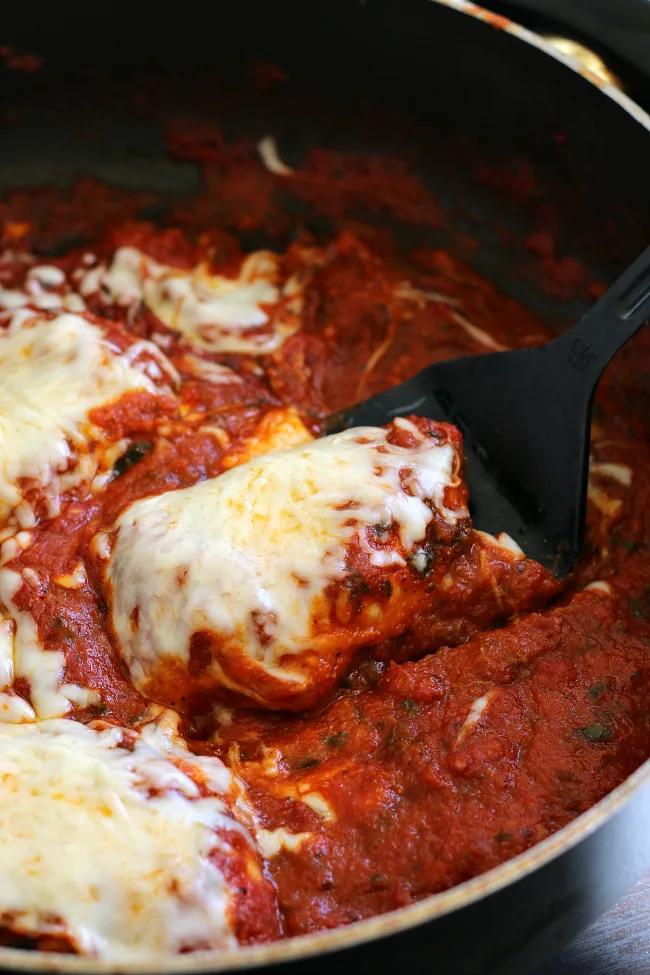 After you have this savory chicken, be sure to go try gluten-free sweet chicken for a completely different flavor profile. It's also an easy gluten-free chicken dinner recipe. The next chicken dinner you should make is this gluten-free chicken pot pie!
Gluten-free Skillet Chicken Parmesan Recipe:
Yield: 4 servings
Gluten-free Skillet Chicken Parmesan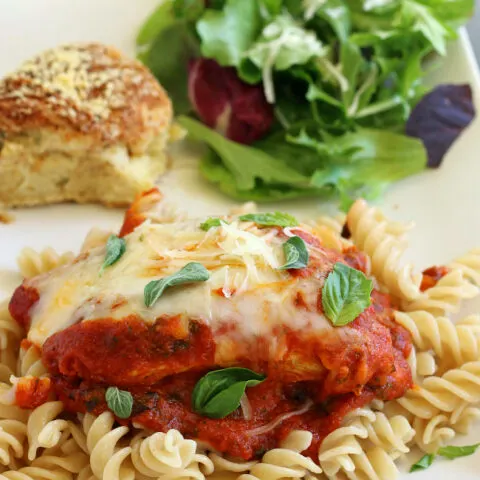 Easy and delicious stovetop version of a family favorite meal - gluten-free chicken Parmesan! No soggy breading or frying here, just clean and simple and flavorful!
If your family is larger than our family of four, just double the recipe!

Prep Time 8 minutes

Cook Time 20 minutes

Additional Time 2 minutes

Total Time 30 minutes
Ingredients
3 Tbsp. unsalted butter
1 clove garlic, minced
1 lb. boneless, skinless chicken breasts
2 tsp. garlic powder
1 tsp. gluten-free seasoning salt or lemon pepper
1 jar (24 oz.) spaghetti sauce or equivalent homemade sauce
1 Tbsp. grated Parmesan cheese
1/2 cup chopped fresh spinach
pinch of fresh basil
pinch of fresh oregano
1 cup shredded mozzarella cheese
1/2 cup shredded Parmesan cheese
12 oz. Jovial gluten-free pasta (your choice of shape)
Instructions
Set a pot of water over high heat to bring to boil. Once water is at a full, rolling boil, add gluten-free pasta noodles, a pinch of salt, and cook according to package instructions. When pasta is done, drain water and set pasta aside.
Meanwhile, melt butter in a large skillet over medium-high heat. Add minced garlic and chicken. Sprinkle one side of chicken with half of the garlic powder and half of the seasoning salt called for in recipe. Cook over medium heat for 5 minutes. Flip chicken. Sprinkle with remaining garlic powder and seasoning salt. Cook over medium heat for 5 minutes.
Pour spaghetti sauce over chicken, then stir in grated (powdered) Parmesan cheese, chopped spinach, basil and oregano. Cover and cook over medium heat for 10 minutes.
Turn off heat. Sprinkle with mozzarella and Parmesan cheese. Let cheese melt (about 2 minutes), then serve chicken and sauce over cooked gluten-free pasta.
Serving idea: serve with a fresh lettuce and spinach salad and gluten-free dinner rolls or gluten-free French Bread.
Notes
You can use your favorite gluten-free pasta shape, like fusilli, penne, or even spaghetti noodles.
Recommended Products
As an Amazon Associate and member of other affiliate programs, I earn from qualifying purchases.

Pin this to your gluten-free dinner recipes board on Pinterest: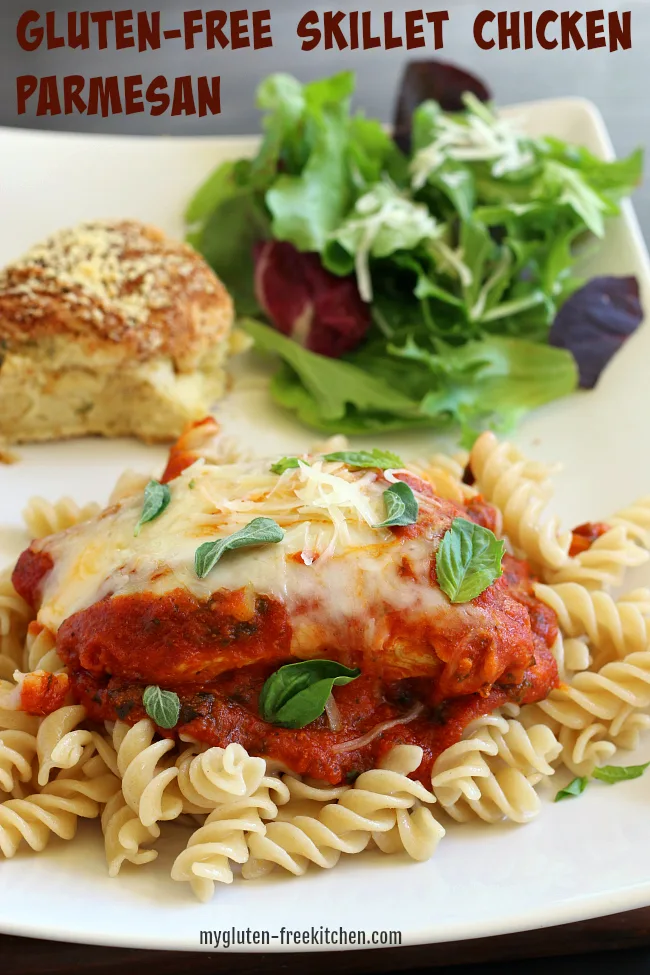 Thanks to Jovial for sponsoring this post. As always, I only work with companies I love and recommend.
I hope you and your family enjoy this easy dinner as much as mine! Please come back and rate and review it after you try it!