Easy to make, hearty and flavorful gluten-free Irish Soda Bread that goes great alongside any meal. We enjoy it around St. Patrick's Day and throughout the year!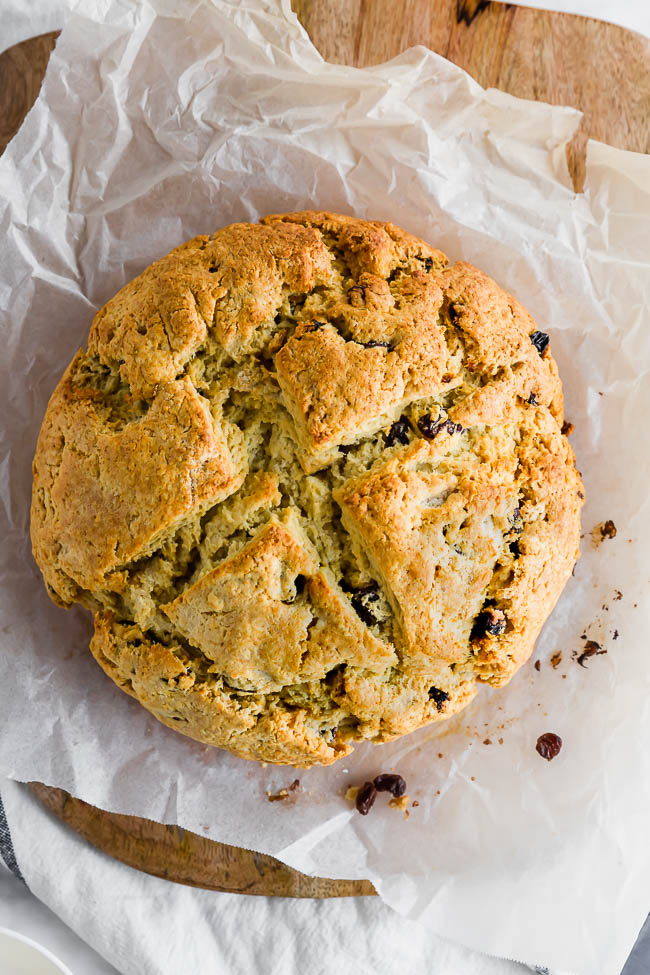 If you are looking for an easy to make, yeast-free bread that is great to serve with soup, gluten-free chili, gluten-free beef stew, or any hearty main dish, this gluten-free Irish Soda Bread would be a great choice!
I think I only had Irish Soda bread once or twice before going gluten-free. Since mastering this recipe, I've had several times in the past year and it's a yearly gluten-free St. Patrick's Day meal tradition!
A few years ago I made three Irish Soda Bread recipes to bring to a potluck. Everyone tried them and gave me feedback and this one was the clear winner. I've made it with the currants and without – it is great both ways. I preferred using currants over raisins, since they are smaller, but you could also use raisins. I've got texture issues with raisins!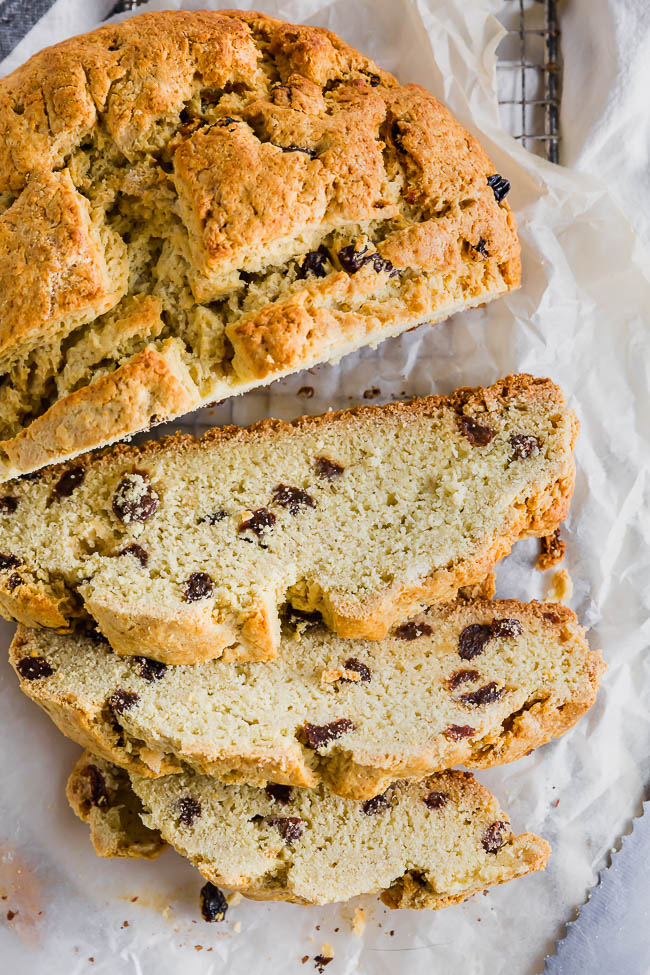 Our small group from church has a potluck dinner each year near St. Patrick's Day. I was asked to bring this gluten-free Irish Soda bread again this year, and thankfully I made two loaves, because it all got eaten! A couple of the other people in the group are wheat-free, but the rest are all "regular" eaters and all loved the bread. You definitely won't miss the gluten in this!
We really enjoyed this served with butter or honey butter too. YUM!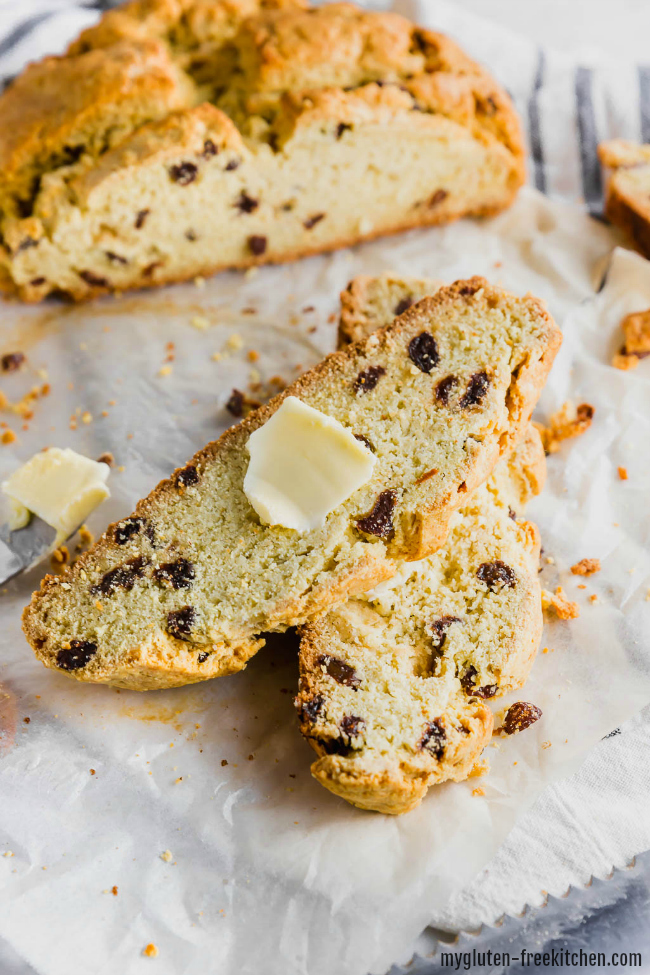 Notes on ingredients for this Gluten-free Irish Soda Bread:
Flour: I've tested this with three different gluten-free flour blends with great success. Maninis Multi-Purpose Flour Blend, available at your local store or from Amazon, Gluten Free Mama's all-purpose almond flour blend available from Amazon, and recently I tested it as well with gfJules all-purpose gluten-free flour with success too! You can buy it on Amazon here. While the dough with gfJules was a little stickier to work with, I honestly couldn't tell any taste or texture difference in the two baked loaves. I can definitely recommend you use whichever flour blend you have access to or want to order. I highly suspect that other good quality gluten-free flour blends will work well in this recipe as well. I just wanted to specifically mention the ones I've tested it with so far. I simply cannot test every blend available, but please do try with your favorite blend and comment to let others know!
If the gluten-free flour blend you use already has xanthan gum or guar gum in it, then omit the xanthan gum called for in this recipe.
Raisins or Currants: You can use raisins or currants. I opted to use Zante currants. They are made from tiny grapes and I've found that while I dislike raisins, I do like Zante currants. Why? They are so small that they add just a bit of flavor without a weird mushy texture that you can get from raisins. They can sometimes be found in a box near the raisins and dried cranberries at your local store, though I admit I had to go to 2 stores before I could find them here locally! You can also order online – I get them here at nuts.com now. Amazon also carries these Zante currants. Note that Zante currants are not actually currants, which is why I specified what they are called.
Buttermilk: Buttermilk in the U.S. is gluten-free. If you don't wish to buy buttermilk, you can make your own buttermilk at home.
I recommend baking your loaf on a cookie sheet with a sheet or parchment paper on it. If you don't use parchment paper yet when you bake, I highly recommend it! With most recipes, it saves you from having to grease any pans at all, plus no cleaning up! You can buy these pre-cut parchment paper sheets from Amazon.
I'll be making it again for St. Patrick's Day. It would be great served with this gluten-free Corned Beef in the slow cooker if you've got that on the menu. It would also go great alongside this Cauliflower Shepherd's Pie. Honestly, I haven't even planned the rest of my St. Patrick's Day menu, but I do know I'll be making this bread again!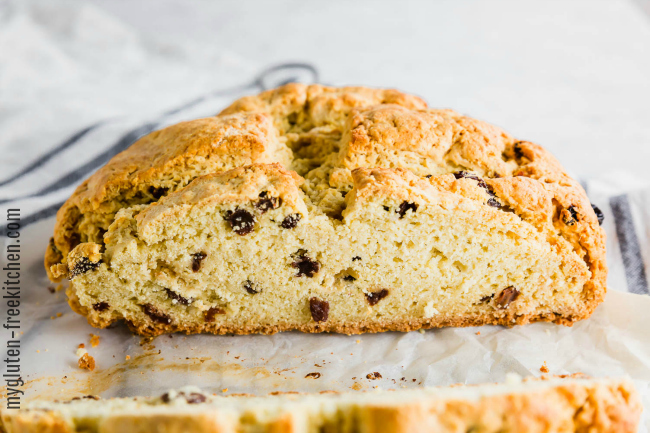 What are some other yeast-free breads I recommend you make soon? I'm glad you asked! 😉 I make these gluten-free buttermilk biscuits to have with breakfast or dinner and love them! I'm thinking about these gluten-free bagels that would be great for making sandwiches for lunch.
If you try this, I'd love to hear what flour blend you used successfully and what you served your delicious loaf with! Enjoy!
Gluten-free Irish Soda Bread Recipe:
Yield: 10 servings
Gluten-free Irish Soda Bread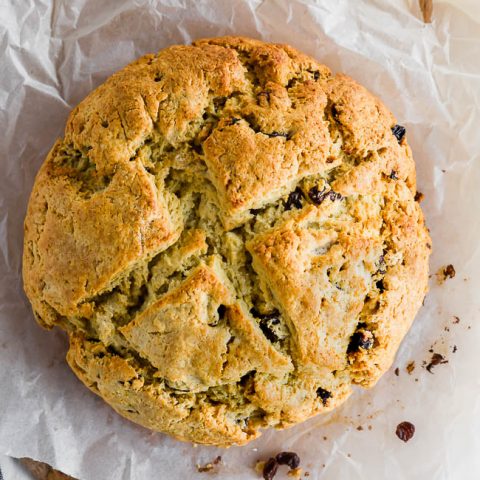 This slightly sweet loaf of gluten-free Irish Soda Bread is easy to make!

Prep Time 15 minutes

Cook Time 55 minutes

Additional Time 30 minutes

Total Time 1 hour 40 minutes
Ingredients
3 cups (375g) good quality all-purpose gluten-free flour blend*
1 tsp. xanthan gum *see note
1/4 cup sugar
1 tsp. baking soda
1 Tbsp. baking powder
1/2 tsp. salt
1/2 cup (1 stick =8 Tbsp.) cold, unsalted butter
2/3 cup currants or raisins
1 cup buttermilk
1 egg, room temperature
For brushing on loaf:
1 Tbsp. melted butter
1 Tbsp. buttermilk
Instructions
Preheat oven to 375°. Line a cookie sheet with parchment paper or a silicone baking mat. Set aside.
In a large bowl, combine the gluten-free flour, xanthan gum (if needed), sugar, baking soda, baking powder, and salt.
Using a pastry cutter or two knives, cut the butter into the flour mixture until pea-sized crumbs.
Stir in the currants.
In a small bowl, mix together the buttermilk and egg then add to the flour/butter mixture.
Start with a spatula to gently stir, then switch to using your hands to mix the batter together to form a wet dough that you can form into a ball.
Dough will be quite sticky, but you should be able to form into a ball shape and place on the parchment paper lined baking pan.
In a separate bowl, combine 1 Tbsp. melted butter and 1 Tbsp. buttermilk. Using a pastry brush, brush the whole loaf with the butter/buttermilk mixture.
Use a knife to cut an X shape in the top of the loaf.
Bake at 375° for about 50-55 minutes, or until golden brown and no wet batter visible in the slit.
Let cool on pan for 10 minutes, then move to cooling rack to cool completely before slicing. No need to serve this hot, it tastes great and cuts better when cooled off!
Notes
* If the gluten-free flour blend you use already has xanthan gum or guar gum in it, then omit the xanthan gum called for in this recipe.

Recipe tested successfully with Maninis Multi-Purpose Flour Blend, and gfJules flour blend. I recommend either one and link to where to buy in the recipe post.

Recipe slightly adapted from Maninis Gluten Free blog.
Recommended Products
As an Amazon Associate and member of other affiliate programs, I earn from qualifying purchases.

Pin this gluten-free soda bread to your Gluten-free Breads board on Pinterest: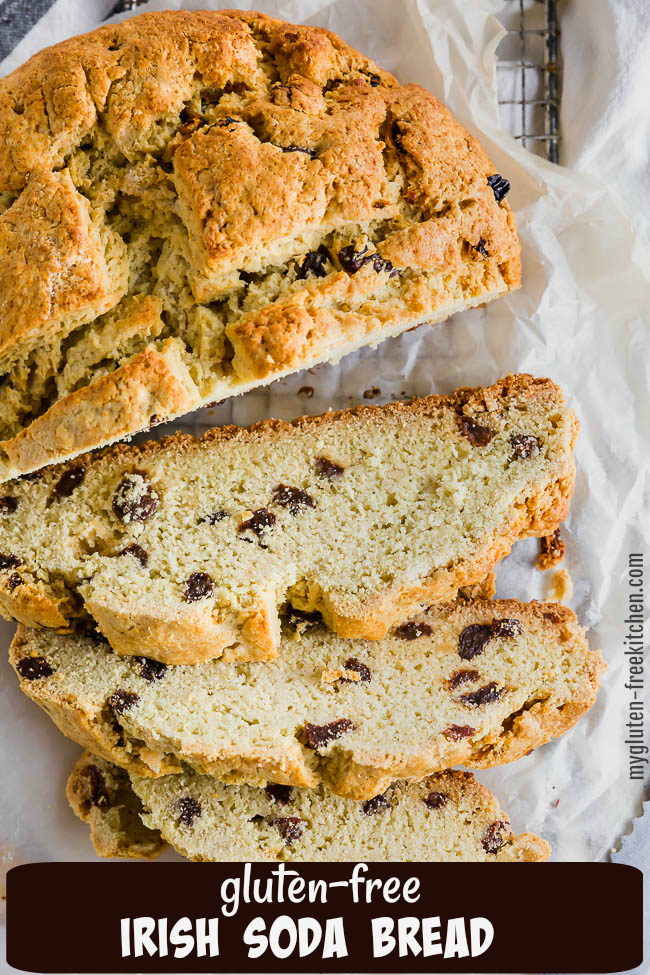 Pics and a bit of text updated March 2019.
Old pic:
I hope you and your family enjoy this gf Irish Soda Bread as much as my family!
Sunday 11th of October 2020
Made a Gluten Free-Dairy free version last night. Used plant based unsalted butter and made buttermilk from Cashew milk and lemon - curdled well. Used equal amounts of organic raisins and cranberry. Also used organic coconut sugar which made it smell and taste heavenly! Made two back to back to test. First one 50mins a bit over done, second 45 mins and perfect. Also the second one, rather than using my mixer just to make the dough and following recipe steps carefully, I just chucked everything into the mixer all at once. Second one surprisingly was slightly better! That makes it such an easy recipe!!! Dont know why its impossible to buy gluten free - dairy free bread as good as this!!!
Wednesday 9th of September 2020
This turned out wonderful! I used Great Value All-Purpose gluten free flour. I also made it dairy free by using Almond milk with a good slosh of white vinegar in it (maybe a tablespoon). I let this sit while I put the rest of it together and it turned out beautifully! Thank you so much for this awesome recipe!
I've made a regular flour and gluten free flour version. Funny enough the gluten free almost doubled in size while baking. The only thing I will change is to use a bread pan. The dough spread out and it took forever to bake the center fully. I hope the form will Help keep the shape And bake more evenly. I was wondering if the bread always looks so lumpy on top? I've tried milk, and egg washes, and it always looks like upturned earth. Can't even see the x cut.
Thursday 14th of May 2020
Has anyone made this in a dutch oven?
Saturday 25th of April 2020
I tried this and it looked so good--browned on top-- but I cut into it and the center was gummy. What did I do wrong? I put it back in for a good 20 minutes and it's still partially raw. Maybe I didn't work the dough enough?
Friday 18th of September 2020
@Lindsay Anne Magnuson, I also had this problem. My soda wasn't fresh, which I think was the problem. I just did another loaf now and it's good.