This gluten-free Dutch Apple Pie is a sweet and cinnamon-spiced apple pie baked in a gluten-free snickerdoodle cookie crust. This is an amazing combo of snickerdoodle cookies, apple crisp and apple pie!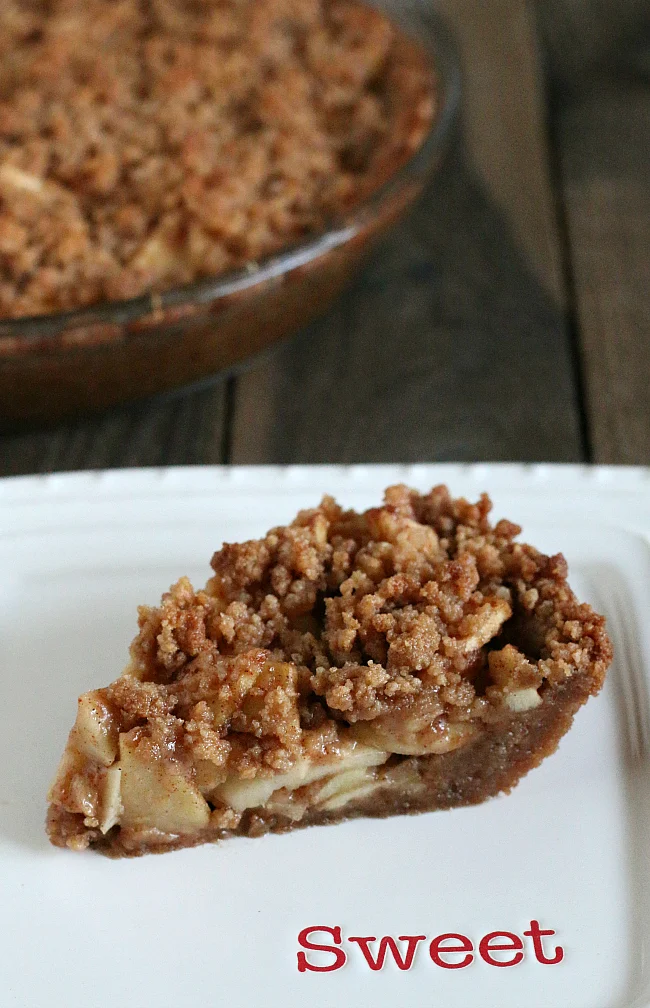 I'm not a real fan of fruit pies, and the main reason is that I'm just not crazy about pie crust. I definitely choose to make and eat gluten-free apple crisp over pies usually. I prefer saving time by not making crusts and I just prefer the taste of a buttery, sugary crisp topping over a flaky pie crust. How about you?
The other day I suddenly had an idea. What if I used snickerdoodle cookies to make a streusel type pie crust and topping for a gluten-free apple pie?
I was inspired by looking at Dutch Apple Pies, where you use a streusel topping instead of a pie crust for the top of the pie. The only thing I thought might be better than streusel is a snickerdoodle cookie streusel! I thought the flavors would go really well together, I just needed to see if I could make it work.
I knew this would be a yummy semi-homemade dessert that everyone would enjoy, but especially people like me that don't love traditional pie crust.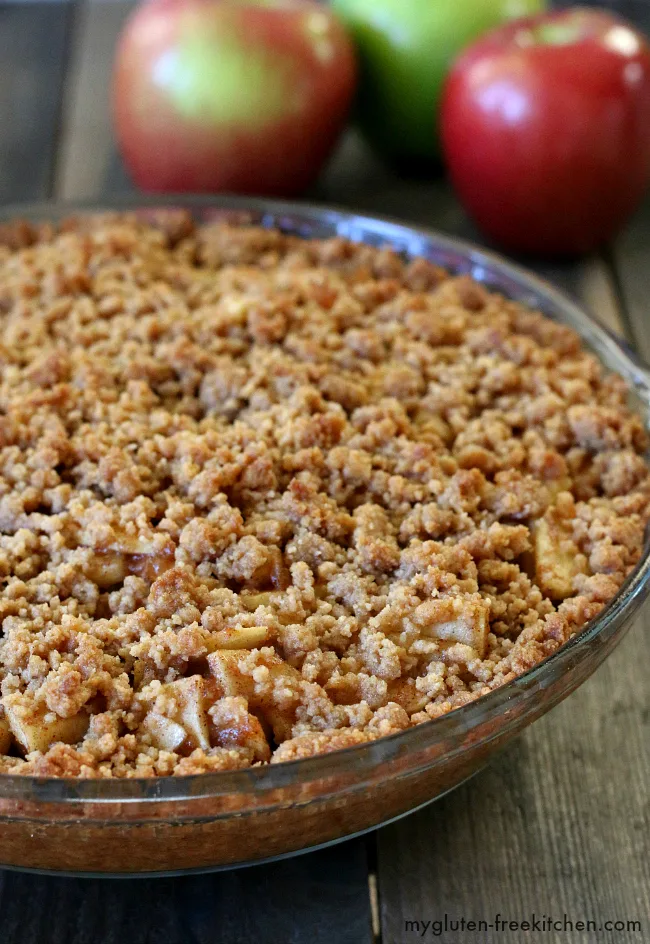 I'm happy to report that the gluten-free snickerdoodle cookie crust apple pie was a huge success! The snickerdoodle crust is AMAZING! I could easily just eat bite after bite of this crust! But really, it goes so well with the apple pie filling. I loved that it was so easy too, much quicker than rolling out pie crust!
For the gluten-free snickerdoodle cookies. You can make homemade cookies by using my gluten-free snickerdoodle cookies recipe. Or you can buy ready made gluten-free Snickerdoodle cookies. Here are some brands that make gluten-free snickerdoodles and sell them on Amazon: Enjoy Life, Nana's, Trader Joe's, Simple Mills, Annie's. You'll want two boxes of most of these. You want to get a total of about 14-16 ounces worth of cookies so you can get enough cookie crumbs.
How to make this gluten-free Dutch Apple Pie with Snickerdoodle Crust:
To make the crust, I followed the same procedure that I used when making the chocolate chip cookie crust for my gluten-free chocolate chip peanut butter pie. For this pie, gluten-free snickerdoodle cookies get pulsed in my food chopper until blended into course crumbs. I prefer leaving some pea-sized little chunks for texture.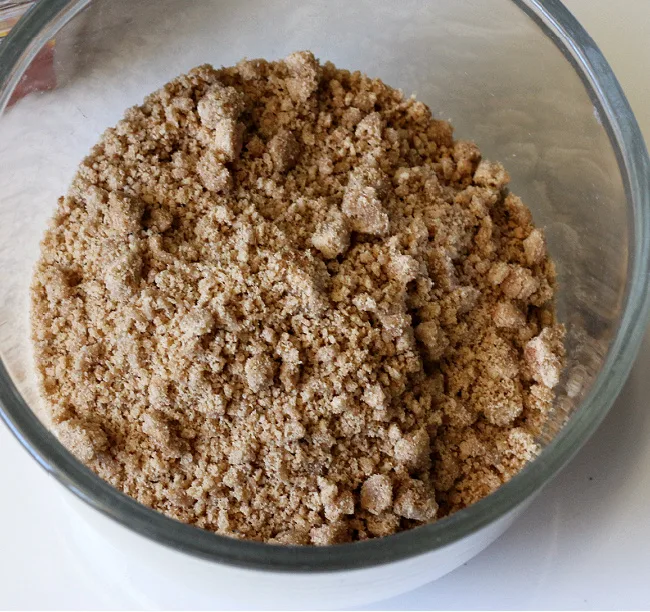 After breaking up the cookies, I mixed in brown sugar and melted butter. These help the crumbs stick together for making a crust and also add great flavor!
Since the cookie crumb mixture is used for both the crust and as a topping, I set aside one cup of the mixture to save for the topping. The rest of the mixture gets pressed in the bottom and sides of a slightly greased glass pie plate.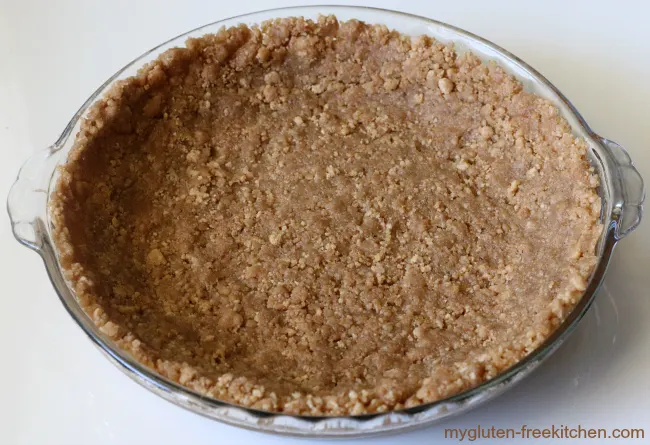 After getting the gluten-free cookie crust all situated, I got to work on the filling.
Like I always do when making apple desserts, I chose to use two varieties of apples. Using two kinds of apples adds a variety of flavor and texture. I prefer to use tart or semi-tart varieties of apples in desserts like this, since the crust and streusel will be adding sweetness. This time I used Braeburn and Granny Smith. Other favorites that I use when I can find them, are MacIntosh and Pink Lady.
I pre-cooked the apple pie filling on the stove so that my pie would not have to bake as long. With this crust not being a raw pie crust, I knew it would brown in 20 minute or less, so I needed it to not have to bake for longer than that.
The other advantage to pre-cooking the apple pie filling is that you can taste it and add any additional flavoring. I cooked the apple slices in butter, a bit of brown sugar, cinnamon and nutmeg. A bit of gluten-free flour is stirred in at the end to help absorb the liquids so that the pie won't be soggy.
Here's what it looked like when finished on the stove and ready to add to the pie crust: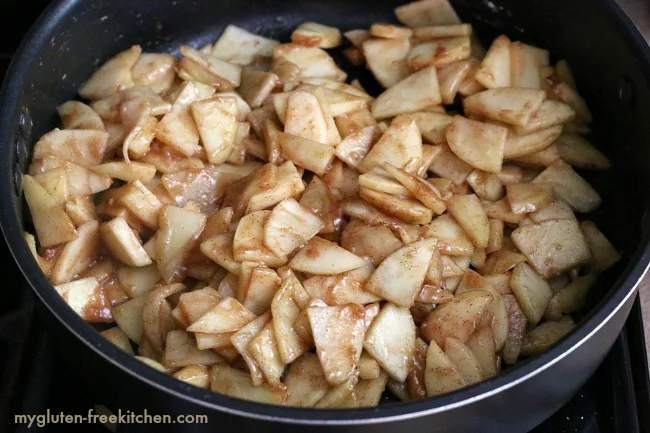 After topping the pie with some more snickerdoodle streusel and 18 minutes in the oven, you'll be ready to dig in!
I never go back for seconds on fruit desserts, but I sure went back for a second slice of this one! I loved it as is, served just slightly warm. My hubby and son loved theirs with a generous scoop of ice cream! YUM!
This slice is for you…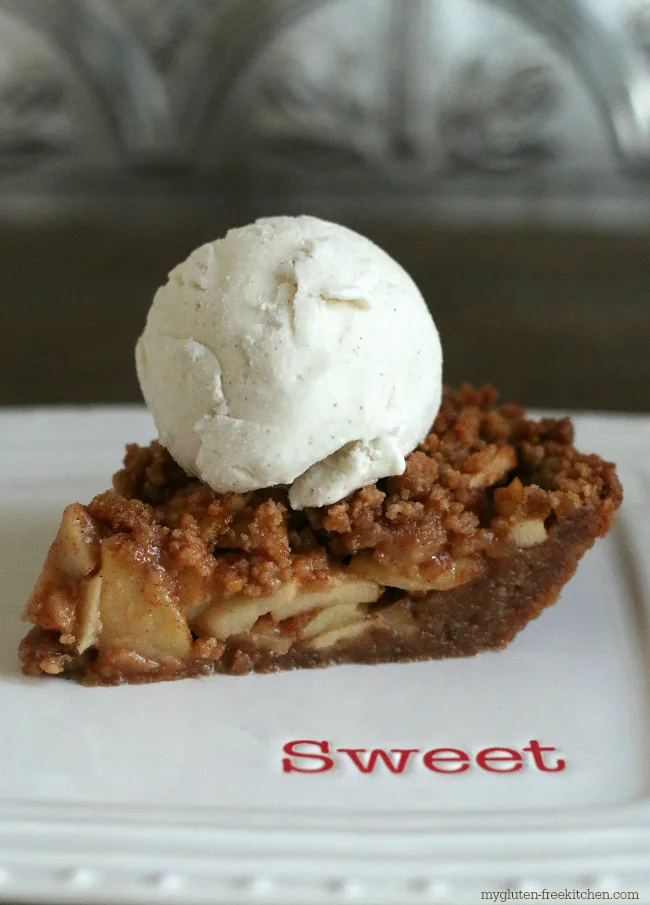 I'm hoping you and your friends will enjoy this easy and flavorful gluten-free Snickerdoodle Apple Pie too! I'd love to hear from you if you try it!
Have more apples to use up? I recommend making my gluten-free apple muffins next!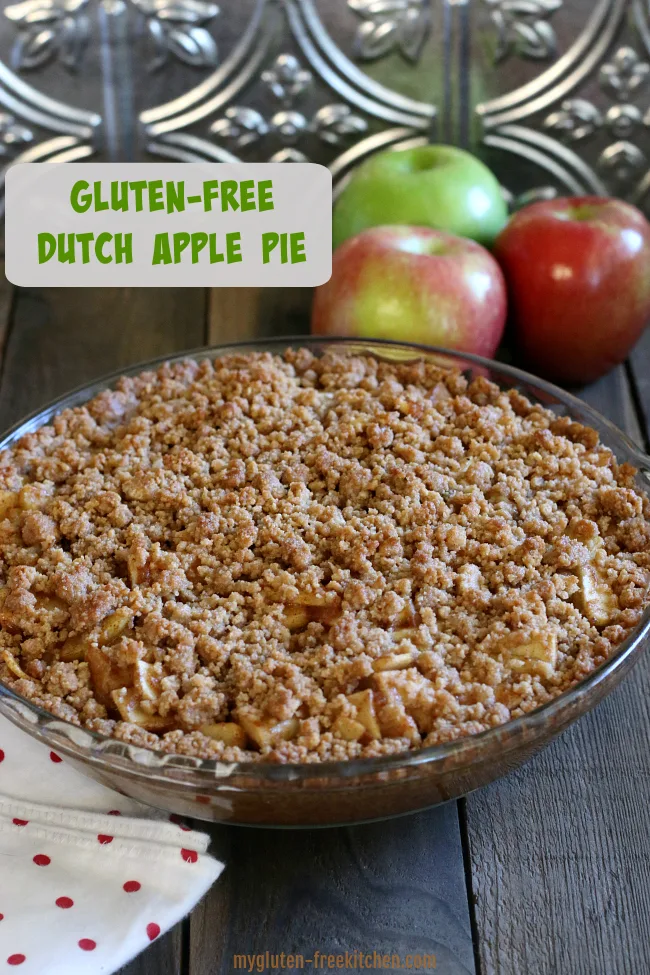 If you make this pie and love it, please come back and give this recipe a 5 star rating in the recipe card! Feel free to comment with tips or to share any successful substitutions you made.
Gluten-free Dutch Apple Pie with Snickerdoodle Streusel Recipe:
Yield: 10 servings
Gluten-free Dutch Apple Pie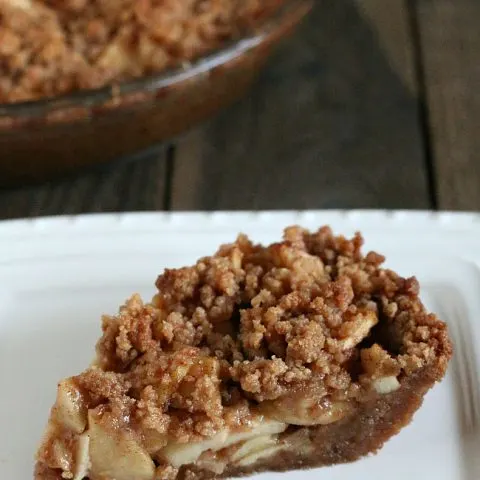 Very similar to a gluten-free Dutch Apple Pie, but even easier! The crust and streusel topping are made using a shortcut method. This gluten-free apple pie is a huge hit!

Prep Time 20 minutes

Cook Time 18 minutes

Additional Time 5 minutes

Total Time 43 minutes
Ingredients
Snickerdoodle Streusel:
14-16 ounces of gluten-free Snickerdoodle cookies
4 Tbsp brown sugar
1/2 cup butter (=1 stick)
Apple Pie Filling:
6 cups peeled, sliced tart apples
2 Tbsp. lemon juice
2 Tbsp butter
2 Tbsp. brown sugar
1 Tbsp. gluten-free flour blend (or cornstarch)
2 tsp. cinnamon
1/4 tsp. nutmeg
Instructions
Snickerdoodle Streusel:
Lightly spray inside bottom and sides of pie plate with non-stick cooking spray. Set aside.
Using a food processor or food chopper, pulse the Snickerdoodle cookies until mixture is coarse crumbs with some larger chunks. (See photo in blog post.)
Transfer cookie crumbs to a medium sized bowl. Add brown sugar and whisk until blended together.
Melt the butter, then pour over the cookie crumb mixture. Use a fork to mix together, creating our Snickerdoodle streusel.
Scoop out 1 cup of streusel; set aside for use as topping later. Press remaining streusel firmly and evenly in bottom and up sides of the lightly greased pie plate.
Set pie aside and turn oven on to 375° to preheat while you make the apple pie filling.
Apple Pie filling:
Peel and thinly slice 6 cups worth of apples. I cut each apple slice in half again so pieces would be smaller for faster cooking time. Stir together apple slices and lemon juice.
In a large nonstick skillet, melt 2 Tablespoons of butter. Add apple slices and brown sugar. Stir, cover, and cook over medium-low heat for 10-12 minutes, stirring occasionally. Cooking time will vary greatly based on variety/firmness of your apples and how soft you like them. Your goal here is to cook them just a tad bit less than you want the finished product. The time in the oven will finish them off.
Stir in 1 tablespoon of gluten-free flour, cinnamon and nutmeg. This will absorb the liquid and make nice saucy apples. As soon as the liquid has decreased (usually within a minute), remove from heat.
Scoop apple pie filling into the prepared crust.
Sprinkle with reserved snickerdoodle streusel.
Bake at 375° for 18 minutes. Topping will be nicely browned and apples should be cooked perfectly.
Remove from oven, let cool a bit and enjoy! This is delicious both warm or at room temperature. We enjoyed this plain or with vanilla ice cream, but homemade whipped cream is yummy on this too!
Notes
You can use salted or unsalted butter in this. The amount of salt would be so small and not have an impact on the outcome of the recipe, so use whichever you have on hand.

See blog post for links to various brands of gluten-free snickerdoodle cookies or for a recipe to make your own.
Recommended Products
As an Amazon Associate and member of other affiliate programs, I earn from qualifying purchases.

Pin this to your gluten-free Pies board on Pinterest: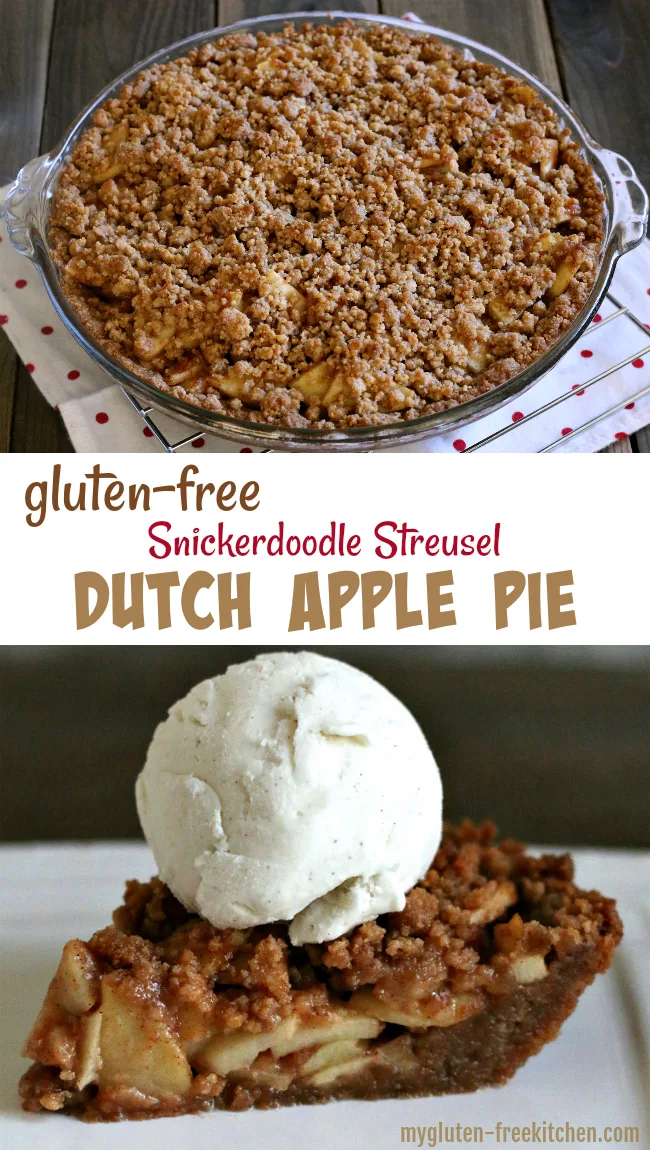 Hope you enjoy! Let me know what pie recipe you'd like me to make next!