If your child's school is allergy-friendly, you're probably looking for non food valentine ideas. I've rounded up some non candy valentine ideas for school for you today!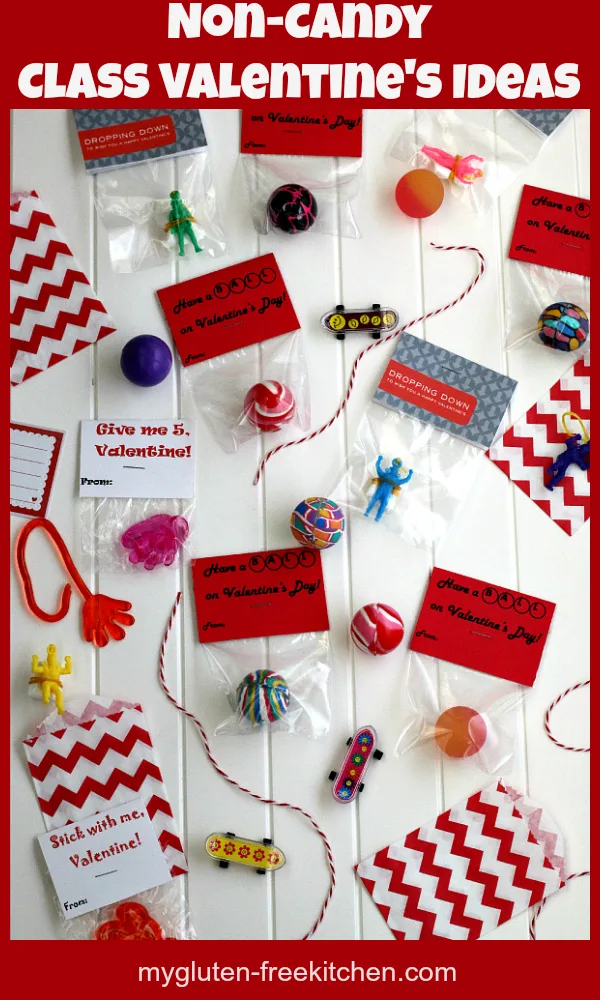 Whether your child has food allergies or you are thinking of their classmates, choosing Valentine's gifts that don't involve food are a great choice! Not only is this great for gluten free valentines, but helps be inclusive and fun for everyone!
I spent about an hour at my local store the other day, reading labels on just about every package of candy or food that was in the Valentine's Day section. I found only a handful of items that would be safe for someone that can't have wheat, gluten, and dairy.
Even items that don't usually contain those ingredients are off-limits due to being manufactured on shared equipment. If you are looking for foods or candies that don't contain or have contact with nuts or peanuts, which are to be avoided for most classrooms, your selection is even smaller.
After seeing what a slim selection was available, I thought I could help compile a list of class valentine ideas that don't include any food or candy!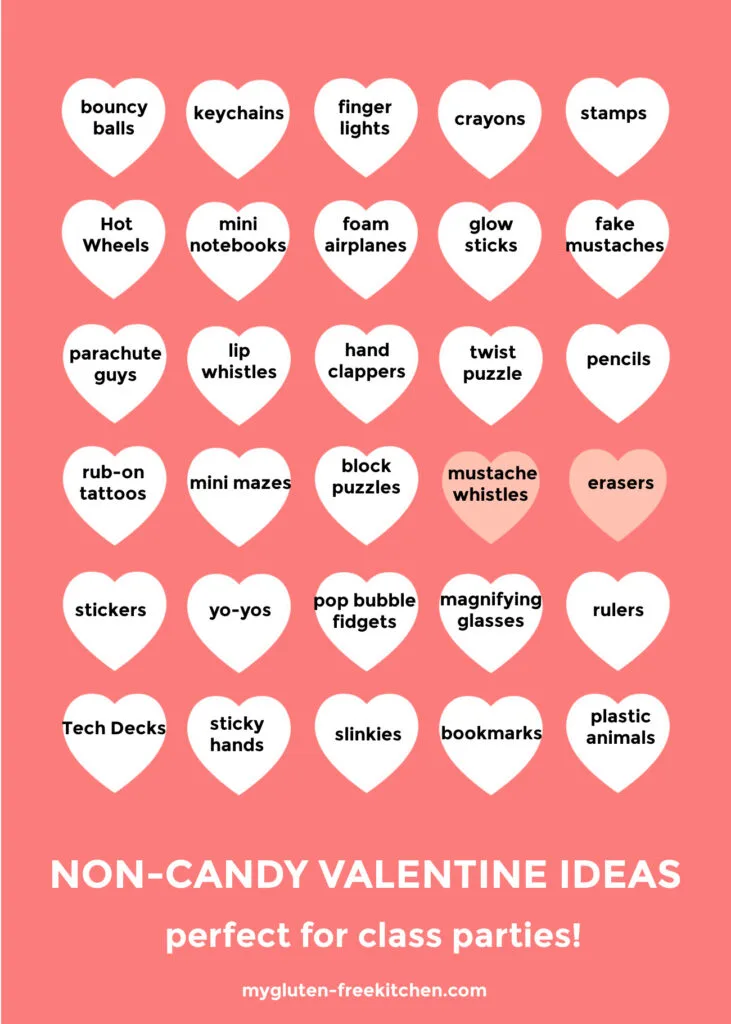 You can buy most of these items in the bulk party favors area at your local party store or from Amazon and then bag them yourself. I'll link as many as I can to Amazon (with affiliate links) so you can buy any there that make things easier for you to get started without hunting for them!
Here are non-food Valentine's ideas for your Valentine's cards:
You can add a fun tag that you print out or just hand-write. Or you can even add a store-bought set of Valentine's cards and just attach the toy (that's what we do most often!).
These glow sticks are great as light sabers, attached to store bought Star Wars cards. My boys really enjoyed giving those one year.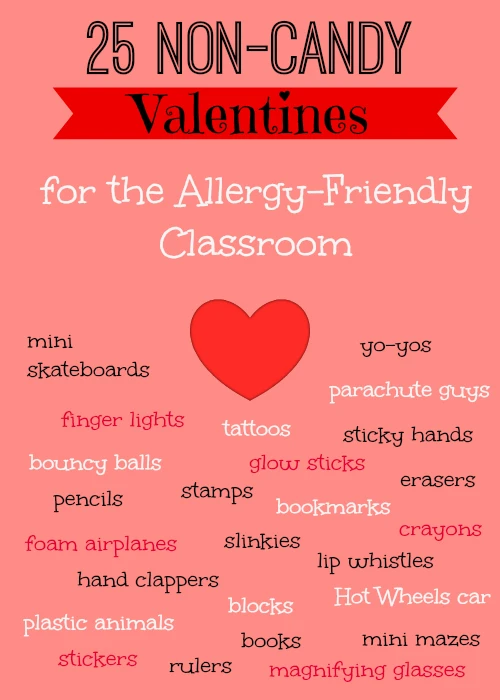 DIY non candy valentines:
When you make your own Valentine's cards with small toys as gifts, there are no worries about any of the kids not being able to enjoy the gifts due to food allergies!
My boys handed out these "Have a Ball on Valentine's Day" cards one year. I bought 100 bouncy balls in bulk
, so we had plenty for both of their classes! I'm pretty sure I'll be finding bouncy balls in my house and garage for a long time too! These little clear resealable bags
are perfect to hold each bouncy ball in.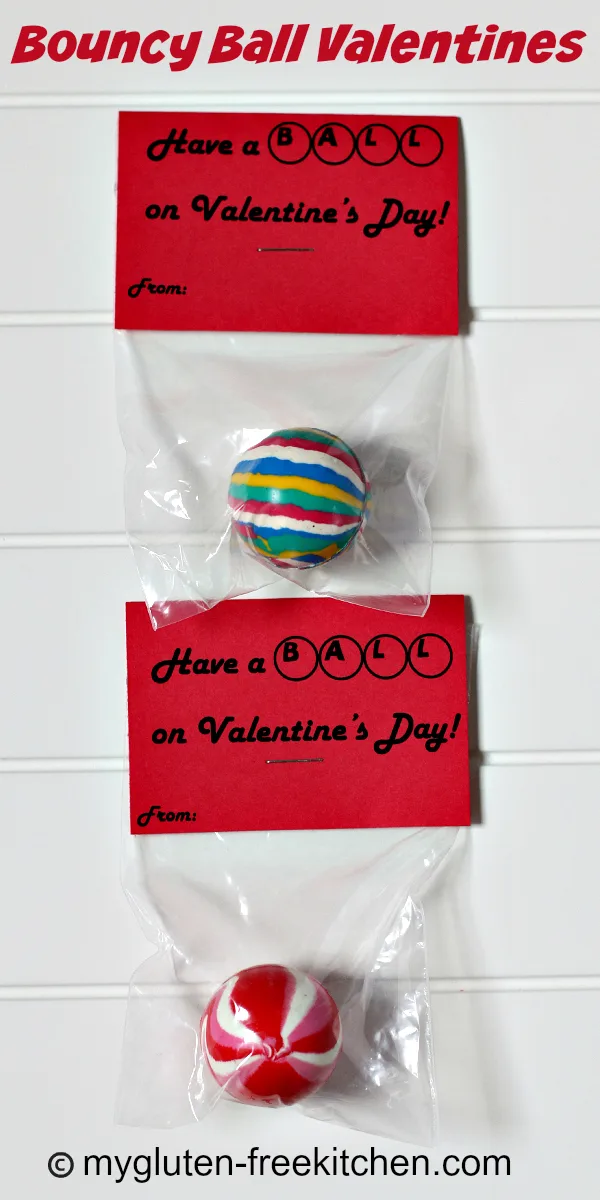 I made a simple printout that I copied on red cardstock, cut out, and stapled to the little bags. For ease, you might want to have your kids sign all the little cards first.
Another fun idea I came up with one year is to give out these fun "sticky hands". I bought the sticky hands on Amazon. Again, I made up some labels with a few sayings I came up with, printed them off on cardstock, and stapled onto the tops of the bags.
I used the clear plastic bags they came in so you could see them, but they would be so cute in these red little paper bags too!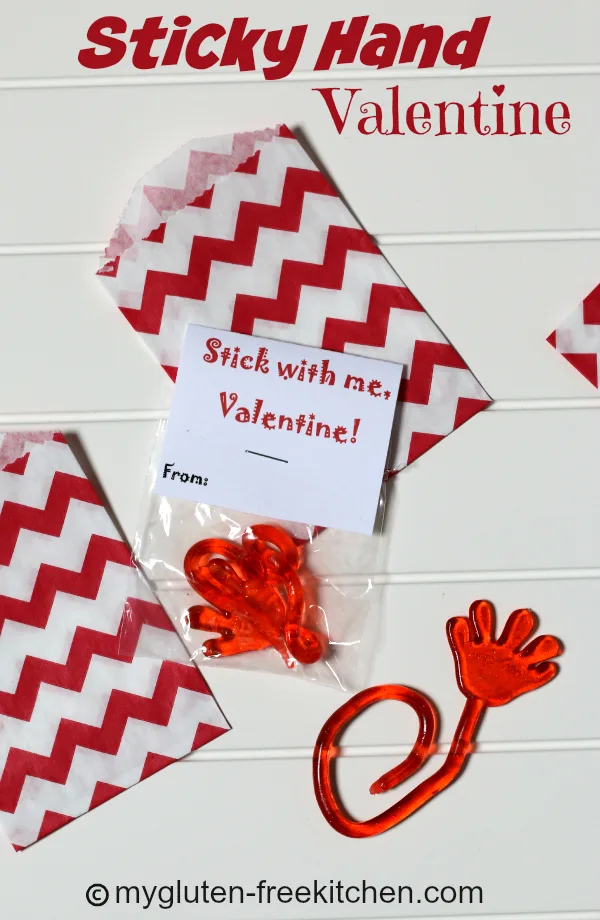 Some other cute sayings for sticky hand valentines would be "I'm stuck on you" or "Give me 5".
Other valentine ideas from around the web:
I'll never forget my first Valentine's Day as a Mom of a school-age kid. My oldest son, Jake, was in a pre-school class of 4 year-olds. I let him pick out some Valentine cards at the store. If I remember correctly, they were Thomas the Tank Engine cards, since that was his obsession at the time.
He spent an afternoon carefully printing his name on each Valentine, sealing them stuck with a sticker, then brought them to school. It was a fun experience, and brought back lots of memories of doing the same when I was a child.
When he came home from school on Valentine's Day with his bag of cards from the other kids, I was shocked to find that he was the only kid that had brought cards only. I had no idea that just giving cards was no longer what people did. Instead, every Valentine card he received either had a whole bag of candy or a specially decorated homemade cookie. I'll admit, I was a bit embarrassed! I felt like such a cheap-o!
On all the years since, my kids have picked out store-bought Valentines that come with tattoos or lollipops. Since I have boys, they really aren't wanting to give gifts that are full of hearts and "girly", nor do they want the cards to say anything about "love". Hey, I get it, I do!
If you'd like to make a gluten-free valentine treat to enjoy at home with your family this year, I suggest you check out my gluten-free chocolate chip waffles that are heart shaped!
For edible gluten-free valentines gifts, you can make these gluten-free Valentine kabobs. They're dairy free too!
And for Valentine's dessert, check out my gluten-free raspberry mousse pie!
I hope these non candy valentines for school ideas help you with your class Valentine's party ideas!