Moist, sweet gluten-free cornbread that's so good, your gluten-eating friends will be asking for it! This is the best gluten-free cornbread recipe and one you need to try soon!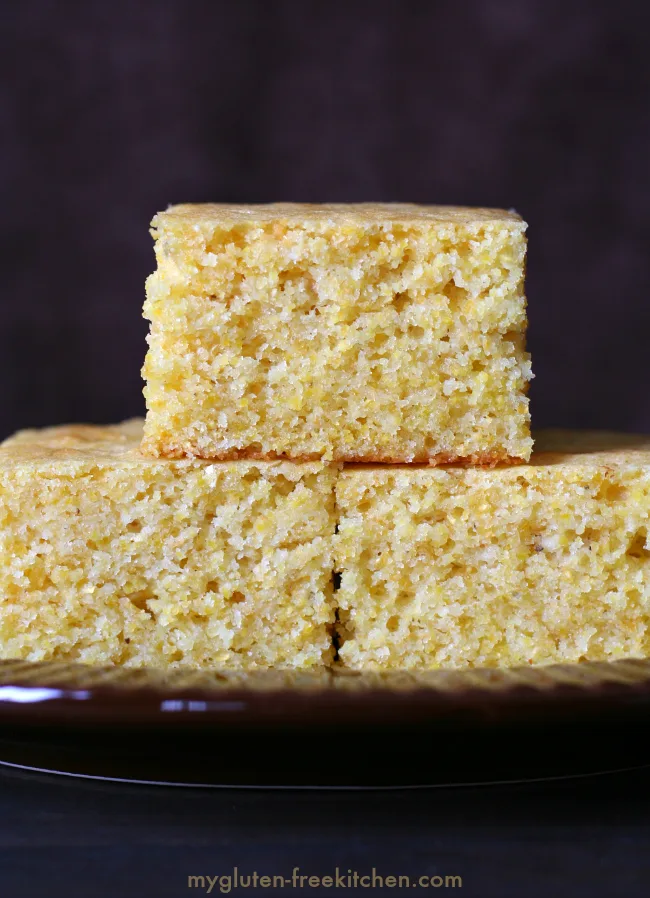 This is truly my most-requested recipe of all time from gluten-free folks and gluten-eating folks that have tried it at my house or at potlucks. Pretty much every person I've made this gluten-free cornbread for has absolutely loved it and said it was their favorite cornbread ever.
This gluten-free cornbread goes perfectly with so many meals, including my go-to Crock-pot Gluten-free Chili Recipe. We enjoy it with gluten-free beef stew too!
A dear friend shared this cornbread recipe with me many years ago and we've loved it ever since. After having to switch to baking gluten-free, I was so happy to find that it turns out just perfect with a good quality all-purpose gluten-free flour blend in place of all-purpose flour.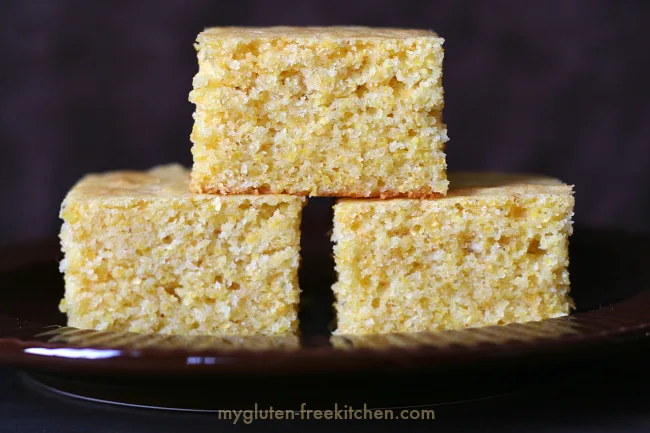 I always use gfJules all-purpose gluten-free flour when I make this, but it should turn out well with other high quality gluten-free flour blends as well. Just remember, if your blend doesn't have xanthan gum or guar gum already in it, you'll need to add 1 teaspoon of xanthan gum with the dry ingredients in this recipe.
My father-in-law always says this tastes like dessert! This is definitely a sweet cornbread, not a southern style, savory cornbread. If you are looking for a more savory one, check out this gluten-free savory cornbread recipe from my friend Jules.
Is cornmeal gluten-free?
Cornmeal is not always gluten-free! It is common for cornmeal to be made by companies that make/process flour as well so there is a high risk of cross-contamination during transport, production, and packaging. Make sure your cornmeal is certified gluten-free!
Let's talk about the other ingredients a bit too.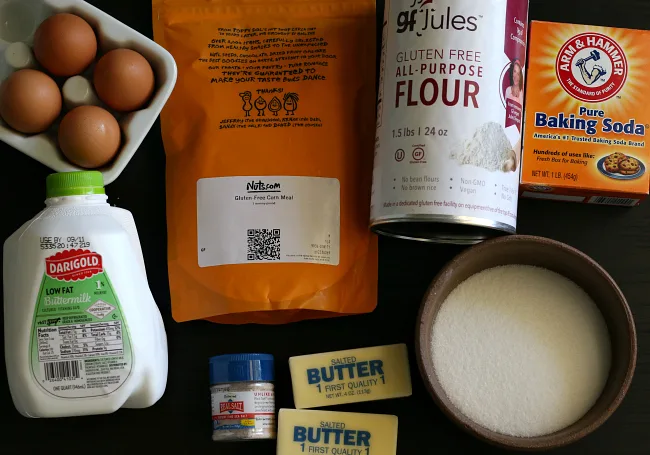 Notes on Ingredients and Substitutions for Gluten-free Sweet Cornbread:
Cornmeal – As stated above, be sure to purchase certified gluten-free cornmeal. Also, some brands (like Bob's Red Mill) make a much coarser cornmeal. When I used that coarser cornmeal, it resulted in a very gritty cornbread that none of us cared for, so I'd recommend finding a finer grade cornmeal. I use and like this Arrowhead corn meal from Amazon – it's certified gluten-free!
As always, I only recommend baking with a good quality all-purpose gluten-free flour blend. All flour blends are not created equal! I recommend avoiding flour blends that contain any bean flours or that are primarily rice flour, as you'll get a more gritty result. I almost always make this recipe with gfJules gluten-free flour. You can buy gfJules gluten-free flour directly or through Amazon. Feel free to use your favorite high quality gluten-free flour blend.
Buttermilk – Regular store-bought buttermilk has modified food starch clearly listed on the label. In the US, if modified food starch is made from wheat it has to have wheat clearly labeled. If the product simply says "modified food starch" and has no wheat allergen warning, it is derived from a gluten-free source. The most common sources include corn, potato and tapioca. So, using regular buttermilk is fine in the US for anyone on a gluten-free diet. You can also choose to buy organic buttermilk as it doesn't contain modified food starch, but organic buttermilk can be very difficult to find in stores: impossible in my town. Locally, I like to buy Darigold buttermilk or Trader Joe's buttermilk because it doesn't have a bunch of added ingredients to it.
Buttermilk Substitute – Also, I know many people don't always have buttermilk on hand. A great substitute to keep on hand in your fridge is Saco Cultured Buttermilk Blend. It is a powdered buttermilk that you keep in your fridge and then in a recipe that calls for buttermilk, you instead add this powdered buttermilk with your dry ingredients, and then add extra water with your wet ingredients. The package gives exact measurements for substitutions. I buy this at my local Winco store, but you can also buy on Amazon here.
When I travel to my in-laws house, I usually mix up the dry ingredients for this recipe (cornmeal, gluten-free flour, salt) and bring with me. Then at my destination, I can just grab my bag of gluten-free cornbread mix, some butter, sugar, buttermilk and eggs and I can whip this up for everyone to enjoy!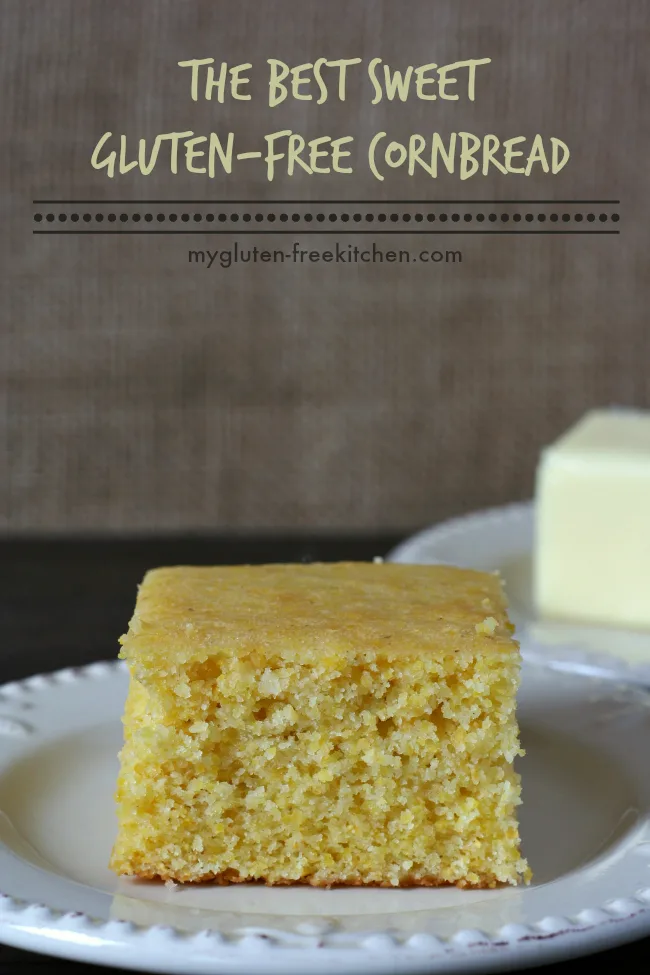 My gluten-free cornbread bakes up nice and tall, is incredibly moist and needs only a slather of butter to make it a perfect accompaniment to any homemade meal. We especially enjoy it with gluten-free chili, creamy gluten-free ham cheddar chowder and gluten-free chicken broccoli rice casserole. I'm going to make these crispy oven baked chicken thighs recipe soon to have with it.
This is my favorite food to bake to bring to potlucks as well since you can make it ahead and it cuts and serves so nicely. I bake it in my 9×13 Pyrex, and once cooled a bit, I can put on the lid and bring it. Here's the Pyrex 9×13 dish and lid I have from Amazon. It makes it super easy to bring to potlucks!
Trying to bake ahead and freeze meals for future dinners? I often make this 9×13 pan of it for our family and then put half of the cornbread squares in a freezer bag and freeze. On the night I want to use it, I just pull out, thaw, and then warm in the oven or microwave right before serving.
You can also bake this in a pretty 9×13 ceramic pan. Then once cool, just cover with plastic wrap so the cornbread doesn't dry out.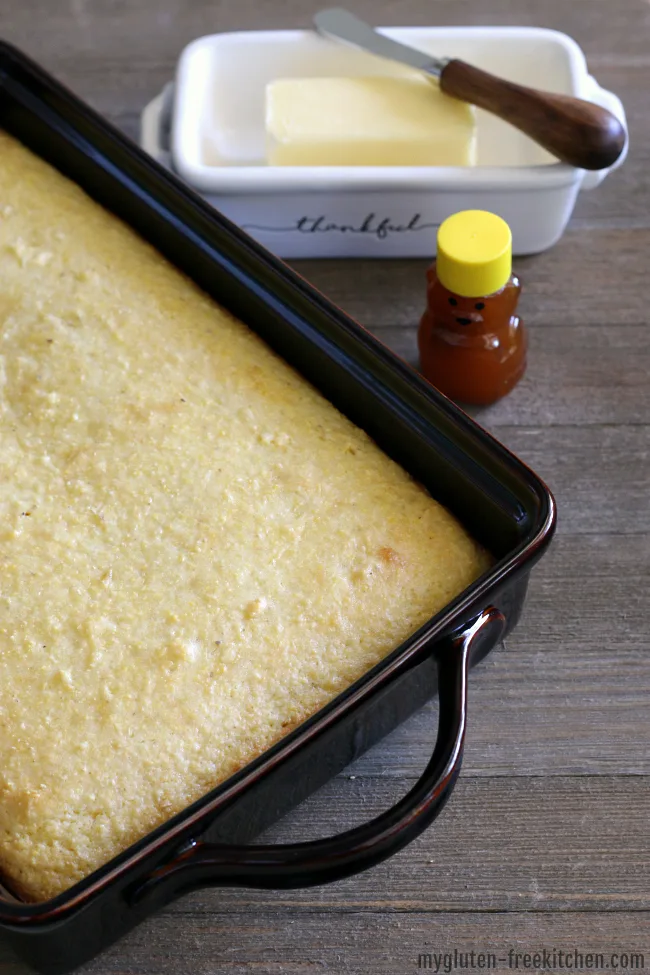 What will you serve your gluten-free cornbread with?
I like it with just butter, but some guests like to make it even more sweet by adding honey!
You can also make a batch of this cornbread to make my gluten-free cornbread stuffing recipe. Here's what it looks like:
That definitely needs added to your holiday menu!
Let me know how you enjoy this gluten-free corn bread. Please come back and leave a rating and comment when you have a minute! Thanks!
Best Gluten-free Cornbread Recipe:
Yield: 24 servings
Best Gluten-free Sweet Cornbread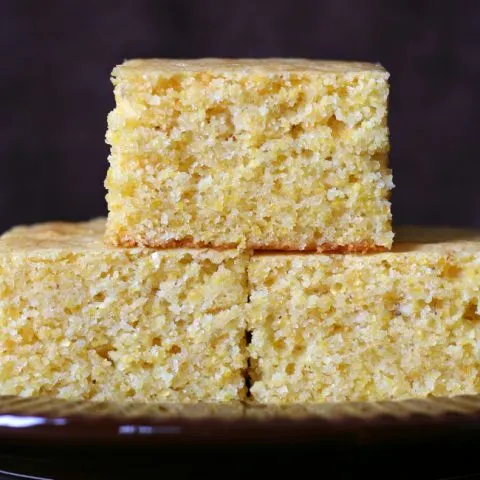 Our guests always say this is the best cornbread ever, let alone the best gluten-free cornbread! If you don't want a huge pan of cornbread, feel free to cut this recipe in half and use an 8x8 pan. I do this when my freezer is full and just our family will be eating it. If you have leftovers, these freeze and reheat well.
Additional Time
5 minutes
Ingredients
2 cups buttermilk
1 tsp. baking soda
1 cup melted butter (2 sticks)
1 ⅓ cup sugar
4 eggs
2 cups cornmeal
2 cups all-purpose gluten free flour
1 tsp. xanthan gum (*if needed)
1 tsp. salt
Instructions
In a glass measuring cup, measure buttermilk then add baking soda, mix together and let sit.
In a large mixing bowl, melt butter in microwave. Add sugar and use a spatula or wooden spoon to mix into butter. Add eggs. Add buttermilk/baking soda to the butter/sugar/egg mixture and mix just until combined.
In a separate bowl, whisk together cornmeal, gluten-free flour, xanthan and salt. Add to wet ingredients and stir. Pour into greased 13x9-inch pan.
Bake at 375º for 30-35 minutes or until a toothpick inserted in center comes out with crumbs only and top of cornbread doesn't sink in if pressed with fingertip. Let cool at least 5 minutes or longer, until desired temperature for serving.
Notes
If you don't have buttermilk on hand, I recommend using Saco Cultured Buttermilk powder, following the substitution directions on the package.
*If the gluten-free flour blend you use already has xanthan gum or guar gum in it, then omit the xanthan gum called for in this recipe.
gfJules gluten-free flour blend contains xanthan gum so I don't add any when I use that blend.
Recommended Products
As an Amazon Associate and member of other affiliate programs, I earn from qualifying purchases.
*Originally posted 2013, updated text and photos November 2016.
Pin this gluten-free cornbread to your gluten-free bread Pinterest board: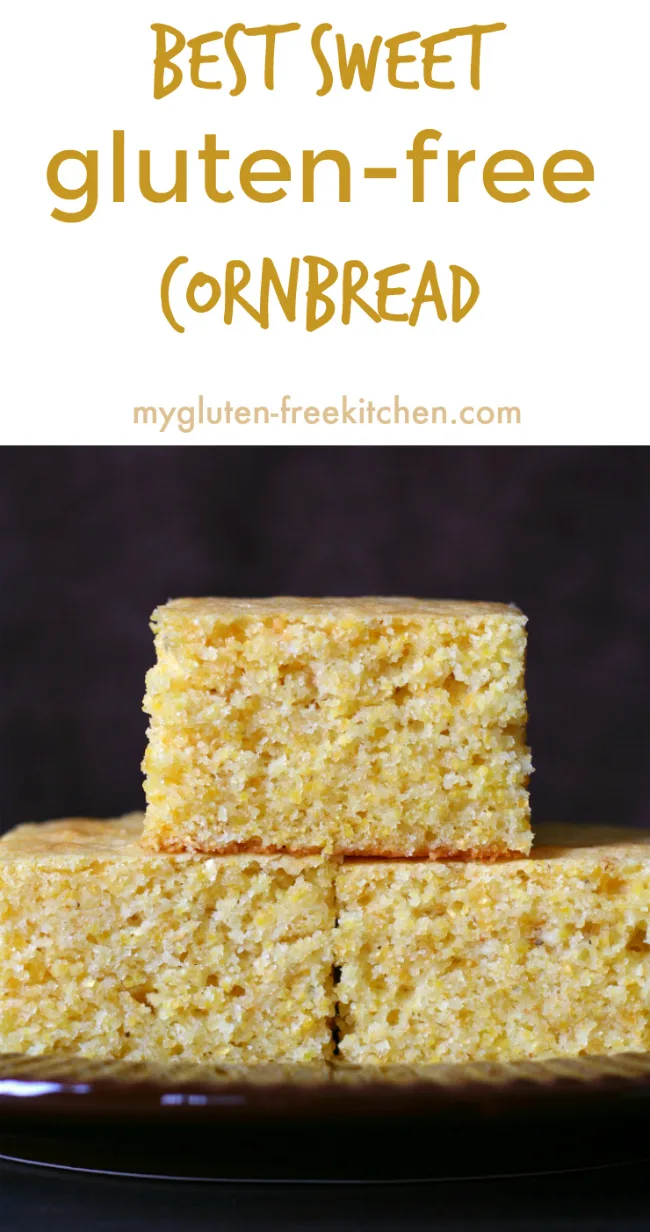 I hope you and your family enjoy this gf cornbread recipe as much as my family does!