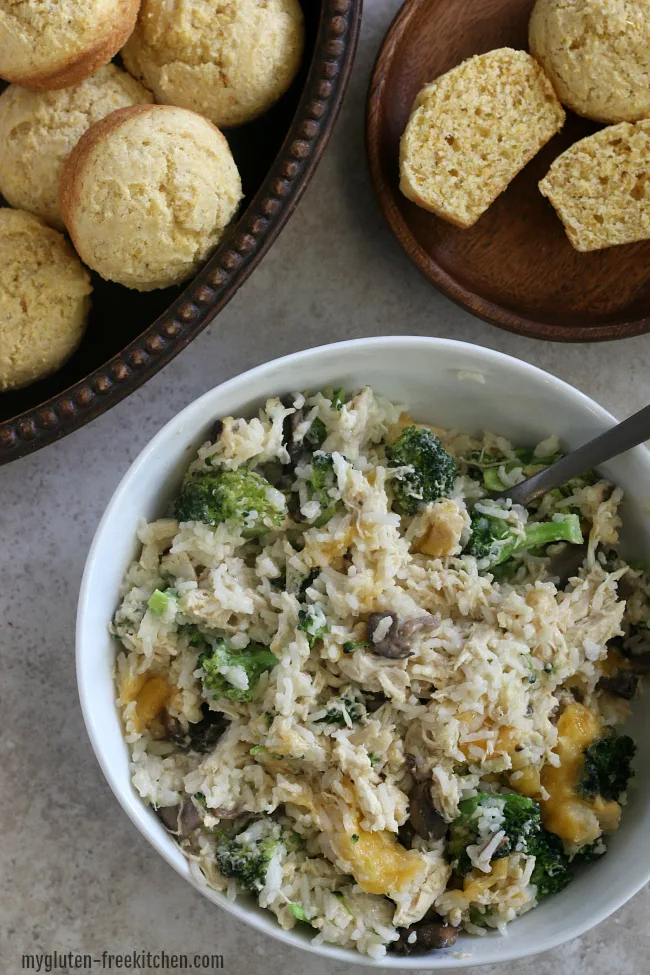 This gluten-free chicken broccoli rice casserole is my family's favorite casserole. I've been making it for 15 years! We enjoyed it this latest time with my gluten-free cornbread muffins.
I love that it is a naturally gluten-free recipe, so I didn't have to make changes to it when we had to go gluten-free. The best part is that this is a great gluten-free make ahead meal to put in the freezer.
There have been so many times in my life when I've been thankful to have this healthy chicken broccoli rice casserole stocked in my freezer.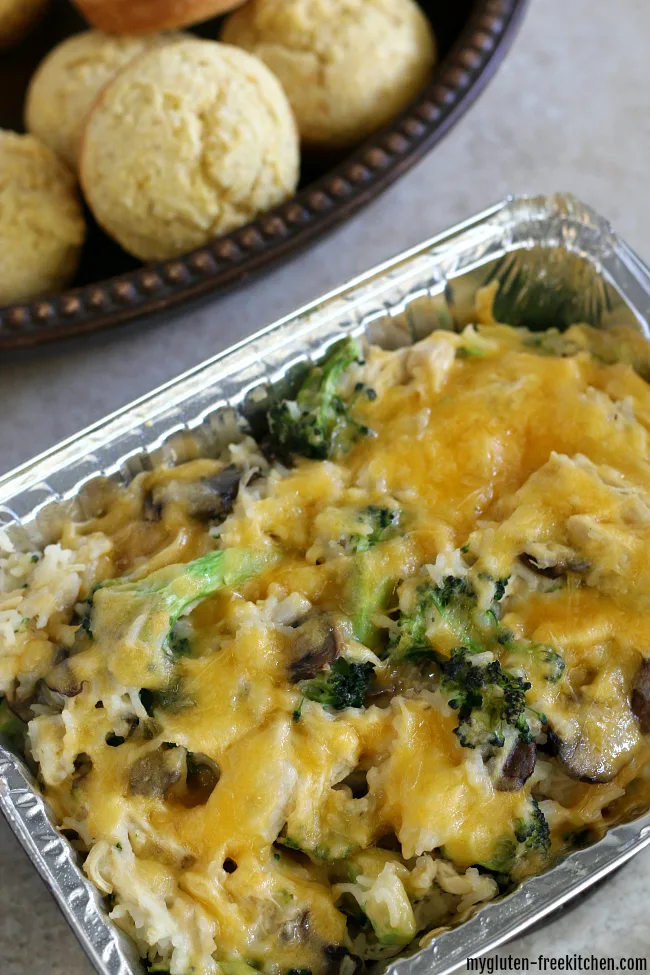 Freezer meals were a lifesaver when I had a newborn baby, sick kids, when I was recovering from surgery or one of my children was recovering from surgery, or when I was so sick before my celiac diagnosis and couldn't cook for my family. All of those times, I was thankful for being able to pull a meal out of the freezer to defrost, then bake for an easy dinner.
For the shredded chicken in this recipe, I usually buy a Rotisserie Chicken from Costco to shred up, or I will cook a bunch of chicken breasts in a skillet or on the grill, then shred. I personally prefer chicken breast meat, but you could definitely use thighs if you prefer.
I also love to have gluten-free freezer meals like these in the freezer so that you can give to others in need. When you have a friend or neighbor going through a tough time, it is such a blessing to be able to drop off a gluten-free chicken and rice casserole that they can bake when it is convenient for them.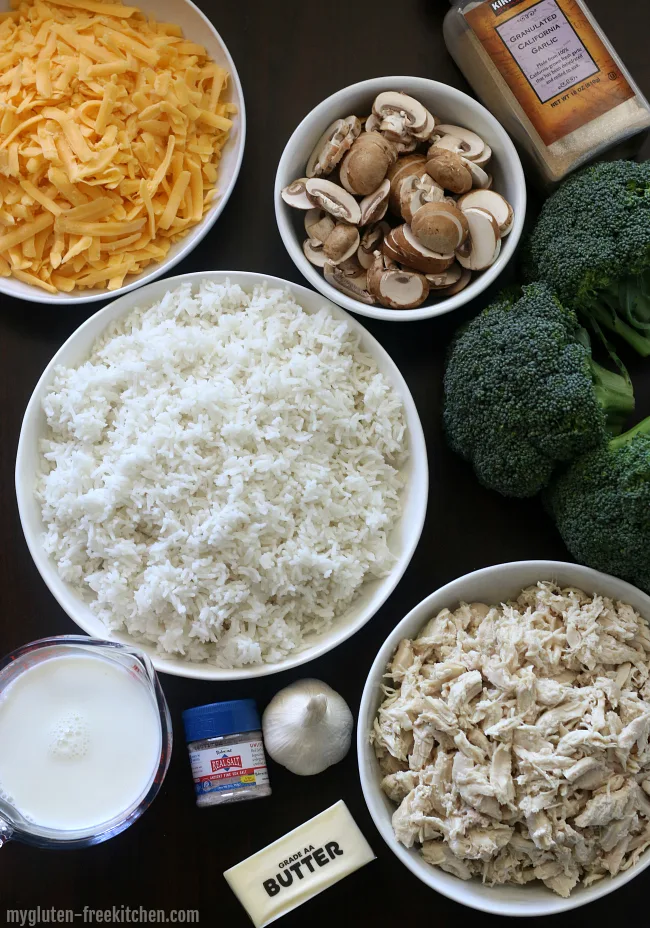 Notes on Ingredients and Substitutions for this gluten-free chicken broccoli rice casserole:
Dairy – Yes, this recipe has a LOT of dairy in it. Butter, milk and shredded cheddar cheese. I have not tried substituting these all for their dairy-free alternatives but it is definitely worth a try if you need that! I would substitute a butter alternative like Melt or Earth Balance for the butter, your favorite non-dairy milk for the milk, and use a dairy-free cheese.
Mushrooms: You can omit these if your family is not a fan of mushrooms. You could instead include a bit of celery, chopped onions, water chestnuts or thinly sliced carrots if you'd like.
Broccoli: You could swap out some of the broccoli for cauliflower if you like it! Fresh or frozen chopped asparagus would work well in this too.
Chicken: I always use shredded chicken breast or shredded Rotisserie chicken meat. I think you could use leftover turkey too!
Rice: Use your favorite. Sometimes I make it with a white basmati rice like I used here and sometimes I use brown rice to make it a chicken broccoli brown rice casserole.
As written, this recipe will make three 8″x8″ casseroles or four 8″x6″ casseroles. If you want to have a super big cooking session, you can double this recipe to yield even more!
How to make this gluten-free chicken casserole:
First make sure you have pre-cooked chicken and pre-cooked rice ready. I think it is very important to cook your rice in chicken or vegetable broth instead of water! I count on you doing that for flavor here.
Spray your nonstick pans with nonstick cooking spray.
In a large stockpot, you'll melt the butter, then add the cooked rice, mushrooms, garlic, milk and half of the shredded cheddar cheese and cook until it's all melted.
Next you stir in the broccoli, chicken, salt and garlic powder and cook for about 5 minutes.
Remove from heat and divide the mixture evenly among the four 8×6″ or three 8×8″ pans you've chosen to use.
Sprinkle with remaining cheese.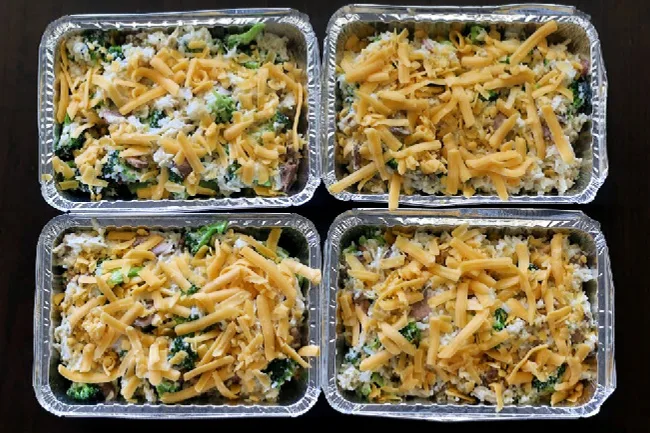 The reusable 8×8-inch pans that I used to use for my gluten-free casserole recipes were discontinued. Then I found these cute and practical 8.5″x6″ pans from Simply Baked (new design here if that one is unavailable). This recipe fills up four of them. One is enough for my family of four, served with hearty sides. Your family might prefer eating two of them, and freezing the other two.
These aluminum pans are a close in size alternative that just doesn't have a cute pattern on top. Plus with 50 of them in one order, you can make all the gluten-free chicken casserole recipes you want!
You could also use the disposable foil baking pans commonly found at grocery stores.
Either bake immediately or seal, label and put in freezer for later use.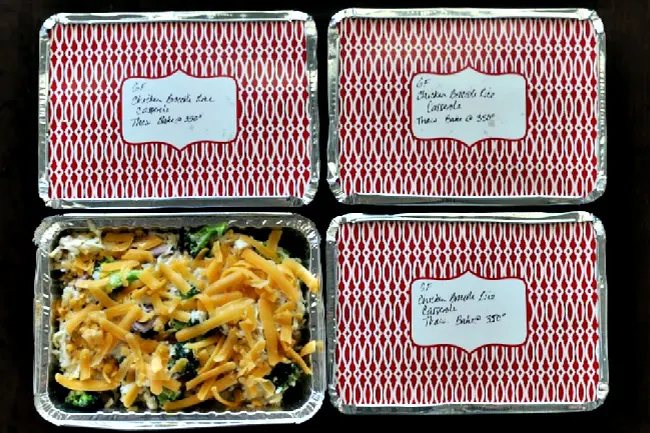 When I serve this to my family, we like to have it with gluten-free cornbread or with gluten-free biscuits. I often open up a jar of homemade applesauce for a side dish too.
Here are some other comfort food recipes to bring to a friend in need. Note: Some of these are not gluten-free recipes, but you can hopefully adapt some!
Gluten-free Sweet Chicken – I make this to deliver to friends often! It's so easy to make, and easy to reheat!
Arroz con Pollo from my friend Amanda. She says it freezes well too!
Kick Ass Chicken Lasagna – Sugar Dish Me – Just swap the lasagna noodles for gluten-free noodles, and replace the flour with cornstarch for this recipe.
Meals to Deliver to Family and Friends – Barefeet in the Kitchen
Best Meals to Deliver to Friends – Slow Roasted Italian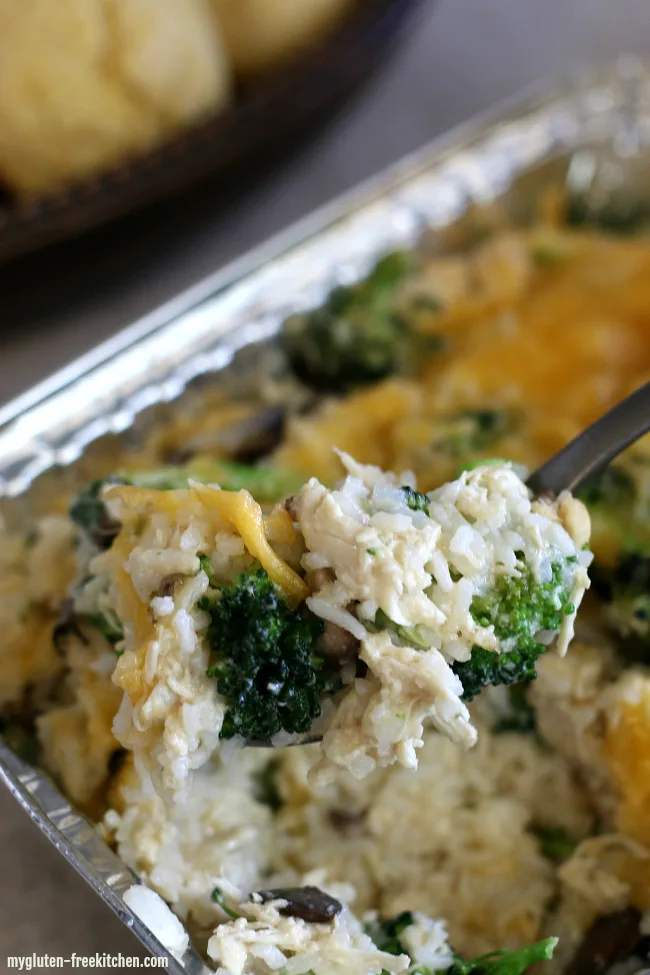 Let me know what you enjoy serving with this chicken broccoli rice cheese casserole too!
Gluten-free Chicken Broccoli Rice Casserole Recipe:
Yield: 12-15 servings
Gluten-free Chicken Broccoli Rice Casserole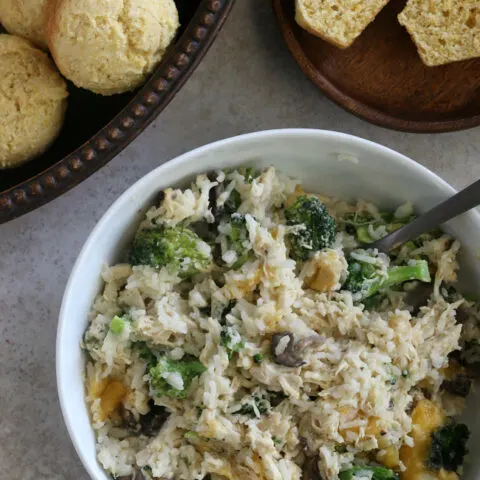 This hearty gluten-free casserole freezes beautifully! One pan feeds my family, so we enjoy one on the night I make this, and freeze the other two. Tip: Use masking tape or a freezer label to label these, and put the baking instructions (350° for 30 minutes) right on the label so you won't have to go find the recipe again. As written, this recipe will make three 8x8-inch casseroles or four 8"x6" casseroles. If you want to have a super big cooking session, you can double this recipe below to yield even more!
Total Time
1 hour
25 minutes
Ingredients
6 Tbsp. salted butter
6 cups cooked long grain brown rice or basmati rice (cooked in broth*)
2 cups sliced fresh mushrooms
2 tsp. minced garlic
1 1/2 cups milk
16 oz. (4 cups) cheddar cheese, shredded, divided
6 cups chopped fresh broccoli (about 3 heads)
5 cups shredded chicken
1 tsp. salt
1 tsp. garlic powder
Instructions
Precook your rice in chicken broth instead of water to yield 6 cups of cooked rice. Precook your chicken and shred, to yield 5 cups shredded chicken.
Spray three 8x8" oven and freezer safe baking pans (glass, aluminum, foil, or Gladware oven pans) or four 8x6" pans with non-stick cooking spray. Set aside.
In a large stockpot, melt the butter. Once melted, add the cooked rice, sliced mushrooms, garlic, milk and half of the shredded cheddar cheese. Cook over medium heat until the cheese is all melted.
Add the broccoli, chicken, salt and garlic powder and cook over medium heat, for about 5 minutes, stirring frequently.
Remove from heat and divide the mixture evenly in the three baking pans. Sprinkle the remaining cheese evenly over the three pans.
Seal the containers, label and put in the freezer, or bake immediately.
When ready to bake, thaw completely, remove any lids, and preheat oven to 350°.
Bake until casserole is heated throughout and broccoli is tender, about 25-30 minutes.
Notes
If you'd like, you can add 1/2 cup of diced onion when you add the broccoli.
It is important for flavor to use rice cooked in chicken broth instead of water. Just follow your rice cooking instructions, but substitute chicken or vegetable broth for the same amount of water (or use water with bouillon dissolved in it).
Recommended Products
As an Amazon Associate and member of other affiliate programs, I earn from qualifying purchases.
Pin this to your Gluten-free Dinners board on Pinterest: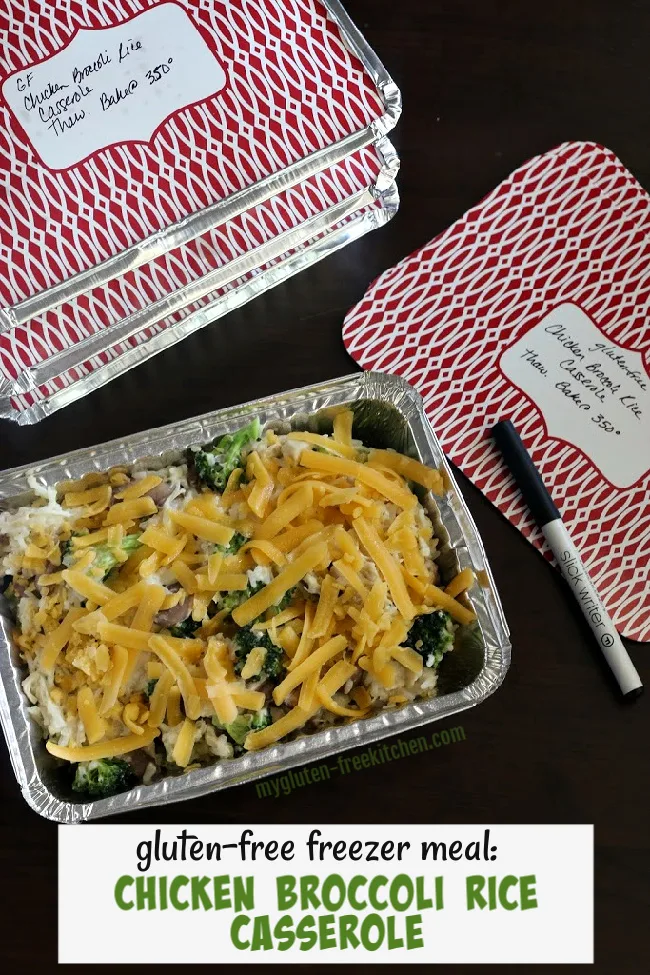 old pin with the old 8×8 reusable containers I used to use before they stopped making them (they all eventually warped too)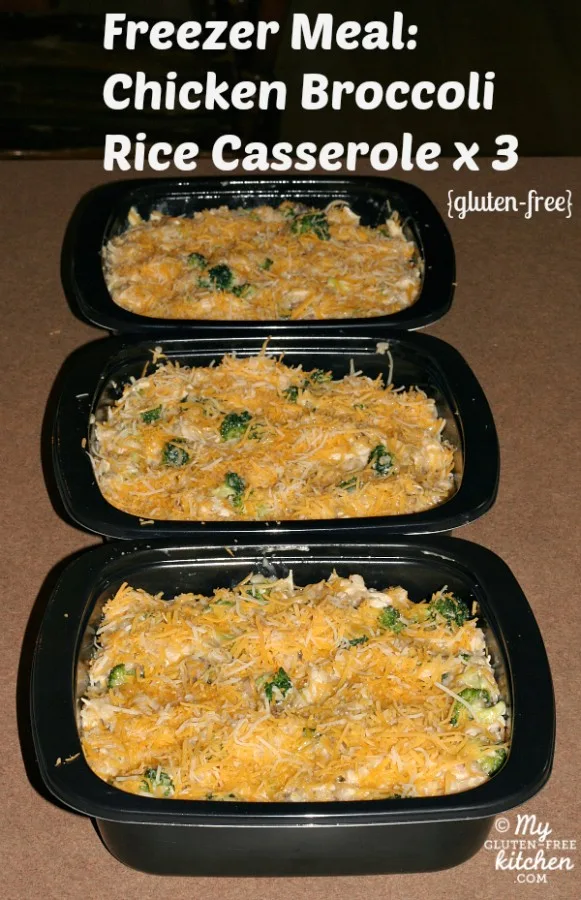 I hope you and your family enjoy this gluten-free broccoli casserole as much as my family does! Please come back and give this gf casserole a 5 star rating if you love it!