Fun for parties, showers, and potlucks, these gluten-free chocolate chip mini bundt cakes are easy, delicious, and just the right amount of chocolate! If you love chocolate chip and cake, you'll love these gluten-free chocolate chip bundt cakes! I created this sponsored recipe with Enjoy Life Foods chocolate!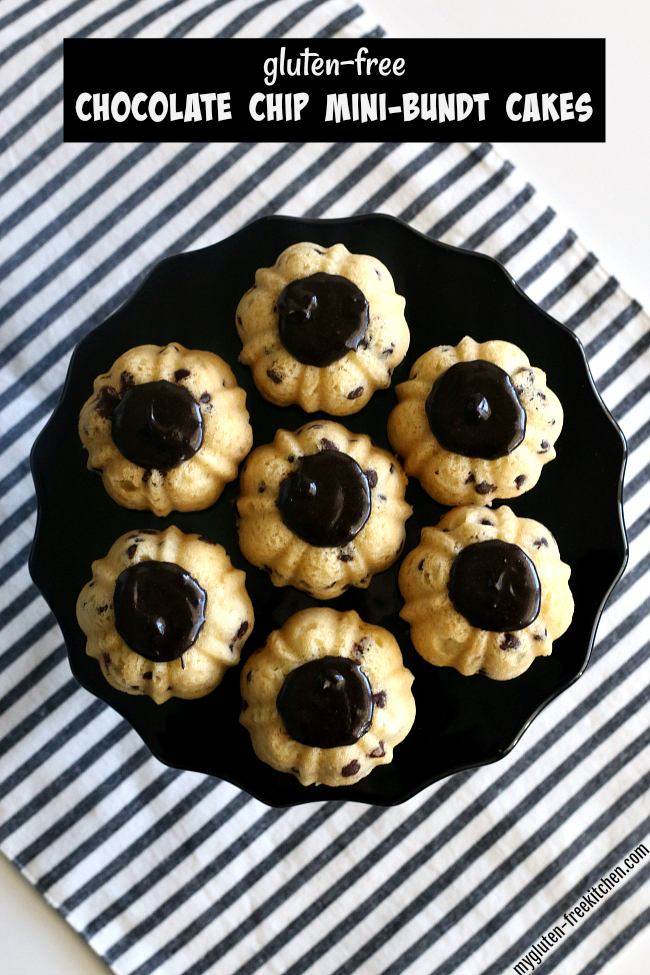 Last week a friend from church asked if I could make some treats for a church shower for the folks that needed their food to be gluten-free, dairy-free, and nut-free. I do this pretty often and am adding more and more treats to my repertoire for this gf, df, nut-free request. Some of my other go-to gluten-free, dairy-free, nut-free treats are my flourless mudslide cookies, and my gluten-free oatmeal banana cookies.
When I found out that everyone else at the shower would be enjoying small bundt cakes from a local bundt cake shop, I decided I needed to make mini gluten-free bundt cakes! No need for us special diet eaters to stand out! 🙂
Now I've shared my love for mini bundt cakes here before, with my gluten-free chocolate mint bundt cakes recipe. This time, I wanted something not quite as chocolatey, and pretty for a spring shower. I also found out the colors of the shower were yellow, black, and white.
I decided on gluten-free chocolate chip mini cakes! Let me tell you, it was a good choice! I made a test batch early in the week and my family polished them off quickly, with the help of some gluten-eating teenagers that were over visiting. Thumbs up all around, even from the gluten eaters!
Obviously with a chocolate chip cake, the chocolate chips are the star. I went with my go to mini chips: Enjoy Life semi-sweet chocolate mini chips! They were just perfect in these! These chips are certified gluten-free as well as free of the top 14 common food allergens.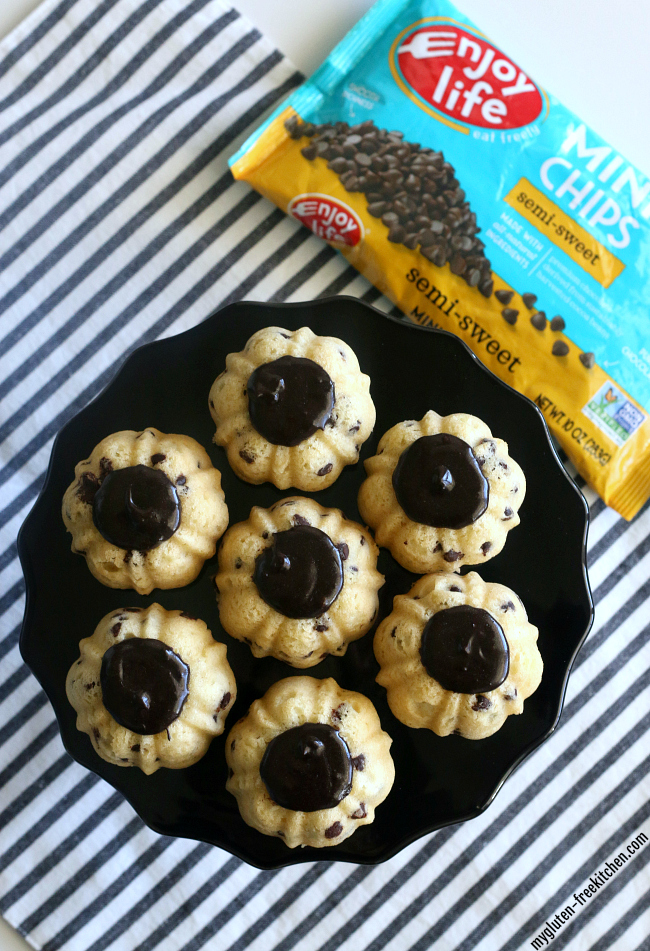 Notes on ingredients and substitutions for these gluten-free chocolate chip bundt cakes:
Non-dairy milk. Since I wanted these to be nut-free in addition to dairy-free, I opted to avoid nut milks and used Original Flax Milk. If you are baking for those that can nuts and prefer nut milks, use your favorite. If you're using a vanilla flavored milk, then use half the vanilla extract called for in the recipe. If you can have dairy, you can use regular milk in this recipe.
Pure vanilla Extract: As always, I recommend you buy and use pure vanilla extract. It's free of funky additives, and gives the best flavor.
Gluten-free Flour: I used gfJules flour blend in this. Because it has xanthan gum already in it, no additional gum was needed. If your flour blend has xanthan gum or guar gum already in it, omit the xanthan gum called for in the recipe. Many flour blends have almond flour or dairy in them, so be sure to read labels thoroughly if baking for others with allergies.
Non-dairy butter alternative: I used Earth Balance buttery sticks both times I tested this. I used them in both the cake and the icing and it worked very well.
Eggs: Use large fresh eggs. Did you know that using extra large eggs in a recipe, especially one like this with 4 eggs, can affect the results? I don't recommend that!
Chocolate chips: I felt these mini cakes needed mini chips instead of full-sized chips. I used Enjoy Life semi-sweet chocolate mini chips which were perfect. If you want to go darker, you can use the Enjoy Life dark chocolate morsels in this!
I buy my Enjoy Life semi-sweet chocolate mini chips at several local stores near me: Albertsons, Fred Meyer, Walmart, Whole Foods, Boise Co-op, etc. I love that so many stores are carrying them now! If you can't find them in your store, buy them directly from Enjoy Life or buy directly from Amazon. I do love the convenience of adding them to my Amazon cart and the price comes out cheaper than my local stores usually. Amazon also sells a 6 pack of these mini chips for extra savings per bag, which is what I get since I go through so many bags of these!!
For making these, you'll want a mini bundt pan. I LOVE mine! I have this mini bundt cake pan from Nordicware. The amount of batter you add to each is about what you would for a cupcake, but these just are more fun! This is the mini bundt pan that I have. If you have a different sized pan, just make a test one or two so you can figure out the amount of batter to add and baking time. You'll bake these until a toothpick comes out with moist crumbs on it but no wet batter.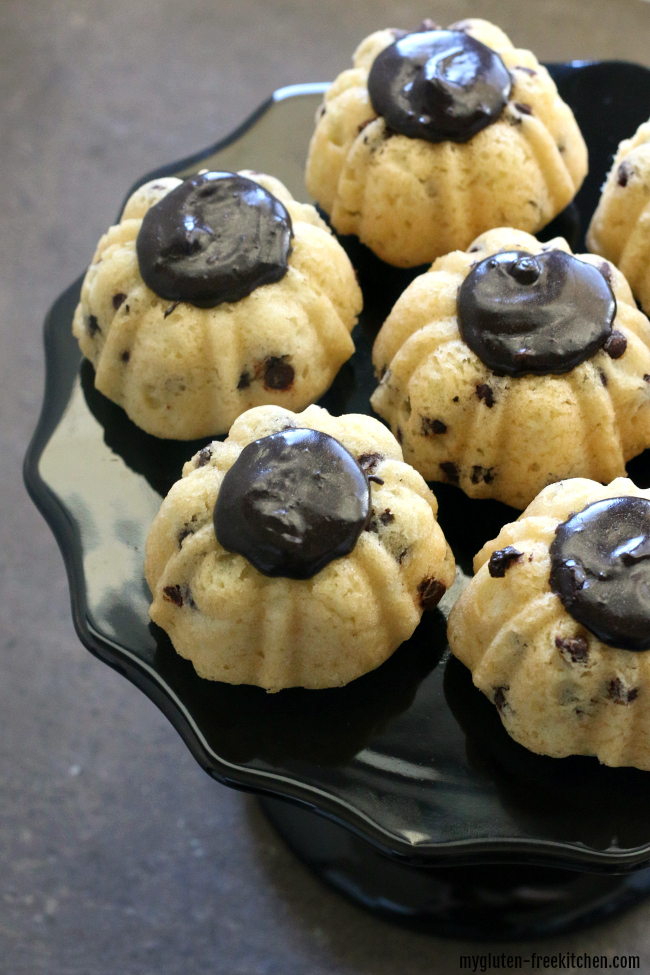 Frosting these gluten-free chocolate chip cakes is so easy! You'll use your hand mixer to beat together the butter alternative, cocoa powder, non-dairy milk, powdered sugar and vanilla extract until smooth. Then I just used a teaspoon to scoop frosting right into the center indentation of each mini cake. If you prefer, you could also drizzle the chocolate over them all or scoop more frosting on and let it drip down the sides. I wanted ladies to be able to grab these without getting messy, so I chose the way I did it and the frosting amount was perfect.
Since you're not using a full bag of mini chips, you should use some to make these gluten-free cookie dough truffles – they look amazing! Or melt some of the chocolate chips to make these chocolate dipped gluten-free shortbread cookies! I think I'd keep dipping and dipping!
I hope you enjoy these cakes! Let me know what event you make them for!
Cake recipe adapted from Ginny's Chocolate Cake from this cookbook. Frosting recipe is my own creation from scratch.
Gluten-free Chocolate Chip Bundt Cakes Recipe:
Yield: 36 mini cakes
Gluten-free Chocolate Chip Bundt Cakes (dairy-free)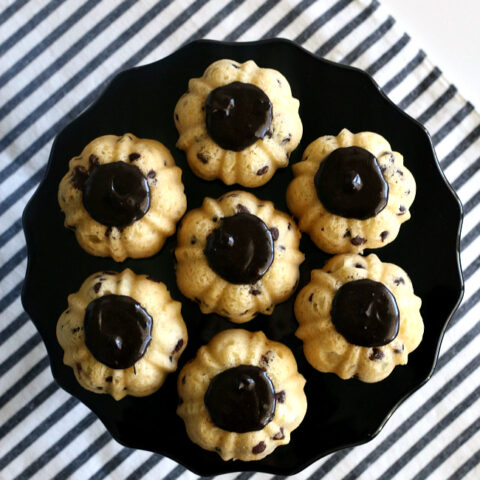 Fun for parties, showers, and potlucks, these gluten-free chocolate chip mini bundt cakes are easy, delicious, and just the right amount of chocolate! These are also dairy-free and nut-free!

Prep Time 20 minutes

Cook Time 18 minutes

Total Time 38 minutes
Ingredients
Cakes:
1 cup dairy-free milk alternative
1 tsp. pure vanilla extract
3 cups good quality gluten-free flour blend
1 tsp. xanthan gum (see note)
1 Tbsp. baking powder
3/4 tsp. salt
1 cup (2 sticks) butter alternative like Earth Balance sticks
1 1/2 cups sugar
1/2 cup brown sugar
4 eggs (size large)
1 cup Enjoy Life semi-sweet chocolate mini chips
Frosting:
1/2 cup (1 stick) butter alternative like Earth Balance sticks
1/2 cup cocoa powder (see note)
5 Tbsp. non-dairy milk alternative
3 2/3 cup powdered sugar
1 tsp. pure vanilla extract
Instructions
Cakes:
Preheat the oven to 350°. Spray the cavities of the mini bundt pan thoroughly with non-stick cooking spray. Set aside
In a glass measuring cup, measure one cup of your non-dairy milk alternative. I used flax milk. Add the teaspoon of pure vanilla extract to it and set aside.
In a medium bowl, whisk together the gluten-free flour, xanthan gum (if needed), baking powder, and salt. Set aside.
In the bowl of your stand mixer, cream the non-dairy butter alternative with the sugar and brown sugar for 3-5 minutes or until creamy and fluffy. Stop a few times to scrape sides of bowl.
With the mixer on low, add the eggs, one at a time, mixing well on low speed after each addition.
With the mixer on low, slowly add some of the flour mixture, then some of the milk mixture, alternating until all is mixed together.
Stir in the mini chocolate chips, scraping the bottom and sides of bowl to ensure all batter is mixed together well.
If using the same pan I recommended, scoop 2.5 Tbsp of batter into each cavity of the mini bundt pan.
Bake at 350° for 18 minutes. Remove from oven to cooling rack. Let cool in pan for 3-5 minutes, then flip over pan to roll baked cakes onto cooling rack.
This makes 36 mini bundt cakes. If you only have one pan, like I do, then you'll want to make sure to wipe out the crumbs as best you can, and spray the cavities very well with non-stick cooking spray before adding the next batch of batter.
Frosting:
While cakes finish cooling, make frosting.
In a microwave safe bowl, microwave butter alternative for about 20-30 seconds.
Add cocoa powder, 1 Tbsp non-dairy milk alternative and beat with hand mixer or stand mixer for 30 seconds.
Alternate adding powdered sugar and remaining non-dairy milk alternative, beating well after each addition.
Use a spatula to scrape down the sides of the bowl. Add pure vanilla extract and beat until mixture is smooth and shiny.
Use a mounded teaspoon to scoop frosting into center of each mini cake.
Notes
Xanthan gum: Omit this if your flour blend contains guar gum or xanthan gum already.

Yes, this really does call for 1 Tablespoon of baking powder. That isn't a typo! 🙂

If using a different pan, try filling just one cavity about 2/3 to 3/4 full of batter, and bake that single one as a test batch so you can see how much batter your pan will need and how long your baking time will be.

To make my frosting a darker brown, almost black, I use Hershey's dark cocoa powder for half of the cocoa powder called for in my recipe. Feel free to use your favorite cocoa powder, understanding the darkness of the cocoa powder will affect the darkness of the frosting!

Cakes can be made the day before you frost them if you'd like. Just place in airtight container overnight.
Recommended Products
As an Amazon Associate and member of other affiliate programs, I earn from qualifying purchases.

Pin this to your gluten-free cakes board on Pinterest: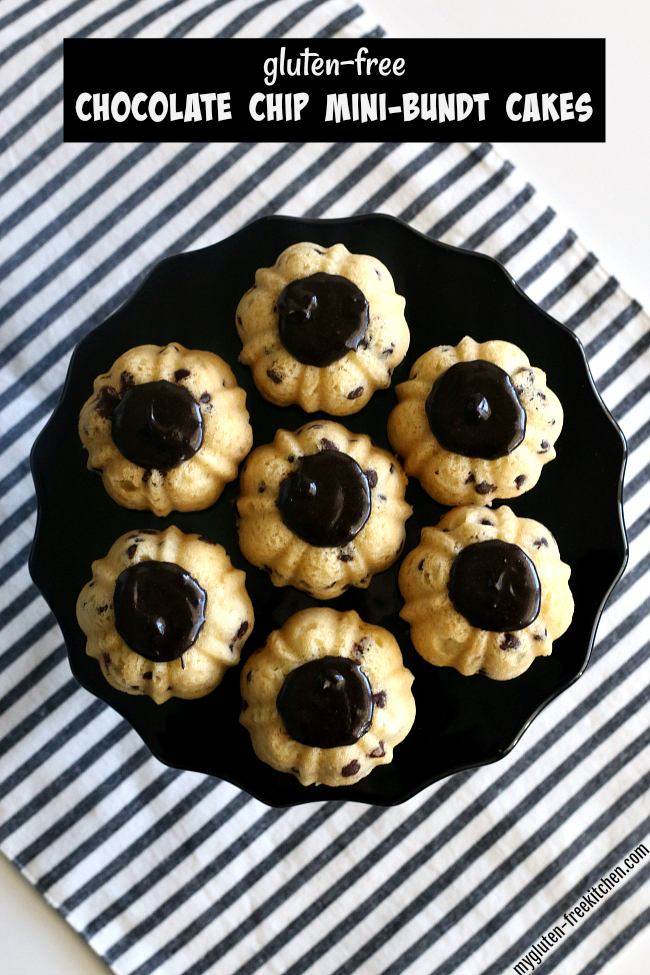 Follow me on Instagram for behind the scenes shots as I bake each week!
This sponsored post was created through my partnership with Enjoy Life Foods. As always, all opinions are my own. Collaborating with brands I love allows me to keep bringing you new and varied recipes! Thanks for your support!