Nothing beats a bowl of creamy gluten-free soup on a cold winter day! This gluten-free Cheesy Baked Potato Soup brings all the flavors of a twice baked potato in a creamy soup that the whole family loves!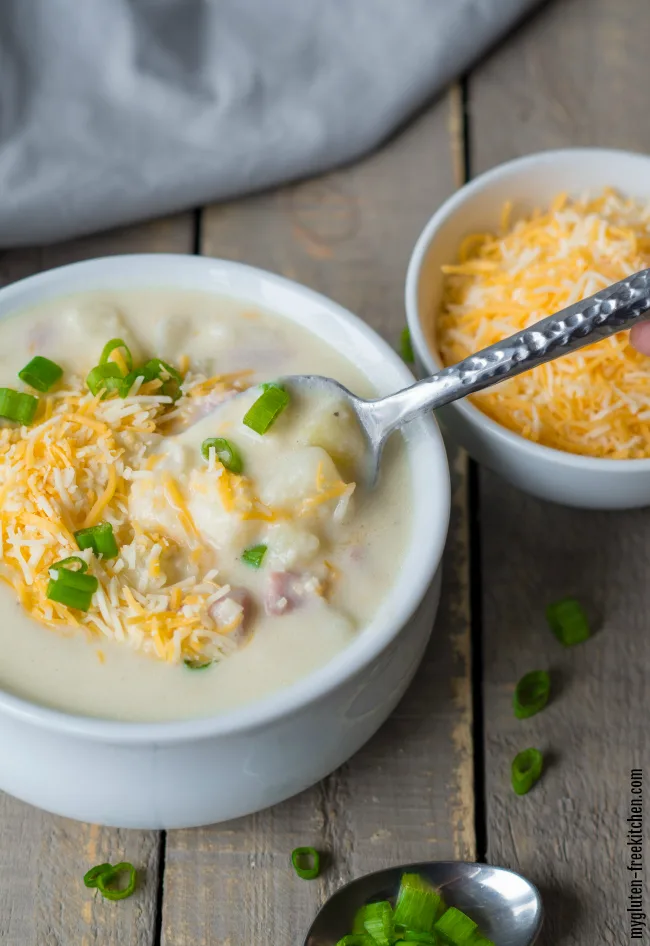 My family loves gluten-free soups with potatoes. It's one of the few meals that everyone in my family will devour, with seconds, without a single person complaining. My boys especially love the gluten-free Cheeseburger Soup recipe and the gluten-free ham cheddar chowder recipe that we make often. I wanted to make another gluten-free potato soup recipe that would be a hit with the kids.
Thinking about how much my family loves my gluten-free twice baked potatoes, I decided to make a gluten-free potato soup that was similar. I wanted it to have lots of potatoes, lots of cheese, sour cream, and bacon for sure, for a hearty, filling meal.
Pinterest is full of loaded baked potato soup recipes, but instead of following a different recipe, I decided to adapt my cheeseburger soup recipe. I've been making that one for years and the whole family loves it. I figured with a few changes, I could mimic the flavors of twice baked potatoes.
It was a total success! This one was a definite hit with the family and one that I've now made many times for my family.
We enjoy this gluten-free baked potato soup with my gluten-free pull-apart dinner rolls or gluten-free sweet cornbread.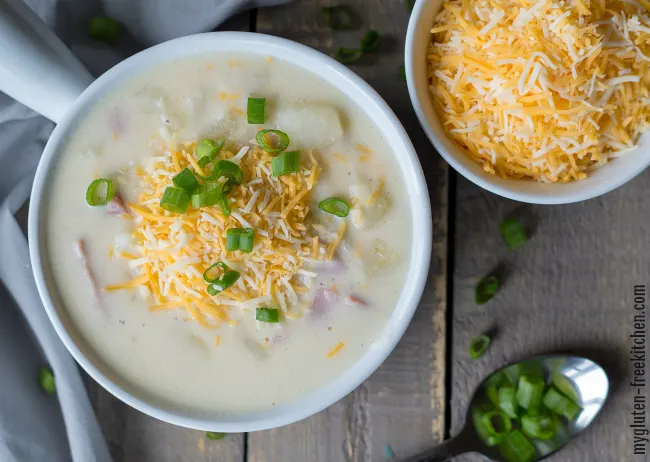 Are potatoes gluten-free?
Many people wonder if there is gluten in potatoes and the answer is NO! Gluten is in the grains wheat, barley, and rye. Potatoes are a starchy vegetable. Potatoes do not have gluten!

Notes on ingredients for Baked Potato Soup:
Potatoes: my first choice for potatoes for soups is always butter gold or yellow gold potatoes. If you can't find those, go ahead and use Russets.
Chicken broth: I always stick to broth that is clearly labeled gluten-free. Pacific organic chicken broth is my go-to brand. I can find it at my local Winco and Kroger stores, but it can also be bought in bulk on Amazon. Note that if you use a low sodium chicken broth then you'll likely need to add more salt to taste at the end.
Cornstarch: Cornstarch is gluten-free and is a great to use to thicken soups, instead of flour. I usually buy this one.
Bacon: Use your favorite bacon. The bacon is used only for adding as a topping.

I found one pound was only enough for 6-7 people using as a topping, so I've adjusted the recipe to call for 2 pounds of bacon to be cooked and crumbled for topping for this entire batch of soup. You can also stir in all of the cooked bacon right into the soup.

Seasonings: I give measurements for garlic salt and pepper but if you'd like to add more or less, feel free to adjust.
If you love onions, you could also mix in chopped sweet onions into the soup when you add the potatoes.
You can also add some broccoli florets to this soup if you'd like to sneak another vegetable in there!
The color and flavor of your soup will be influenced a bit by the cheese you use. Some of the pics here show it made with a shredded mixture of white/yellow cheeses, while the pic of it in the big pot shows it with all sharp cheddar cheese so it's more yellow in that one. All taste great!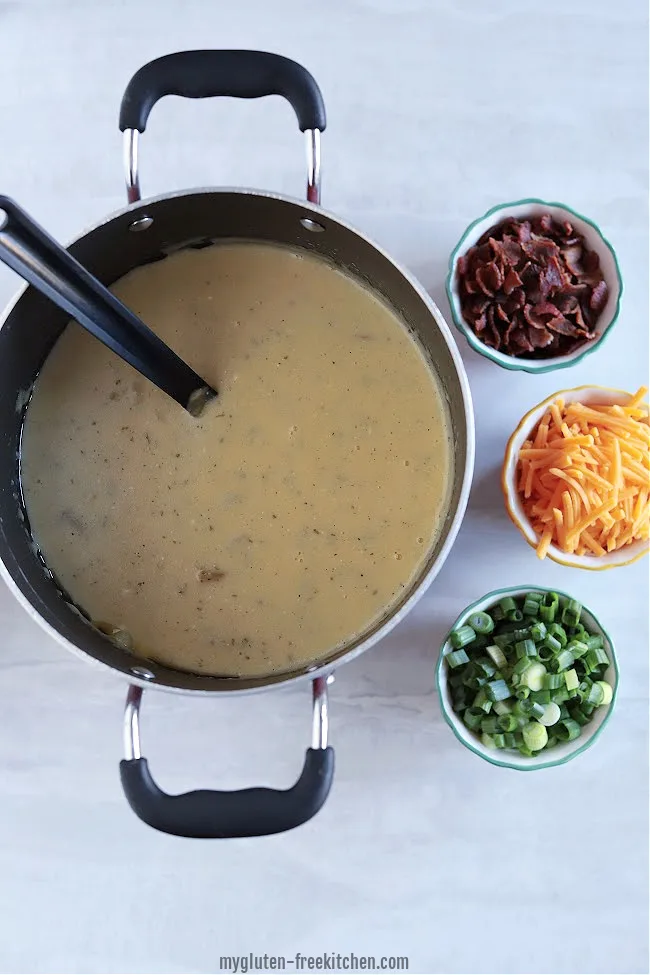 My kids thought it was fun that I included bowls of cheese, bacon, and green onions, so they could customize their toppings on this potato soup – adding as much bacon or cheese as they'd like.
Should you peel the potatoes for this gluten-free potato soup:
You can peel your potatoes or leave them unpeeled. I usually keep peels on since it saves time. Just scrub and remove any bad parts.
Cut your potatoes to roughly 1/2″ cubes. This way they cook evenly, don't completely fall apart from being too small, and aren't too big for eating spoonfuls of soup. If you cut yours larger, your cooking time will be longer as well.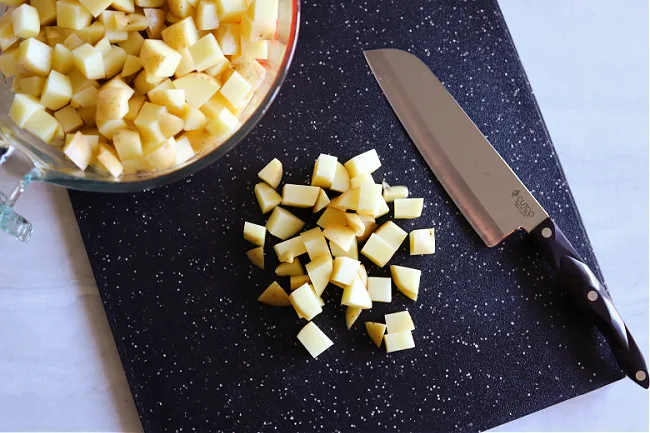 I use this Cutco Santoku knife for cutting the potatoes. (I love all Cutco knives and only use them now!)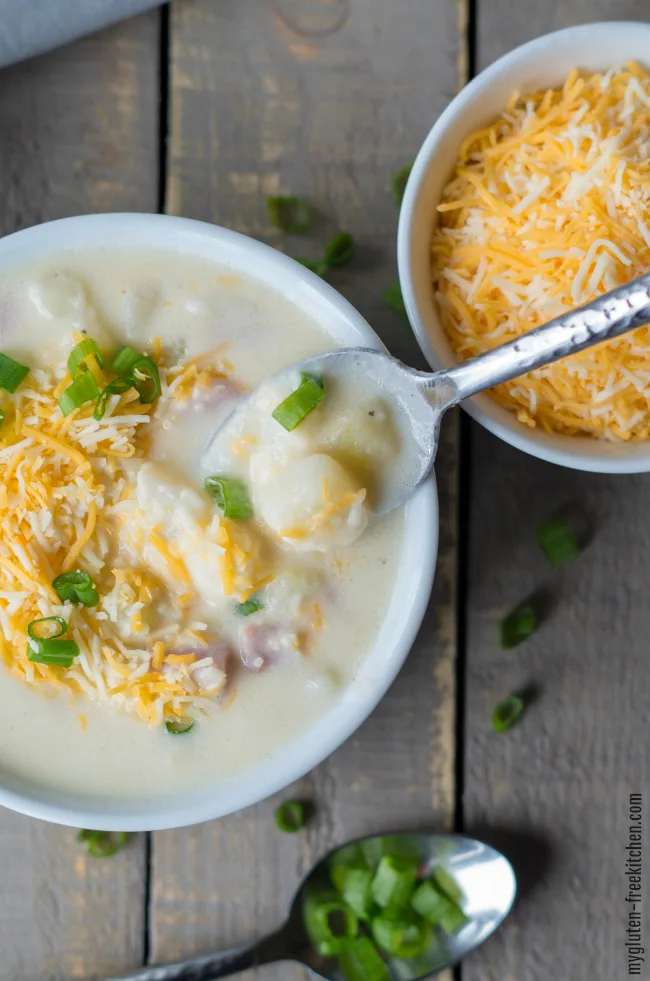 Looking for more soup recipes? I highly recommend the soups I mentioned above as well as my 30 minute gluten-free chicken tortilla soup recipe.
If you like broccoli, you've got to try this Broccoli Cheese Soup recipe too!
And if you have turkey, try this gluten-free creamy turkey chowder from my friend Jeanine. Or my gluten-free turkey and rice soup recipe.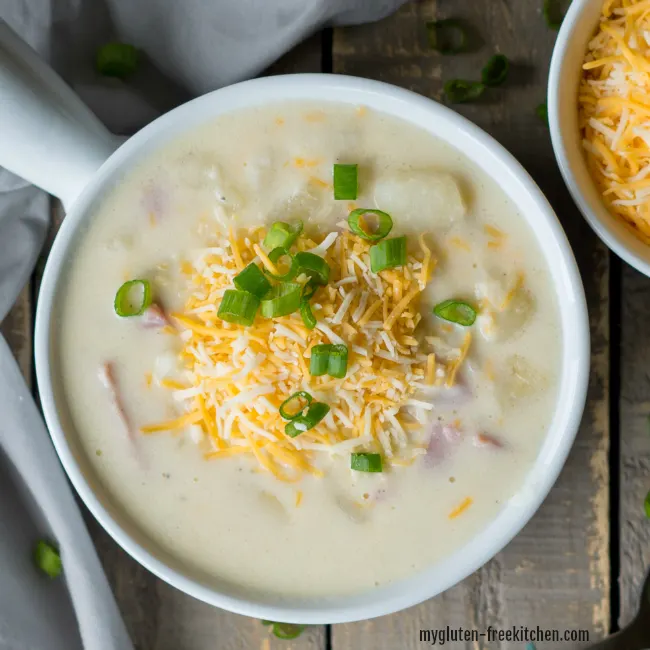 Next time your family is needing something warm and comforting, I hope you'll make this gluten-free soup for them!
If you make this soup and enjoy it, please come back and give this recipe a 5 star rating in the recipe card! Feel free to comment with tips or to share any successful substitutions you made.
Gluten-free Potato Soup Recipe:
Yield: 12 servings
Gluten-free Loaded Baked Potato Soup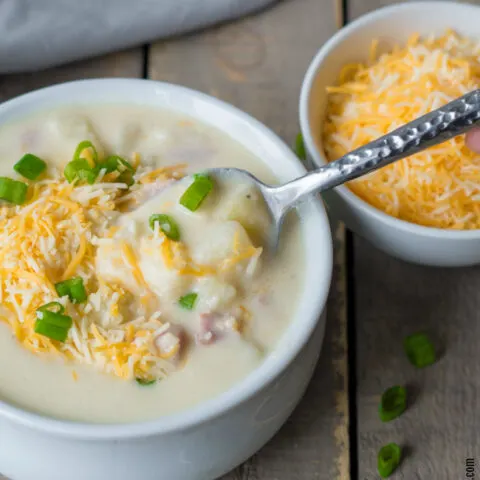 This gluten-free Cheesy Baked Potato Soup brings all the flavors of a twice baked potato in a creamy gluten-free soup that the whole family loves!
Ingredients
1/2 cup butter (1 stick), divided
2 tsp. minced garlic (about 5-6 cloves)
9 cups cubed potatoes (~1/2" cubes), preferably butter gold or Yukon gold (peeled or unpeeled) = approx. 3 lbs 4 oz.
6 cups gluten-free chicken broth (recommend Pacific)
2 tsp. dried parsley
1/4 cup cornstarch
3 cups milk
5 cups cubed or shredded cheddar cheese (sharp cheddar is preferred)
3/4 cup sour cream
2 Tbsp. garlic salt
1 tsp. pepper
2 lbs. bacon for topping
Additional shredded cheese for topping, if desired
Sliced green onions for topping, if desired
Instructions
Mince the garlic.
In a large stockpot, melt 2 tablespoons of butter over medium heat. Add the garlic and cook 1 minute or until garlic is fragrant.
Add the broth, potatoes, and parsley and stir.
Bring to a boil, stir, then turn to low heat, cover pot with lid, and let simmer until the potatoes are tender, about 10-12 minutes.
In a smaller pot, melt the remaining butter, then whisk in the cornstarch. Add the milk, whisking until smooth. Continue whisking as you bring to a boil and continue boiling until starts to thicken, about 5-6 minutes, then remove from heat. (It will really increase in volume as it thickens - you'll definitely be able to tell!)
Gradually add the milk mixture into the stockpot once the potatoes are tender. Stirring constantly, bring to a boil and let boil for about 5 minutes to thicken the soup a bit. Reduce heat to simmer and stir in shredded cheese or cheese cubes.
When the cheese is melted, add sour cream, garlic salt, and pepper. Stir until all is warmed through to desired temperature. Taste to see if you would prefer additional garlic salt or pepper.
While soup is warming through or left on lowest setting to keep warm, cook bacon in batches in a skillet. Pat dry and crumble. Serve in a bowl so everyone can add their desired amount to their soup.
Serve with additional shredded cheese and green onions for everyone to add as desired.
Leftovers can be refrigerated or frozen. To enjoy leftovers, you'll want to add a bit of milk when reheating. You can reheat in the microwave or on stove top.
Notes
I found one pound was only enough for 6-7 people using as a topping, so I've adjusted the recipe to call for 2 pounds of bacon to be cooked and crumbled for topping for this entire batch of soup.
I haven't paid attention to exactly how many servings this makes (I keep forgetting) but I know at least 12 because my family of 4 easily has this 3 times every time I make it.
Recommended Products
As an Amazon Associate and member of other affiliate programs, I earn from qualifying purchases.
Pin this
baked potato soup recipe to your gluten-free Pinterest board!
Find even more gluten-free soup recipes on my Soups & Stews Pinterest board.

old photo below, aren't the new ones so much better?!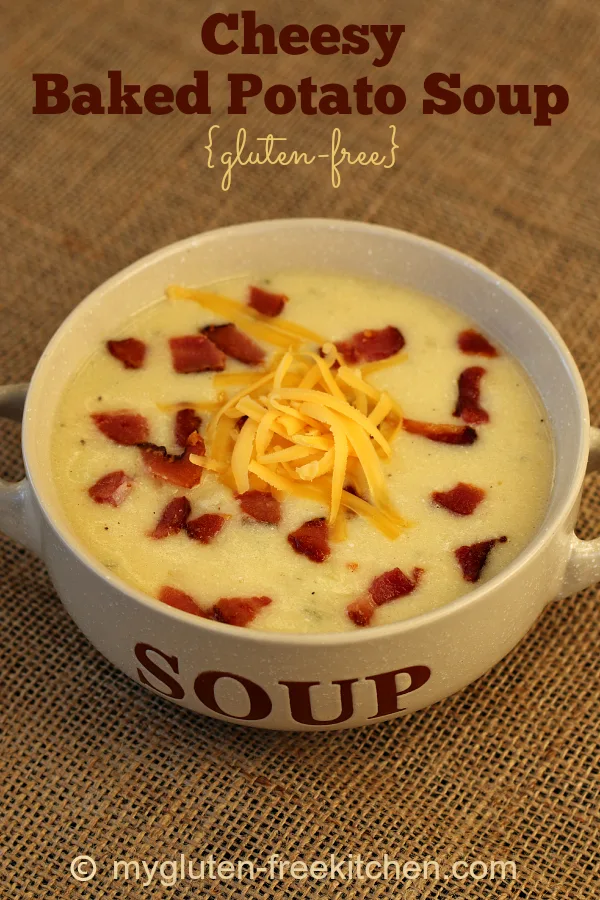 I hope you and your family enjoy this gluten-free potato soup as much as my family does!